In influencer marketing, we have always emphasized the need to pick the influencer that is the best fit for your campaign. This means that instead of picking the influencer who has the most number of followers, influencers should be picked based on the categories they are in.
This means that a brand in the F&B business should approach a food influencer and a maternity store should approach influencers that are mothers and the list goes on. Therefore, today we have decided to talk about a category of influencers, muslim influencers.
If you are interested in beauty, lifestyle or just want to look at pictures of tasty looking food, these top muslim influencers are worth a follow. Their wide range of content from video tutorials to outfit of the day shots will be worth your thumbs up.
Muslim influencers: #1. Manal Chinutay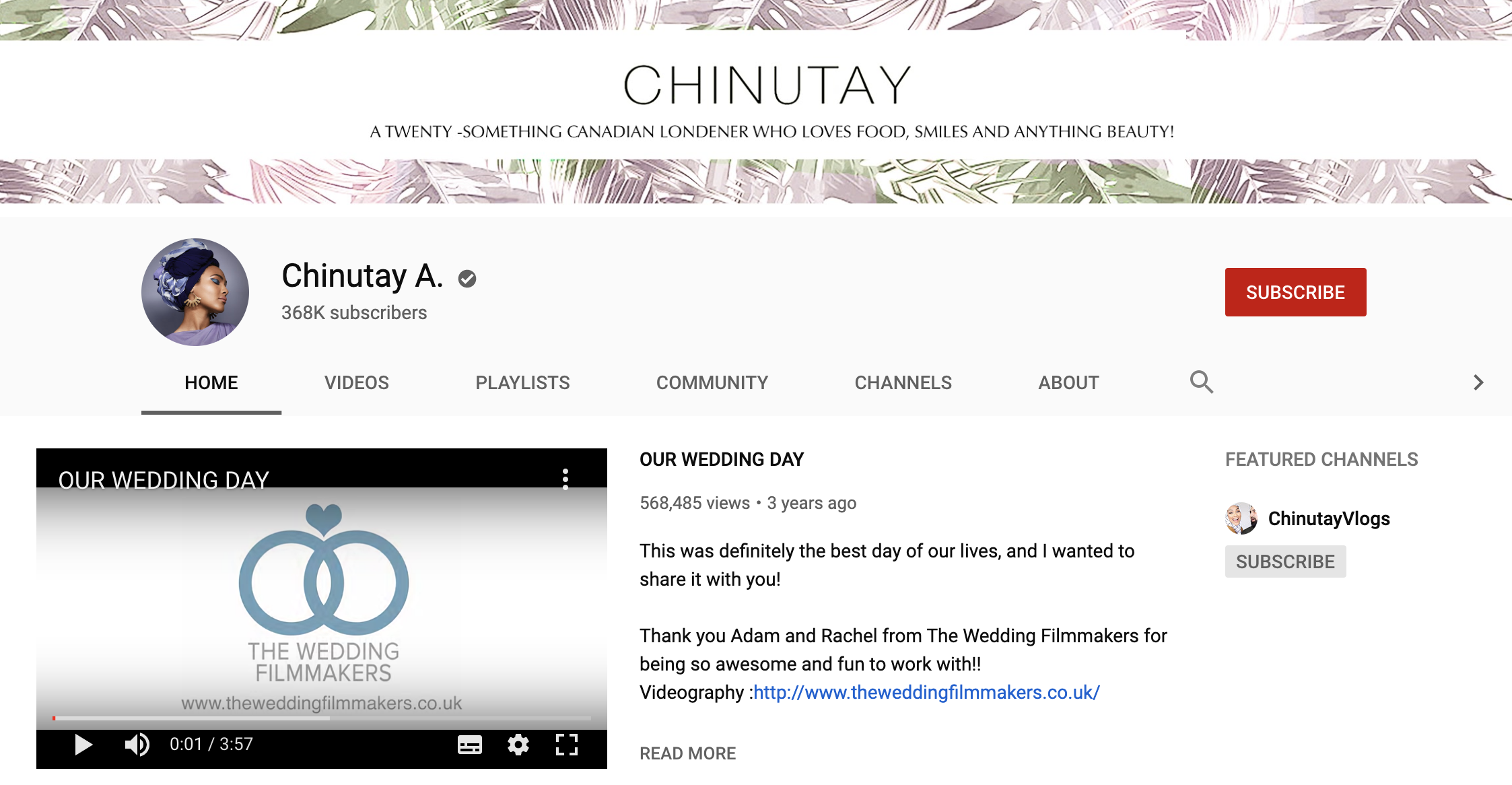 Firstly, on our top muslim influencers list, we have @chinutay (Manal Chinutay), who is not only a successful influencer but is also a very capable business woman. Her instagram features flawless makeup looks, outfits for inspiration as well as her adorable children. For those of you that prefer more details on her everyday life, you can also check out her YouTube channel for video content ranging from tutorials to daily vlogs.
Muslim influencers: #2. Amena Khan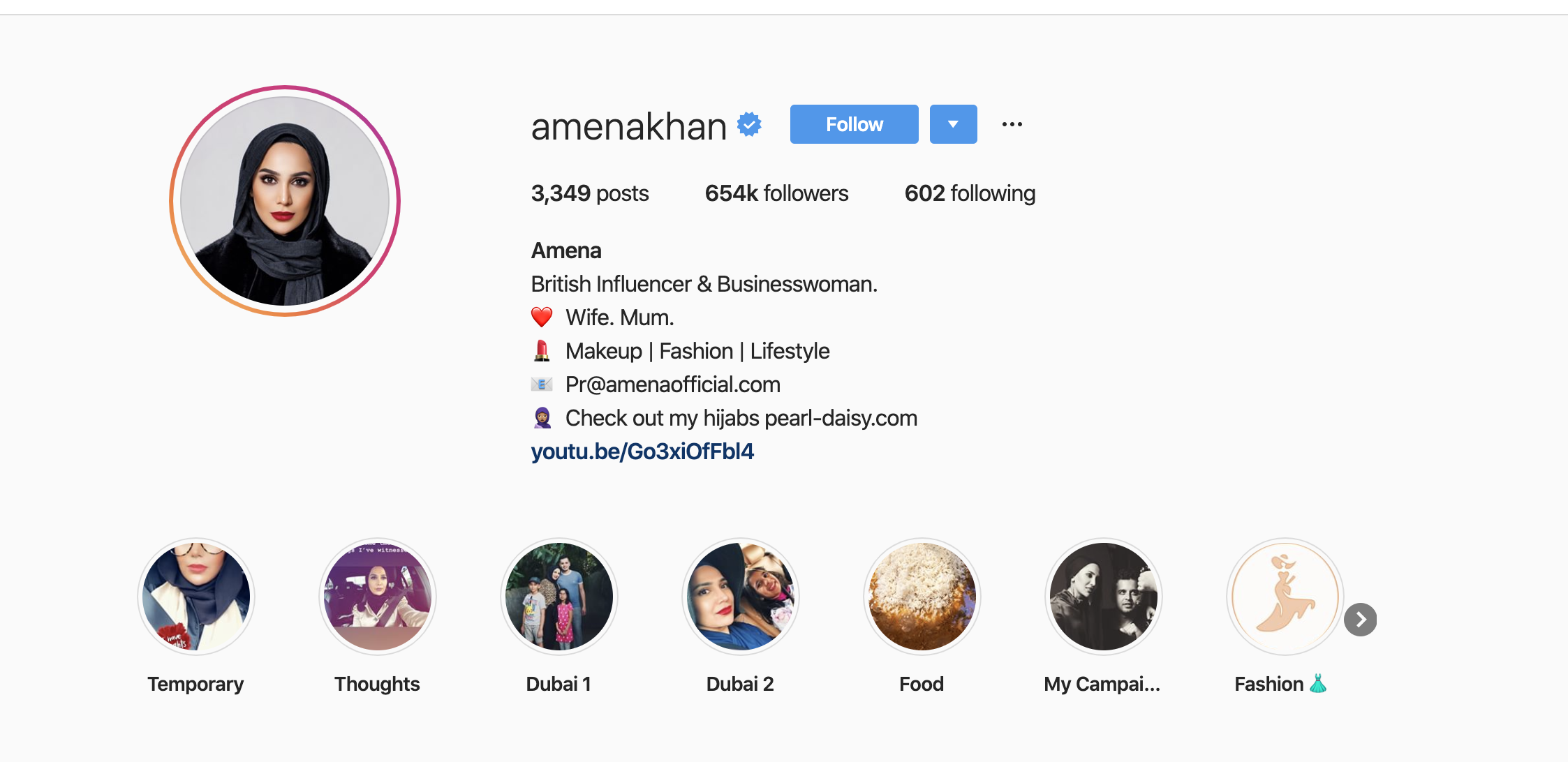 Next up we have Amena Khan (@amenakhan). Like @chinutay, she is also known for her makeup and fashion tutorials. With over 400,000 subscribers on YouTube Amena is certainly one of the more established beauty gurus out there.
Her YouTube channel features a variety of videos. One of the most popular videos would be her 'draw my life' video, which has garnered over 600,000 views on her channel.
Her sphere of influence is not limited to YouTube as she boosts a whopping number of 654,000 followers on instagram.
Muslim influencers: #3. Nadya Abd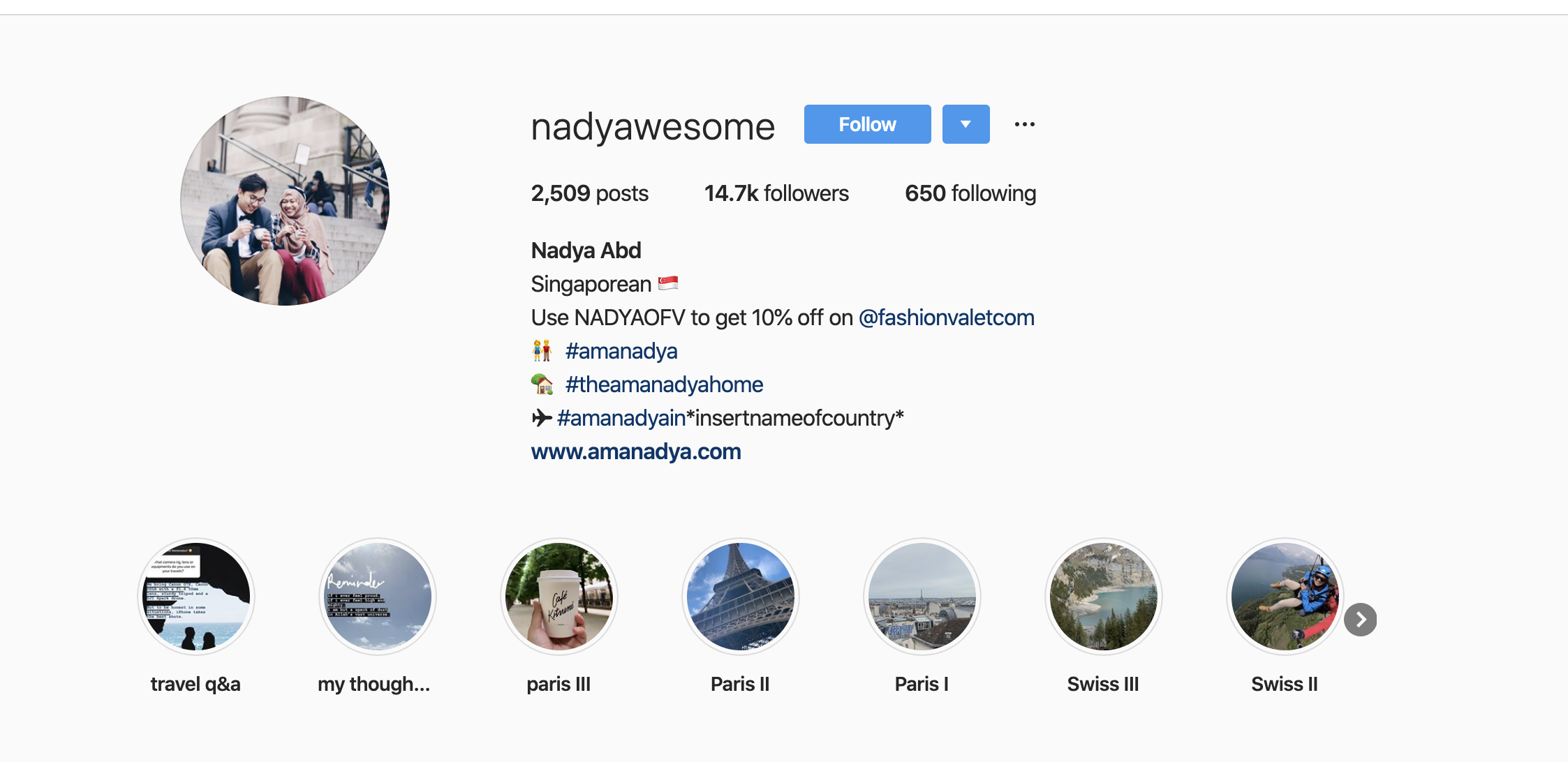 Thirdly, we have Nadya Abd (nadyawesome). She is a Singaporean influencers who has a following of 14,700 followers on instagram.
Her instagram features her recent travels to europe as well as some very interesting pictures foodies will certainly be interested in. If you are interested, you can also search for her blog where she goes in depth about fashion and lifestyle topics.
Muslim influencers: #4. Sarah Atiq

Sarah Atiq (@sarahatiq) is an influencer that content involves all things related to fashion and style.
Currently based in Hong Kong, she often posts pictures of her outfits set against beautiful backdrops. For those of you who want fashion tips from her, do check out her blog that features all sorts of opinion pieces on fashion.
Muslim influencers: #5. Adam and Maryah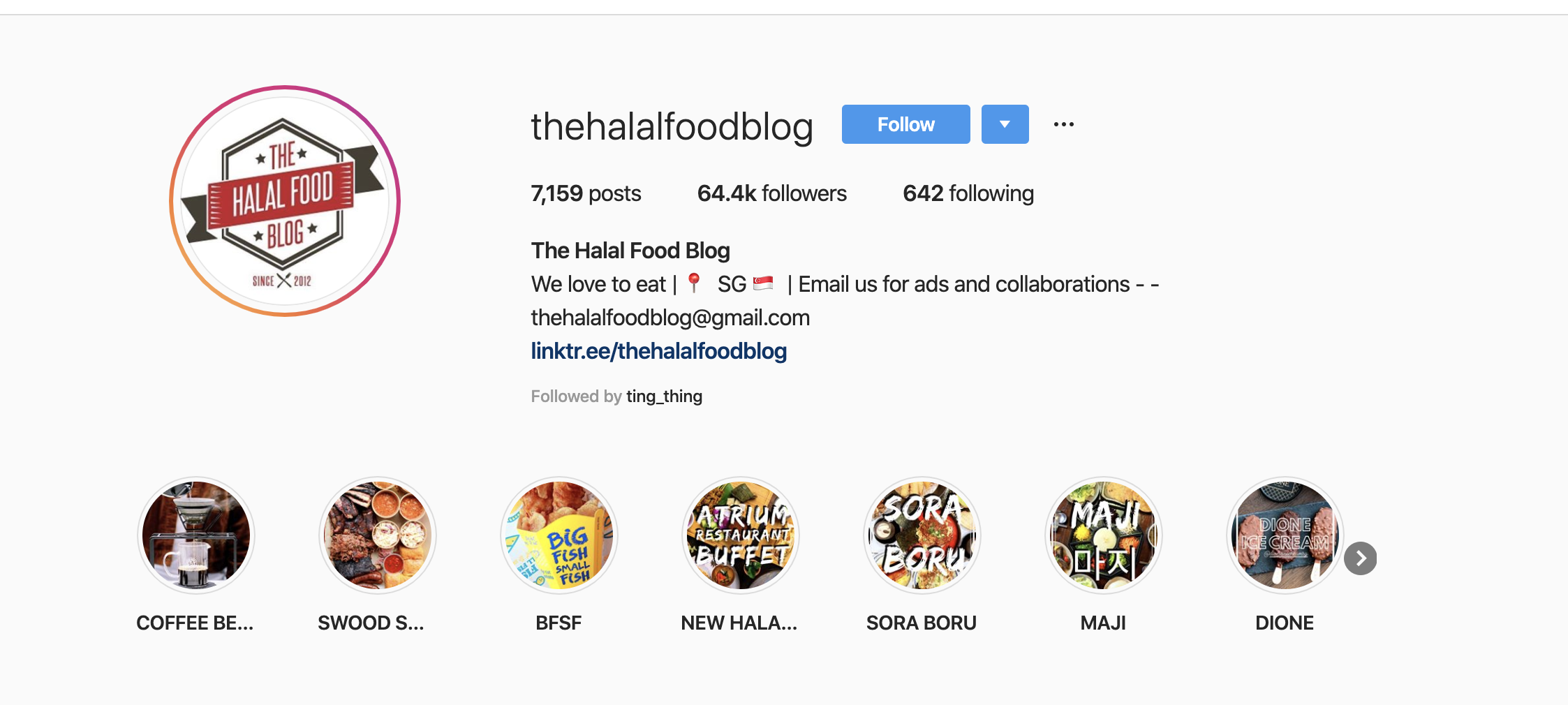 When it comes to top muslim influencers, we cannot miss out Adam Shah and wife, Maryah (@thehalalfoodblog). The two of them can be considered one of the early pioneers with regards to halal food blogging.
They started their journey on June 2012, when they started blogging about restaurants, cafes and even coffee-shops with halal food to share their experiences with others looking for similar dishes.
With 64,400 followers on Instagram, the couple hold quite a significant following in the social media community.
It might surprise you that both of them still hold full time jobs while juggling their social media accounts. Yet, they are still keeping up with their social media accounts, regularly updating Instagram and posting an average of 2-3 articles each week.
From halal western food found in fancy restaurants to simple dimsum found in coffee-shops, you can find many of our local delicacies on their social media platforms.
Muslim influencers: #6. Dalilah Ismail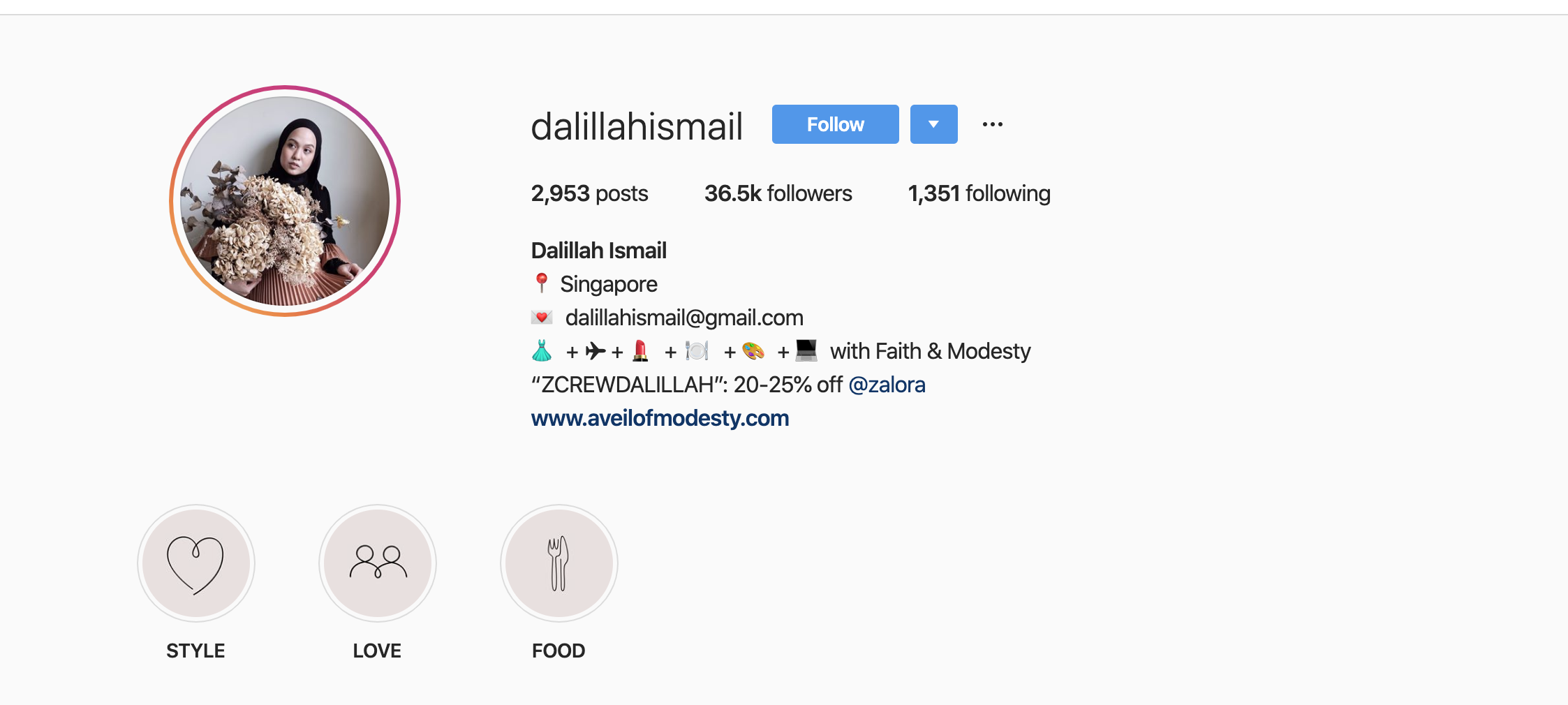 You can find this fashion and lifestyle blogger on Instagram @Dalilahismail. Dalilah has a following of 36,500 followers on Instagram which is why she certainly deserves to be in our list of top muslim influencers.
This Singaporean blogger is passionate about food, fashion and travelling. You can find her documenting her daily outfits on her social media ccount. If you are a fan of chic outfits and incorporating colours into your daily looks, do check out her Instagram!
Muslim influencers: #7. Noor Neelofa Mohd Noor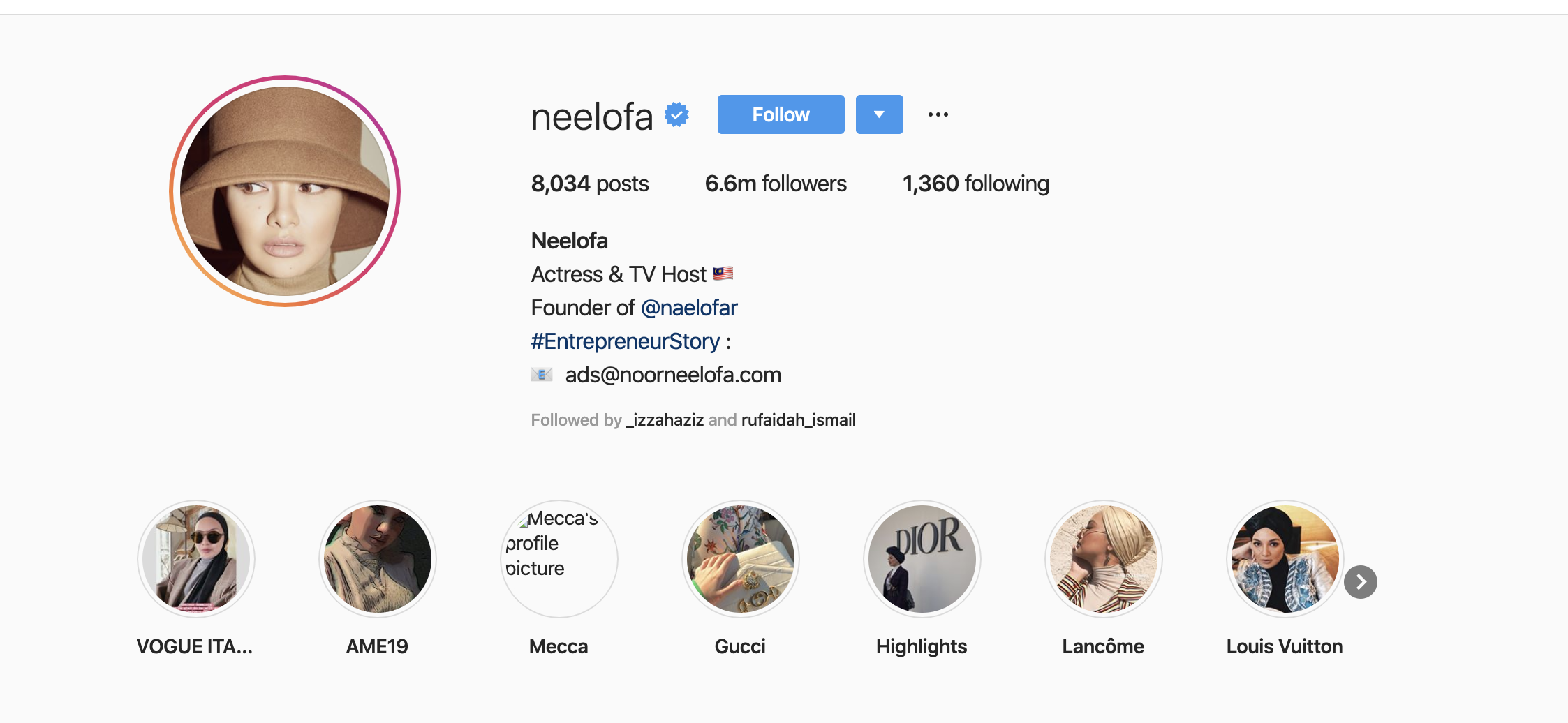 Noor Neelofa Mohd Noo (@neelofa) is an influencer currently based in Kuala Lumpur.
That being said, she is often seen travelling around the around the world for events such as fashion week.
With over 6 million followers on Instagram, Noor can be considered a macro influencer. She has worked with big names such as Louis Vuitton, Gucci and Dior.
Her Instagram will certainly be perfect for those of you interested in fashion, in particular high end fashion.
Muslim influencers: #8. Fadhilah Wahid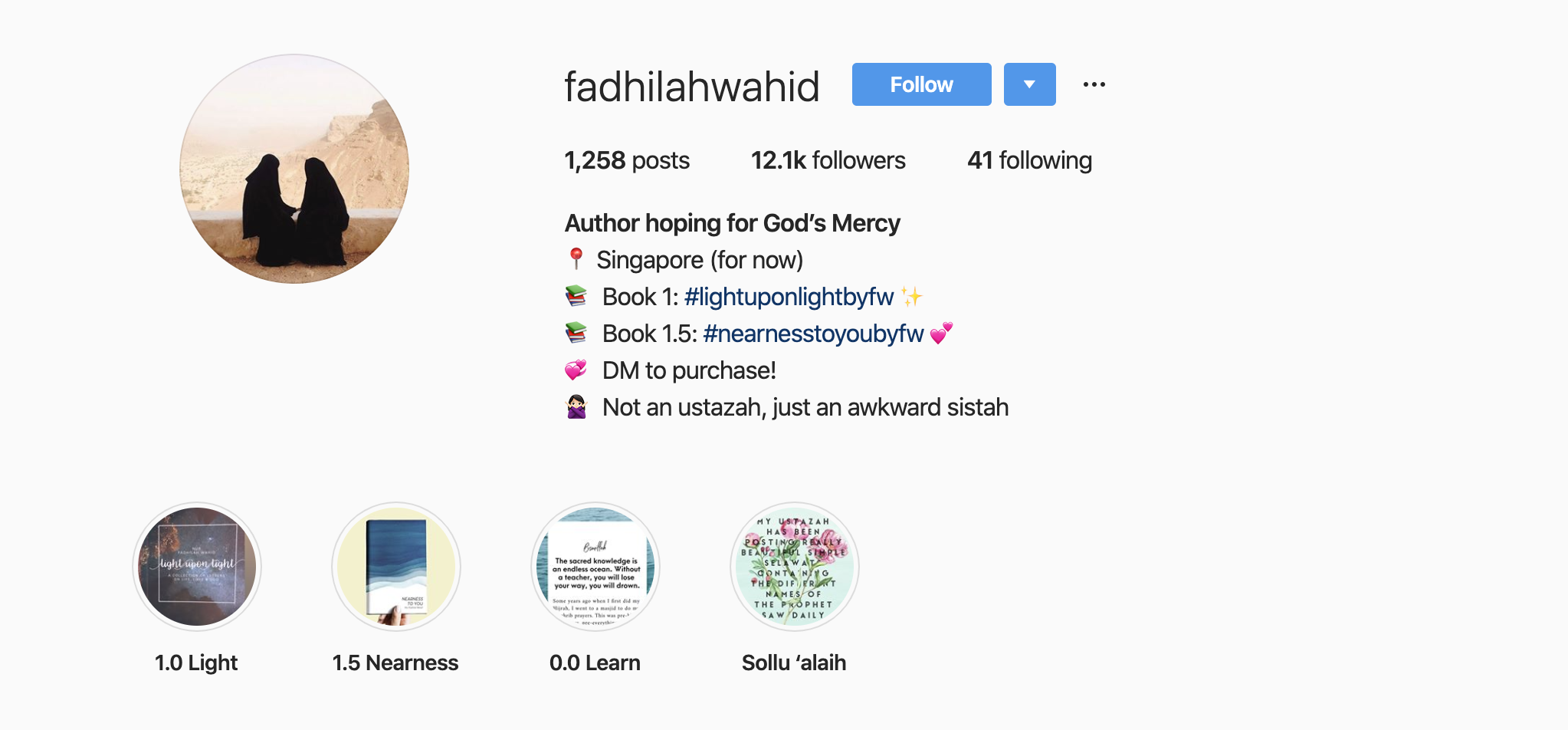 Fadhilah Wahid (@Fadhilahwahid) is a published author currently residing in Singapore. She came back to Singapore after completing her studies in Malaysia.
With 12,100 followers on Instagram, Fadhilah often goes into detail about her thoughts and experiences about her religious teachings. Her insightful and unique of things certainly makes her one of the top muslim influencers.
She has also published a book entitled Light upon Light which can be on her Instagram bio. The book documents her struggles as a Muslimah and has received positive reviews on rating website Goodreads.
Conclusion
There you have it! Our list of top muslim influencers. Whether you are a brand that wishes to work with these top muslim influencers or you simply are looking for muslim influencers to follow, these 8 influencers are certainly worth checking out!
If you are interested in more categories of influencers, you can check out our other articles, that features fashion influencers, food influencers and more.
Sources
Herworld.com, fashion tips muslim fashion beauty instagram influencers hari raya
Vulcanpost, 10499 meet singapores king queen halal food blogging/
Zaahara, blogs writers corner 10 famous muslimah bloggers in singapore