As of April 2020, the percentage of internet users that have Ad-blocking tools is 46% worldwide. That is a potential 46% of the digital audience you are not getting to. To some, this is unacceptable. They have to choose whether to put in more effort into digital marketing, or traditional marketing. But lucky for them, Influencer Marketing exists, and it is more powerful than ever before. 
How Influencer Marketing is Stronger than ever before
Influencer Marketing on social media platforms has been around for quite some time already, 14 years since the first recorded use of such tactics. There are many that refuse to invest in this channel, claiming that it "just a bubble". But 20 years ago, some claimed that  "the internet is just a fad". Look at how wrong they turn out to be. 
Point is, influencer marketing is not a strategy you should shy from. Numbers have shown that Google Searches for 'Influencer Marketing' rose by  1500% since 2016. Topped with the fact that there are more people joining social media. Influencer Marketing shows no sign of stopping. 
We brought up the statistics regarding the use of ad-blockers. How does Influencer Marketing help? Well firstly, social media influencers are more than just ads. While ad-blocks can block out some content that can be seen as ads, they are not smart enough to spot social media influencers advertising to you. So that is one hurdle down. 
Banner Blindness
What does it mean? It refers to the fact that some people naturally ignore ads. Their subconscious mind would recognise an ad, so they quickly set themselves out to ignore it.
Perhaps the best form of advertising is to not let your audience see it as an advertisement. Some people get annoyed with advertisements, so the safest route is to disguise your campaign. Social media influencers are perhaps some of the most creative content creators. They are capable of endorsing a product to their followers. Many social media influencers do not have the budget of professional video content creators, so they have to be resourceful. That means that the price to hire social media influencers is relatively cheaper. Kobe has a new service, it helps pair your campaign with the right influencer. Try it out here. Your first try is free.
Perhaps your product or service is targeted toward a demographic. Find an influencer that creates content similar to your campaign angle! This means the content they are going to create for you, is more "natural". Not to mention that the followers that he/she already has, is already interested in types of content like that. This means you already have a set of established audiences that came with hiring your social media influencer!

Why Social Media Influencers are Key during COVID-19
Okay, we get it. COVID-19 has made things really difficult for some. Some might think that they should not risk their limited funds, on something completely new. But hear us out. One key component to brand success is to obsessively listen to what your customers want. This is especially important during the COVID-19 pandemic- an unprecedented environment.
 Right now the public values two things more than ever- authenticity and trust. Give the people what they want and they will listen to you. Social media influencers are seen as more trustworthy, with surveys suggesting that they trust influencers as much as they trust their friends. 
 With many people staying at home and being socially responsible, they tend to consume more online content. It just so happens that these trusted social media influencers are creative content creators! Followers and communities turn their attention to these influencers. For entertainment. For information. And to lift their spirits. Don't just take our word for it. Social media influencers play such a huge role in our lives, that the United Nations took note of it. They have issued a request for said content creators to spread useful information regarding the COVID-19 pandemic and also to show support for their communities.

"You have the power to change the world" -United Nations
And here we have a fine example of a social media influencer doing his part to show his support for his community.
Influencer marketing was already a formidable channel for marketing. But the COVID-19 crisis will strengthen the base as an essential practice. 
Read this article to find out How Does Influencer Marketing Fare Against COVID-19.
Instagram influencers
Narrowing our scope, let us take a look at the Instagram influencers.  Provided by Hootsuite, we can see an Instagram Audience Overview dating April 2020.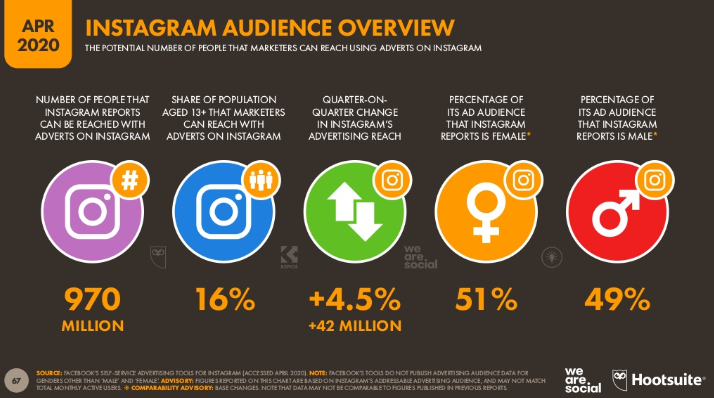 Key Learning Points
The use of hashtags can potentially reach

970 Million People,

if used correctly. This includes the correct and relevant hashtags to use.

A growth rate of 4.5% quarter-on-quarter in Instagram's Advertising reach.

An almost balanced gender demographic. 51% being female and 49% being males, meaning that Instagram is the perfect place for gender-neutral campaigns.
Find out the 8 female Instagram influencers from Singapore here. And 8 male Instagram influencers from Singapore here.
As for the age demographic, we have the following statistics.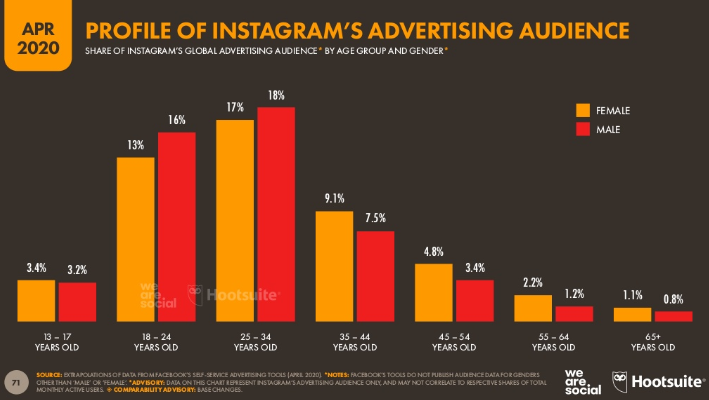 Key Learning Point
The ruling age groups are 18-24 years old. 25-34 years old being the dominant one.
But do take note that these are most likely subject to change since Instagram is more of a generational tool and that these statistics are not long-term (5-10 years).
Instagram influencers have been ruling our Instagram feed for some time. With so many influencers on Instagram, are you worried about the saturation of the market?
Well, you shouldn't be.
Overall Engagements on Instagram influencers 
Like we mentioned above; influencer marketing is stronger than ever. Instagram is one of the prominent platforms for influencer marketing, hence you don't need to worry about your campaign getting lost in the sea of Instagram influencers.
CreatorIQ has been analysing as much as 1.4 million Instagram influencers postings. It has been concluded that the COVID-19 pandemic has not exactly slowed down the growth of Influencer Marketing. In fact, the overall engagement on influencer posts about COVID-19 has exceeded 2.9 billion, as of now. And it is still growing… More than 800,000 posts were examined and with them, contained hashtags #coronavirus, #covid, #covid19, #coronavirusoutbreak or #pandemic. 
With the most popular hashtags being #coronavirus, which was used in more than 466,175 posts and  1,882,051,405 engagements.
All in all, Influencer Marketing is definitely one of the most efficient and effective methods of marketing. And the growth rate it is experiencing despite the COVID-19 is testament to how strong it truly is.  
Instagram influencers are people after all. Find out how you can work with them well here.
Or perhaps you feel that Instagram is not the right platform for you. Find out which suitable platforms you can use here.