Female influencers are getting increasingly popular these days. Therefore, we have decided to compile a list of female influencers that have varying expertise for you guys to check out!
Singapore female influencers: #1. Isabel Tan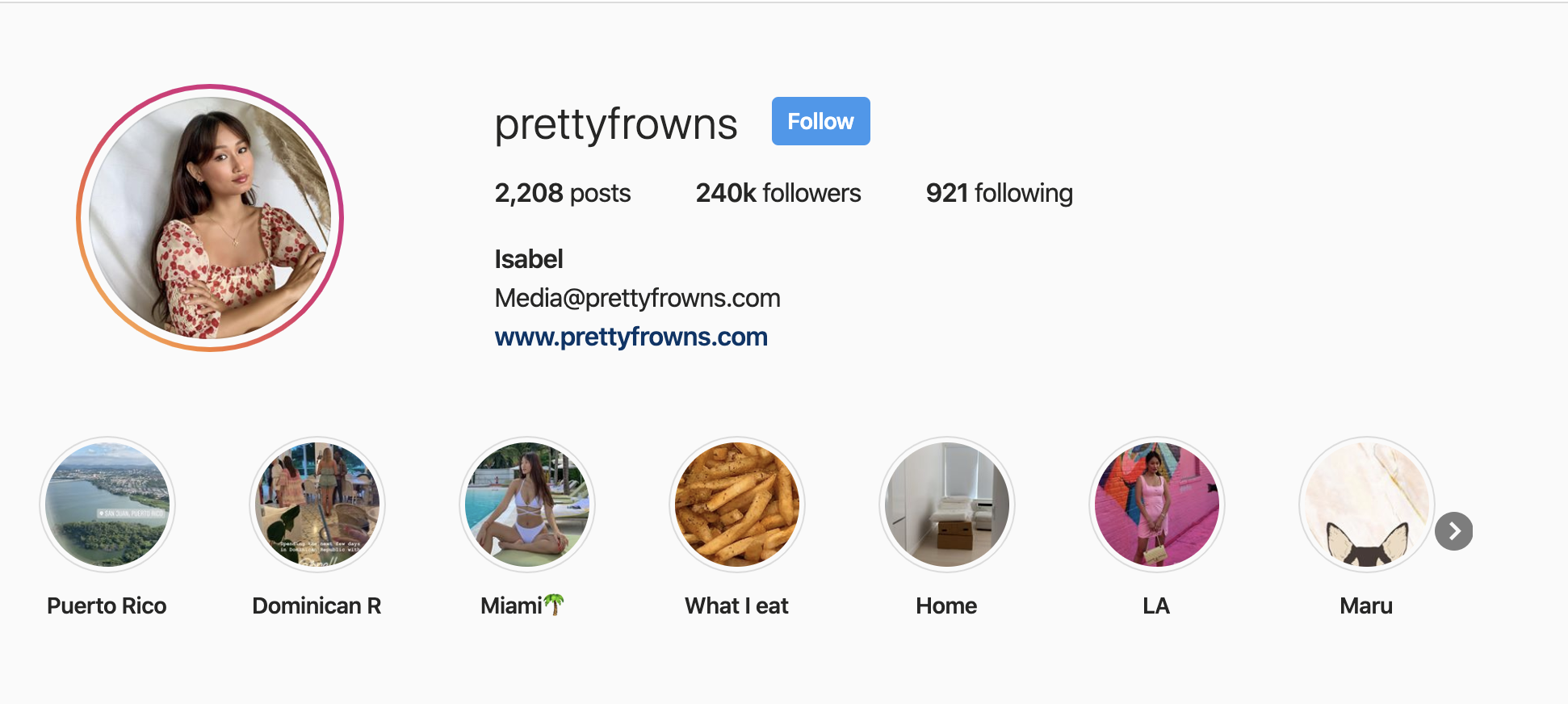 Firstly, we have Isabel Tan (@prettyfrowns), who is a travel and lifestyle influence. You can consider her to be a macro influencer, with 240K followers, she certainly has garnered quite a big following base on Instagram.
She has also worked with many big brands across different industries. From beauty brands like Rimmel to video streaming service, Netflix, Isabel has a wide-ranging portfolio of brand collaborations.
To add on, her travels are rather interesting. She is no stranger to exotic locations such as Puerto Rico, Dominican Republic and Miami. Heed over to her Instagram to check out her many beautiful pictures from all over the globe.
Singapore female influencers: #2. Kate Yong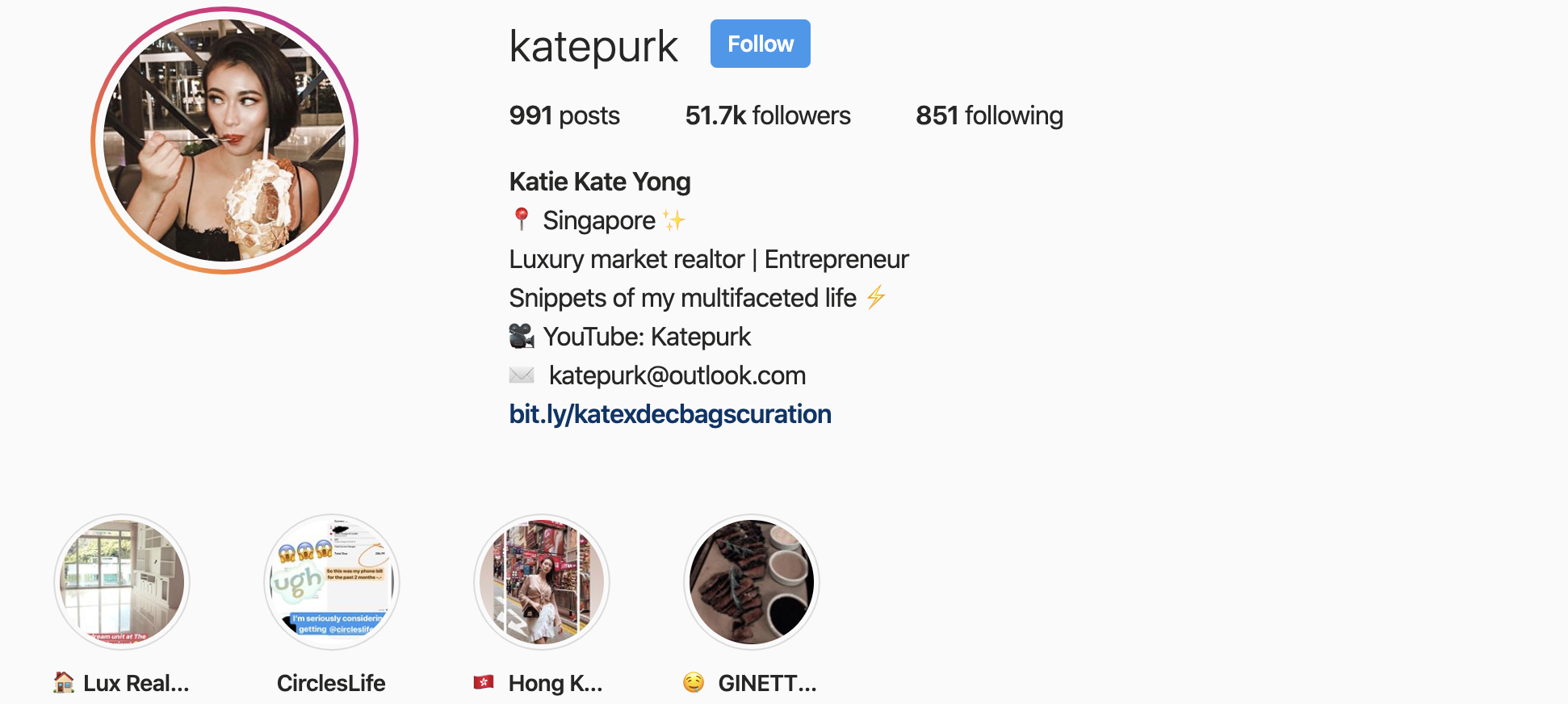 Secondly, we have Kate Yong (@katepurk), who is not only an influencer but also a luxury market realtor. Kate currently has over 50K followers and has built up quite the name for herself.
This can be seen as she has secured brand deals with international brands such as Adidas, Superga and Revolve. She has also been nominated for a spot in the top 15 breakout influencers in Asia.
Kate's Instagram features a good range of content for beauty addicts. For instance, she has talked about hair grooming practices as well as fashion deals on her social media accounts. Of course, like many other influencers, she also often posts pictures of beautifully curated outfits.
To add on to her list of achievements, Kate is also an entrepreneur, specialising in street style clothes.
Singapore female influencers: #3. Aurelia Hathaway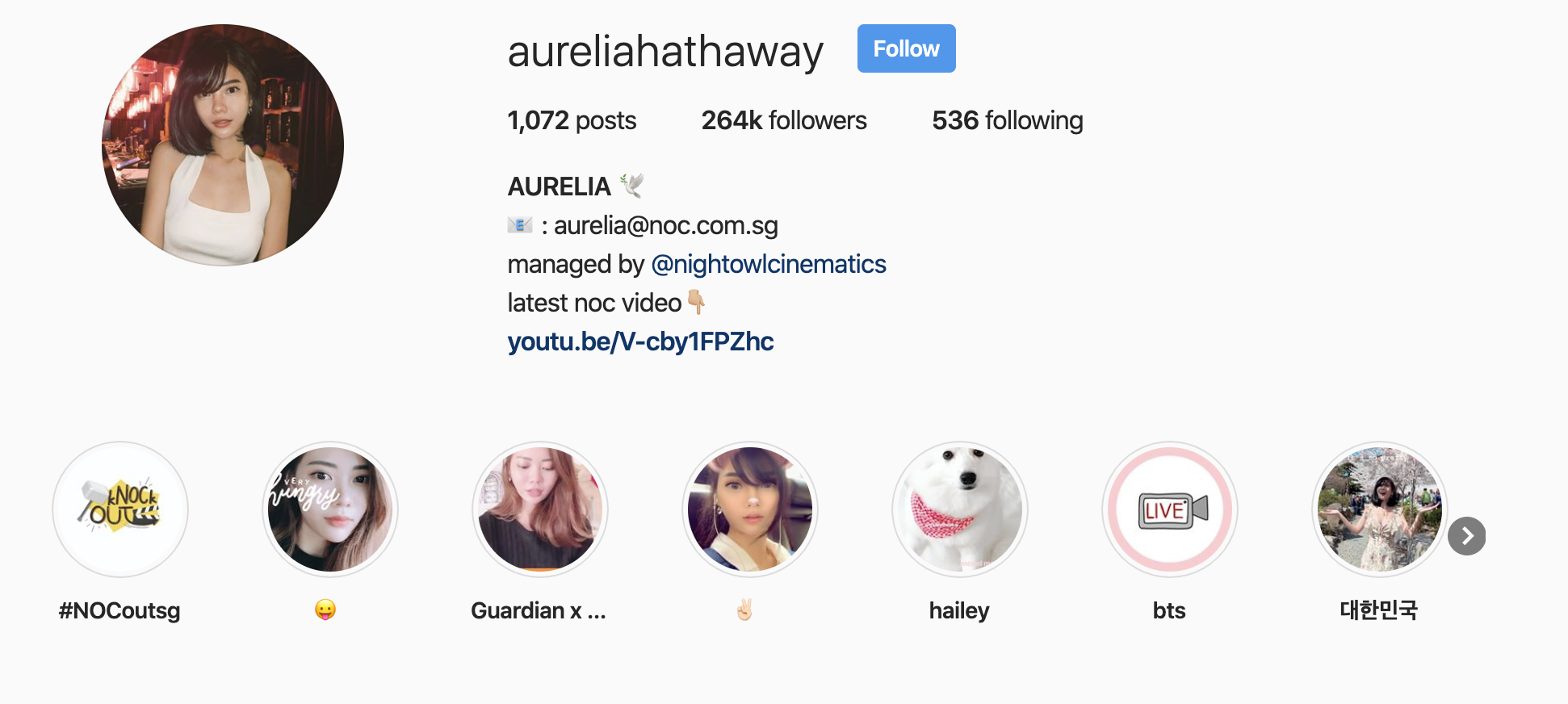 Thirdly, we have Aurelia Hathaway, (@aureliahathaway), who is another beauty and fashion influencer.
Most of you might not her from YouTube channel, Ryan Sylvia (Night Owl Cinematics, NOC). She regular appears on NOC and is highly involved in the YouTube channel.
Having acted in skits, comedic videos and even participating in the NOC travel vlogs, she has proved to be an invaluable member of the channel.
To add on, apart from YouTube she is also involved in many other activities. She is an influencer but also spends her time modelling for various brands.
Lastly, for those of you who enjoy watching pet-related content, do check out her Instagram for updates on her adorable dog!
Singapore female influencers: #4. Jade Rasif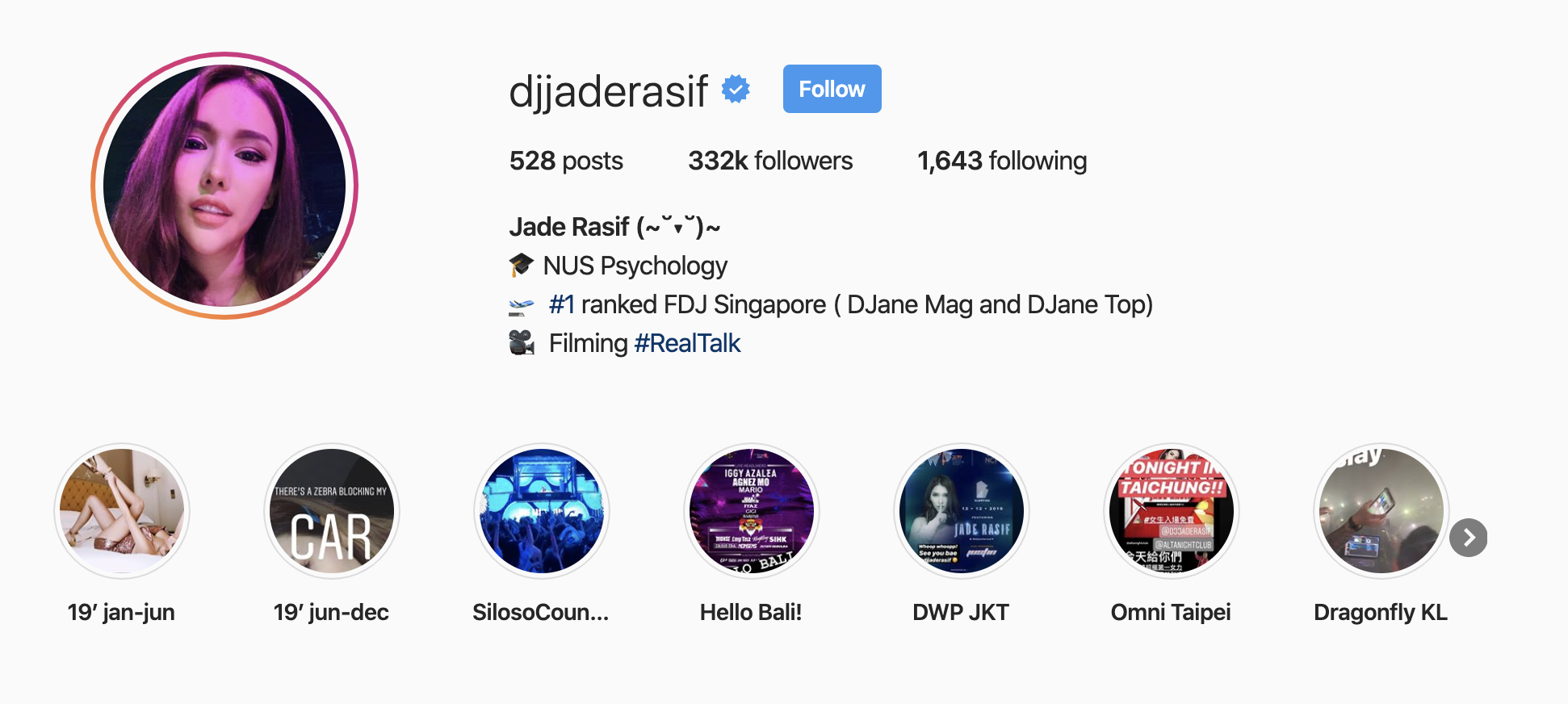 Fourthly, we have Jade Rasif (@djjaderasif), with over 330K followers on Instagram alone.
Her Instagram username should clue you in about her profession as a DJ. In fact, she is ranked #1 FDJ in Singapore.
Her achievements do not stop here. She also graduated from the National University of Singapore with a degree in psychology.
To add on, she is also currently filming hit video series on YouTube, RealTalk. Through the series, Jade has built quite a reputation for herself with the wise words of advice she has voiced in the series. She is the total definition of beauty with brains!
We also need to add that she has over 300K followers on Instagram, which distinguishes her from many other female influencers.
Singapore female influencers: #5. Tyen Rasif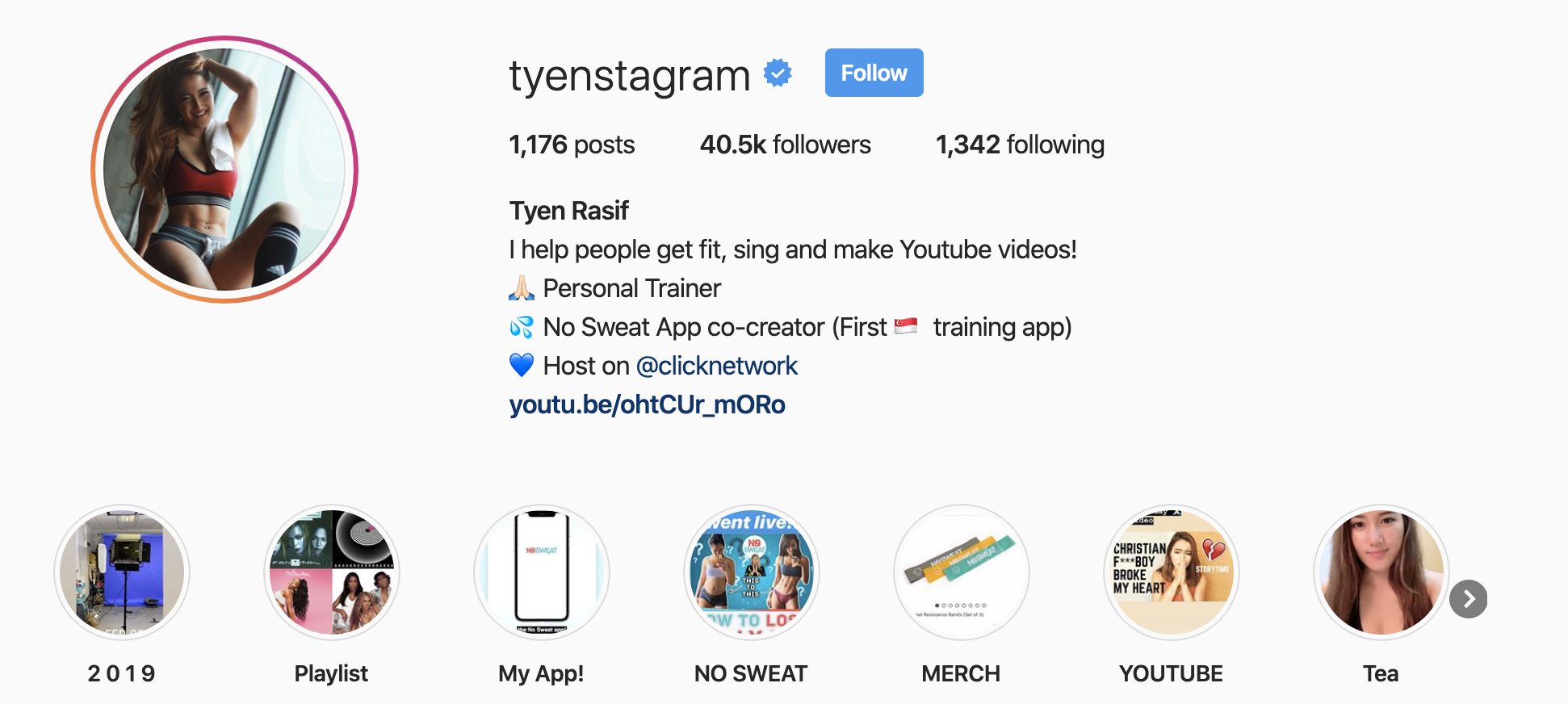 Moving on, we have Tyan Rasif, who is a fitness influencer. You might know her from her participation in the beauty pageant, Miss Universe Singapore 2018.
Going on her Instagram page, you will be able to see pictures where she displays her strength and extremely toned body. However, what might shock you is that this was not always the case.
According to an interview she did with Today's Newspaper, Tyen has come a long way in her fitness journey. She used to struggle with an eating disorder and even experienced fainting spells due to insufficient nutrition.
Yet, she managed to overcome her eating disorder thanks to weightlifting. Eventually, her healthy diet coupled with regular exercise was successful and she emerged second in the bikini junior category at the International Federation of Bodybuilding.
Today, Tyen is a personal trainer and has also developed a workout app.
Singapore female influencers: #6. Hannah Chia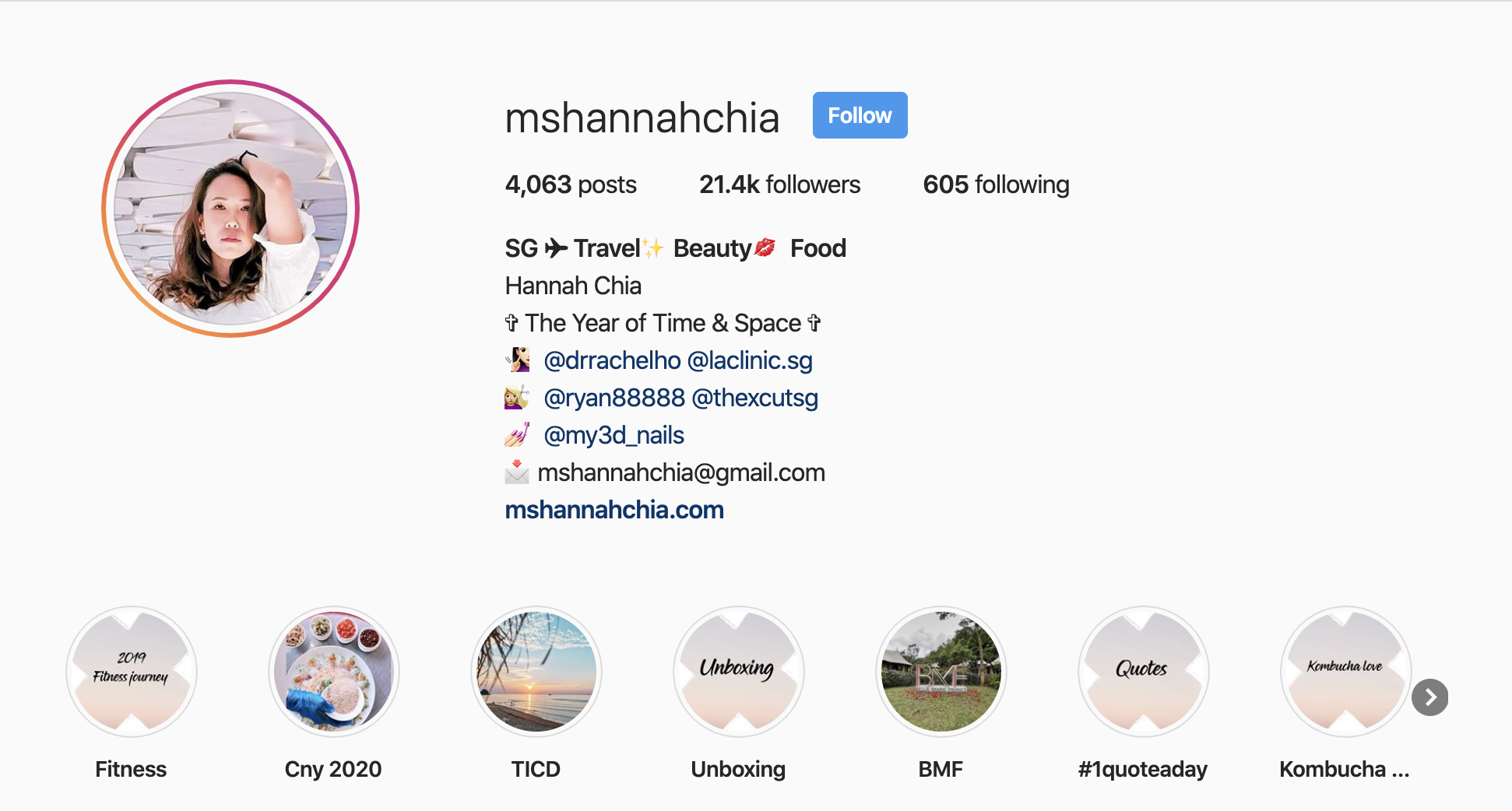 Next up, we have Hannah Chia (@mshannahchia) who is a food, lifestyle and beauty influencer. For those of you who are looking to adopt a vegan lifestyle, you can always check out Hannah's social media channels for good vegan recipes.
Of course, like many of the other female influencers on this list, Hannah also has a wide range of content. In recent years, beauty brands like Lululun have collaborated with her which goes to show that her expertise in the various industries has been recognised.
Singapore female influencers: #7. Sylvia Chan

The next influencer we have needs no introduction. She is Sylvia Chan (@sylsylnoc), co-founder of Night Owl Cinematics (NOC). Her roles as co-founder are many, some of which include content creating as well as being a manager to the many talents she has under her company.
That being said, Sylvia still continues to appear in NOC's videos on their YouTube channel. The YouTube channel has been widely successful, with close to a million subscriber and hitting 370 million views.
Singapore female influencers: #8. Jamie Tan

Lastly, we have Jamie Tan (@jamietyj) who is a beauty and makeup influencer.
A quick scroll on her Instagram would provide you with the best looking outfits and the popular brands out there.
Jamie has worked with brands such as benefit cosmetics as well as Liese, the hairstyling brand. Apart from Instagram, she also has her own YouTube channel where she uploads beauty and makeup related content.
Conclusion
In conclusion, there are many female influencers out there. However, each of them is unique in terms of the content they post, their opinions as well as the valuable advice they provide. Therefore, there is no harm to following a few female influencers to stay well connected to others on social media.
If you are interested in learning more about influencer marketing, do click here. There are also related articles which showcase some of the top influencers in each respective category.
*The respective pictures in this article do not belong to Kobe Global Technologies*
Sources
Asiaone, singapore meet-singapores-female-instagram-stars
Media one marketing, top-influencers-singapore-guide
styleguide.sg,three-lessons-we-learnt-from-sylvia-chan-co-founder-of-night-owl-cinematics-and-our-favourite-on-screen-ah-lian
Todayonline.com, singapore, first-gym-session-marked-turning-point-struggle-anxiety