What is SEO?
SEO is short for Search Engine Optimization. Essentially it is just a set of rules content creators tend to follow in order to achieve higher rankings in their respective search engines. Needless to say, a higher ranking would be better as it would mean getting higher organic, or unpaid, traffic to your website. But I am not here to explain to you the mechanics behind SEO. I am here to talk about better SEO, with the help of Influencer Marketing.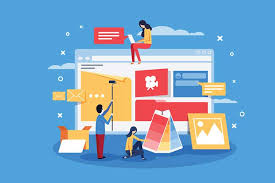 The current pandemic situation has had devastating effects on many industries. The influencer marketing industry isn't immune to the impacts as the world struggles to maintain social distancing. One thing for sure is that if your company pulls through this crisis, your company will be stronger than ever before.
With the shift from in-person shopping to primarily online shopping, brands that are not leveraging social media and influencers in their digital marketing strategy could be missing a big opportunity.
Why Influencer Marketing? And how does it improve my SEO?
Without a doubt, the field of competition in the SEO side of things can be intensive. Your competitors are constantly eyeing for that number 1 ranking as well. However, if you know how to play with the rules of the game, winning this competition will be quite easy. Lucky for you, it can be deemed as a straightforward process. One of the key ingredients that can help you, influencer marketing. 
Influencer Marketing is a healthy and effective tool to boost your search engine rankings with. Well-constructed campaigns can build up high levels of engagement, which is one of the factors that determine your search engine ranking.
High engagement rates
One of the issues you're facing is probably getting to potentially interested audiences. A research conducted by Moz suggests that engagement and traffic is the fifth most important ranking factor. What this means is that if you are not able to achieve a certain threshold of traffic, it would have detrimental effects on your ranking. Engaging your audience would result in higher traffic. 
This issue can be easily overcome with Influencer Marketing. Much more effective than alternative forms of advertising. A joint study by Annalect and Twitter concluded that users trust influencers almost as much as their own friends. This proves that partnering your brand with influencers would add credibility to your campaign. This helps as the existing followers of the influencer already see your influencer as a trusted source. And of course, the followers would tell their friends, hence further increasing your brand awareness through word of mouth.
For some influencers, they already have a massive follower base and their respective reach on their own. This means that hiring influencers for your campaign will almost automatically improve your brand visibility. When they share your content or engage with it, your reach becomes more extensive. In turn, it increases your chances of attracting potentially interested audiences to visit your site. And bear in mind that higher traffic translates to higher rankings in search engines. Wondering what are some examples of influencers with a massive following? Click here.
It takes as much as one simple share to have a significant impact on potential visitors. With multiple sharing going around, your brand is bound to come to the attention of entirely new audiences. 
The key idea, and also its advantage, is that influencer marketing involves highly influential individuals directing their following as potential customers, to your site. Google also recognises this advantage and hence rewards your website with a higher ranking. 
If you intend to hire influencers, might as well be on good terms with them. Check out this article here, and learn more about how to improve your relationship with them.
Okay, I get it. But why do I need them for SEO, especially during COVID-19?
1. Digital content consumption
With the Singapore government implementing the circuit breaker measures, there are more people staying at home. Many of which rely on the internet as their source of entertainment. This means that many people have more free time on their hands. What better way to kill some time but to consume content online? That's when you can strike your move. This is a great time to hire influencers to create content for your brand.
A recent study done by Later, shows that social media platforms such as Facebook and Instagram have seen a 40% increase in usage, which also means that the engagement on sponsored content will see a significant increase.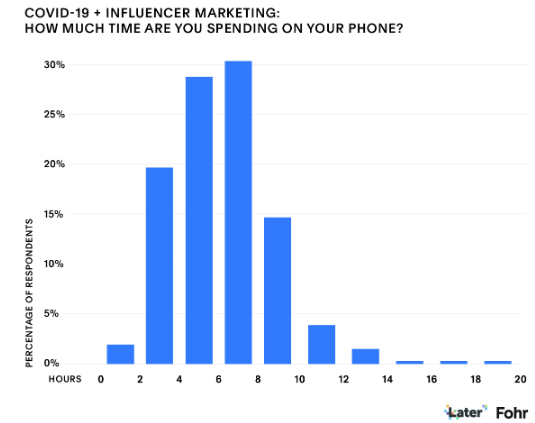 While the whole world is continuing to practice social distancing by staying at home, the average screen time for social media usage will continue to increase tremendously. Furthermore, people are looking for familiar faces such as families, friends and influencers, someone that they trust and who symbolize a sense of normalcy from a time before this global pandemic. Hence this has resulted in higher engagement from their followers as shared by 80% of the influencers who participated in the research.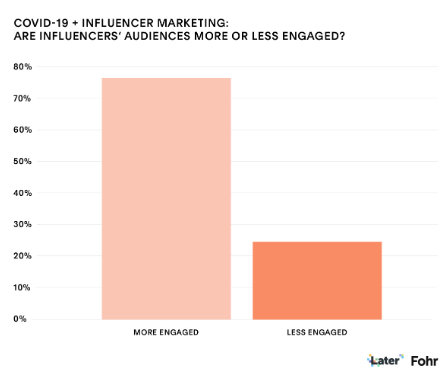 In accordance with this rise in online content consumption, marketers should increase their online presence and possibly consider new ways of sharing said content.
2. Negating in-person meetings
Marketing and sales departments are temporarily unable to attract leads through networking events or conferences. That's where Influencer Marketing trumps over the necessity of meeting face to face. Marketers can turn to social media and influencers to attract much-needed leads and sales. 
3. Flexible fees COVID19 lowering prices
As you may have heard, many events and conferences were cancelled due to the current situation. Due to that fact, many influencers tend to lower their rates. This can be seen as an effort and act of kindness by the influencer community as they try their best to assist the businesses that would need help.  This would help you get the most reach and engagement with your limited budget.
How do I rank my website for COVID-19?

With the coronavirus outbreak ongoing, the trending topics on Google are definitely bound to change. What's best for you to do is to adapt your SEO content strategy. 
The first obvious step in the right direction is relevance. It is imperative that you start targeting coronavirus (or COVID-19) related keywords. 
Simple questions like "How did coronavirus start?" and "How does the coronavirus spread?" have already attracted the attention of thousands since COVID-19 hit the news. Here you already have a rough sketch of the keywords you will need to target on your site. 
Below is a consolidated list of tips you could follow.
1. Know your facts, topical expert
You don't have to be a scientist or doctor to interpret findings on COVID-19. Conduct some research using a keyword research tool. Example: Google Keyword Planner. They are capable of finding keywords that would be relevant to the current topics. The results you find are the keywords you would want to target on your site, adding your own spin that is related to your brand.
For example here, targeting a simple question like "What is coronavirus" will actually put you in a disadvantageous position. This is because you are essentially putting your site up against certified medical authority sites. These sites may already have a high ranking on search engines. Hence it may be worth it to write topics like "What does COVID-19 mean for my business?" or similar topics.
The main idea here is to find keywords that are relevant to whatever is trending or relevant at that point in time. Right now it is pretty easy as the whole coronavirus topic is on almost everybody's minds. Be specific and pay attention to the competition you are getting yourself into as high authoritative sites like the CDC are also constantly targeting coronavirus-related terms.
2.  Understand your audience demographic
Okay, you got your targeted keywords. What's next? Checking on your intended audience is a good next step. Those keywords are useless if your intended audience is not even the slightest intrigued by the topic you intend to delve into. 
This can be done efficiently if you already have an established following on the site you intend to post your content on. Research and survey, "What are your concerns over the current COVID-19 outbreak?" or anything that can relate to your topic. 
Some noteworthy topics you can explore:
Are there any ways I get more clients during COVID-19?

Should I invest or save money during this pandemic?

How can I take out a small business loan?
It is important to remember that while you are aiming to create content your audience wants, they are also a great source for your ideas. Getting definitive answers is sure to give you the confidence you need to churn out content since you know this is what they want. In the end, you can rest assured that your audience would be easily engaged.
The ideas they give may also give way to new keywords that you did not even think about in the first place.
3.  Create a dedicated page for COVID-19 
If you find yourself receiving a lot of questions related to COVID-19, it would easier to streamline the answering process by creating a dedicated page. This can be put out as a form of a forum, allowing people to come together and discuss topics that are COVID-19 related. This way, people can see answers to frequently asked questions, hence negating the need for you to reach out to every single question. You might even learn a thing or two from your own audience like things you never knew or find out which topic your next article should be. 
Learn more on how to increase your Google SEO ranking with Influencer Marketing here. 
Some neat ways to carry out influencer marketing campaigns.
So how does one go around implementing or carrying out Influencer Marketing? Here are some quick ways to get you started.
1. Influencers' very own content
While you have some messages you want to carry out in your campaigns, it's best to allow them a certain degree of freedom. Don't put too many restraints on your influencers. Let the content creators create content. Too much control in a campaign can be counterproductive. One example would be letting the influencer write for your brand, or even better yet, a review of your product. This can be done via Instagram stories or through live streaming. As some influencers have access to higher ranking SEO sites, linking up with them will improve your SEO. Not to mention that the influencers' followers would also learn about your brand and come visit your site.
2. Promo code
In the B2C side of things, you can give promo codes for your influencer to give away. Influencers would host giveaways which have proven to result in higher engagement rate with your campaigns. Criteria to participate in the giveaway could be entrants requiring to sign up to your newsletter at your site. This will certainly bring in more organic traffic to your website. Not to mention you also have more emails you can use to contact future potential customers.
Overall, Influencer Marketing is a vital tool in improving your SEO, but do not rush in and expect to be building good relationships with influencers. Building your relationship with influencers and climbing SEO rankings take time. SEO and Influencer Marketing are both activities that your business will have to integrate into the operations in the long run. So don't be discouraged by the lack of instant results.