Influencers refer to a group of people that have the ability to shape the perceptions or influence the decision of other users on Social Media. Therefore, when we refer to Instagram influencers, we refer to Instagram users that are trusted and followed by other Instagram users.
There are many types of Instagram influencers. We have fashion influencers, parent influencers, lifestyle influencers and the list goes on. However, what they all have in common is the ability to influence with their voice on Social Media. Therefore, we will now look at the various top Instagram influencers.
Instagram influencers 2020: #1. Celine Chiam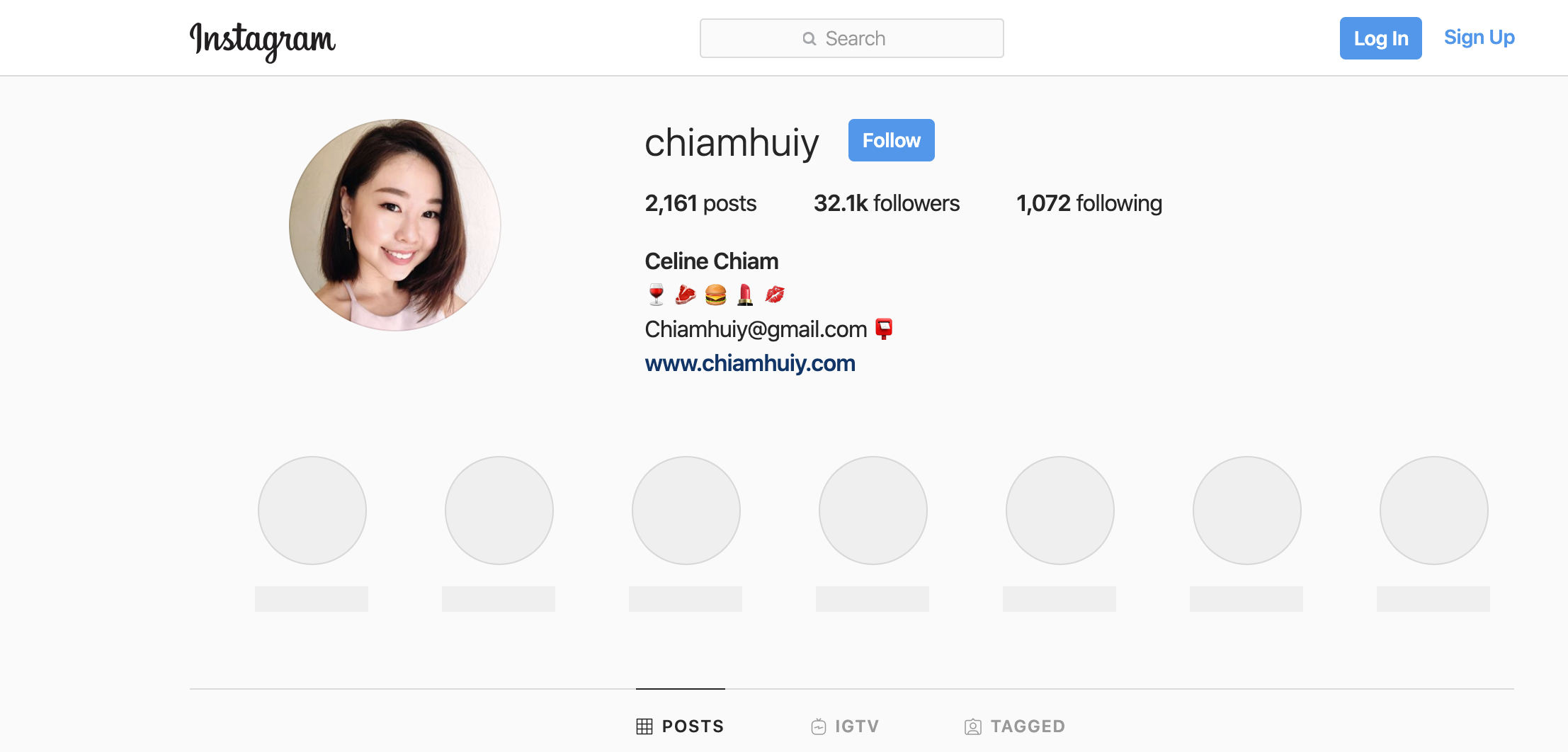 Firstly, we have Celine Chiam (@chiamhuiy) who is a travel beauty and lifestyle influencer. With more than 30K followers on Instagram, Celine has built up quite a following on Social Media.
Like many other influencers, Celine also has experience working with multiple brands. She has collaborated with AHC, a Korean beauty brand as well as Shilla Duty-Free Store. You can certainly tell she keeps herself busy with travelling, brand collaborations and fitness classes as seen from her Instagram account!
Instagram influencers 2020: #2. Jasmine Samatchaya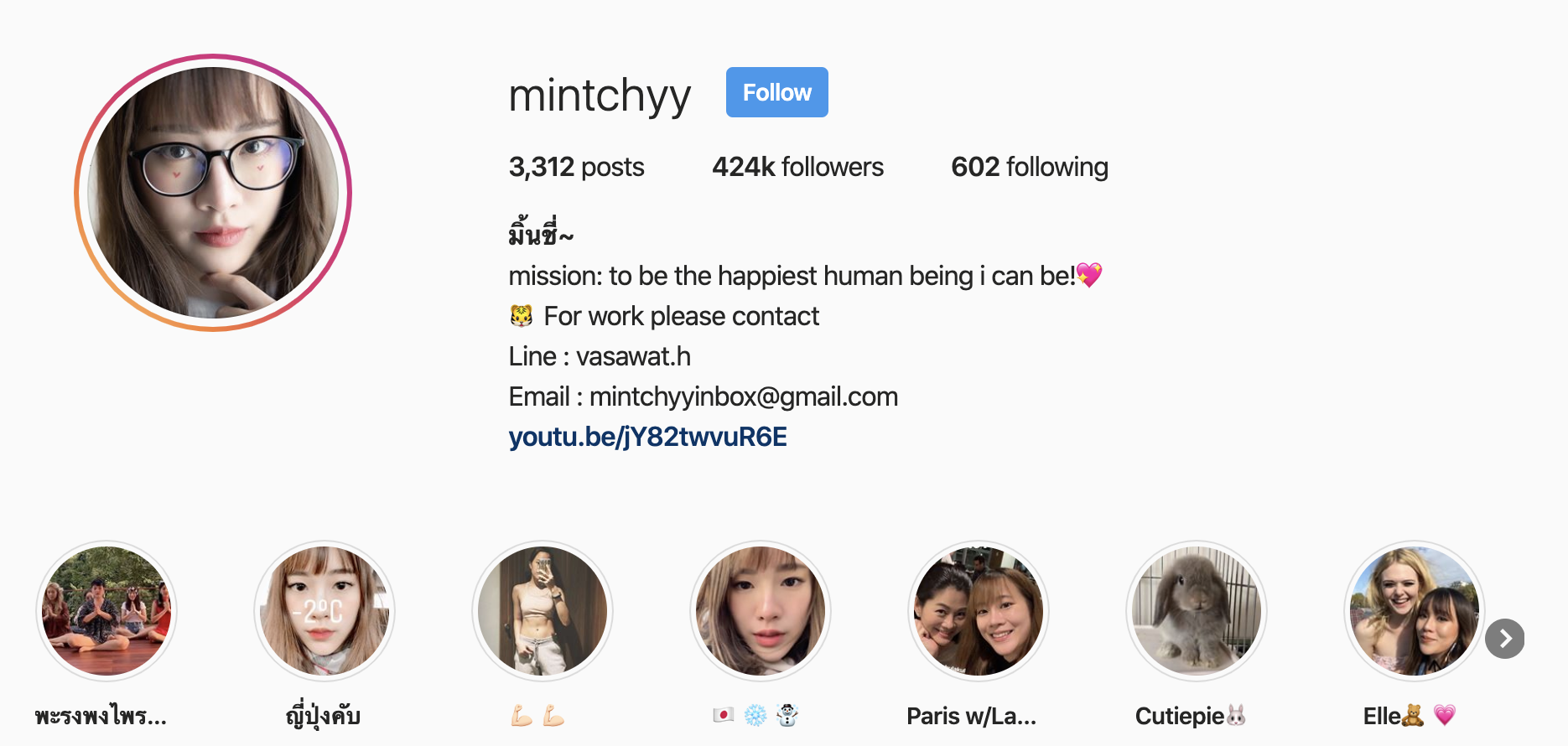 Secondly, we have an influencer from Thailand, Jasmine Samatchaya (@Mintchyy). Jasmine, also popularly known as Mintchyy (the name of her YouTube and Instagram accounts), is a beauty influencer.
On YouTube alone, she has over 800K subscribers, and her numbers on Instagram are rather impressive too, with 424K followers.
You can expect the content you commonly see on Instagram from her. With adorable pictures of her travels to OOTD shots, she has provided a range of content for her followers on Social Media. Therefore, do check her Social Media accounts out to know more about her life and her bubbly personality.
Instagram influencers 2020: #3. Hoang Thanh Loan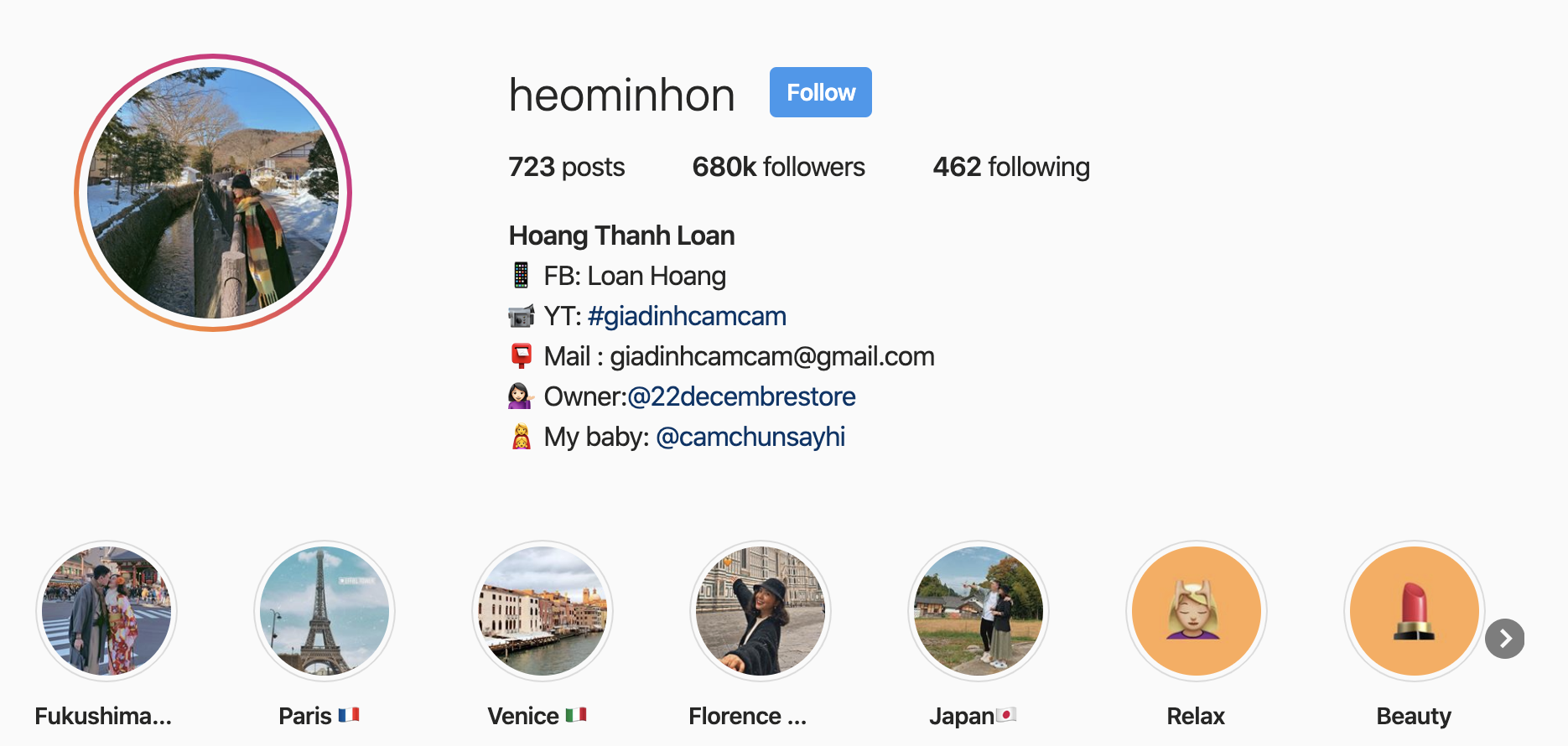 Thirdly, we have Hoang Thanh Loan (@heominhon), who is an influencer from Vietnam. You will probably be able to guess from her fashionable outfits that Thanh Loan is a beauty and fashion influencer. She is regularly seen on Social Media outfits that make her look amazingly chic. The simple silhouettes of her outfits add to the overall effortless looks she is always in.
Apart from being a fashion influencer, she is also a parent influencer. If you interested in the cute family pictures, do check out her Instagram as she regularly posts about her family and her life as a mom.
Instagram influencers 2020: #4. Timothy Tiah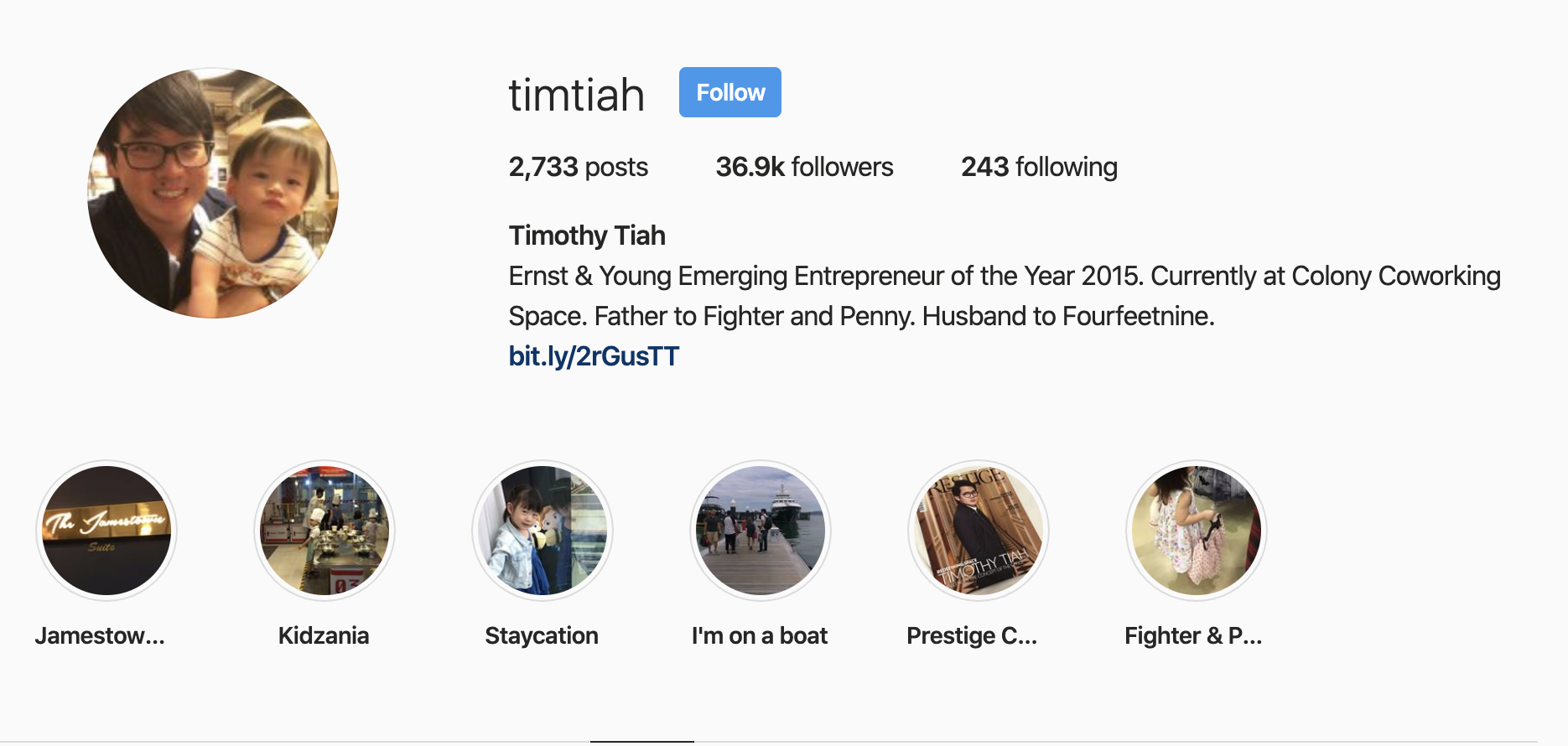 Fourthly we have Timothy Tiah (@timtiah), who is another parent influencer who has won the hearts of many with his adorable family pictures. With over 30K followers, Timothy's Instagram account is filled pictures of fun family time. From staycations to weekends out together, you can catch this family of 4 enjoying themselves thanks to Instagram.
Instagram influencers 2020: #5. Sophie Willocq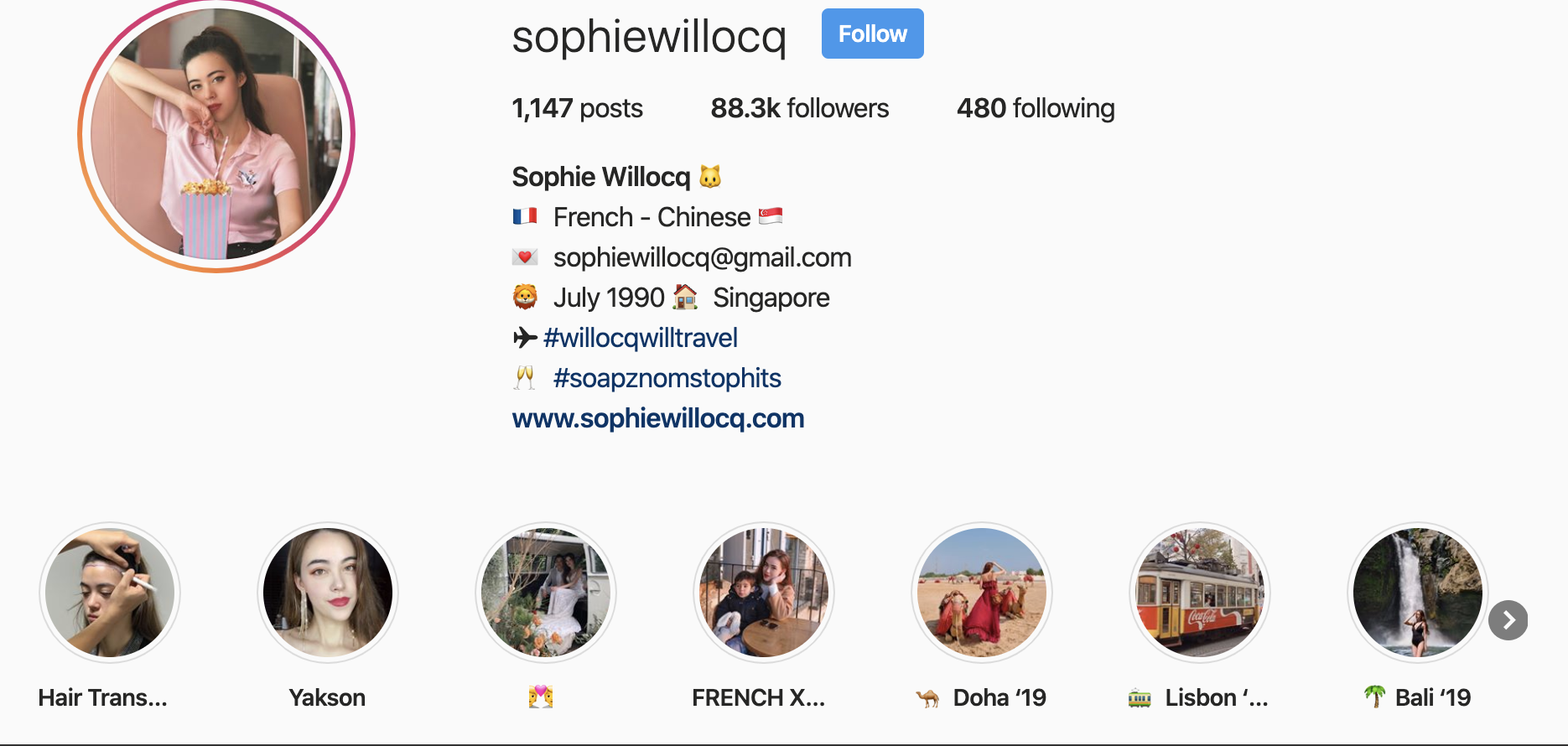 Next up, we have Sophie Estelle Willocq (@sophiewillocq), who is a beauty, fashion and travel influencer. From her exotic looks, you will probably be able to tell that her ethnicity is rather unique. She is half French, half Chinese.
Apart from being a fashion influencer, Sophie is also a travel influencer and has a range of travelling experience. Her childhood was spent in various countries some of them being Egypt, China & France. To add on, she also used to be an air stewardess under Singapore airlines which therefore explains her wealth of experience when it comes to travelling.
Although she since moved on to other jobs, Sophie still continues to travel frequently. For instance, she has recently to places like Doha and Lisbon. Therefore, do check out her Instagram account for amazing travel inspiration.
Instagram influencers 2020: #6. Fifi Alvianto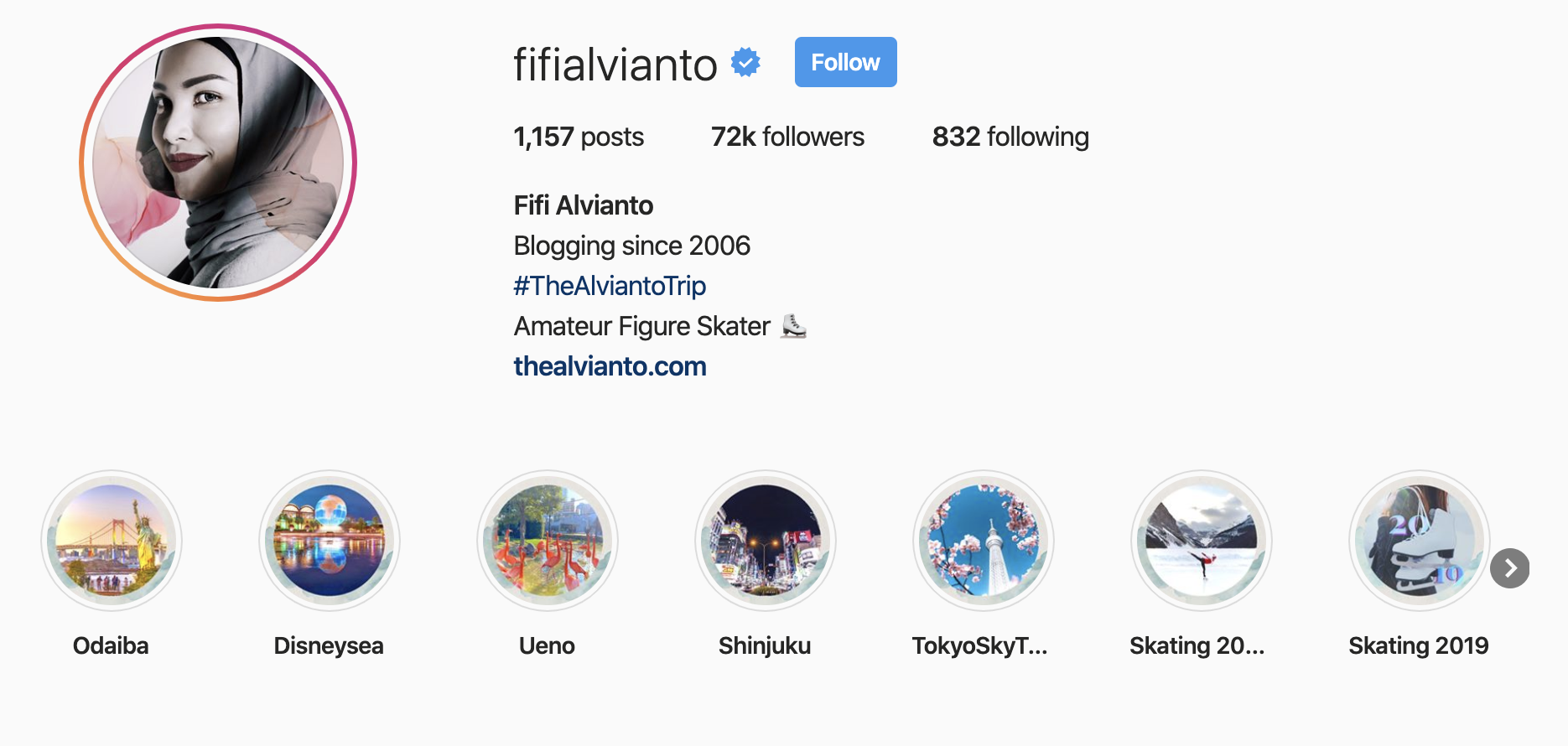 Moving on, we have Fifi Alvianto (@fifialvianto), who is a parent influencer from Indonesia. As a mother to 1, Fifi regularly updates her Instagram account with pictures of her family. Apart from Instagram, Fifi is also rather active on her blog. She started blogging back in 2006, which therefore explains her expertise when it comes to influencing.
Instagram influencers 2020: #7. Brian See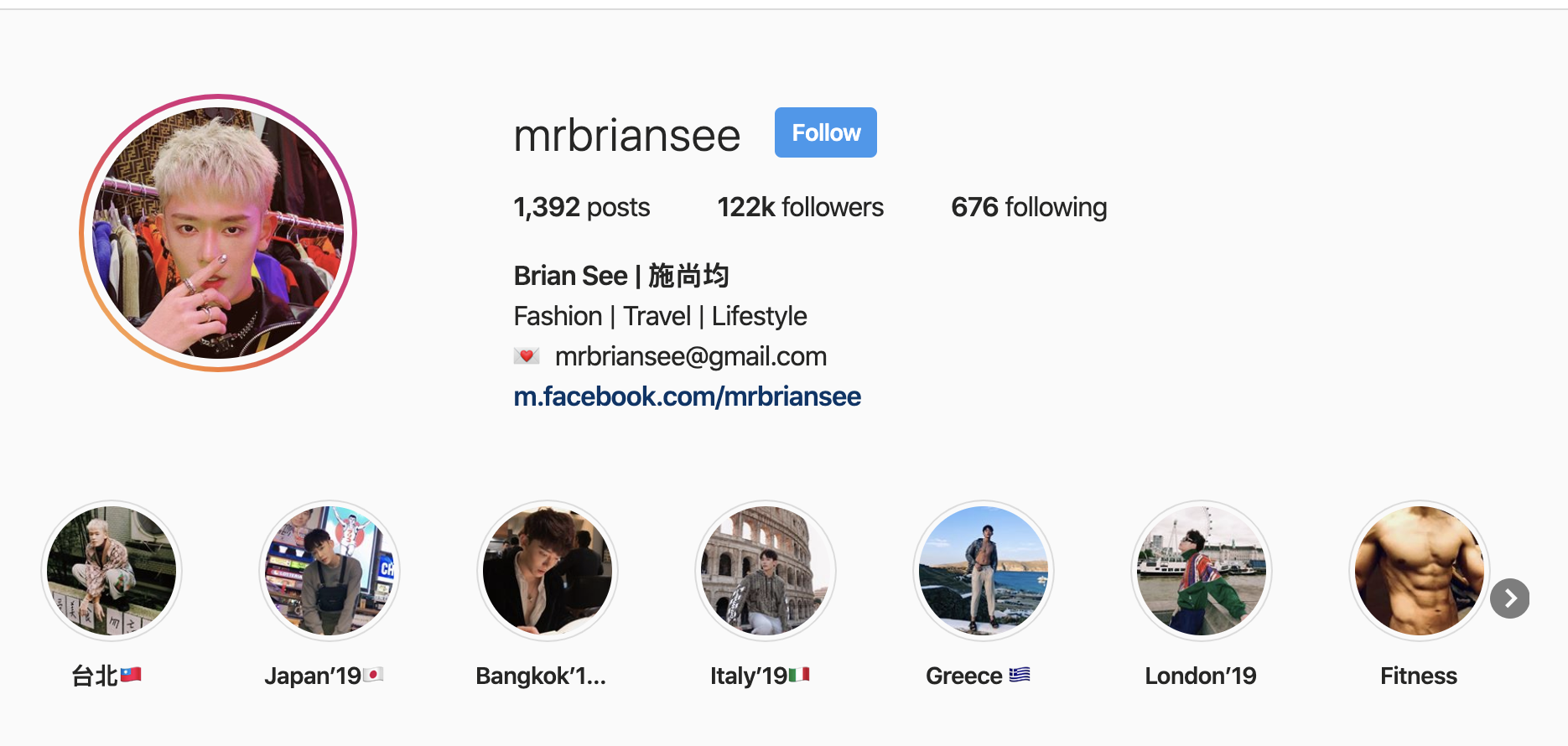 Our next influencer on this list is another fashion influencer. Brian See (@mrbriansee) is a fashion, travel and lifestyle influencer from Malaysia.
Brian, being a lifestyle influencer shares a lot about his daily life experiences on Instagram. He often documents his travels, his style inspirations and even his fitness journey on Social Media for his 122K Instagram followers.
Do check out Brian's Instagram for more insights into style and fashion inspiration!
Instagram influencers 2020: #8. Eunice Annabel Lim
Lastly, we have Eunice Annabel Lim (@euniceannabel), who is a fashion influencer. With almost 200K followers on Instagram, you can consider Eunice to be macro influencer.
Her feed can be described as a collection of her OOTDs (Outfit Of The Day). However, what is unique is that many of her OOTDs are taken overseas as she often travels. Her recent travels include trips to Paris in France, Los Angeles in the USA and also to Japan. This also means that Eunice is able to provide outfit inspiration for all sorts of weather and climate conditions. From fashionable coats to summery swimwear, Eunice seems to have her outfits all ready.
To add on, she is also an expert at accessorizing to bring her outfit up to the next level. She often makes use of items like berets, earrings and necklaces that really tie her whole look together. If you are interested in fashion or would like some outfit ideas do check out Eunice's Instagram.
Conclusion
In conclusion, Instagram's formation in 2010 has seen the rise of many users that have gained significant following and trust amongst their followers. There are many other Instagram influencers out there. However, we do recommend checking these 8 influencers out first!
If you are interested in learning more about influencer marketing, do click here. There are also related articles which showcase some of the top influencers in each respective category.
*The respective pictures in this article do not belong to Kobe Global Technologies*
Sources
Theshelf.com, blogger-roundups, asian-influencers