There are many types of influencers. You may be familiar with influencers who post about food, travel or even lifestyle. However, amongst the broader categories of influencers, there are influencers who specialise in niche content.
Today, we will be talking about one such group of niche influencers – creative influencers. These are influencers who enjoy DIY projects and recreating items in the comforts of their homes. For those of you who enjoy hands-on activities or Art and Craft, this influencer list will probably be interesting to you.
DIY Influencers: #1. Ashley Basnight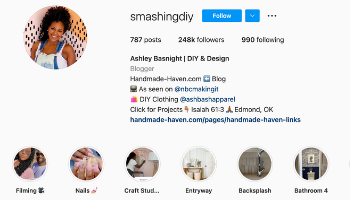 Firstly, we have Ashley Basnight (@smashingdiy), who is a macro DIY influencer.
What items can she create? Well, the list of items that she has created is rather impressive. To generalise, she is a woodworker who has created all sorts of wood related objects. From large objects like desks and cabinets to dainty minuscule objects like clocks, Ashley has done it all.
If you take a quick scroll through her Instagram account, you will find many home inspiration pictures. The twist is that Ashley is in charge of creating many of the pieces seen in these pictures. In fact, she has her own craft room which she has personally designed and refurbished.
Apart from her Instagram account, she also has a blog, the Handmade Haven. On her blog, she posts about her DIY projects and also offers services like an E-design form where users can fill in a form to get a mock-up of their dream room.
Apart from being recognised by 248K users on Instagram, Ashley's talent in DIY projects has garnered the attention of NBC. She was invited to participate in NBC reality show, Making it, where participants compete in several projects.
DIY Influencers: #2. Elsie Larson & Emma Chapman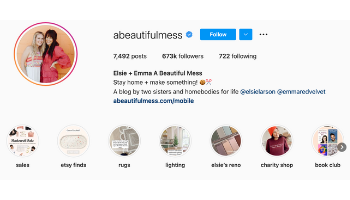 Secondly, we have Elsie Larson & Emma Chapman (@abeautifulmess), who are a pair of sisters that have promoted the beauty of DIY crafts.
If you are looking to renovate your house or a room, this account is one that is worth checking out. From cute Etsy finds to beautiful rugs, their account has all the inspiration required for refurbishing rooms.
If you like the aesthetics of their account, we highly recommend you to check out their website with the same name. From tutorials for home decor projects to step-by-step crafts, there is a whole range of DIY projects for one to embark on. Whether you are thinking of making your own jewellery or sewing quilted pillows, the blog has something for everyone.
Apart from running a company together, this pair of sisters are also the brains behind several photo editing apps. Indeed, they are the epitome of how one can incorporate their interest into a full-blown career.
DIY Influencers: #3. Renee Day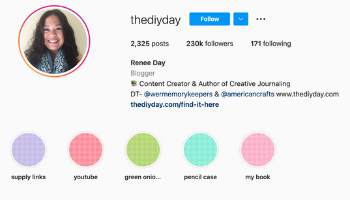 Thirdly, we have Renee Day (@thediyday), who has a speciality in creating cute yet practical items.
If you are a fan of aesthetically pleasing stationery items, Renee's account is probably worth checking out. From DIY calendars to DIY cards, Renee teaches her followers how to create these items with simple stationery.
Furthermore, she is a big fan of personalising her items. From pencil cases to notebooks, she can turn an ordinary looking item into a unique one. Therefore, if you are looking to spice up your study or work desk, do check out Renee's account.
DIY Influencers: #4. Rachel Mae Smith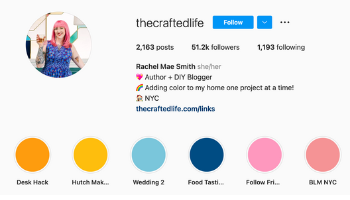 Fourthly, we have Rachel Mae Smith (@thecraftedlife), who is a DIY influencer based in New York City.
If you are someone who prefers muted colours, Rachel's account might not be catered for you. However, if you are someone who is looking for something different, Rachel's speciality of using bright colours to shape the space is something that you will enjoy.
Like many of the other creative influencers here, Rachel's Instagram account is used to showcase her DIY products. The more in-depth tutorials can be found on her website.
From bright Christmas ornaments to strikingly blue walls, Rachel has somehow managed to incorporate these bright colours in a tasteful way. Therefore, if you are looking for something interesting, do check out Rachel's social media accounts.
DIY Influencers: #5. Teresa Lim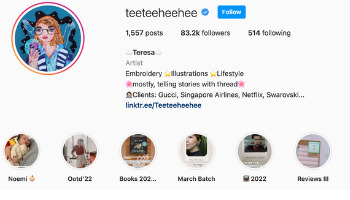 Lastly, we have Teresa Lim (@teeteeheehee), who is an influencer that has dedicated her social media platforms to share her love for art and embroidery.
If you think the art scene in Singapore is lacking, you may want to reconsider this after checking out Teresa's Instagram account. Teresa's journey in the arts can be traced back to her days in Lasalle, where she majored in Fashion Textile Design and graduated with first-class honours.
From unique buttons with beaded lacing to one of a kind earrings, Teresa has managed to create such lovely pieces.
Additionally, she recently became a mother to an adorable toddler. However, this has not stopped her from doing what she likes. She can be seen working on her DIY projects while her toddler is well snuggled on her lap. In fact, she has also incorporated her passion with motherhood. For example, she has posted pictures where she embroidered a hat and onesie set for her infant.
Conclusion
There are many other creative influencers out there. From crocheting to knitting and embroidery, each of them has a craft that they specialise in. Even if you are not interested in trying out some of these DIY projects, these creative influencers are still worth checking out for design inspiration!
Sources
Izea, resources/diy-influencers-on-instagram/