With the pandemic resulting in many gyms closing down, many of us embarked on our home workout journey. From workout videos to fitness influencers, it seems like everyone took to the internet in a bid to keep fit in the midst of the social distancing measures.
Now that the restrictions appear to be easing, are fitness influencers less relevant? Well, that is certainly not the case. Whether you are one that enjoys hitting the gym or prefer doing home workouts, fitness influencers are a source of information to inspire and motivate us to keep fit and stay healthy.
While there are many types of fitness influencers, this article will be introducing 6 female fitness influencers. These 6 fitness influencers are living proof that females can be just as fit when it comes to fitness and health.
Fitness TikTokers: #1. Jeynelle Ng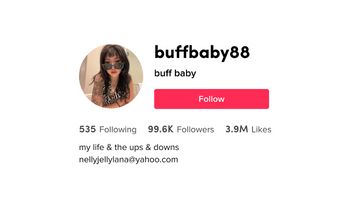 Firstly, we have Jeynelle Ng (@buffbaby88), who is a Gen Z fitness influencer.
If you need that workout motivation, Jeynelle's TikTok account is the place to go. From her workout routine to incorporating workouts into her early morning routine, she often documents her fitness sessions.
A quick scroll of her social media platforms, it may seem that keeping up with fitness comes extremely easy for Jeynelle. However, on her TikTok, she also shows the very relatable sides to fitness.
For instance, in one of her videos, she vlogs about how she pushed herself to hit the weights after stopping for a period of time. Indeed, Jeynelle has shown us that it is alright to lose motivation. However, what is more important is that we continue to keep a healthy lifestyle.
Additionally, apart from fitness-related content, Jeynelle does post other lifestyle-related content. From trendy dances to beauty content, Jeynelle is a master of it all.
Fitness TikTokers: #2. Jamie Teo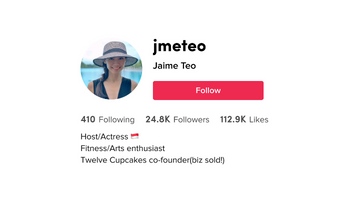 Secondly, we have Jamie Teo (@jmeteo), who is also known for representing Singapore in the Miss Universe competition back in 2001.
Is there a form of exercise that Jamie cannot do? Well, from her TikTok account it seems like she is rather talented when it comes to working out. From Yoga poses to fitness challenges, Jamie can be seen keeping herself healthy with different forms of workouts.
Furthermore, it appears that Jamie is a fan of dancing. She has done quite a few dance challenges on Tiktok. Indeed, there are many forms of working out. Therefore, do check out Jamie's TikTok account for some workout inspiration.
Like many of the capable women on this list, Jamie is also a woman of many talents. In fact, she is the co-founder of the local F&B chain, Twelve Cupcakes. Although she has since sold the business, it nevertheless is a testament to her business acumen.
Fitness TikTokers: #3. Chloe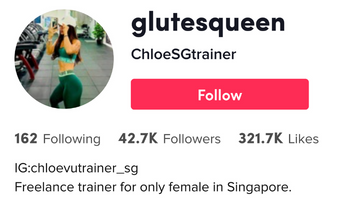 Thirdly, we have Chloe (@glutesqueen), who is the epitome that females can also hit the gym hard.
As a freelance personal trainer, a huge portion of her time is spent in the gym. As apparent from her TikTok username, her speciality in personal training would actually be glute training. From lifting weights to squats, there is a great range of workouts available of her TikTok account.
If you are curious about how a day in the life of a personal trainer looks like, do check out her TikTok account where she documents the details of a typical day in her life. From healthy meal preps to strength training exercises, Chloe has certainly incorporated fitness into her everyday life.
Fitness TikTokers: #4. Arasi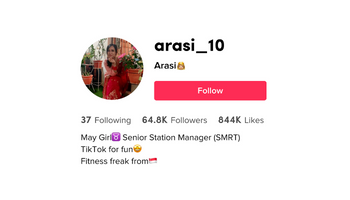 Fourthly, we have Arasi (@arasi_10), who is an influencer as well as a senior train station manager at SMRT
From her post-workout videos to fun challenges, she is rather active on her TikTok account.
Although she is a fitness enthusiast, she also enjoys a good meal. In fact, she has recently posted a video where she created an interesting dish with Spaghetti and thosai. Indeed, she shows us that being a fitness influencer should mean a plain diet with no carbs. There are many ways to stay healthy yet treat yourself!
Fitness TikTokers: #5. Alexia Clark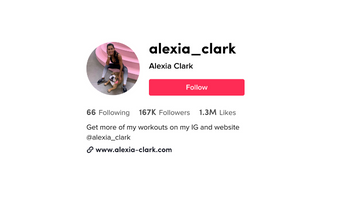 Moving on, we have Alexia Clark (@alexia_clark), who is an influencer with more than 160K followers.
Clark's TikTok account is a great repository for anyone who is looking out for new workouts or attempting to create a workout routine. Whether you would prefer to work on your arms, glutes or abs, it seems like Clark has a workout just for you.
However, given the short nature of TikTok videos, there is a limit to the range of exercises she can showcase in a single video. If you enjoy her workouts, you can check out her Instagram and website for a longer variation of her workouts.
Fitness TikTokers: #6. Cassey Ho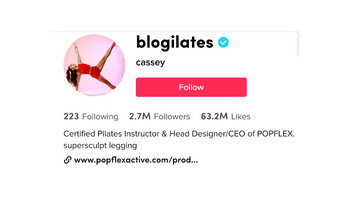 Next up, we have Cassey Ho (@blogilates), who is more commonly known as blogilates from her YouTube account.
Cassey is capable of many types of exercises. However, it appears that her favourite form of exercise is pilates. Not all of us might have the same flexibility and core strength. However, her exercises are easy to follow and will certainly help us strengthen our bodies.
Conclusion
There are many fitness influencers on TikTok. Just looking from this list itself, each fitness influencer is unique in terms of the content they produce. Therefore, whether you are looking for high intensity workout or a good Yoga stretch, these 6 fitness influencers are a great source of information