With more than a billion users, TikTok is now one of the biggest social media platforms today. Unlike its counterparts like Facebook and YouTube, the platform is relatively new and has much potential for growth.
Many marketers have seen the power of TikTok as a platform to reach out to their target group. From comical short clips to viral trends, TikTok has been at the epicentre of it all. Today, we will be introducing some of the top TikTok influencers who have built a reputation for themselves in content creation on TikTok.
Singapore TikTokers: #1. Ng Ming Wei
Firstly, we have Ming Wei (@mingweirocks), who is one of the top TikTok influencers in Singapore. Ming Wei is part of a father and son duo, who have gone viral on TikTok. Ming Wei's content includes prank videos, which often involve his father, who is also a TikTok influencer (@daddyming). Therefore, if you are looking for a comedy heavy TikTok account, do check out Ming Wei's TikTok account.
Apart from his TikTok stardom, Ming Wei is also known for being a national athlete. In fact, he has done the country proud by attaining the silver medal in the Southeast Asian Games.
Singapore TikTokers: #2. Nic Kaufmann
Secondly, we have Nic Kaufmann (@nickaufmann), who is a TikTok influencer with more than 6 million followers. Although Nic is currently based in Germany, this influencer was born and educated in Singapore.
Like many of us out there, Nic actually started with Instagram, and subsequently created a TikTok account. Nic produces a wide variety of content – lipsync, dance and comedy clips are no stranger to his account. Additionally, his relatable "POV" videos have also gained quite a bit of traction. One of his more popular videos include "POV: I catch you staring but then I realize you're just my phone camera and not a real person".
Singapore TikTokers: #3. Low Zi Hao
Thirdly, we have Low Zi Hao (@zhlowart_official), who is TikToker and a university student at Nanyang Technological University (NTU)
TikTok might be known for its lip-sync and dance videos. However, the platform houses a wide variety of content. Zi Hao's account is an example of the diverse content available on TikTok.
This Singaporean Tiktoker produces content related to his hobby, kinetic kirigami, also known as moving paper sculptures. His art form has been rather popular with TikTok users, as seen from the 554K followers that he has.
Apart from TikTok, Zi Hao has amassed quite a bit of fame on his Instagram platform. In fact, this tech-savvy Gen Z is no stranger to online fame. From going viral on Reddit to becoming an influencer recognised for his craft, Zi Hao is no stranger to creating content on Social Media.
Singapore TikTokers: #4. Isaac Lim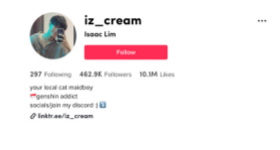 Fourthly, we have Isaac Lim (@iz_cream), who is a TikToker with over 400K followers. Isaac's content consists of everyday relatable videos. For example, his TikTok videos show him reviewing the famous BTS meal and trying out new TikTok filters.
Additionally, Isaac has created quite a name for himself by posting very unique content. As seen from his TikTok bio, he often posts videos of himself in maid costumes on his social media account. Isaac is certainly a TikTok influencer who dares to post quirky content on his social media platforms.
Singapore TikTokers: #5. Jeynelle Ng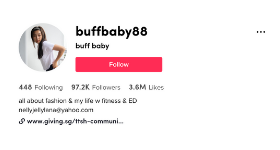 Next up, we have Jeynelle Ng (@buffbaby88), who is a fashion and fitness influencer on TikTok. Jeynelle has close to 100K followers on TikTok.
If you are a fan of fashion, Jeynelle's TikTok account would be worth checking out. From casual streetwear to chic outfits, she certainly has her own unique style of fashion. Apart from admiring the looks that she has put together, her TikTok account also hosts a series of fashion-related content. For example, in one of her more recent videos, she documents her challenge of creating a date outfit for under $30.
If you are not a fan of fashion, Jeynelle's account also hosts other types of content. Being a spin enthusiast, Jeynelle has posted content relating to the sport on her social media platforms. Her passion for fashion and fitness is certainly apparent on her TikTok account.
Singapore TikTokers: #6. Wirdiani

Moving on, we have Wirdiani (@badgaldidiiii), who is a TikTok influencer as well as a freelance makeup artist. Many content creators have shown us that TikTok is a great platform to share your hobbies.
In Wirdiani's case, her hobby of makeup is a huge focus of her social media accounts. Despite only being 21, her makeup skills are astonishing. Of course, her experience on social media has helped with her content creation. From smooth transitions from her no makeup to makeup look, Wirdiani has shown her gift for making TikTok videos.
Singapore TikTokers: #7. Soh Pei Shi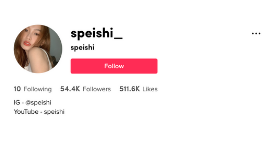 Lastly, we have Soh Pei Shi (@speishi_), who is a beauty, fashion and lifestyle influencer. Many of you might have seen Pei Shi on social media platforms such as Instagram and YouTube.
Indeed, Pei Shi has shown us that it is possible to produce great content across the different social media platforms. With over 300K followers on Instagram and over 100K subscribers on YouTube, she has certainly mastered the art of content creation on social media.
Although she is on multiple social media platforms, she still manages to produce unique content catered to the particular platform. For example, her TikTok features shorter and more casual content such as dance videos and POV videos. On the other hand, her Youtube account features longer-form content like vlogs and even shopping hauls.
Conclusion
In a nutshell, TikTok is a platform that houses many different kinds of influencers. In fact, today's list is nowhere near exhaustive. That being said, the diverse content that many of these influencers are producing deserves commendation.