Introducing the latest Instagram updates
Aren't you excited folks! Instagram team has newly launched a whole lotsa exciting updates! They are always surprising us with what the app can do! Check them out in this post!
1. New emoji slider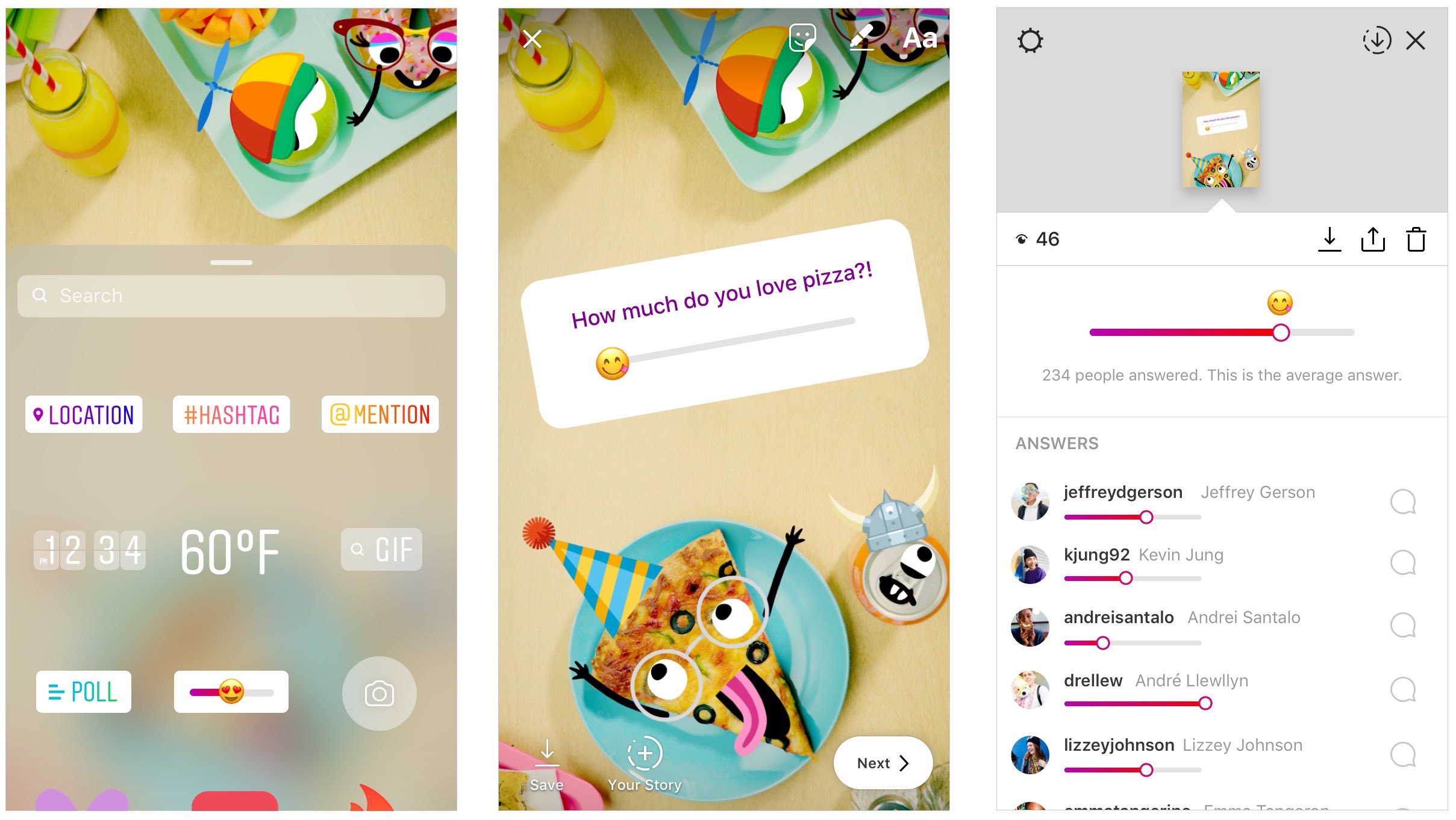 The emoji slider sticker — a fun new way to interact with your friends on Instagram.
The emoji slider lets you ask more nuanced questions when you want to find out how your friends feel about something — like how an artist's new single is or how they like their food. By choosing an emoji for your question, you also add a layer of emotional context that helps those answering understand your tone and answer accordingly.
To add an emoji slider sticker to your story, select it from the sticker tray after taking a photo or video. Place it anywhere you'd like and write out your question. Then, set the emoji that best matches your question's mood. You can pick from a few of the most popular emoji, or choose almost any emoji from your library if you have something specific in mind. Like with the poll sticker, friends and followers will be able to respond to your slider as soon as you've shared it.
When you see an emoji slider in a story, just drag the emoji to the left or right and watch it animate as you make your decision. Release the emoji to set your response, and you'll see the current average of how others have responded so far.
Whether you're looking for input or just want to see who's around, interactive tools like the poll sticker and emoji slider help you get closer with your friends and followers.
Check out the Instagram Help Center to learn more about the emoji slider sticker.
Today's updates are available as part of Instagram version 44 in Apple's App Store and Google Play.
2. Sharing to Stories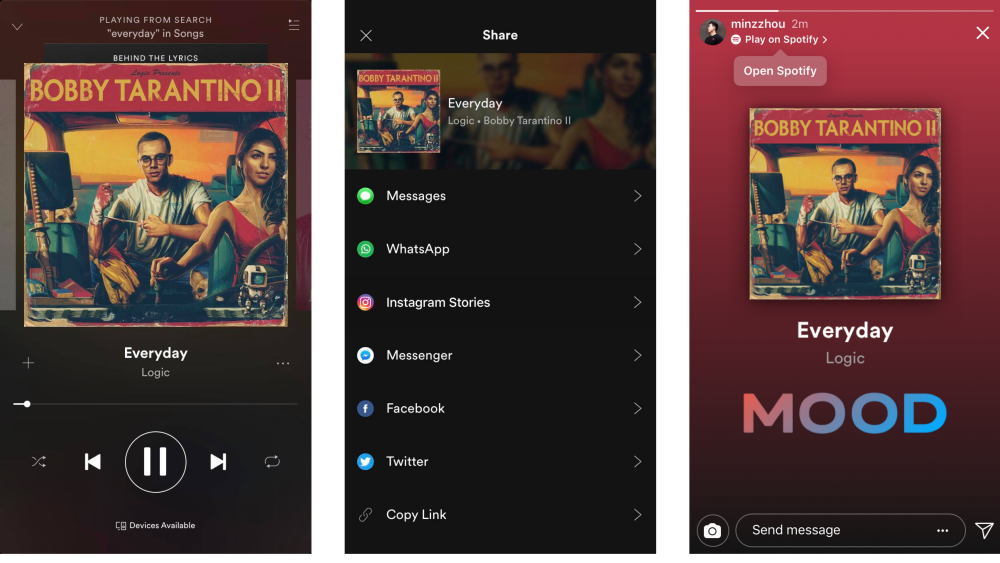 From a sticker of your new favorite song on Spotify to action shots from GoPro, it's now easy to share what you're up to or how you're feeling by posting directly to Instagram Stories from other apps. More apps will be adding the sharing to Stories feature soon.
Just tap the share button in the Spotify or GoPro app and your content is pulled directly into the Instagram camera. From there you can edit and add to your story or send it via Direct. You don't have to connect your Instagram account to other apps in order to share to Stories.
Camera Effects Platform for Instagram
Face filters, text styles and stickers help turn casual moments into experiences you can't wait to share. Now we're unlocking the ability for third parties to design unique, interactive camera experiences for their followers.
That means you turn any video into a NBA dunkcam or add a cloud of hearts and Pomeranians to fluff up your photo.
If you see a new effect in Stories from an account you follow and want to try it yourself, just tap "Try it on" and the tool will be added to your tray.
More fun creative effects from your favorite accounts are coming soon, including Ariana Grande, Baby Ariel, Liza Koshy, Vogue, and Buzzfeed.
Video Player
3. Video Chat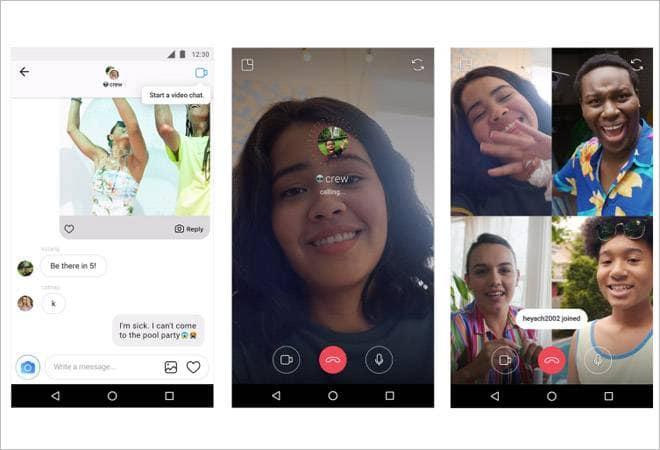 More than 100 million Instagrammers watch or share on Live every day. But we've heard from our community that sometimes they also want to experience real-time video in a smaller group.
In the coming weeks, we'll bring video chat to Instagram and give friends a new way to spend time together — even when they aren't actually together.
To start a video chat, simply tap the new camera icon at the top of a Direct thread. You can chat one-on-one or with a small group — and you can keep the conversation going for as long as you like. You can also minimize the video and continue the chat while doing other things on Instagram.
Video chat is testing now and will roll out globally soon.
4. The New Explore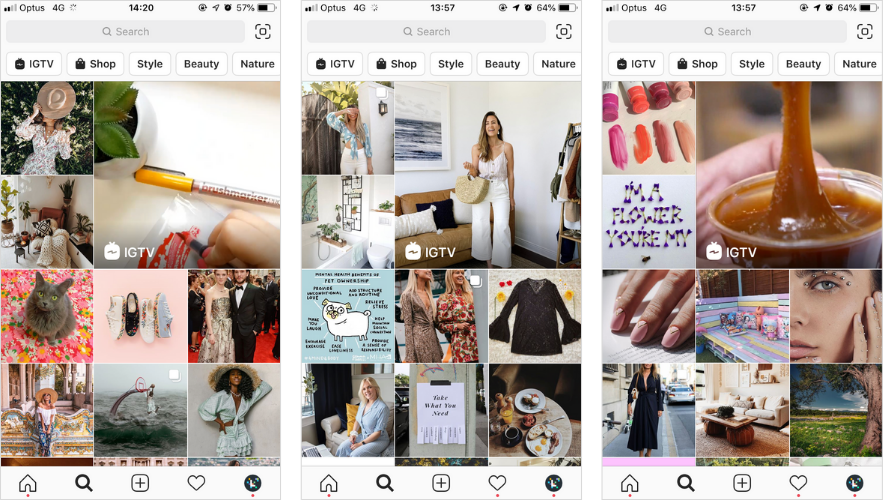 People come to Explore every day to discover new ideas, people, and experiences. And now we're excited to bring you a redesigned Explore that makes discovery even easier.
Explore is still personalized for you, but the content is now organized into topic channels so you can browse across your interests and go deeper on any area you'd like.