TikTok is known for its popularity with Gen Zs. From the trendiest cafes to all sorts of viral challenges, TikTok and its short video content have been a favourite of this generation. Whether you are looking for lip-syncing videos or comedic skits, Gen Zs have been driving the production and consumption of such content.
Today, we will be introducing 5 Gen Z TikTokers. Despite being relatively young, these Gen Z influencers have mastered content creation on TikTok and have managed to amass a significant following on the up and coming social media platform.
Gen Z TikTokers: #1. Joseph Tan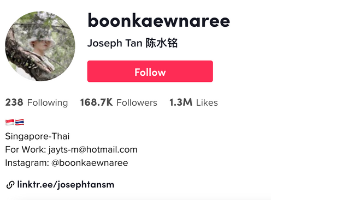 Firstly, we have Joseph Tan (@boonkaewnaree), who is one of the OG Gen Z TikTokers. While TikTok may be a relatively new platform, Joseph is no stranger to making content on Tiktok. In fact, when ByteDance, the company that owns the platform set up its Singapore office back in 2018, Joseph was one of the first users the platform contacted.
Joseph just graduated from University last year. However, he has been regularly creating and uploading content ever since his undergraduate days. In a way, his TikTok is a diary that follows his university journey, and he even posted a graduation video back in September last year.
Apart from updating his followers, his TikTok account is driven by dance-related content. In particular, he often posts street dance content, where he can be seen dancing to catchy tunes. Like many of the other Gen Z influencers on this list, he has diversified his content with all sorts of interesting videos. From posing tips to fashion, there is a whole range of content on his TikTok account.
Gen Z TikTokers: #2. Jeynelle Ng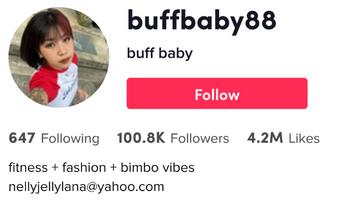 Secondly, we have Jeynelle Ng (buffbaby88), who is a 21-year-old Gen Z fitness influencer.
Jeynelle is the epitome of a woman who wears many hats. Apart from the art of content creation, she is also a spin instructor and spends a huge amount of time exercising.
As a fitness junkie, you will probably expect to find a lot of fitness-related content on her TikTok. That is certainly true as Jeynelle often brings her followers along in her gym sessions or her spin classes. From her pre-workout routine to some of her favourite exercises, she has meticulously documented these snippets of her life on TikTok.
That being said, apart from fitness-related content, Jeynelle is also a fashion enthusiast. She has described her style to be a mix of minimalist and grunge aesthetics. If that sounds like something that you would like, do check out her TikTok account for some great looks!
Gen Z TikTokers: #3. Kevin Tristan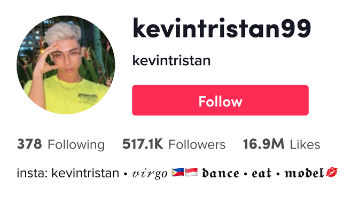 Thirdly, we have Kevin Tristan (@kevintristan), who is a Gen Z influencer known for his great dance moves.
From the WAP challenge to Street Woman Fighter dance covers, Kevin showcases a wide variety of dances on his TikTok account. With the amount of amazing dance content, at a certain point, we cannot help but think that there is a genre of dance that Kevin is unable to pull off.
You may think attribute his dancing abilities to pure talent. However, his dancing abilities were not honed overnight. He spent many years at the School of the Arts Singapore majoring in dance. The years of hard work can certainly be seen in how easily he executes choreography on TikTok.
Apart from dance covers, he also does a whole range of lifestyle content. From POV to lip sync videos, he keeps up with the trendiest challenges on TikTok.
Gen Z TikTokers: #4. Nicole Chen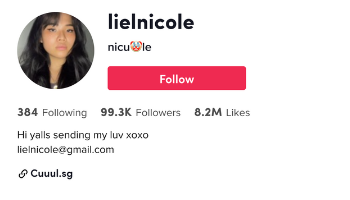 Fourthly, we have Nicole Chen (@​​lielnicole), who is a Gen Z influencer that has a knack for creating viral content.
In one of her videos that went viral, she dared her boyfriend to call her mother by her name – with a $100 reward at stake. When her boyfriend actually did so, the video went viral as TikTok users were amused by her mother's reaction.
Apart from comedic content, Nicole also uploads all sorts of lifestyle content. For instance, she is recently on a fitness journey and has been regularly updating her followers on her progress.
How did Nicole get so good at content creation? Apart from her innate talent, she also has a wealth of experience when it comes to creating and editing videos. She has worked as a Video Producer in The Smart Local and Night Owl Cinematics. Her years of experience in the industry certainly explains why her videos are a breeze to watch.
Gen Z TikTokers: #5. Nicole Choo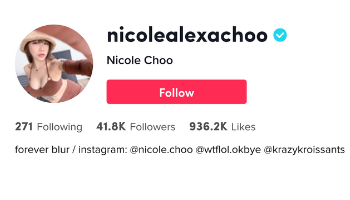 Lastly, we have Nicole Choo (@nicolealexachoo), who is a Gen Z influencer that is no stranger to content creation.
Despite being only 23 years old, Nicole has had many years of experience in content creation. From Instagram to YouTube and TikTok, Nicole has been actively creating all sorts of unique content for each platform.
On her TikTok account, she posts a variety of content. From your trendy TikTok dances to relatable POV content, Nicole is certainly in tune with how content creation on TikTok is done. Furthermore, she often gets her parents and her grandparents to join her TikTok videos. You can catch some of these adorable videos on her TikTok account.
Conclusion
There are many Gen Z influencers on TikTok. From dance to comedic content, each of these influencers has his or her own unique form of content. Nevertheless, they have one thing in common – the ability to make great content that captures the eyeballs of many. If you are on the platform, we would certainly recommend you to check out these 5 Gen Z influencers.
.