With over 1 billion monthly active users, TikTok has gone on to become one of the most popular social media platforms. Its popularity can also be seen in Singapore, where an increasing number of influencers have started their own TikTok accounts.
However, what content do Singapore TikTok influencers offer? Well, there is no direct answer to the type of content as the variety of content cannot be simply generalised. However, we have picked out 5 broad categories of content that Singapore TikTok influencers are producing.
Singapore TikTokers category: #1. Fashion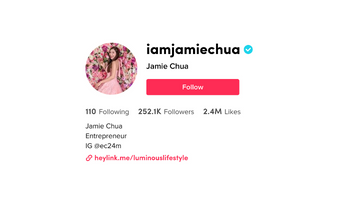 Firstly, we have the fashion TikTokers. As their name suggests, these TikTokers often post content related to fashion. Be it flat lays of their outfits or shopping hauls, these Tiktokers are known for their unique taste in fashion,
Some examples of fashion TikTokers include Jamie Chua (@iamjamiechua), who is a Singapore fashion and lifestyle influencer. Jamie's style in fashion can be described as chic and classy. From Louis Vuitton bags to Gentle Monster sunglasses, she has showcased some of her favourite pieces in her wardrobe. Additionally, she often posts outfit inspiration ideas. For instance, having been inspired by the Netflix Series, Emily in Paris, she showcased some of the Parisian looks she created.
Not all of us may be able to afford some of the luxury items that she showcases. However, looking at her style these pieces and unboxing some of the items can be enjoyable to watch!
Singapore TikTokers category: #2. Food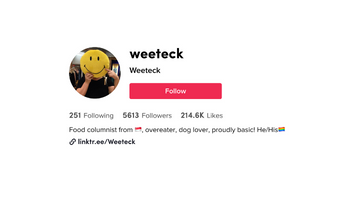 Secondly, we have the food influencer category. Again, this category is rather self-explanatory. From food recommendations to recipes, influencers in this category produce content that revolves around food. After all, our little red dot is known as a food paradise. Therefore, if you looking for the best places to dine at or the best dishes to whip up, these influencers are who you should go to.
An example of a food influencer on TikTok Yeoh is WeeTeck (@weeteck). He is a food influencer that has dedicated his platform to discovering and reviewing the delicacies of Singapore.
WeeTeck is known for his honest and authentic reviews. From European to Asian cuisine he has reviewed all sorts of cuisine on his social media account. If you are curious about how he launched his career, he actually had quite an affinity with food and publication many years ago. Apart from being a food influencer on social media, he is also a columnist for The New Paper, where he shares his review of all sorts of cuisines.
On WeeTeck's TikTok account, he often posts all sorts of food reviews. For instance, in accordance with the festive season, he has created a video showcasing some of the best Christmas cakes in Singapore. Of course, apart from food reviews, there is a whole range of recipe videos. From making avocado chips to pasta, Weeteck has certainly shown us that he is great at reviewing and cooking.
Of course, there are many other food influencers on TikTok. Therefore, do check out the platform itself to discover more food TikTokers.
Singapore TikTokers category: #3. Comedy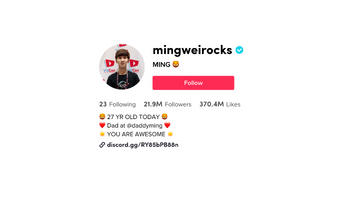 Thirdly, we have the comedy category. These are influencers who posts a slew of content that aims to crack you up. Common examples of comedic content include pranks, skits and dark humour videos.
An example of a comedy influencer would be Ng Ming Wei (@mingweirocks). Although there are many comedy TikTok influencers in Singapore, Ming Wei and his father (@daddyming) have stood out as being a duo that is best at pranks.
From pranks involving flour and water, it seems like this duo has no limits to their creativity when it comes to pranking each other. Indeed, their increase in popularity thanks to these pranks have not gone unnoticed. They have been interviewed by several media agencies. From appearing on television to magazines, Ming Wei and his father have seen great success ever since they embarked on their journey on TikTok.
Singapore TikTokers category: #4. Dance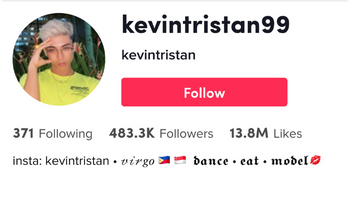 Fourthly, we have the dance influencer category. These influencers are able to easily master the trendy dances on the platform. Additionally, they also come up with their own choreography to share with their audience. From simple hand gestures to elaborated choreographies, these influencers have made TikTok a much vibrant platform with their sick dance moves.
An example of a dance influencer would include Kevin Tristan (@kevintristan99). Despite only being 22, he has amassed quite a following for himself on TikTok. With 447K followers and 12.5 million likes, his numbers are certainly impressive.
If you wonder how Kevin picked up his dance skills, the answer is a mix of talent and practice. He was from the School of the Arts Singapore (SOTA), and he actually specialised in dance while studying there.
Whether you are looking to learn some simple TikTok dances or cool choreographies, Kevin's TikTok is a repository for those interested in dancing.
Singapore TikTokers category: #5. Music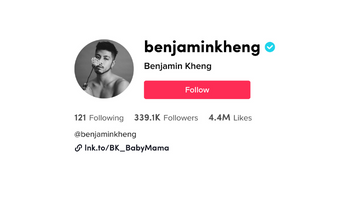 Lastly, we the category of music influencers. These influencers will often post content related to music. Some of them are masters of a particular instrument, while others have unique or melodic voices. From song covers to original pieces, these content creators are exceptionally talented when it comes to music.
An example of a music influencer would include Benjamin Kheng (@benjaminkheng). If you are familiar with the local music scene, Benjamin should not be an unfamiliar name. He is part of a local band named The Sam Willows. Although the band is now on hiatus, Benjamin has been actively producing his own music.
On his TikTok account, Benjamin produces a wide variety of comedy and music-related content. Apart from the good old song covers, he also makes interesting videos. For instance, his recent video involved him forming a choir with just a single voice.
Conclusion
In a nutshell, these are 5 common categories of Singapore influencers on Tiktok. Within these 5 categories, there are many other influencers producing interesting content. Therefore, do check out the platform if you are interested.