Everyone has the same 24 hours in a day. However, the way in which we choose to spend the 24 hours can greatly impact our output. If we are able to maximise the use of our time, our necessary tasks can be done in a much quicker fashion.
Today, we will be talking about productivity influencers. These influencers have dedicated their social media accounts to share their productivity tips. From helping you to study or work better, productivity influencers are a must-watch to improve one's quality of life!
Productivity influencers 2022: #1. Tim Ferriss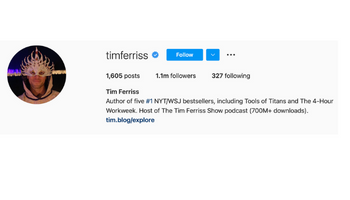 Firstly, we have Tim Ferriss (@timferriss), who has built quite a name for himself in the realm of self-help books. With 1.1 million followers on Instagram alone, Tim can be considered a macro influencer.
Why is he so popular? Well, he is actually the author of the New York Times bestseller, The 4-Hour Workweek.
You may think that grit and hard work are necessary for success. Dedicating more time to a subject matter would mean better mastery of it. However, Tim explains that this is not necessarily the case. There are ways to attain the same output, and yet spend your time on other more important matters.
If you take a quick scroll on his Instagram account, you can find many motivational phrases. If you would like more concrete tips and advice on productivity, do check out his podcast and YouTube account.
Productivity influencers 2022: #2. Gary Vaynerchuck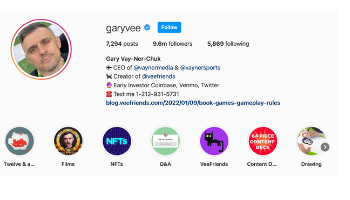 Secondly, we have Gary Vaynerchuck (@garyvee), who is an influencer that aspires us to be disciplined in reaching our goals.
What does Gary do? It is difficult to pinpoint his primary occupation with the number of things that he is involved in. From being an entrepreneur and investor to public speaking, Gary has amassed quite a following due to the advice that he gives.
Whether you are a student or a working adult, there is some advice for you on Gary's account. Some of his advice is general and is applicable to people from all walks of life. For instance, when he talks about the importance of perspective in viewing problems.
Apart from general advice, he also creates content in niche areas. As an investor, Gary often shares his two cents on different investment products. Like many other financial influencers, he has talked about the NFTs, the investment product that has been highly popular in recent times. Other types of content he produces include tips for influencers. Therefore, if you want to learn about how to gain a following on social media, you may want to check out his Instagram account.
Productivity influencers 2022: #3. Ali Abdaal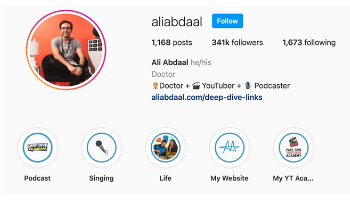 Thirdly, we have Ali Abdaal (@aliabdaal), who is a productivity influencer that has been creating content for the last couple of years.
Whether you are looking to increase your typing speed or earn passive income, you will probably find Ali's content insightful. Indeed, Ali has a range of productivity-related content. From helping students study effectively to the issue of procrastination that many of us face, Ali has a range of content to improve the quality of our lives.
Further, if you enjoy watching Tech-related videos, Ali's YouTube channel is the place to go. Apart from his amazing desk setup, he often talks about the new technological gadgets he has tested.
Apart from being a content producer, Ali is also a trained doctor. Therefore, if you are looking for med school tips, do check out his content on the various social media platforms.
Productivity influencers 2022: #4. Tony Robbins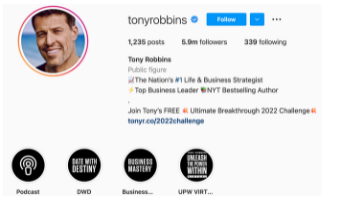 Fourthly, we have Tony Robbins (@tonyrobbins), who is one of the most famous life coaches on the internet.
With 5.9 million followers on Instagram, Tony has established quite a name for himself in the realm of self-help and productivity.
He often posts short but impactful messages on his Instagram account. For instance, one of his many sayings is that "where focus goes, energy flows". If you are in need of a short motivational quote of the day, do check out Tony's Instagram account.
Apart from producing content to help his followers on social media, Tony has coached many in real life. His impressive clientele includes Bill Clinton and Leonardo DiCaprio.
Productivity influencers 2022: #5. Richard Branson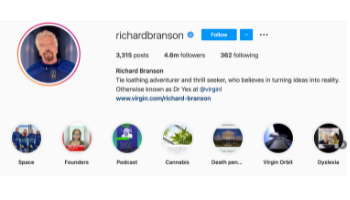 Next up, we have Richard Branson (@richardbranson), who is famously known for being the founder of the Virgin Group.
It goes without saying that being the founder of a group that controls 400 companies is extremely remarkable. However, what is more remarkable is the many obstacles Richard had to overcome to achieve the success we see today. From dealing with Dyslexia to starting his first business venture at the age of 16, he has achieved many impressive feats throughout the course of his career.
If you are interested to know more about entrepreneurs, Richard's Instagram account is a must-see to understand his ideologies. Despite being in his 70s, Richard is still very active when it comes to sharing his opinions with the public. From publishing thought pieces on the vaccine to sharing motivational quotes on his social media account, he has certainly kept himself busy.
Productivity influencers 2022: #6. Daymond John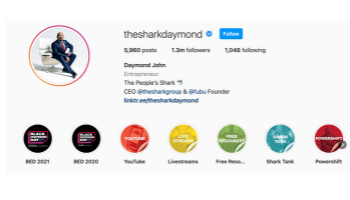 Next up, we have Daymond John (@thesharkdaymond), who is a motivational speaker as well as an author.
Apart from motivational speaking, he is also kept busy with his job. Like many of the productivity influencers on this list, Daymond has an entrepreneurial background. He is the founder of The Shark Group, a marketing and consulting firm.
If you are looking to develop good habits or in need of some motivational encouragement, Daymond's social media account is a great platform to check out. In one of his posts, he shares about picking up the habit of reading one's goals before bed on a daily basis. Indeed, such tips are certainly great for people who are in the midst of achieving their goals.
Productivity influencers 2022: #7. Nasir Kharma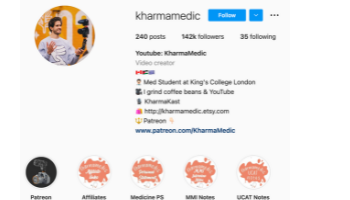 Lastly, we have Nasir Kharma (@kharmamedic), who is active on both Instagram and Youtube.
If you are a student looking for study tips, Nasir's social media accounts are tailored for you. As a final year med school student, you can imagine the amount of effort that has been put into studying in the course of Nasir's education. This perhaps explains why he is so good at giving studying tips.
From using the Pomodoro technique as a study method to talking about desk setups, Nasir has a range of content to improve one's work productivity.
Conclusion
In a nutshell, social media is not necessarily only for entertainment purposes. A great deal of inspirational and useful information can be picked up from many of the productivity influencers out there!
Sources
Tameday, instagram-accounts-to-improve-your-productivity/