Ever wondered who are the top Filipino influencers to follow? Well, this article is for those of you that are interested in finding out more about some unique Filipino individuals!
Filipino influencers: #1. Tim Yap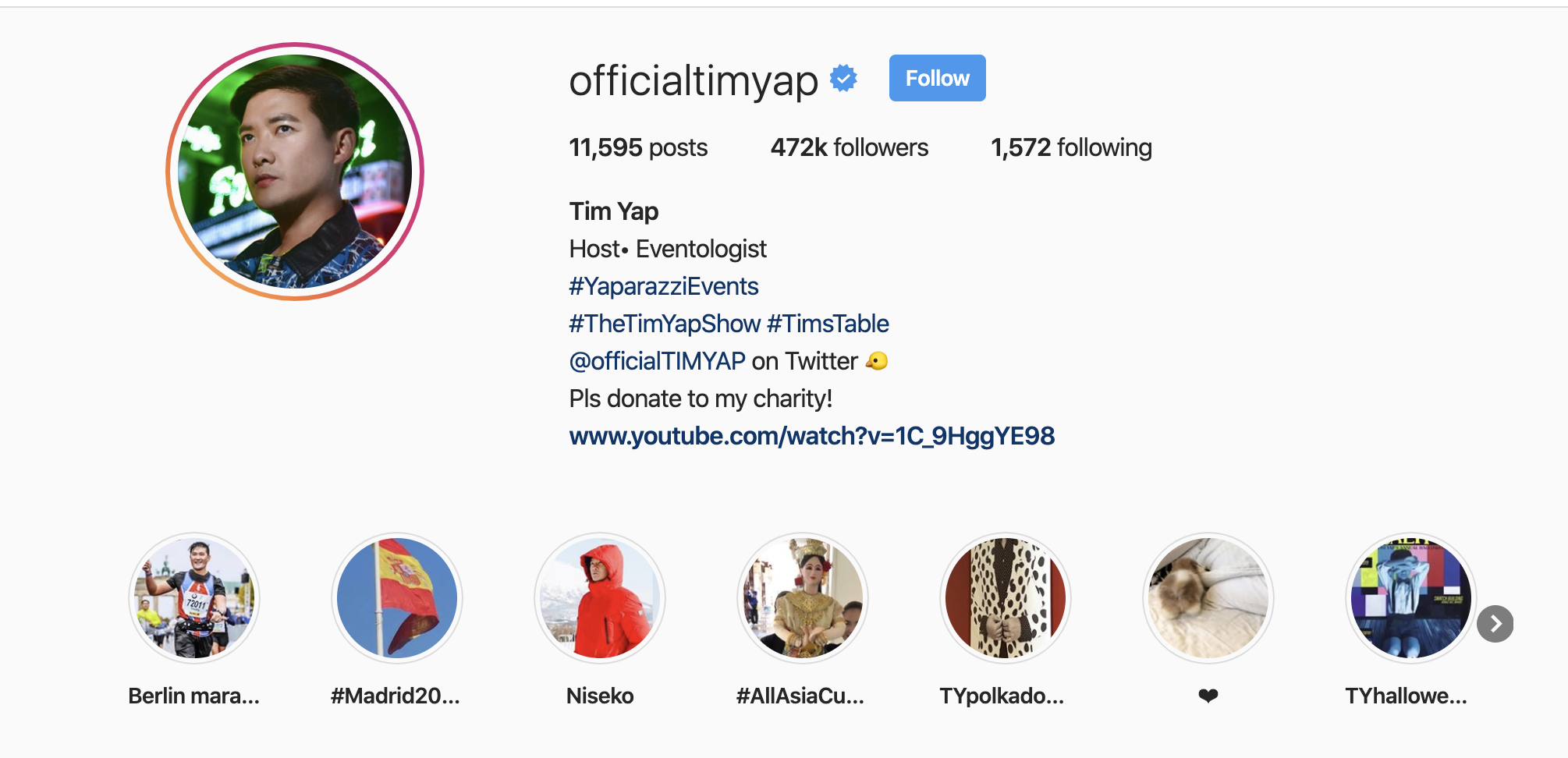 Firstly, we have Tim Yap (@officialtimyap), who is a lifestyle influencer.
Like many other influencers out there, Tim also keeps himself busy by taking up many other responsibilities. Tim is also a TV host, and currently hosts the show, The Tim Yap Show, named after himself on weekday nights. To add on, he is also a columnist, and regularly edits the pop culture section of The Philippine Star entitled "Supreme"
Apart from his many responsibilities as influencer, host and columnist, he is also a business owner with a few clubs under his empire.
With 472K followers on Instagram, Tim can be considered a macro influencer. Tim is also active on several other Social Media platforms, one them being Twitter where he has over a million followers. Do check out his Instagram where you will be able to catch him in stylish outfits as he carries out his daily activities.
Kim Jones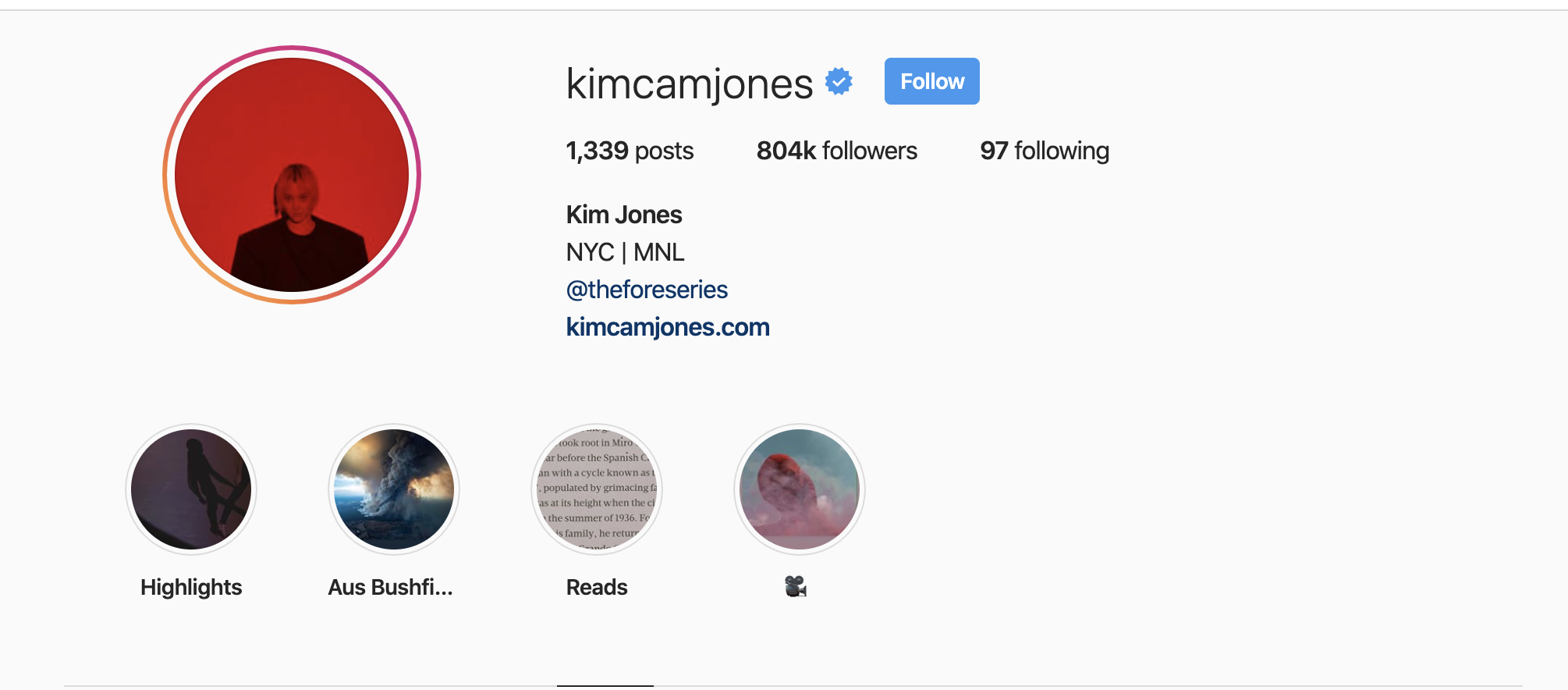 Secondly, we have Kim Jones (@kimcamjones), who is a fashion influencer. If you browse through her Instagram, you will find many professional-looking shots out of her daily outfits. From long leather coats to stylish sunglasses, Kim pulls off any item with grace.
This should come as no surprise as she has experience in modelling. Apart from her 804K followers on Instagram, she also has over 300K followers on Facebook and quite a following on Twitter. If you looking for fashion-related content – or more specifically high-end fashion, do check out Kim's Instagram where she can be seen pulling off the trendiest outfits.
Ciacia Mendoza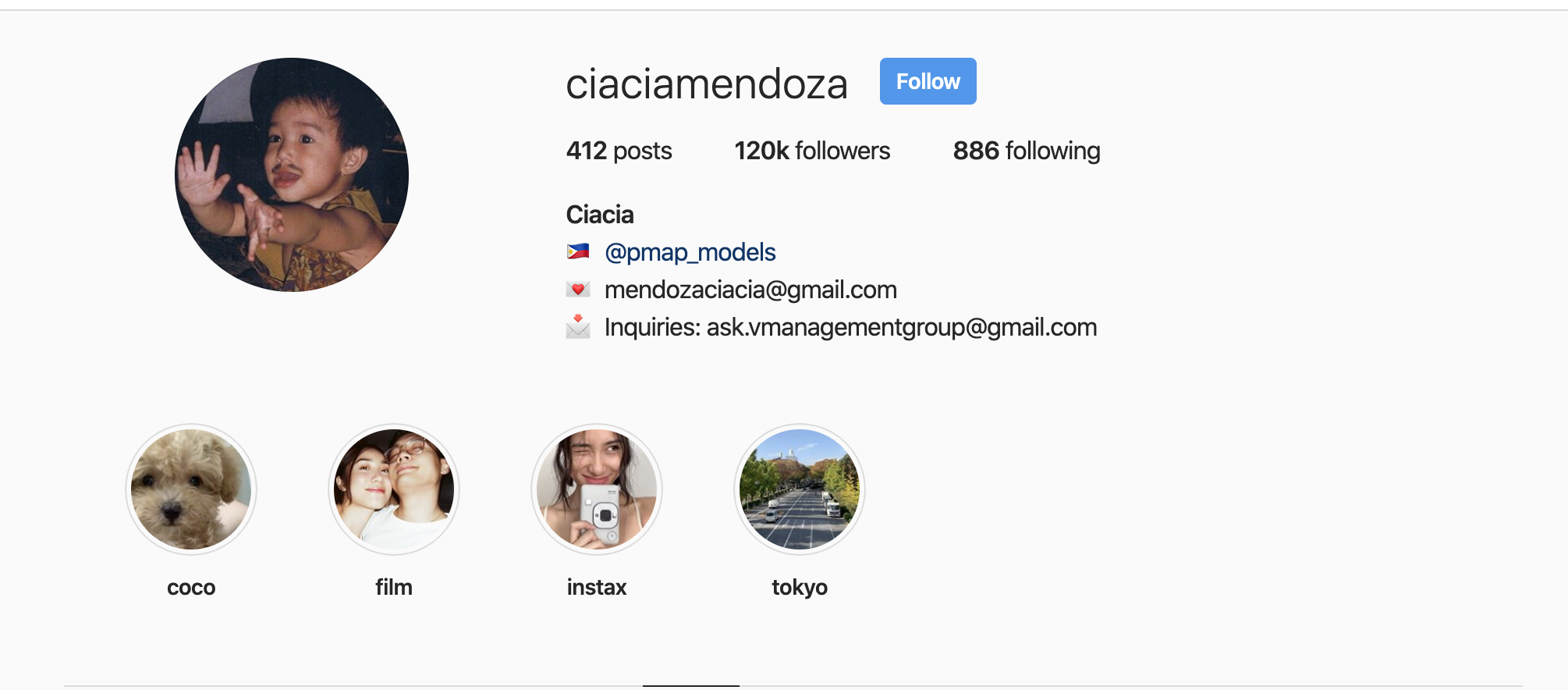 Thirdly, we have Ciacia Mendoza (@ciaciamendoza), who is a fashion and lifestyle influencer.
Ciacia, Just like Kim also has experience in modelling. This perhaps explains why she looks so effortlessly good in every picture on Social Media.
Apart from her modelling career, Ciacia is also known for her fashion and beauty content. Her feed is meticulously organised in a minimialistic way. With simple yet complimenting colours that are easy on the eyes. If you looking for feed inspiration, Ciccia's Instagram is a must check out with its muted colours.
David Guison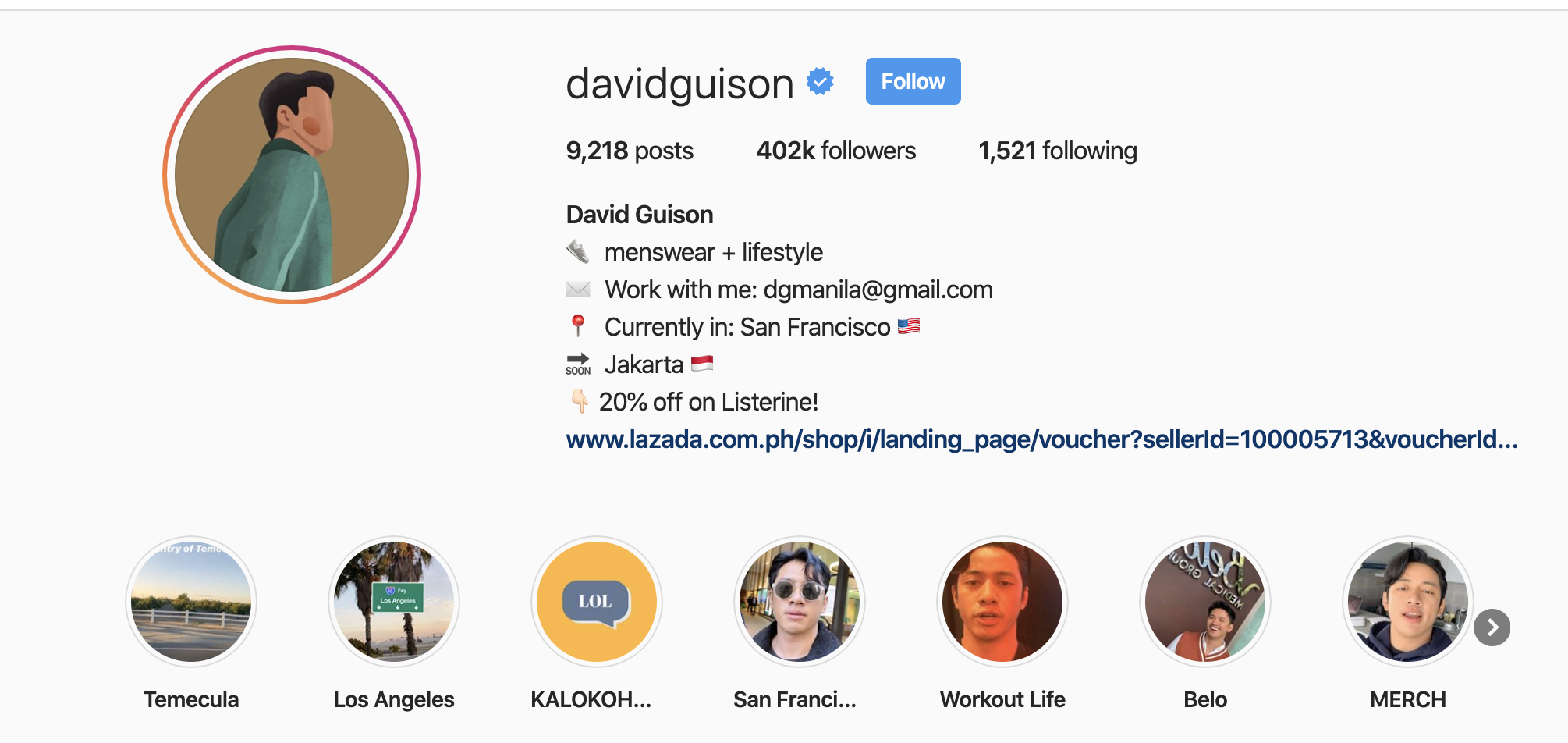 Fourthly, we have David Guison who is a lifestyle and travel influencer. David, like many other influencers, is often seen travelling to exotic countries. From San Francisco to Los Angeles to even Jakarta, he shares about his travels through his Instagram account which has 402K followers.
To add on, he is also rather active on YouTube. He has posted lifestyle videos such as "a week in my life" and "PR unboxings" on his channel. Apart from travel content, David also focuses a huge part of his Social Media account on fashion, food and fitness. You can catch him sharing about his latest eats as he travels. Do check out David's Instagram if you are curious about what it is like to lead the lifestyle of a travel influencer.
Heart Evangelista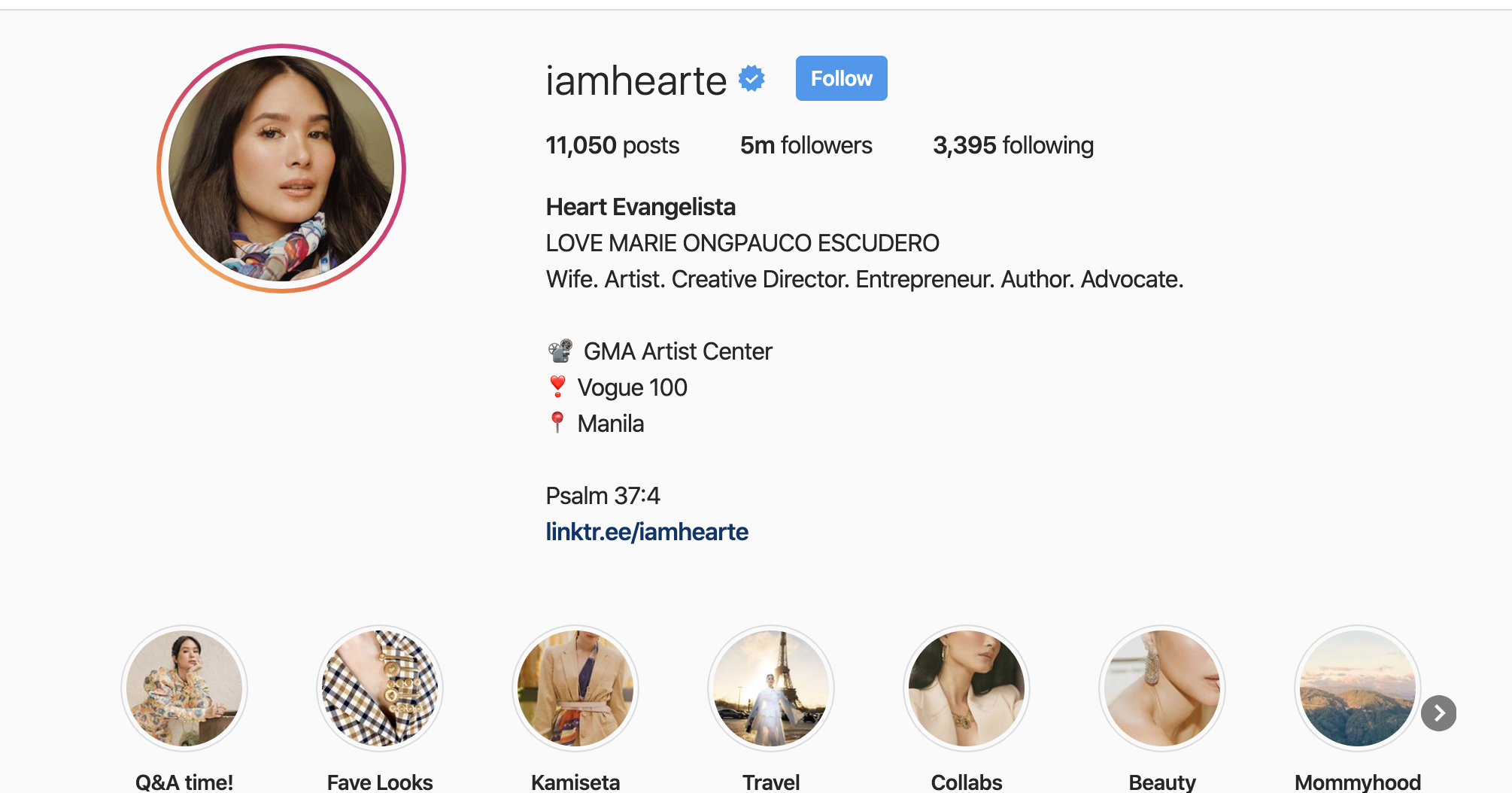 Next up, we have Heart Evangelista (@iamhearte), who is an influencer that probably needs no introduction. She is an actress, TV host as well as a visual media artist. You can consider her to be one of the most followed Filipino influencers out there, as she has over 5 million followers on Instagram.
You will find that her Instagram simply screams class – from makeup to fashion and beauty, Heart's content can is best described as stylish and chic. This perhaps explains her influence on the various Social Media platforms – the millions of people following her on YouTube, Facebook and Instagram.
Mikey Bustos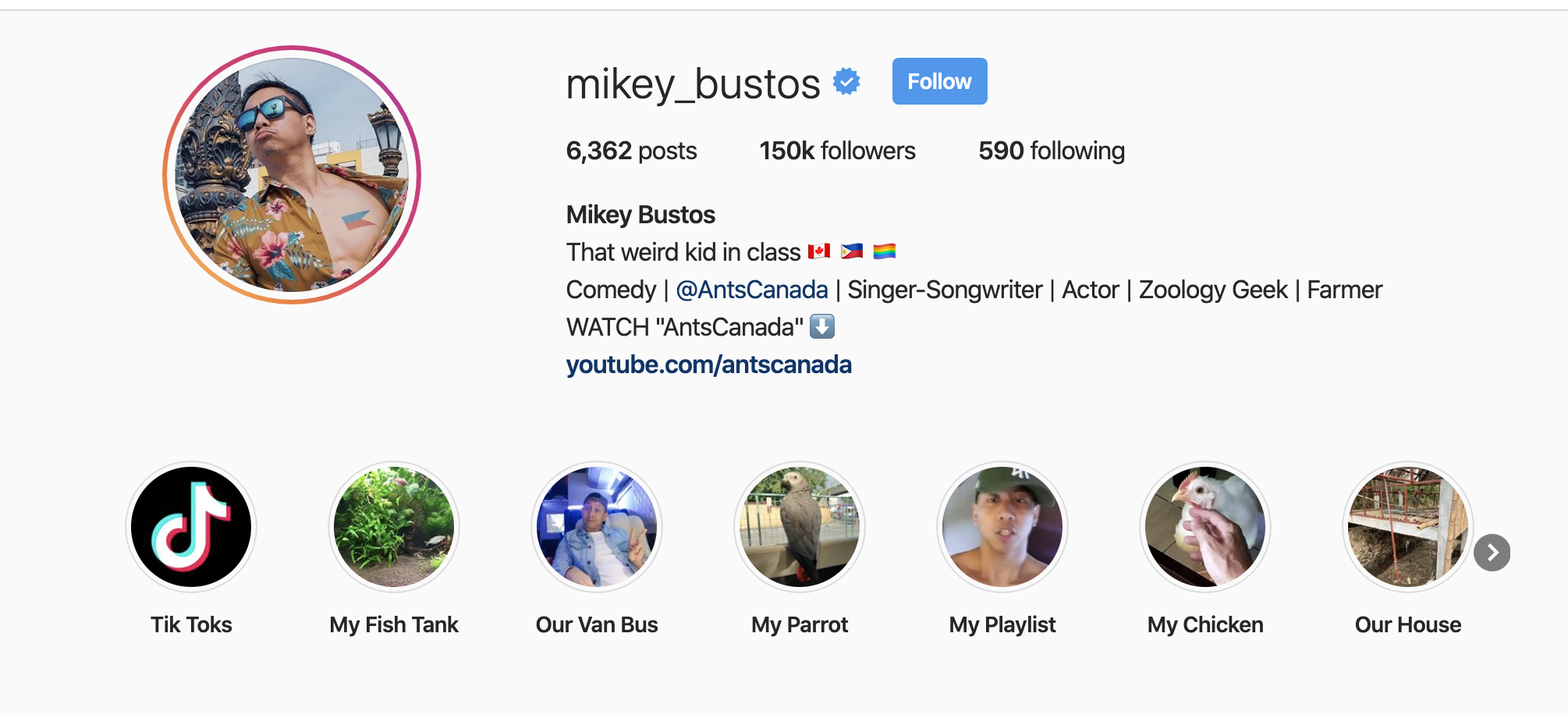 Moving on, we have Mikey Bustos (@mikey_bustos). You might know him as an influencer with a great sense of humour and a melodious voice.
As mentioned in his Instagram bio, Mikey is a musician that also writes his own songs. Apart from being talented in music, he has succeeded at the art of influencing, having gained over a million subscribers/ followers on both YouTube and Facebook.
Some of you might not know that Mikey actually grew up in Toronto, Canada but is now based in Manila. His Social Media platforms feature a range of content. From vlogs to comedic videos, Mikey regularly updates his audience with quality content.
Tricia Gosingtian-Gabunada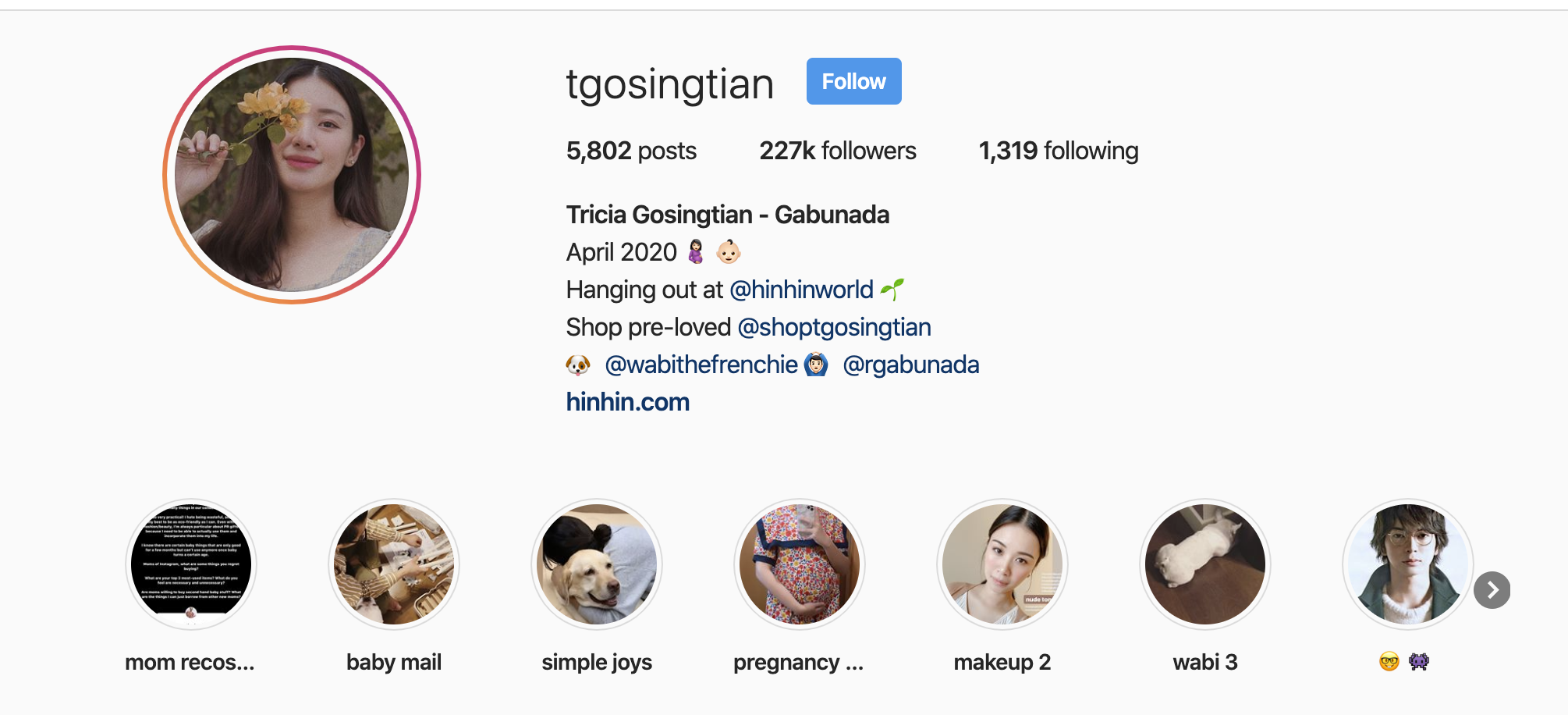 Our seventh influencer on the list is one that has an amazing sense of fashion. Tricia Gosingtian-Gabunada (@tgosingtian), is a fashion and lifestyle influencer that has amassed widespread popularity thanks to her taste in fashion.
Jenny Han, the author of "To All The Boys I've Loved Before", has also revealed that Tricia's style inspired the fashion choice of characters in the Netflix movie created from her book.
Of course, like many other influencers, Tricia is not only active on Instagram but also takes time to update her Twitter and Facebook account. Therefore, do check those out!
Wil Dasovich

Lastly, we have Wil Dasovich (@wil_dasovich), who is an influencer that has also received widespread recognition for his appearances on the small screen. He has appeared on the television program, Pinoy Big Brother as a cast.
Apart from being a TV personality, Wil also keeps himself active on Social Media. You can find him on YouTube, where he vlogs his daily life. From appetizing food to inspirational travel experiences, Wil documents all of these through his videos on YouTube. One of his most popular videos include "10 Hours of Walking in Manila". In fact, this video is also his first video on his channel. His efforts on YouTube have gained him millions (and counting) subscribers!
Conclusion
In conclusion, these are 8 Filipino influencers that we certainly think you should keep a lookout for. Be it on Facebook, YouTube or Instagram, these influencers have done a great job at building an empire on Social Media!
If you are interested in learning more about influencer marketing, do click here. There are also related articles which showcase some of the top influencers in each respective category.
*The respective pictures in this article do not belong to Kobe Global Technologies*
Sources
wheninmanila.com, favorite-filipino-influencers
thread.zalora.com.ph, 10-local-influencers-to-follow-this-2019-c6774b9f4d21
coconuts.co/manila/lifestyle, influencer-tricia-gosingtian-gabunada-one-style-inspos-boys-ive-loved/