Mental health, mental wellness influencers
7 Mental health influencers | Social media mental wellness
When it comes to health and wellness, apart from a healthy diet and regular exercise, the component of mental health cannot be neglected. In fact, some even think that mental health and wellness forms the fundamental of a healthy mind and body.
In the age of the internet, it is easy to compare ourselves with the numerous pictures and videos showcasing a picture-perfect life. However, the internet is a double-edged sword. While the constant comparison with others may be detrimental to mental wellness, there are many others who have used their platform to raise awareness about mental health and wellness.
We will be talking about 7 such influencers today. These 7 mental health and wellness influencers have bravely stood up to advocate the importance of taking care of our mental health.
Mental health and Mental wellness influencers: #1. Brené Brown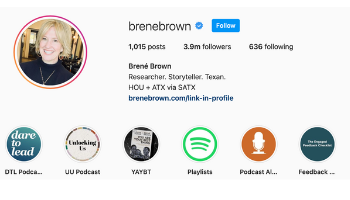 Firstly, we have Brené Brown (@brenebrown), who is a mental wellness influencer who wears many hats.
Apart from creating content for her 3.9 million followers on her Instagram account, she also has a website that she regularly updates. On top of all of that, she is a research professor who has spent a huge portion of her career studying the values of courage, vulnerability, shame, and empathy.
To add to her list of achievements, she has written bestsellers, with the intention to shed light on mental health and wellness issues.
On her Instagram page, she curates and posts short but impactful quotes. Her range of content is rather wide – for example, she can be seen posting content about leadership and imposter syndrome. If you find her Instagram account interesting, you may want to check out her website and podcasts, where she goes into depth about her research.
Mental health and Mental wellness influencers: #2. Dr Courtney Tracy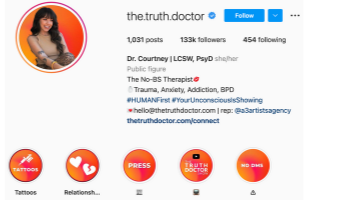 Secondly, we have Dr Courtney Tracy (@the.Truth.Doctor), who is an influencer who dedicated her platform to advocate for mental health and trauma.
On her Instagram account, Dr Courtney Tracy shares about many sensitive topics. From addiction to trauma and mental health, she is not one to shy away from difficult topics.
As you may have inferred from her name, Dr Courtney Tracy actually has a Doctorate Degree in Clinical Psychology. Apart from her academic achievements, her insights also come from being a therapist. Her occupation taught her the importance of vulnerable, authentic and real conversations.
Since starting out her career with the mission to help others, she has developed programmes that are aimed at helping trauma and addictions. Do check out her Instagram account if you are interested in her work in the realm of mental health.
Mental health and Mental wellness influencers: #3. Kate Allan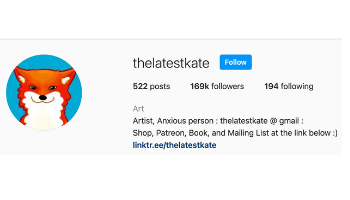 Thirdly, we have Kate Allan (@thelatestkate), who is a mental health influencer that uses her creativity to raise awareness about mental wellness and health issues.
There are many ways in which one can contribute to raising awareness about mental health. From researching about mental health to working as a therapist, there are many avenues to spread the word.
In the case of Kate, she has chosen to use her illustrations to raise awareness about mental health and wellness issues. Her drawings often feature cute characters. From mystical creatures like unicorns to adorable bunnies, Kate has managed to illustrate pieces with a dream-like quality.
While it is certainly a delight to look at Kate's pictures, there is a more important message to these images. From promoting self-love to raising awareness on depression and anxiety, Kate's pictures are meaningful pieces of art.
Mental health and Mental wellness influencers: #4. Heidi Williams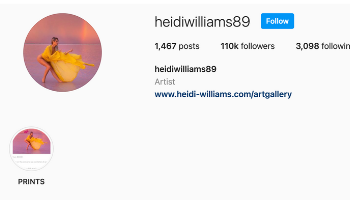 Fourthly, we have Heidi Williams (@heidiwilliams89), who is a yoga enthusiast.
If you take a quick glance at Heidi's Instagram page, you may think that she is a fitness influencer who is great at yoga. However, there is so much more to Heidi's story.
Heidi actually took on yoga after being a survivor of suicidal depression. Her own mental health journey has motivated her to share her love for yoga with her 110k followers on Instagram.
Heidi shows us that our mental and physical health are often linked. Apart from working on our physical health with exercise, it is important that our mental health is not neglected.
If you are interested in picking up a form of exercise that can also help with mental wellness, do take a look at Heidi's Instagram account where she can be seen practising yoga against the beautiful backdrops of sunsets and blue skies.
Mental health and Mental wellness influencers: #5. Sara-Jayne Poletti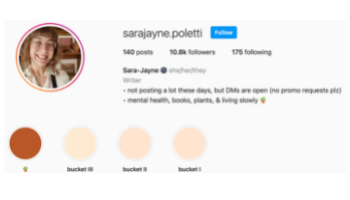 Next up, we have Sara-Jayne Poletti (@sarajayne.poletti), who has dedicated her Instagram account to sharing content about mental wellness and mental health.
What motivated her to start the account? Well, she has had her own struggles with mental wellness and health. As a result of anxiety and stress, Sara-Jayne developed a deep mental disorder.
However, she did not succumb to her struggles. Instead, she chose to use her platform to help others experiencing similar struggles. She often posts meaningful quotes and tips on her Instagram account. For instance, one of her recent posts acknowledges the toxicity of social media, as she talks about the need to take a break from social media.
If you take a quick scroll through her Instagram feed, you may realise that she has also curated her Instagram feed. The images of nature, plants and the soft tones of her pictures create the ambience that her account is a safe space for everyone.
Mental health and Mental wellness influencers: #6. Christina Wolfgram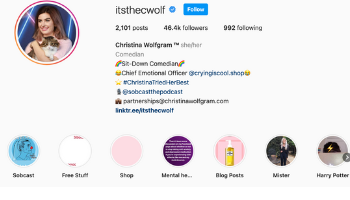 Lastly, we have Christina Wolfgram (@itsthecwolf), who is an influencer with the ability to bring smiles to the faces of her followers.
At first glance, you may think that she is an influencer with a focus on comedic content. Indeed, a huge amount of her content is comedic in nature. From making jokes about bidets to sharing pictures of her cat, Christina appears to have a knack for creating comedic content. However, apart from the comedic content, Christina has also bravely shared her mental health struggles with her 46K followers.
Conclusion
In a nutshell, there are many who have taken to social media to share their mental health struggles. While not all of us may be struggling with the same issues, it is always heartwarming to see that influencers have, so bravely, shed light on mental health and wellness issues.
Sources
Trendhero, blog/mental-health-influencers/