Ever since the outbreak of the pandemic, the worldwide lockdowns have led to drastic changes in our lifestyles. From the closure of gyms to social distancing and work from home measures, it has been hard to keep up with our usual routines amidst the global pandemic.
However, the pandemic has also led to a "new normal". Take the example of home workouts. The closure of gyms has led to an increase in interest in maintaining our health and wellness while being stuck at home. Today, we will be introducing 7 health and wellness influencers – each of them producing unique content that helps to improve our physical and mental health.
Wellness TikTokers #1. Anisa Benitez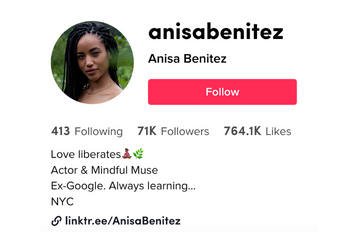 Firstly, we have Anisa Benitez (@anisabenitez), who is a health and wellness influencer based in New York City.
Anisa is a huge advocate for mindful living. If you are feeling drained from work, or just feeling mentally tired, you may want to check out some of Anisa's TikTok account. From talking about self-care tips to practising meditation, Anisa has been incorporating many of these mindful living practices into her hectic schedule.
If you find yourself enjoying Anisa's TikTok content, you may want to explore "No Starving Artist", a podcast that she hosts. In the podcast, Anisa sheds light on numerous topics related to health and wellness.
Additionally, a fun fact about her is that she is also an actress and a model. She certainly shows us that one can be kept busy with multiple commitments but yet still take time out for a mindful living.
Wellness TikTokers #2. Tyen Rasif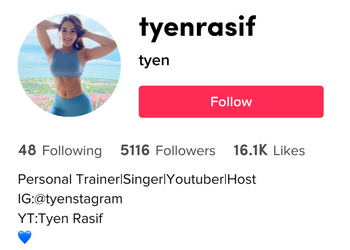 Secondly, we have Tyen Rasif (@tyenrasif), who is a fitness influencer. While mental wellness is extremely important, so is physical wellness.
It might be hard to exercise in gyms due to the pandemic. Thankfully, there are personal trainers like Tyen out there sharing fitness content for all of us stuck at home.
You may find a wide variety of workouts on Tyen's TikTok. For example, one of her recent videos includes a short workout for toned arms. Her content also covers other aspects of leading a healthy lifestyle. From simple recipes to home workouts, do check out her TikTok account if you want a glimpse into the lifestyle of a personal trainer.
Apart from being a social media influencer, she is also the founder of the 'No Sweat' app – an app that includes all sorts of fitness content. If you are looking for some easy to follow workout tutorials, do check out her app or her YouTube account.
Wellness TikTokers #3. Roxanne Gan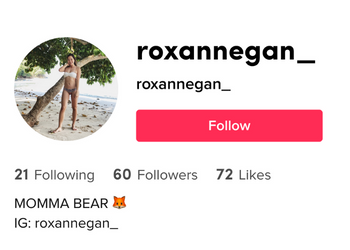 Thirdly, we have Roxanne Gan (@roxannegan_), who is a health and wellness influencer.
If you are an aspiring yogi or merely want to find out more about Yoga, Roxanne's TikTok account is the place for you.
Apart from being very flexible, Roxanne also shows us that Yoga is great for muscle building. Her TikTok account features yoga poses of ranging difficulties. Additionally, her routines are also catered to different kinds of audiences. Whether you are looking to build your endurance or looking for a workout that stretches your muscles, her TikTok account will have something for you. After all, Roxanne is the co-founder of 'Zoi Yoga', and has a wealth of experience when it comes to teaching Yoga online.
If you enjoy her TikTok content, do also check her out on Instagram – where she can be found teaching yoga classes on IGTV.
Wellness TikTokers #4. Dani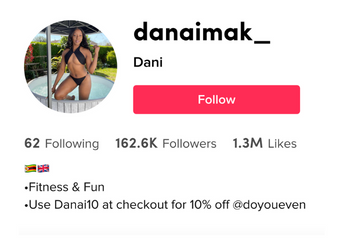 Fourthly, we have Dani (@danaimak_), who is a health and wellness influencer who has dedicated her social media platforms to share her fitness tips.
Dani is not one to shy away from the use of weights. In fact, she regularly incorporates weightlifting into her fitness routines. Apart from her workout routine, her content also includes healthy recipes. After all, it is important to provide your body with the necessary nutrition before and after a workout. From her homemade oats to healthy smoothies, Dani has a wide range of health and fitness and content on her TikTok account.
Wellness TikTokers #5. Meg Boggs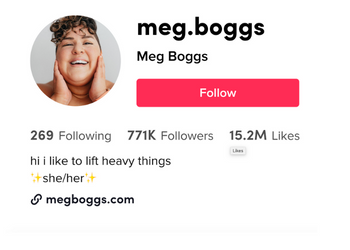 Next up, we have Meg Boggs (@meg.boggs), who is a health and wellness influencer on TikTok.
As you can probably tell from her bio, Meg's fitness content is largely focused on weightlifting. From bench presses to bicep curls, Meg does not shy away from using weights.
Apart from weightlifting, Meg also uses her TikTok account for other meaningful purposes. She advocates for body positivity on her TikTok account. She destroys traditional stereotypes about women having to look a certain way, or be of a certain size. We certainly need more women like her on social media to displace the negative stereotypes about women!
Wellness TikTokers #6. Jenni Tyler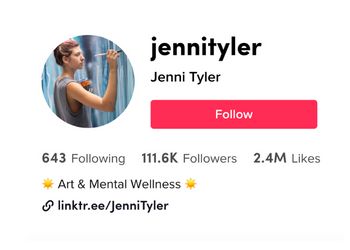 Moving on, we have Jenni Tyler (@jennityler), who is a mental wellness advocate on TikTok.
Based in Australia, Jenni dedicates her TikTok account to the two things that she is passionate about – art and mental wellness. Apart from sharing her beautiful artwork on her TikTok account, Jenni also includes content about mental wellness on her social media platforms.
For instance, in a recent video, she talks about the differences and similarities between mental wellness and mental health. Apart from raising awareness about mental health issues, she also gives tips on how to deal with our mental health and wellness.
Wellness TikTokers #7. Allen Ye
Lastly, we have Allen Ye (@theallenye), who is a health and fitness TikToker. Allen's account is great for those looking to increase their muscle mass starting with their diet and exercise.
From tips on how to improve your diet to gym routines, Allen has an inventory of fitness-related videos on his TikTok account.
Conclusion
In a nutshell, these are 7 health and wellness influencers that have spent their time and effort to create meaningful content. Whether you are looking to kickstart your fitness journey or looking to improve your mental wellness, do check out these 7 influencers.
Sources
brands.joinstatus, health-and-wellness-influencers-on-tiktok
.asiaone, lifestyle/21-super-hot-fitness-influencers-follow-fitspo
influencermarketinghub, tiktok-fitness-influencers/