There are many categories of influencers. From fashion to food, the type of content that each influencer tends to post differs greatly.
In fact, even within a single category of influencers, many of them have differentiated content. Take the example of food influencers. Although all food influencers would post some form of food-related content, the type of content can differ. From hawker food to cafe food and fine dining, many influencers tend to have some form of specialised content.
Today we will be talking about luxury influencers. Be it the realm of fashion or lifestyle, these are influencers that have established themselves as luxury influencers. If you are interested in luxury products and services, today's article would introduce some influencers that you may find interesting.
Luxury influencers 2022: #1. Fashion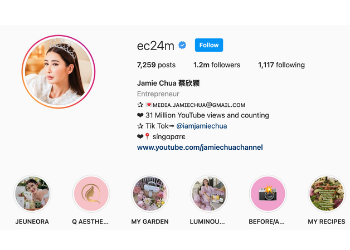 Firstly, we have the category of luxury fashion influencers. These influencers are the ones who have fine taste when it comes to fashion.
From exquisite outfits to chic street styles, these influencers can often be seen in designer brands. Within this category, we have many influencers. In the local context, we have Jamie Chua (@ec24m), who has established herself as a fashion influencer on YouTube, Instagram and Tiktok.
From her collection of Hermès Birkin bags to her Chanel outfits, the amount of exquisite designer goods that she owns is amazing. In fact, her colossal wardrobe has received quite a lot of attention on social media. Videos featuring her walk-in wardrobe housing all sorts of luxury items have hit 9 million views. As you can tell from the number of clicks on the videos, her wardrobe is really something that is rather unique.
While not all of us can afford such brands, it is interesting to see how these influencers can pull off apparel designed by famous designers. Whether you are interested in fashion or are simply curious about the size of her wardrobe, her social media accounts are worth checking out.
Of course, there are many other luxury fashion influencers. To name a few other influencers, we have Mae Tan (@marxmae), Savina Chow (@savina_chai) and Yoyo Cao (@yoyokulala). The point is that there are many luxury fashion influencers who showcase amazing pieces by renowned designers. Therefore, do explore to find out your favourite fashion influencers.
Luxury influencers 2022: #2. Travel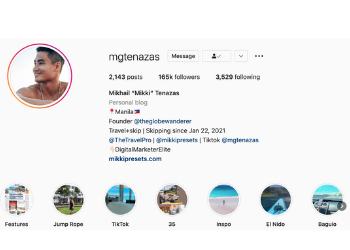 Secondly, we have the category of luxury travel influencers. Like our fashion influencers, there are many types of travel influencers. However, this article focuses on travel influencers that like to take the extravagant way of travelling.
From First Class flight experiences to exquisite hotels, these influencers know the best way to travel. An example of such an influencer would be Mikhail Tenazas (@mgtenazas), who is a travel influencer from the Philippines.
How is he different from the other travel influencers? Well, as alluded to by the title of this article, Mikhail's travels often feature luxurious hotels and resorts. From resorts with private infinity pools to luxurious hotels at the heart of some of the most famous cities, Mikhail showcases all of these amazing lodging options.
If you are wondering how he finds the time to travel, well, he is the founder of the travel account, @theglobewanderer. Thus, in a way, travelling is part of his job scope. Again, while not all of us may be able to afford the same lifestyle, it is always interesting to see what luxury travel experiences are like.
Luxury influencers 2022: #3. Food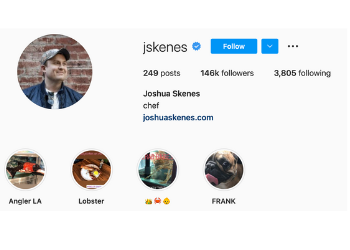 Thirdly, we have the category of luxury food influencers. These influencers often share the experience of fine dining with all of us on the internet.
From Michelin star restaurants to exquisite ingredients like caviar and truffle, these influencers have tried many of the award-winning delicacies on the market.
An example of a luxury food influencer would be Joshua Skenes (@jskenes). How did he develop such a fine taste for food? Well, he is a chef as well as a founder of Saison, a restaurant with two Michelin Stars. Therefore, it is no wonder why he has such great taste when it comes to food and dining. His Instagram account features several unique dishes. From exotic ingredients like lobsters to eels, he sure is rather experimental when it comes to coming up with new cuisine.
Luxury influencers 2022: #4. Lifestyle
Fourthly, we have the category of luxury lifestyle influencers. What does it mean to be a luxury lifestyle influencer? Well, that means a combination of characteristics of the previous 3 influencers that we have covered. In other words, such influencers share context related to branded clothes, fine dining and occasionally, luxury travel.
An example of such an influencer would be Chiara Ferragni (@chiaraferragni), who is an Italian luxury influencer. From designer clothes to fine food, Chiara has tried it all. How did she manage to attain this lifestyle?
Well, she actually started out as a blogger with her own personal blog, The Blonde Salad. After establishing herself in the realm of fashion and beauty, she went on to launch successful footwear, clothing and accessories brands. If you are interested in the lifestyle of a mom who is also a businesswoman, do check out her social media accounts.
Luxury influencers 2022: #5. Beauty and makeup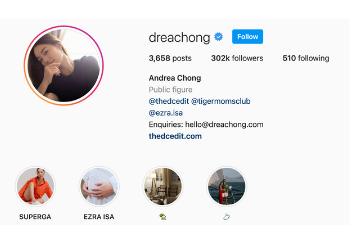 Lastly, we have the category of luxury beauty and makeup influencers. These influencers have established themselves in the realm of high-end beauty and makeup.
An influencer who belongs to this category would be Andrea Chong (@dreachong). From skincare tips to makeup products, Andrea has posted a range of beauty-related content in the course of her career. Her expertise in this field has also earned her many collaborations with luxurious beauty brands – amongst them include Chanel Beauty, a brand  which she collaborated with.
Apart from beauty-related content, Andrea is also known for her great taste in fashion. Therefore, if you are interested in beauty and fashion, do check out Andrea's social media accounts.
Conclusion
There are many types of luxury influencers. Some of them may focus on fashion while others on food. Not all of us may be able to afford the same lifestyle as these influencers. However, thanks to social media, we get a glimpse into the lives of these influencers!