TikTok, the video-sharing website is known for its short yet engaging videos. From viral challenges to time-saving hacks, the platform has been at the epicentre of it all.
Despite the recent news of the potential ban of TikTok in the United States of America, TikTok still has quite a substantial user base. It is known for being widely popular among Gen Z or millennials, the younger demographic. This perhaps explains the number of luxury brands that are expanding their TikTok presence.
Therefore, today we will be talking about luxury brands on TikTok. What are some luxury brands that have threaded into the waters of TikTok and how are they doing so?
Recent developments | Luxury brand TikTok Marketing

TikTok was launched by the company, Bytedance, in 2016, sometime after the company had acquired the video streaming platform musical.ly. Despite being relatively new, the platform has gone on to conquer the sphere of social media. Today, it has reached 2 billion downloads worldwide and has propelled many influencers to fame.
In the recent few years, many luxury brands have taken notice of the platform, and some have even started their own TikTok accounts. From Burberry to Prada, luxury brands on TikTok are no longer surprising. After all, the demand for luxury goods and branded content is at an all-time high on TikTok.
This can be seen from the content luxury influencers are producing on TikTok. Hashtags of luxury brands are also staggeringly high – the hashtag #louisvuitton has 1.5 billion views while the hashtag #chanel has more than 800 million views. This shows that TikTok is not only filled with luxury brands but that TikTok users enjoy watching such content.
From unboxing luxury bags to luxury brand challenges, luxury influencers have come up with unique ways to create engaging content on TikTok.
Luxury brands are also aware of the prominence of TikTokers. For instance, Prada, the Italian luxury brand has collaborated with TikToker Charli D'Amelio. Charli was invited to the Prada's show during the Milan Fashion Week and she recorded her experience for her followers on TikTok. She also posted videos of herself, decked in Prada, that captured the attention of many.
There are many other luxury brands that have experimented with TikTok. The following are some successful examples of Tiktok marketing for luxury brands.
Luxury brand TikTok Marketing: #1. Burberry

Firstly, we have Burberry, the British luxury fashion house headquartered in London. Burberry launched its TB challenge in line with the brand's reveal of the Thomas Burberry monogram.
To take part in the challenge, TikTok users simply needed to make the shape of a T and a B with hands. As of 2020, the hashtag #tbchallenge has over 100 million views on TikTok.
Luxury brand TikTok Marketing: #2. Gucci

Secondly, we have Gucci, the Italian luxury brand based in Florence. The brand created their TikTok account less than a year ago, yet, the account already has 3.1 million likes on TikTok.
Apart from producing their own content, Gucci has also created the #GucciModelChallenge, which encourages users to recreate Gucci Creative Director Alessandro Michele's "granny chic" style from pieces they already have in their wardrobe.
Users can create the video with the soundtrack that contains instructions of getting that runway-ready Gucci look. From matching colourful turtlenecks with t-shirts that do not match, the challenge was highly popular among fashion enthusiasts on TikTok. The hashtag, #GucciModelChallenge, now has more than 26 million views, and this number is steadily increasing.
Luxury brand TikTok Marketing: #3. Alice + Olivia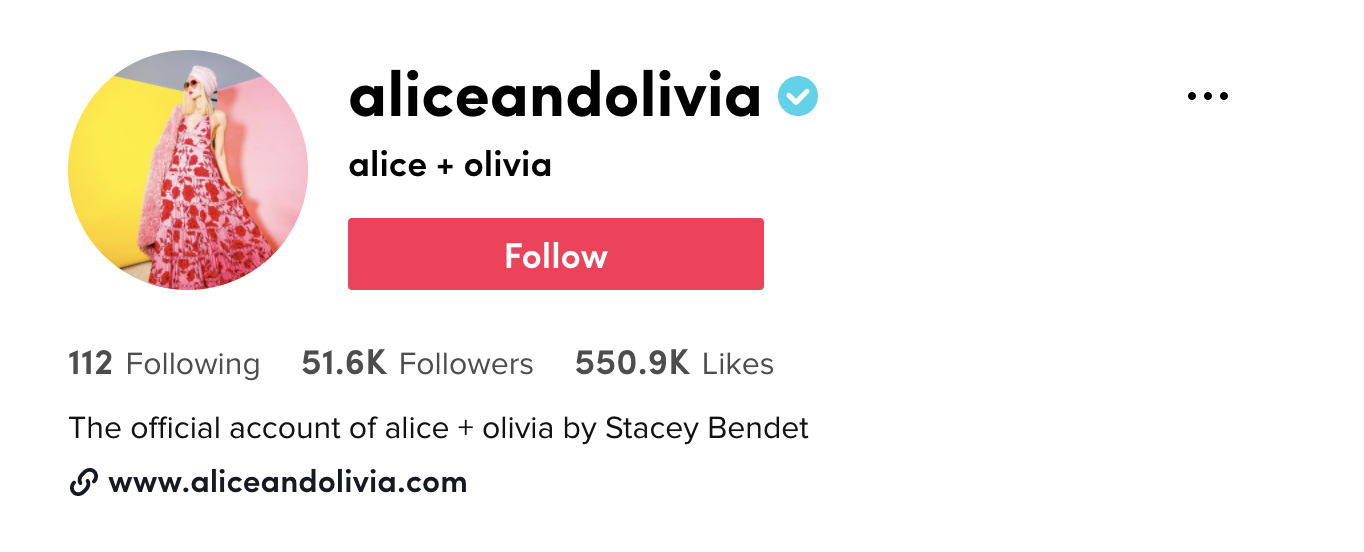 Thirdly, we have like Alice + Olivia, the American clothing company founded in New York, best known for their contemporary pieces.
Just like Gucci, the brand actually only got onto TikTok in February of this year. That being said, it has managed to be rather successful on the platform, with over 50K followers and 550K likes on TikTok.
Alice + Olivia has been rather actively posting content on TikTok. From blazer styling tips to behind the scenes of fashion shoots, Alice + Olivia has done a good job in keeping the brand's account vibrant and engaging.
Apart from its own content, the brand also worked with TikTok influencers. Influencers like Addison Rae, Cosette Rinab and Dana Hasson appeared on Alice + Olivia's TikTok account and also posted content in collaboration with the brand on their own accounts.
Luxury brand TikTok Marketing: #4. Calvin Klein

Fourthly, we have Calvin Klein, who is no stranger to influencer and social media marketing. Calvin Klein, the American fashion house, has worked with celebrities like Kendall Jenner, A$AP Rocky and Justin Bieber for its marketing campaigns.
The brand's TikTok also often features TikTok influencers. Its most recent campaign on TikTok would be the #advicetomyyoungerself campaign, which features advice influencers would give themselves if they could go back in time. The campaign was highly successful and has more than 24 million likes on TikTok.
Luxury brand TikTok Marketing: #5. Ralph Lauren

Lastly, we have Ralph Lauren, the American fashion company. Like many other luxury brands, Ralph Lauren decided to partner TikTokers in their TikTok marketing campaign.
The brand has a campaign that revolved around influencers showing how they can wear a piece from the brand in 5 different ways. Influencers showcased how they could wear Polo shirts, Bellport dresses and even mini bags in many ways.
Conclusion
In a nutshell, TikTok, like many other social media platforms, contains a whole range of content. Therefore, luxury brands should not write off TikTok as a platform for singing and dancing as the demand for luxury content is equally high on the platform.
sources
Thestar.com, my/tech/tech-news/2020/09/18/opinion-tiktok-and-instagram-face-off-for-luxury-influencers
Digiday.com, marketing/luxury-brands-go-tiktok/
Thefashiondigital, post/five-to-follow-luxury-fashion-brands-on-tiktok