There are many types of influencers on the internet. Amongst them include the fashion influencers, influencers who have dedicated their social media accounts to share their personal style.
Today, we are exploring a subcategory of fashion influencers, the sneaker influencers. These influencers are enthusiasts when it comes to footwear, in particular sneakers. Whether you are looking for a pair of shoes for everyday wear or for collection purposes, these 5 influencers will probably have a pair of sneakers to recommend.
Instagram Sneaker Influencers: #1. Cory J King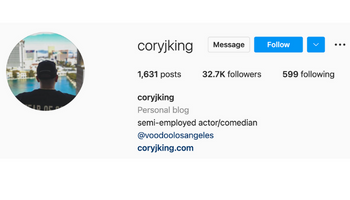 Firstly, we have Cory J King (@coryjking), who is an influencer based in Los Angeles California.
As you may expect from someone who lives in LA, it is not an exaggeration to say that Cory J King has a great eye for fashion.
From palm trees to aesthetic rooms, this account clearly has a well thought out theme and aesthetic. Apart from the vibey pictures, Cory J King is also a sneakerhead. If you quickly scroll down his Instagram account, you can see the number of sneaker-related pictures he has posted in the past few months.
From classic Nike Dunks to the Y-3 Ultra boost, Cory J King has somehow managed to get the coolest sneakers available in the market.
Apart from his sneakers, he is also known for having great style. Whether it is the Chanel decorative pillows or Gucci apparel, Cory J King has showcased how one can incorporate style into different aspects of life. If you looking for an influencer that perfectly depicts the laid back, stylish lifestyle that one would expect in LA, you can check out Cory J King's Instagram account.
Instagram Sneaker Influencers: #2. Sean Wotherspoon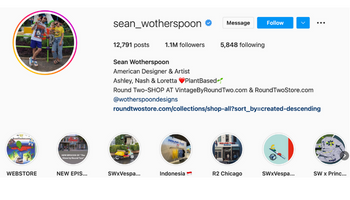 Secondly, we have Sean Wotherspoon (@sean_wotherspoon), who is from Virginia, USA.
If you are a fan of Nike sneakers, Sean should be no stranger to you. After all, he won the Nike Forward competition with Nike Air Max 97/1. Indeed, he is the brains behind one of the most highly sought-after sneakers of 2018.
However, Sean Wotherspoon's interest in sneakers started way before 2018. In fact, his career in the sneaker industry can be traced as far back as 2013, when he co-founded the vintage Virginia-based sneaker store, Round Two, which pays for sneakers in cash as opposed to consignment. At theat point in time, he was still twenty-three.
Fast forward to today, he has hit many milestones in the sneaker industry. From business milestones like opening his second store in Miami to personal achievements on Instagram and Youtube, Sean Wotherspoon has established quite a name for himself in the industry.
Apart from being a sneaker designer and enthusiast, Sean also has a range of hobbies that he showcases on his Instagram account. From doing tricks on bicycles to hitting the skate park, you can catch him engaging in his favourite activities in different pairs of sneakers.
Instagram Sneaker Influencers: #3. Jess Gavigan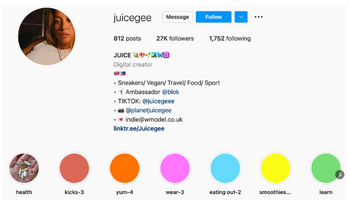 Thirdly, we have Jess Gavigan (@JuiceGee), who is from the United Kingdom.
Some may think that most sneaker enthusiasts are males. However, Jess shows us that females can have the same interest in sneakers.
In fact, Jess' rise to internet stardom can be traced to her passion for creating stylish sneakers. Jess was the founder of the first-ever ladies-only online sneaker store Small Feet Big Kicks. The store has made its waves in several continents around the world – from Australia to Europe.
As the owner of a sneaker store, you can expect Jess to own many pairs of sneakers. Indeed, in a 2019 interview, she indicated that she owns more than 300 pairs of sneakers. From limited-edition collaborations to Classic sneakers, her shoe cabinet is probably the dream of many.
If you are interested to know which limited edition sneakers Jess owns, do check out her Instagram account where she regularly posts sneaker-related content.
Instagram Sneaker Influencers: #4. Landy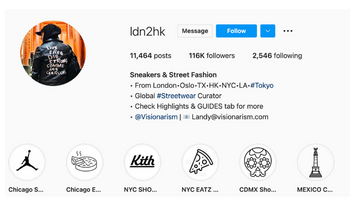 Fourthly, we gave Landy (@ldn2hk), who is a sneakerhead based in Los Angeles, USA.
Although he is based in the USA now, he has lived in many places. From cities in Asia like Hong Kong and Tokyo to cities in Europe like Oslo and London, Landy has lived in many cities in the course of his life.
This perhaps explains his unique style. From Japanese streetwear to fashionable LA drip, he often updates his 116K followers with stylish pictures.
From the latest Adidas sneakers to a Louis Vuitton travel bag, Landy showcases what it is like to travel in style.
Instagram Sneaker Influencers: #5. Caroll Lynn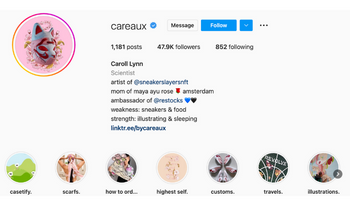 Lastly, we have Caroll Lynn (@Careaux), who is currently based in Sydney, Australia.
When we think of sneakers, most of us tend to think of chunky sneakers with neutral black and white colours.
However, Caroll Lynn shows us that a chic pair of sneakers can incorporate feminine elements. If you take a quick scroll down her Instagram account, you will find that she is not one to shy away from colour.
From sneakers with a floral pattern to mixing colours like baby pink and black, Caroll Lynn has somehow managed to design such unique pairs of sneakers. If you are interested in having customised sneakers, do check out Caroll Lynn's Instagram account where she showcases how great she is at designing sneakers.
Conclusion
In a nutshell, there are many sneaker influencers on Instagram. From sneaker enthusiasts to sneaker shop owners and designers, there is a huge range of content on the platform that will surely attract the attention of any sneaker enthusiast.
Sources
Soleheaven, blogs/news/soleheavens-top-30-sneaker-influencers-why-you-need-to-check-them-out
Hypebae, 2019/10/jess-gavigan-juice-gee-sneaker-collector-london-interview-nike-asics