In this digital age, many aspects of our lives have been intertwined with social media. The food we choose to consume is one of them. How many of us use the internet to find food recommendations? More often than not, a simple scroll through social media provides us with a multitude of food options. From tantalising pictures of food to videos like mukbangs that are sure to whet up an appetite, social media is full of food-related content.
Today we will be talking about food-related content on TikTok. More specifically, we will be introducing 7 food influencers who are constantly producing great content on TikTok.
Food TikTokers: #1. Mighty Foodie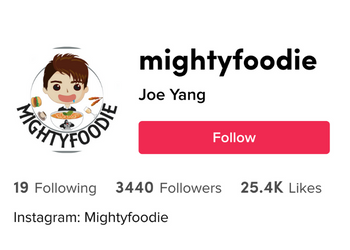 Firstly, we have Joe Yang (@mightyfoodie), who is a food influencer that showcases all sorts of local food in Singapore.
Joe might be a marathon runner. However, he is also equally enthusiastic about food. In fact, he started off sharing about this interest through his blog of the same name, Mighty Foodie. Apart from his blog and Instagram account, he also creates content for his TikTok account.
If you are a fan of the local hawker food scene, his account is a must-see. From famous carrot cakes to pratas and economical bee hoon, Joe somehow manages to discover all the great hawker food all around Singapore.
Apart from hawker food, his TikTok account also features a wide range of cuisines for people of varying budgets. From meals at cafes to high-end restaurants, his TikTok account is a paradise for all the foodies out there.
Food TikTokers: #2. Eatbook sg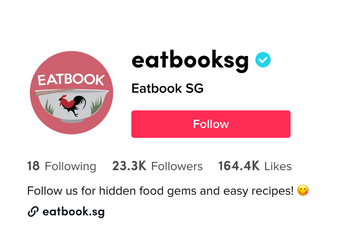 Secondly, we have (@eatbooksg), a food account that is also very active on YouTube and Instagram.
As succinctly summarised in their bio, the account features content like recipes and hidden food finds. From hawker food to cute cafes, Eatbook's team has certainly done a great job in creating great content.
Whether you are a foodie or not, there will be something that is of interest on Eatbook's TikTok account. For instance, a recent video showcases the practical tip of DIY[ing soju in the comforts of our homes. If you are interested in finding out what are some of the viral food trends out there, Eatbook's account is a great place to start.
Food TikTokers: #3. Foodmakescalhappy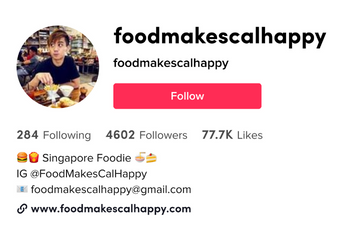 Thirdly, we have Calvin Lee (@foodmakescalhappy), who is an influencer who has dedicated his social media platforms to share his love for great cuisines.
As a Singapore foodie, you can expect Calvin's TikTok account to be filled with great local cuisines. As of late, he has been posting many mooncake related videos – just in time for the mid-autumn festival. Therefore, you would like some mooncake recommendations, do check out his TikTok account where he manages to complete a review in the format of a short TikTok clip.
Food TikTokers: #4. Snaptasterepeat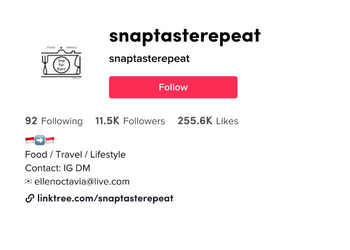 Fourthly, we have Ellen Octavia (@snaptasterepeat), who is a food, travel and lifestyle influencer.
This food influencer who is from Indonesia is currently based in Singapore. In fact, she started her journey her journey as a food influencer while she was studying in  Singapore back in her university days.
Although she has since started work, she has not forgotten to document her food adventures on her social media platform. From ayam penyet to phở and stir-fried pork, Ellen's account features cuisines from all over the world. Therefore, no matter how unique your taste buds are, there will be something that can whet your appetite on her account.
Food TikTokers: #5. Weeteck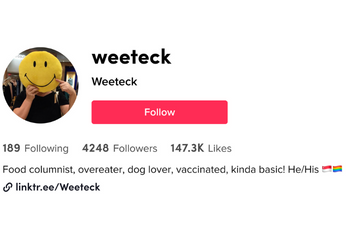 Next up, we have Yeoh Wee Teck (@weeteck), who is a local food influencer. As a food columnist for publication, The New paper, Wee Teck has taste-tested a wide variety of cuisines.
Apart from reading about his latest food reviews in The New Paper, you can always check out his TikTok account which features detailed videos of the food that he has tried. From donburi to duck rice, Wee Teck has featured a wide range of dishes on his TikTok account.
Food TikTokers: #6. Ariane_le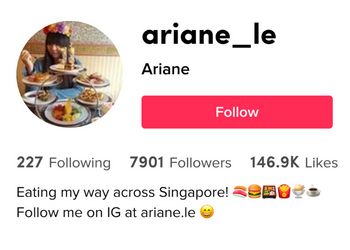 Next up, we have Ariane (@ariane_le), who is another food influencer that is passionate about food and photography.
Like many other influencers on this list, Ariane goes around Singapore to try out all sorts of meals. From special dining experiences to new menu launches, Ariane is always ahead of the game when it comes to food trends.
Food TikTokers: #7. Missionsgcafes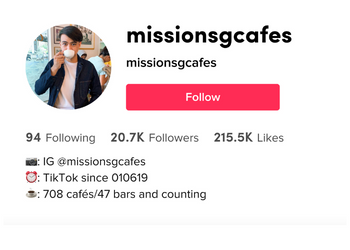 Lastly, we have Marc (@missionsgcafes), who is a cafe enthusiast that has documented his adventures to the various cafes on his social media accounts.
Do you enjoy a great Sunday brunch at a quaint cafe? If you do, then Marc's TikTok account is probably for you.
While many of us are no strangers to dining at cafes, we are probably amateurs when compared to Marc, who has dined in over 700 cafes. His passion for food has not gone unnoticed. In fact, he has been featured in The Sunday Times as well as in an article by Rice Media.
Marc creates a short video clip with each cafe visit. Each video showcases details like the cafe's interior ambience and food. Therefore, if you are looking for a cafe to visit, do check out his TikTok account – which acts as a directory for great cafes in Singapore.
Conclusion
Singapore might be small in geographical size. However, when it comes to food, we certainly have a wide variety of food. If you ever feel like you are running out of things to try, do check out these 7 influencers who regularly give recommendations about the food gems in Singapore.