When you think about social media, Facebook cannot be excluded from the list. Therefore, we have decided to touch on some Facebook influencers that are very popular on the platform.
Facebook top influencers 2020: #1. Zach King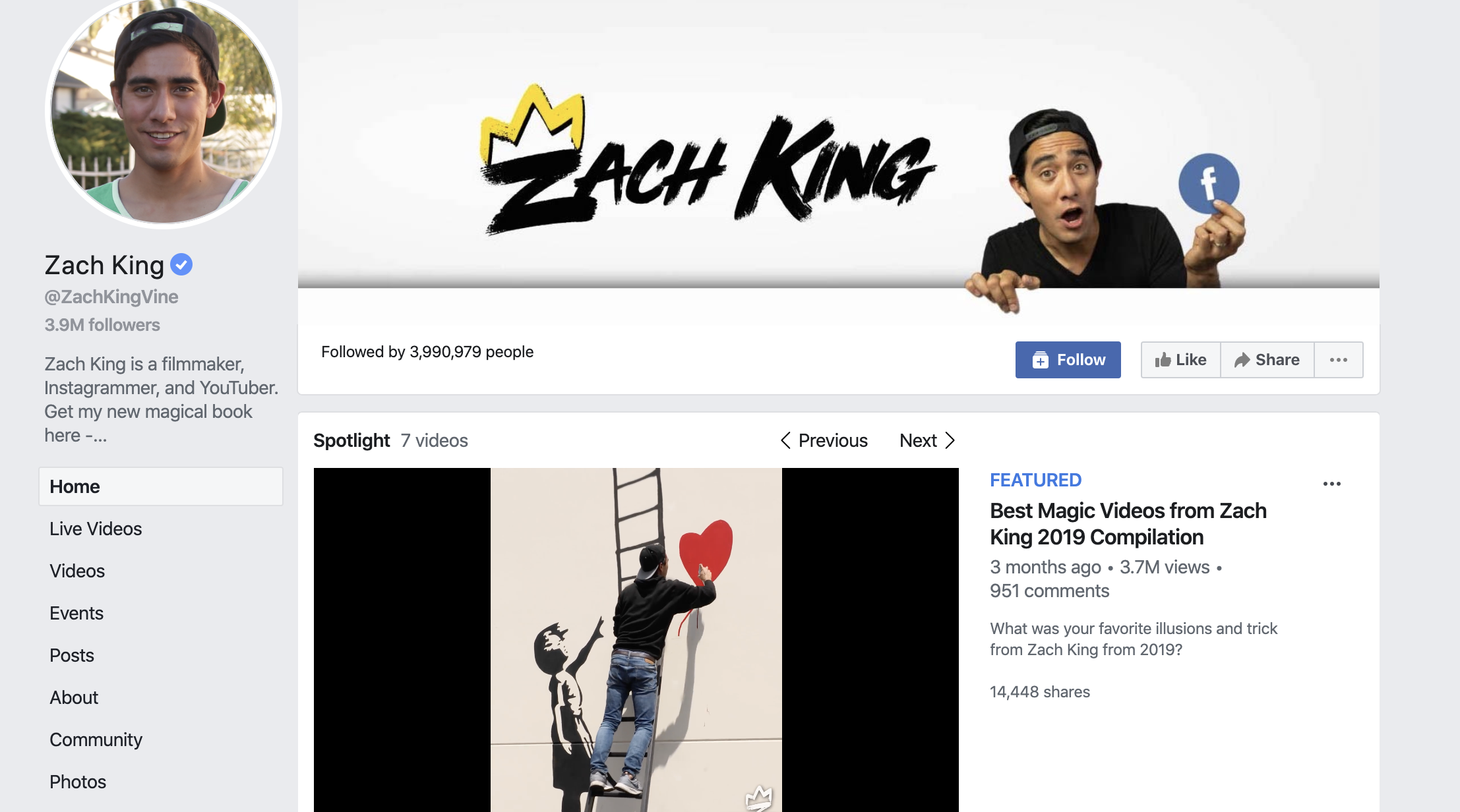 Firstly, we have Zach King (@ZachKingVine), who is an influencer that specialises in videos such as vlogs. From his Facebook username, you can probably guess that Zach started out at Vine, the video-sharing platform.
Although Vine no longer exists, Zach's popularity still remains. This can be seen from the 3.9 million followers he has on Facebook. Do check out his Facebook profile for comedic and random videos that are sure to put a smile on your face!
Facebook top influencers 2020: #2. Huda Kattan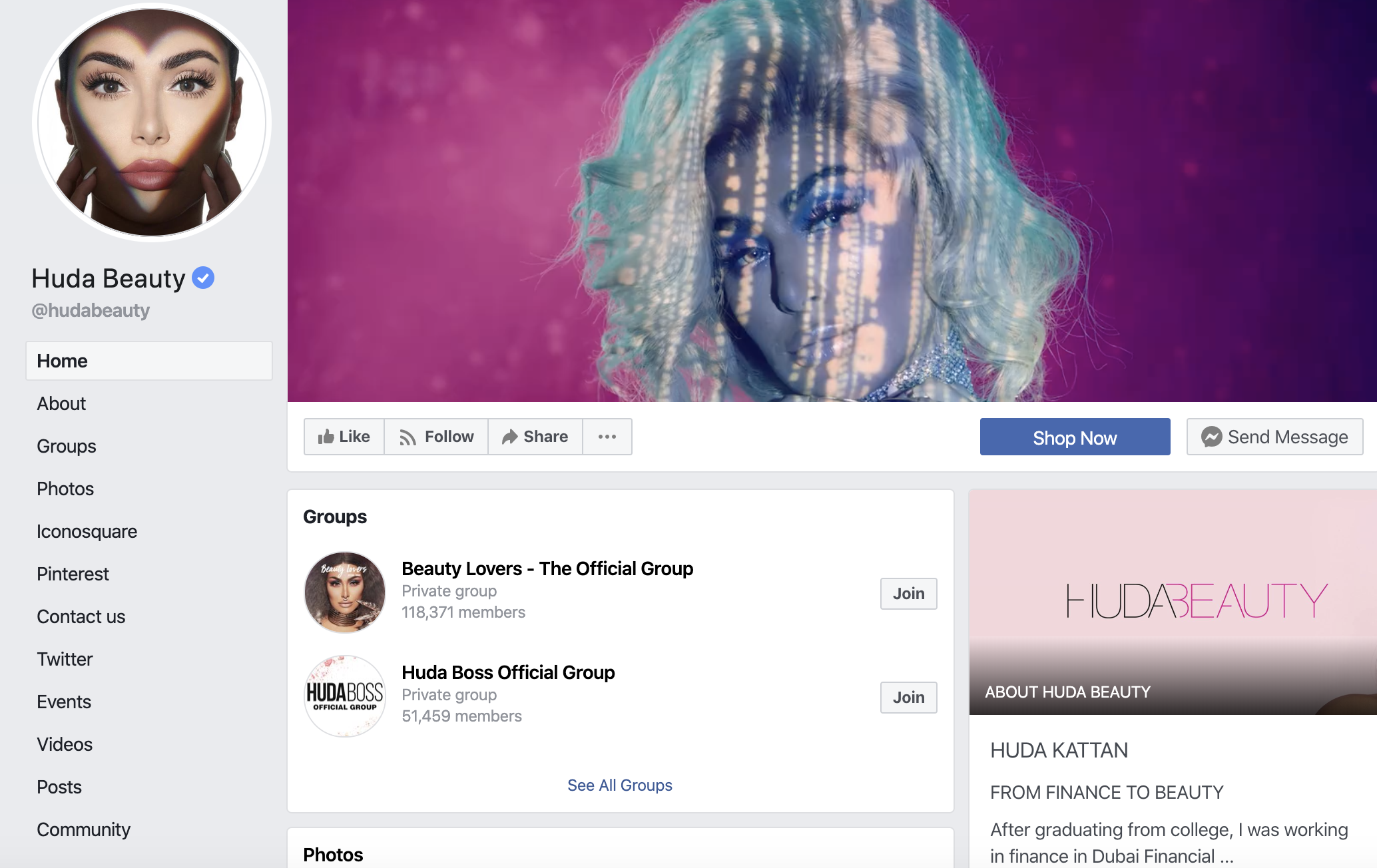 Secondly, we have Huda Kattan (@hudabeauty), who is a beauty guru best known for her skills when it comes to makeup and skincare.
Huda, like many other beauty gurus, started out as a blogger, sharing beauty and skincare tips with her many followers online. Over the years, she has expanded her following base and has also built quite the fame for herself on various Social Media platforms. On Facebook alone, she has over 8 million followers and over 7 million likes.
To add on, apart from her life as an influencer, Huda is also very well known for being the brains behind Huda Beauty, her own makeup brand. She has built a name for herself in the beauty industry. This can be seen from how her makeup lines are sold all over the world. In fact, even Sephora carries her products!
Facebook top influencers 2020: #3. Cameron Dallas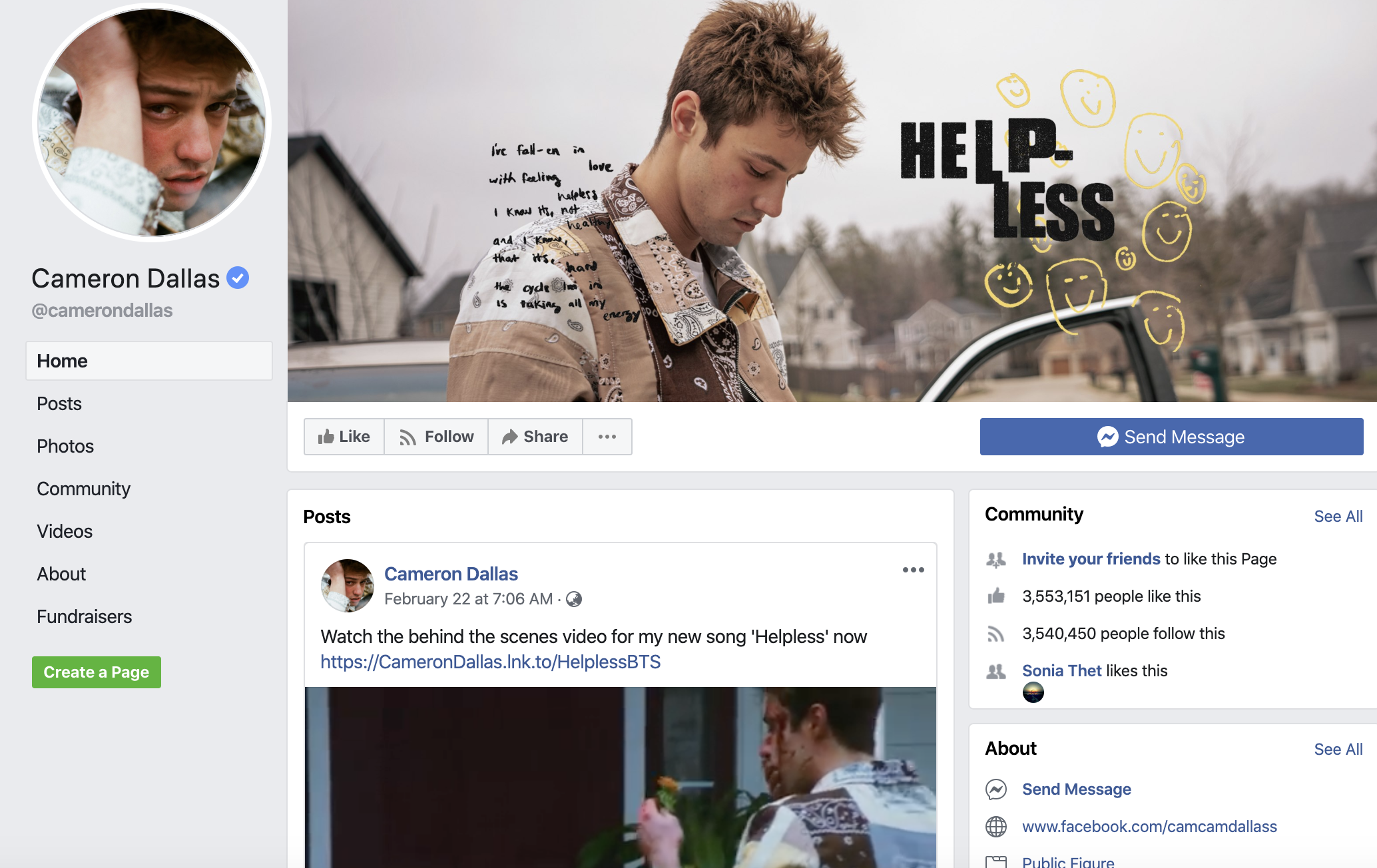 Thirdly, we have Cameron Dallas (@camerondallas), who is an influencer that is very well known to the YouTube community.
For those of you that remember the old video streaming platform, Vine, Cameron actually found his fame there. From the short comedic clips to longer Youtube vlogs, Cameron is no stranger to social media.
Apart from YouTube, Cameron is also rather popular on Facebook. Currently, over 3 million people like and follow his page. Of course, the numbers are increasing by the day.
You might have also seen Cameron on other platforms. For instance, Netflix. He has his own Netflix series, Chasing Cameron which explains why he is a familiar face to many. Do follow and like his Facebook page for more updates about his life.
Facebook top influencers 2020: #4. Kayla Itsines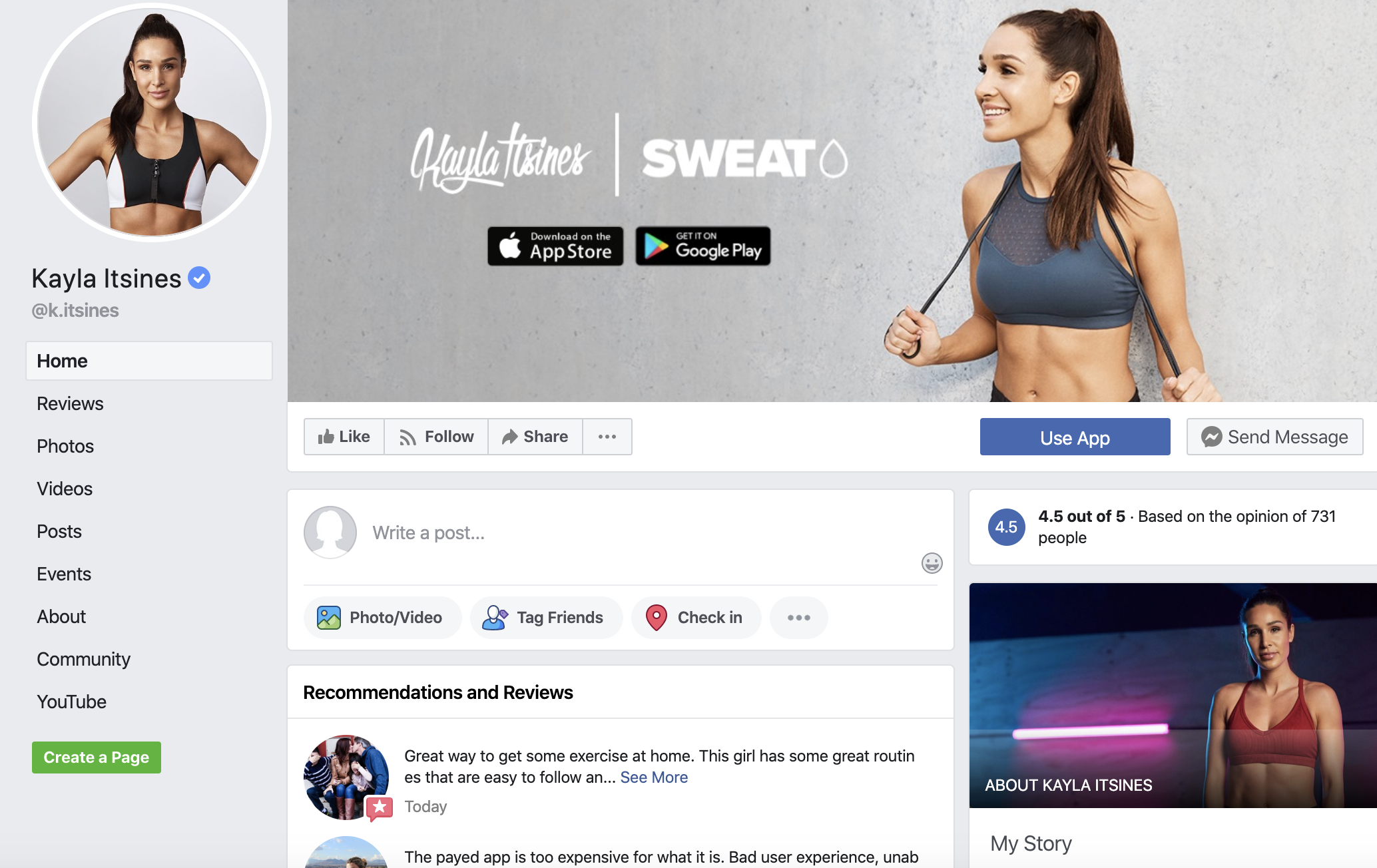 Fourthly, we have Kayla Itsines (@k.itsines) who comes from Australia. She is a fitness and workout influencer. Therefore, if you are looking for fitness inspiration, Kayla is who you should follow.
On Facebook alone, Kayla has over 28 million in both followers and likes (on her page). This makes her a macro influencer. In fact, she is one of the most followed Australian fitness influencers on Facebook.
Her journey as a fitness influencer started out pretty early, in 2008. In fact, her Facebook mentions that since then she "helping women find their way to becoming fitter, healthier and more confident".
Apart from being a trainer, Kayla has also published a workout guide. Her book is named "The 28-Day Healthy Eating & Lifestyle Guide". She includes tips like recipes to achieve that healthy lifestyle we are all gunning for.
Apart from her work in fitness, she is also an influencer which explains her many content postings on Social Media. From workout tutorials to diet tips and inspirational messages, Kayla's social media account is filled with much-needed health inspiration.
Facebook top influencers 2020: #5. Cooking with Mima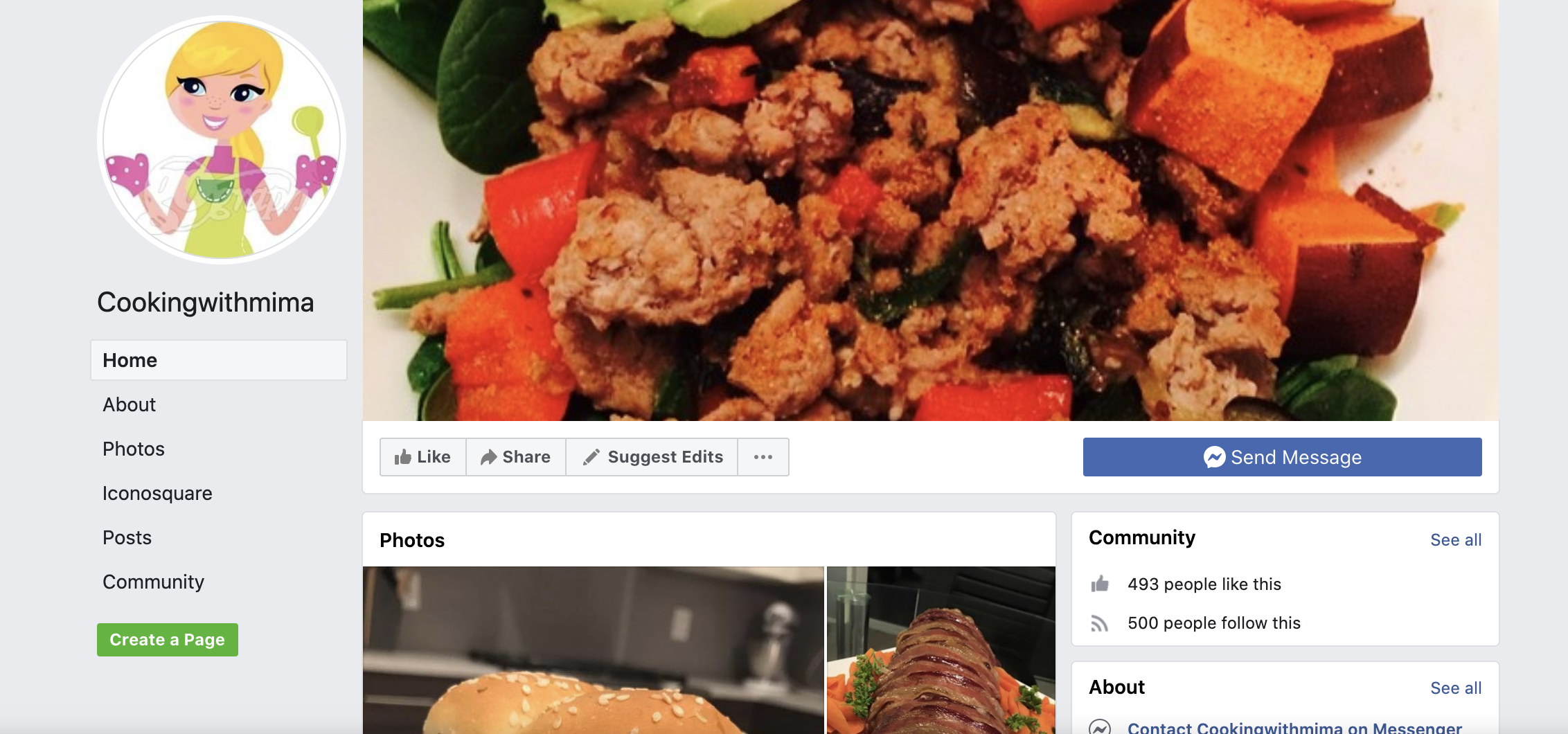 Next up, we have Cooking with Mima (@cookingwithmima), which is a Facebook page dedicated to all the foodies out there. The owner of the page, Marian Ezzedine can be considered a food influencer as her recipes are followed by many all over the globe.
Currently, she has over 9000 followers on Facebook. If you are impressed by that number, you will be even more so to know that her Instagram account has more than 2 million followers.
If you are looking for easy yet tantalizing recipes, Cooking with Mima is the page to look for. This is because many of their recipes are rather manageable. To add on, there is an additional bonus of the recipes being relatively healthy. For instance, you can find the recipes of dishes like Asian Beef Lettuce Wraps on Cooking with Mima. Therefore, do check them out!
Facebook top influencers 2020: #6. Selena Gomez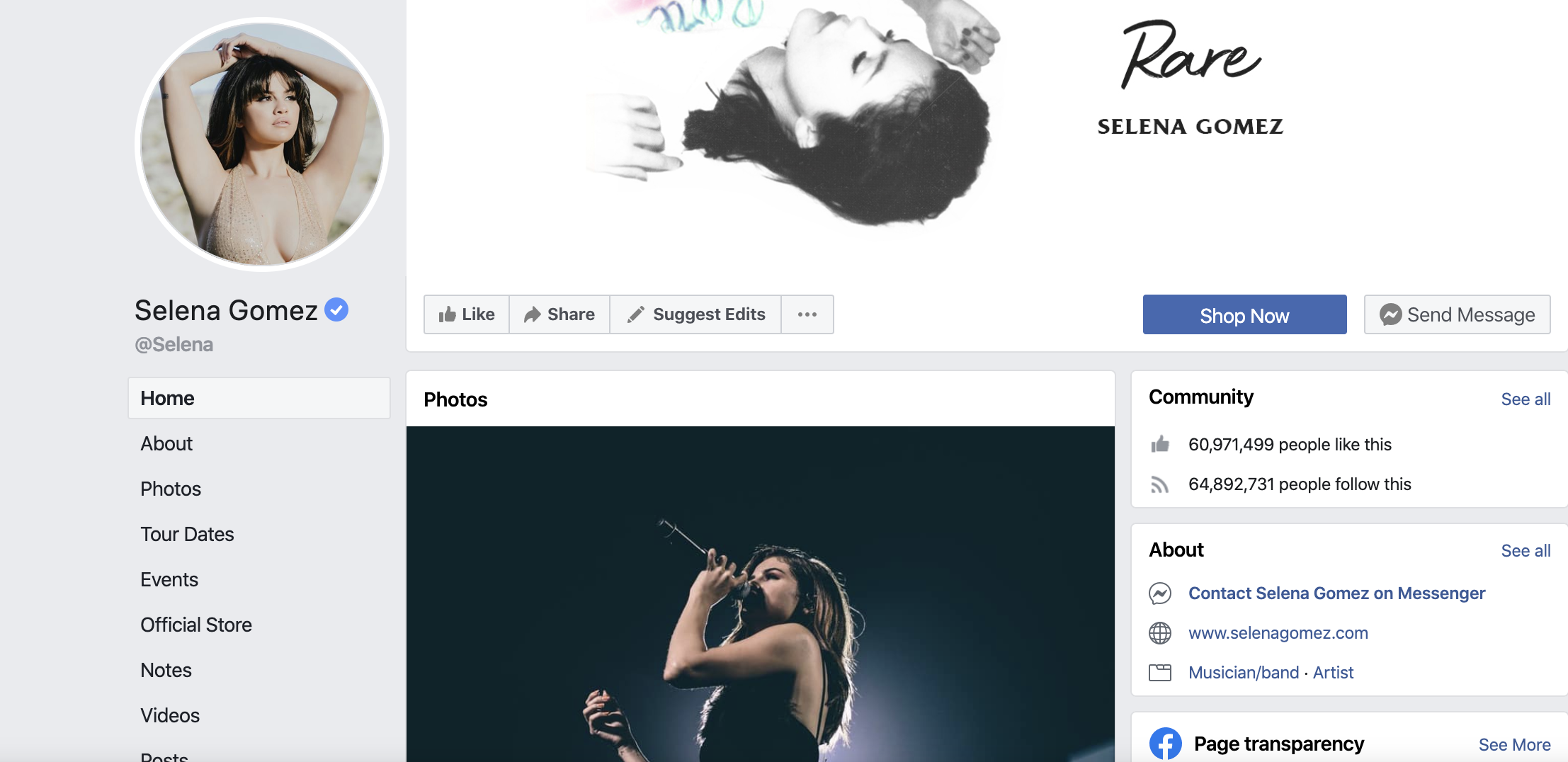 Next up, we have Selena Gomez (@Selena), who probably needs no introduction. If we were to give a simple introduction, Selena is a singer as well as an actress that started out her acting career at a very young age.
She is known to be the queen of social media. Did you know that she used to be the most followed person on Instagram for quite a few years? Apart from Instagram, Selena's Facebook page is also very popular with over 60 million followers.
There are many celebrities on social media right now. However, Selena certainly stands out with the content that she posts. To add on, it also very commendable that she uses her social media accounts for meaningful purposes such as charitable causes,
Facebook top influencers 2020: #7. Kylie Jenner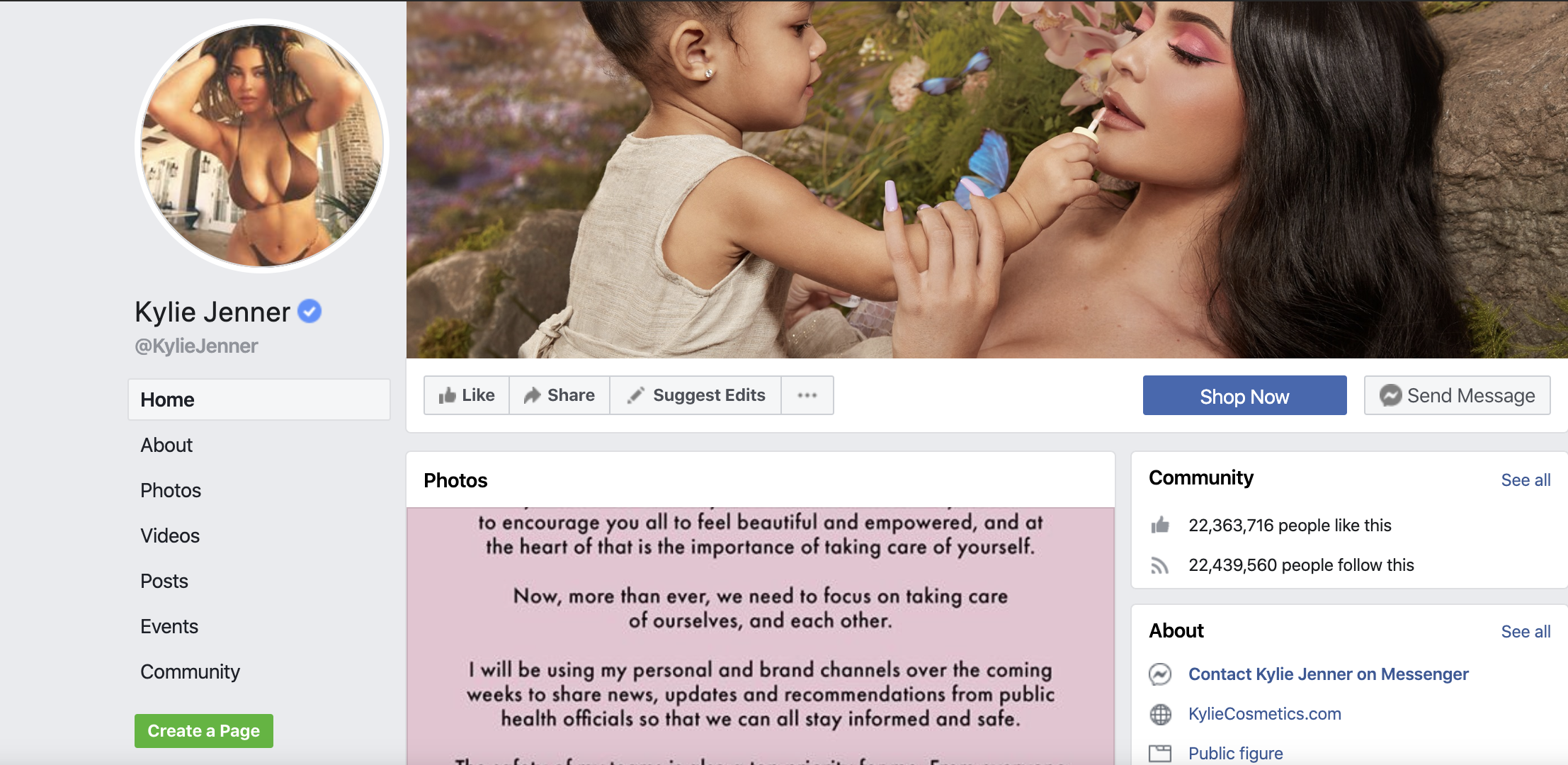 Our seventh is none other than Kylie Jenner, one of the members of the whole Kardashian clan.
Although the Kardashians are known for having millions of Instagram followers, Kylie's presence on Facebook is also equally remarkable. She has over 20 million followers and likes on her Facebook page.
To add on, Kylie is not only an influencer but also a successful businesswoman who has done very well in marketing her cosmetic brand, Kylie cosmetics. If you are looking for beauty and lifestyle content, Kylie's social media accounts are the place to go as she often shares glimpses of her jet setting lifestyle with her followers.
Facebook top influencers 2020: #8. Cristiano Ronaldo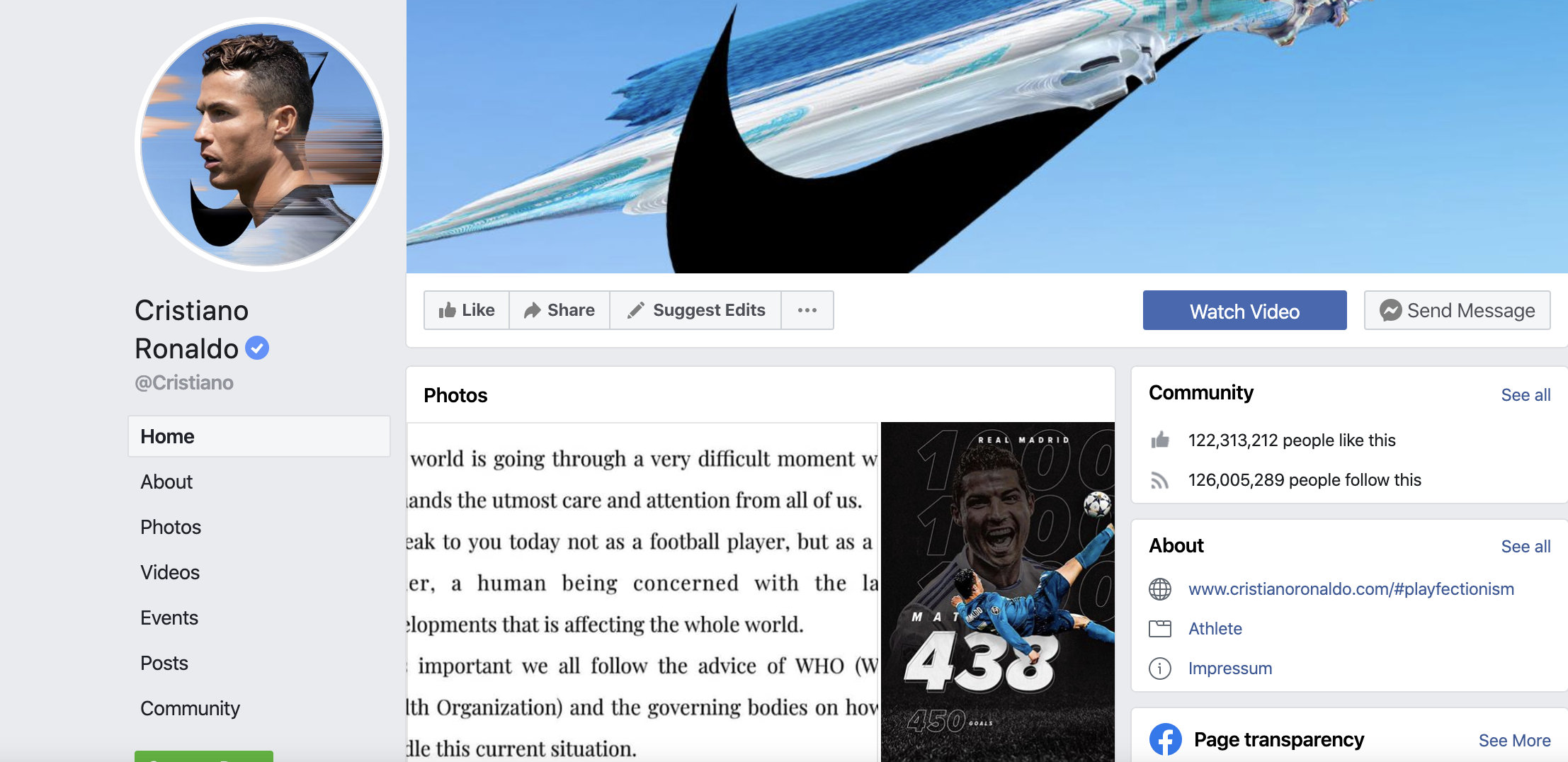 Lastly, we have Cristiano Ronaldo (@Cristiano), who is a professional football player. You might know this Portugal player for his football skills but he is also equally successful as a sports and fitness influencer.
In fact, Cristiano is currently the most followed influencer on Instagram. On Facebook, he has over 120 million followers (and likes), which is extremely impressive.
His popularity on social media has caught the eye of many brands. Some of them include Nike and Shoppee where he has collaborated with them. To catch more of this world-class soccer player, do check out his Instagram account.
Conclusion
You might have heard that Facebook has over 2 billion users. Therefore, which users are worth the follow? We hoped that these 8 immensely popular Facebook pages helped you in this decision!
Sources
Digitalmarketinginstitute, 9-of-the-biggest-social-media-influencers-on-instagram
If you are interested in learning more about influencer marketing, do click here. There are also related articles which showcase some of the top influencers in each respective category.
*The respective pictures in this article do not belong to Kobe Global Technologies*