As we always emphasized, TikTok is a platform which houses a wide variety of content. Beyond the dance videos and lip-syncing videos, it is noteworthy that TikTok users have shown a demand for other types of content.
One of the alternative forms of content on TikTok includes the cooking and baking videos. While such baking and cooking videos have often been associated with longer-form video content where users are able to follow a detailed step by step tutorial, TikTok has proven that short-form videos are likewise popular amongst the cooking and baking enthusiasts. Thus, we will be introducing 5 baking influencers who have been actively producing content on TikTok to feed our dessert cravings.
Baking Tiktokers: #1. Michelle Lu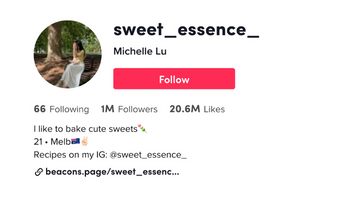 Firstly, we have Michelle Lu (@sweet_essence_), who is a baking influencer based in Melbourne, Australia.
Despite only being in her early 20s, Michelle has had a wealth of experience baking. Her expertise in cooking and baking is clearly showcased on her TikTok account, where she creates all sorts of adorable and unique looking bakes.
From Winnie the Pooh Bagels to Rilakkuma swiss rolls, Michelle has time and time again managed to showcase her aptitude for baking through her creative and extremely adorable designs. With such cute designs, anyone would find it a pity that her bakes are ultimately meant to be consumed.
Of course, apart from the creative design of her bakes, her bakes do look mouthwatering. In one of her recent videos, she teaches her followers how to create her beautifully designed Japanese Strawberry Shortcakes. If you are looking to beautify your bakes, or simply enjoy watching baking tutorials, do check out Michelle's account for some quality bakes.
Baking Tiktokers: #2. Tuyen Nguyen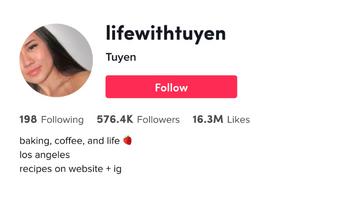 Secondly, we have Tuyen Nguyen (@lifewithtuyen), a baking influencer who is based in Los Angeles, USA.
If you are all about aesthetics, Tuyen's TikTok account is a must-see. For instance, if you are thinking about ways to improve the presentation of your cocktails, Tuyen's ingenious ideas like adding roses to your ice cubes will elevate any drink you will be serving.
We will describe Tuyen's aesthetics with the word "calming".  The use of natural sunlight and white backgrounds are a common theme in her TikTok videos. Whether she is baking a blueberry pie or adorable meringue mushrooms, she has a consistent aesthetic to her videos.
As you can tell from her TikTok bio, Tuyen is also huge on coffee. As a coffee enthusiast, she often makes coffee brewing videos on her TikTok account. Thus, if you would like a nice cup of coffee to go along with your fresh bakes, do check out Tuyen's TikTok account.
Baking Tiktokers: #3. Mia Elle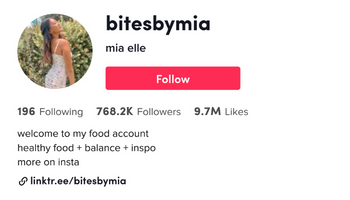 Thirdly, we have Mia Elle (@bitesbymia), who is a food influencer.
It is common the impression that baked goods are high in sugar and thus unhealthy. However, Mia shows us that desserts and snacks can be healthy depending on the ingredients we include.
Mia's social media accounts have a huge focus on healthy living and the food that we can enrich our bodies with. From healthier versions of desserts like carrot cake to nutritious breakfast oats that look mouth-watering, Mia has a wide variety of healthy recipes on her TikTok account.
On TikTok, she has 768K followers and more than 10 million likes. However, we are not surprised by this number – after all, who would not want to indulge in a sweet or savoury snack while staying healthy?
Baking Tiktokers: #4. Sonja Norwood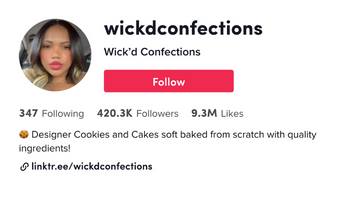 Fourthly, we have Sonja Norwood (@wickdconfections), who is a food TikToker that specialises in designer cookies and cakes.
You may think that cookies and cakes are rather common baked goods and what exactly is so special about Sonja's baked goods? Well, the best answer can be found by exploring Sonja's social media accounts. Her latest macaroon bakes are inspired by the Cleaveland show characters. Indeed, such creative and intricate designs certainly showcase her expertise when it comes to baking.
If you are looking for creative cookie or macaroon designs, do check out her TikTok account where she showcases her mastery when it comes to detailed designs on her baked goods.
Baking Tiktokers: #5. Zoey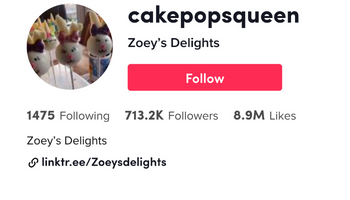 Lastly, we have Zoey (@cakepopsqueen), who, as apparent from her username, specialises in cake pop.
Want a slice of cake but feel guilty for consuming too much sugar? Cake pops may be the dessert that is most suitable for you. The amount of sugary goodness packed into a mini cake pop blows many dessert lovers away.
However, Zoey's cake pops are unlike the regular ones. She has many cake pop designs, ranging from Pokemon to valentine day themed cake pops. It seems as if she is capable of all sorts of cake pop designs that one can possibly think of.
If you are interested in making your own cake pops, do check out Zoey's TikTok account.
Conclusion
In a nutshell, there is a plethora of tantalising food and baked goods on TikTok. Thankfully, with the many baking influencers who have shared their recipes on TikTok, we are able to recreate some of these baked goods.