Since its launch back in 2016, TikTok has been at the headlines for being the social media platform for Generation Z. From the trendiest pop music to the latest dance covers, many viral Gen Z trends have taken off thanks to the platform.
However, today's focus will be about a separate demographic on TikTok – TikTok's parent influencers. From viral dance videos to insightful advice, TikTok's parent influencers have produced a whole range of content on the platform. Therefore, we will we touching on some trends and parent influencers in the TikTok community.
What's trending? | TikTok parent marketing

Parent influencers are no stranger to the internet. After all, it is not uncommon to see parents sharing parenting advice on social media, or documenting the growth of the young ones online.
However, TikTok's parent influencers seem to be producing a slightly different category of content. Due to the lighthearted nature and the time limit of videos on the platform, TikTok's influencers have come up with unique content. From memes to quick tips, parent influencers have managed to create content in short, bite pieces that are nevertheless engaging.
Additionally, it seems like TikTok is also aware of the increasing attention it is receiving from parents. It was announced earlier this year that a new set of parental controls would be available on the platform.
This set of controls, known as "Family Safety Mode", is designed to allow parents the ability to set limits on their children TikTok usage. From time to direct messaging limits and a mode that restricts inappropriate content, TikTok has come up with these features to ease the minds of parents out there. Parents simply need to create their own account and link it to their child's account to enable the "Family Safety Mode".
As the social media platform becomes more inclusive to parents and their children, an increasing number of families are on TikTok. In fact, the hashtag, #tiktokmom, has over 2 billion views on the platform, a sign of the popularity of the video-sharing app. Who are some of the parent influencers on the platform then?
TikTok parent influencers: #1. Ashley Rose Reeves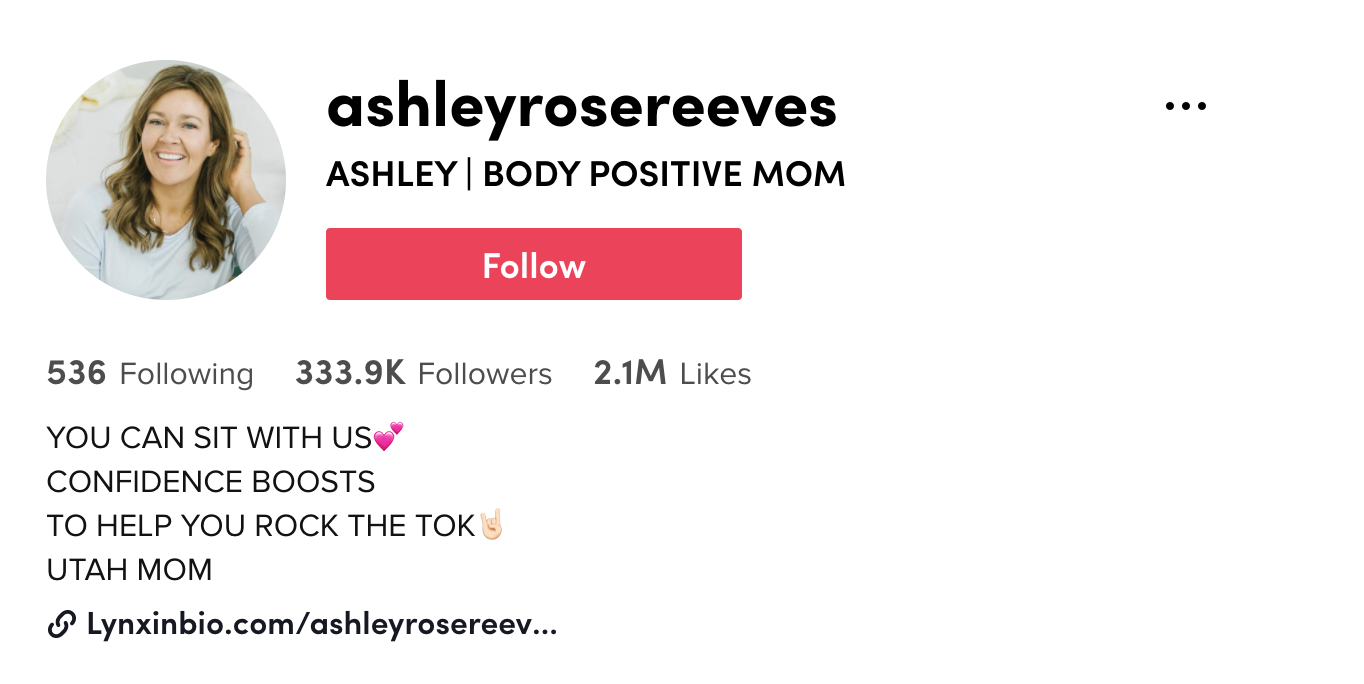 Firstly, we have Ashley Rose Reeves (@ashleyrosereeves), who is an influencer that is focused on spreading positivity on social media.
We are no strangers to TikTok dances – from renegade to the savage dance, TikTok has seen it all. Ashley has posted her fair share of dance covers. However, what distinguishes her content from the others would be her choice of soundtrack. In fact, what shot her to popularity was her dance cover of NSYNC's hit song "Bye Bye Bye". Her cover attracted the attention of Lance Bass, a member of NSYNC and he commented on it.
Apart from dance covers, Ashley has also been busy with other types of content. From documenting her LASIK surgery to spreading the message that all body types are beautiful, Ashley has been doing some very meaningful work with her influence on TikTok. Her dedication in creating fun and meaningful content has secured 330K followers and more than 2 million likes on the platform.
TikTok parent influencers: #2. Ashlay Soto
Secondly, we have Ashlay Soto (@ash_lay), who is a mom to three and an active content creator on TikTok. Ashlay is one of the most popular influencers on TikTok. With 7.6 million followers and more than 500 million likes, Ashlay has certainly mastered the method of TikTok content creation.
What started off as an attempt to entertain shot Ashlay into the fame she enjoys on social media today. Ashlay was actually one of the earlier parent influencers on TikTok. In fact, she was verified on musical.ly back in 2016 before the platform was repackaged into TikTok.
Ashlay's content is largely comedic in nature. From relatable parenting videos to interesting content, Ashlay is no stranger to it all. In fact, she recently tried on her daughter's cheerleading outfit and recorded it on TikTok.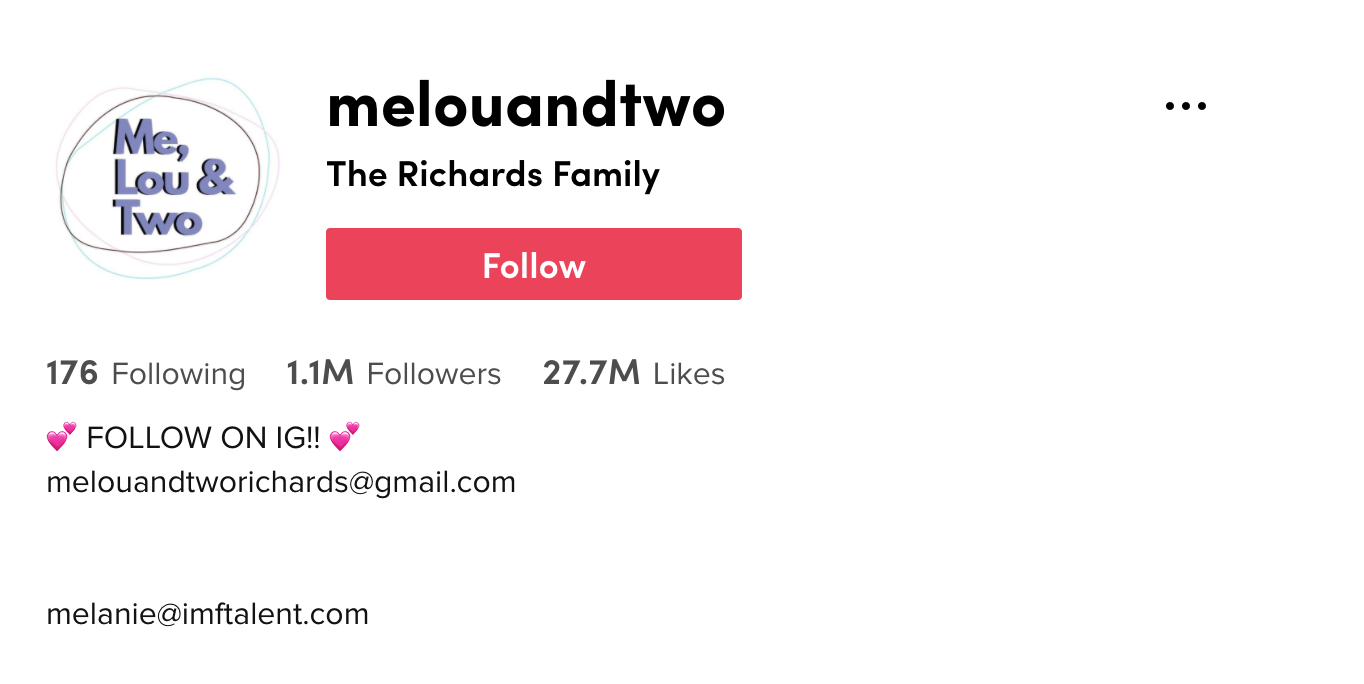 Thirdly, we have Melanie Richards (@Melouandtwo), who is a mother to two sons. The TikTok account is actually a family account, where the family of four can be seen creating interesting content together.
On the Richard's family account, you can find a plethora of interesting lifestyle content. From lighthearted videos that depict a mom's life during quarantine to videos that document the process of buying a house – their account offers an interesting peek into their lives.
TikTok parent influencers: #4. Varli Singh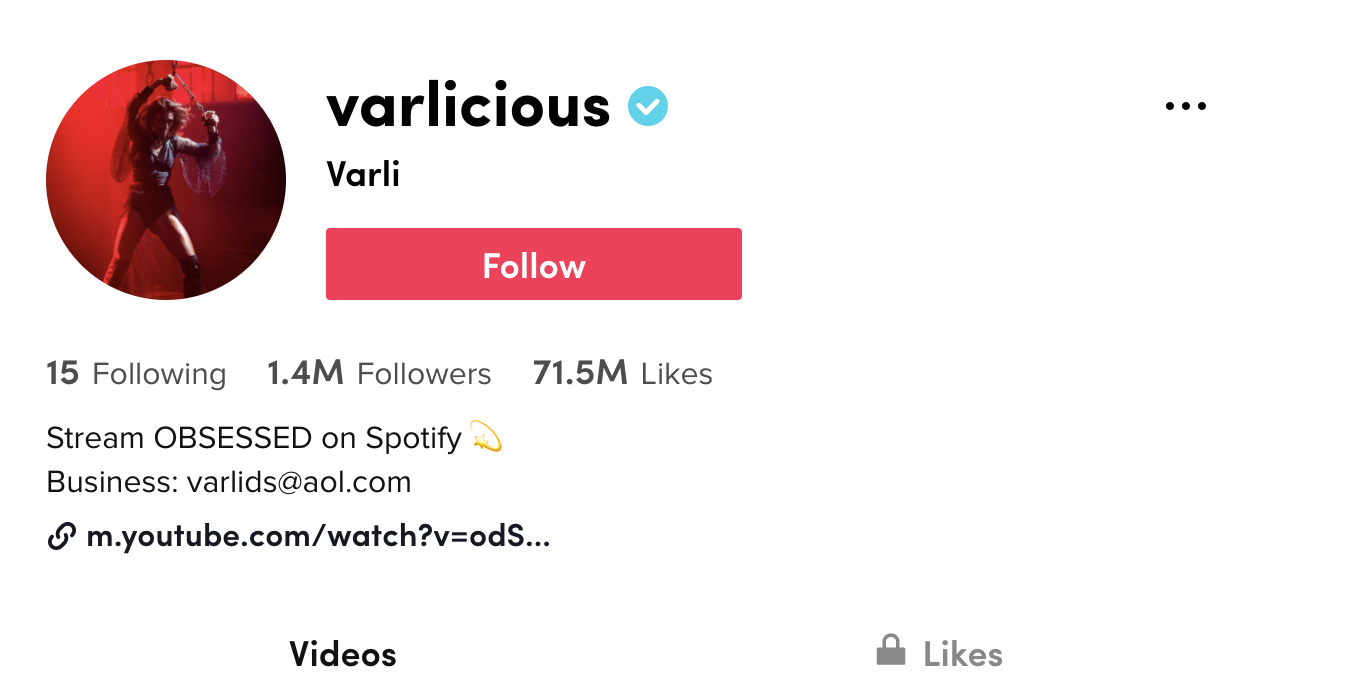 Fourthly, we have Varli Singh (@varlicious), who is a TikTok influencer and a mother to 2 children. She has 1.4 million followers and over 70 million likes on TikTok. To add on, she is also active on other social media platforms such as YouTube, where she uploads her music.
From the behind the scenes of her music video, to lip-syncing and dancing videos, Varli has mastered the art of TikTok content creation. Additionally, she also posts many comedic videos on the platform.
TikTok parent influencers: #5. Chriselle Lim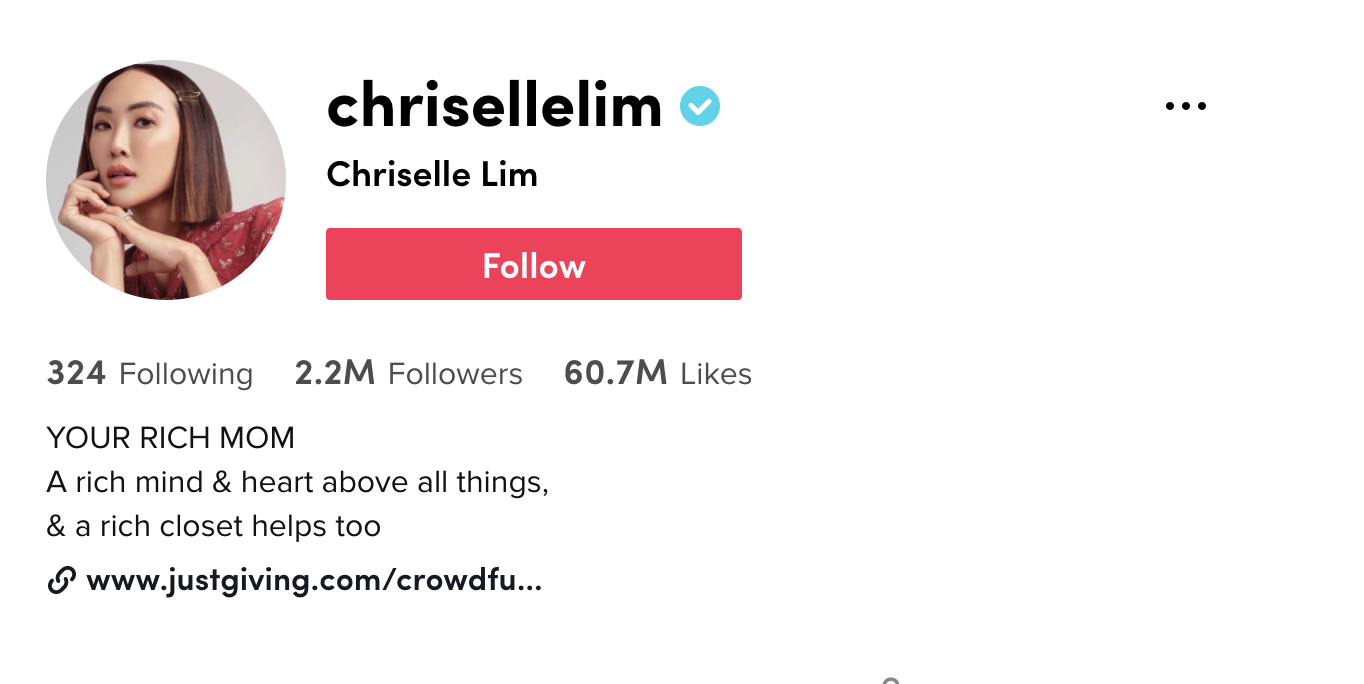 Next up, we have Chriselle Lim (@chrisellelim), who is known for being TikTok's "rich mom". Chriselle Lim is known for her having an eye for fashion.
There are many users who are interested in her take on fashion. With over 2 million followers on TikTok, Chriselle is one of the most influential fashion influencers on the platform.
Chriselle's interest in fashion started out way before social media. In fact, she actually spent more than a decade working in the fashion industry.
Like many other parent influencers on this list, Chriselle is also active on other social media platforms. On YouTube, she has over 700K followers. She can be seen sharing tips on fashion and skincare, creating lookbooks, and even vlogging about her life as a mother.
If you are interested in how a mother can balance so many priorities in life, do check out Chriselle's social media platforms.
Conclusion
You might know TikTok as a platform for Gen Z. However, the demographic of users and influencers on the platform is actually rather diverse. From fashion to parent influencers, there are many categories of influencers and content to explore on this video sharing platform. Therefore, do check out some parent influencers on TikTok!
Sources
Oprahmag.com, entertainment/a32318642/mom-influencers-tiktok/
Newstatesman.com, science-tech/social-media/2019/05/unstoppable-rise-tiktok-mom-mum-varli-varlicious