In 2019, the number of TikTok downloads for the year was at a record high of 738 million downloads. Indeed, this social media platform has gained widespread popularity in a short span of time.
Known for its popularity among Generation Z, TikTok is famous for many things. From trendy dances to comedic skits, TikTok and its content has been at the forefront of content creation. Today, we will touch on TikTok's impact on the beauty industry. How has it shaped content creation? How does TikTok marketing with beauty influencers work? We will answer these questions and provide some tips with regards to TikTok and the beauty industry.
What beauty content is trending? | Tik Tok marketing in the Beauty industry

To start off, we will touch on the type of beauty content that has gained prominence on TikTok.
TikTok has spearheaded many trends. After all, who can resist engaging bite-sized videos with catchy soundtracks? Beauty enthusiasts would probably be very familiar with the #makeuphacks hashtag, which showcases ingenious makeup hacks that TikTokers have came up with.
The hashtag showcases the plethora of beauty content on TikTok. From videos that will teach you how to draw the perfect wing liner to videos on how to use simple tools to clean your makeup palettes, these hacks are often practical and certainly applicable. The hashtag currently has more than 4 billion views, which highlights the sheer number of TikTokers that are beauty enthusiasts.

Other content categories that have been rather popular include the #selfcare hashtag which has close to 6 billion views on TikTok. From skincare tutorials to quarantine exercises, the hashtag has seen an exponential increase in views perhaps due to the many quarantine rules in place.
There are many other types of beauty content on TikTok. For instance, beauty tutorials to product reviews. However, how should brands take this opportunity to gain a foothold in the social media platform? The next section touches on brands that have done well in Tik Tok marketing and some lessons we can learn from them.
What are beauty brands doing on TikTok? | Tik Tok marketing
TikTok was only created in 2016. However, in this short period of time, there have been many beauty brands that have done well on TikTok. Even in the context of a pandemic and economic uncertainty, these brands seem to show no sign of easing on their TikTok marketing plans. Brands such as Milk Makeup, Glamglow, Wander Beauty posted their first videos on their official TikTok accounts in 2020. For better illustration of what are beauty brands doing on TikTok, we have chosen 3 successful case studies.
Tik Tok marketing: #1. Elf

Firstly, we have the #eyeslipsface challenge by Elf, the American cosmetics brand based in California. The brand challenged users to create a TikTok video with Iggy Azalea's Eyes Lips Face as the soundtrack of the video.
To create traction for the challenge, Elf stated that $250 worth of e.l.f. Cosmetics makeup and skincare products were up for grabs when users participated in the challenge.
Currently, despite the challenge being over, the hashtag #eyeslipsface is still very popular on TikTok, with more than 6 billion views as on 2020.
Tik Tok marketing: #2. Nyx

Secondly, we have Nyx that created the #BrowFitness challenge on TikTok. The cosmetic brand challenged TikTok users to a fun brow workout, where users could showcase a workout routine for putting on their eyebrow makeup.
Nyx also collaborated with many TikTokers to promote this challenge. Amongst them include @BrentRivera @DemiBagby and @CristianDennis.
From fun videos of boxing to weight workouts, the #BrowFitness challenge received many creative submissions. The hashtag, #BrowFitness, accumulated more than 705 million views in two days and has more than 3 billion views as of August of 2020.
Tik Tok marketing: #3. Toofaced

Thirdly, we have Toofaced, the cosmetic brand that worked with beauty influencers on TikTok. You might have seen the many transformation videos on TikTok. Toofaced has jumped on this bandwagon by getting beauty influencers to post their makeup routines with a before and after transformation on the platform. As of the day of writing, the hashtag #toofacedpartner has 12.7 million views on TikTok.
Now that we have looked at some successful examples of TikTok marketing campaigns, let us move on to some beauty influencers we can collaborate with for a TikTok marketing campaign.
Beauty influencers #1. Chriselle Lim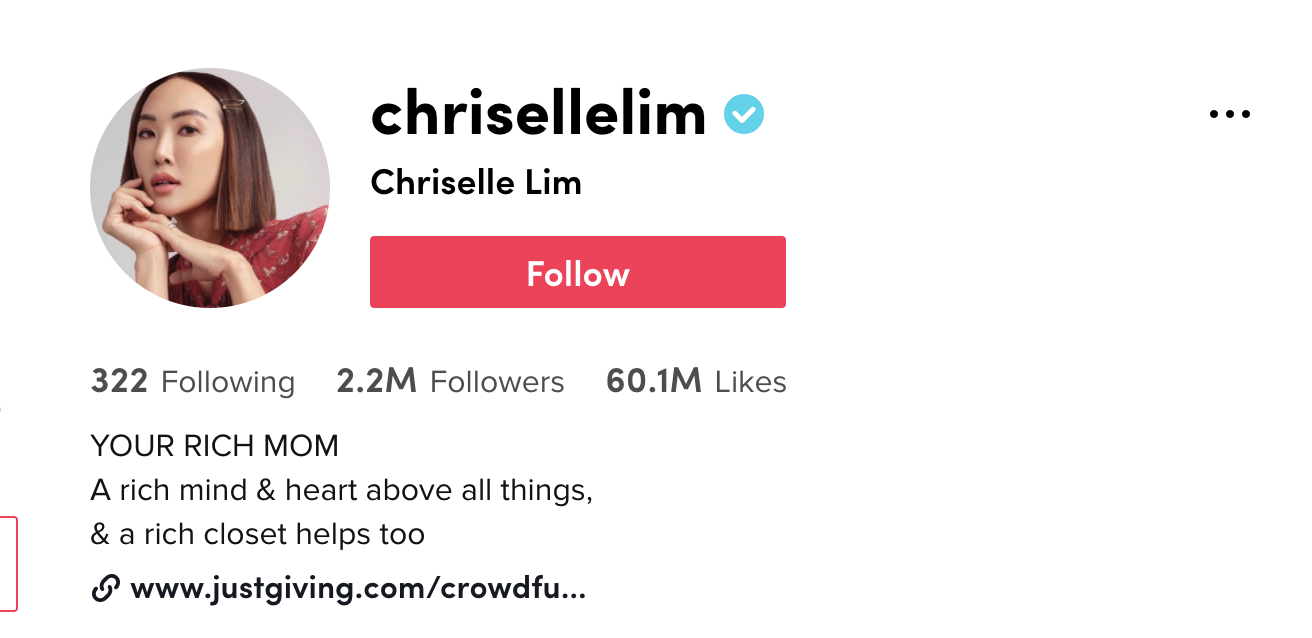 Firstly, we have Chriselle Lim (@chrisellelim) who has established quite a big following of 2.2 million followers on TikTok.
Chriselle's TikTok account showcases a variety of content. From fashion to lifestyle videos, Chriselle has certainly mastered the art of TikTok videos.
However, her beauty content deserves extra recognition. From beauty tips on skin plumping to skincare advice on moisturizer application, Chriselle has a wealth of beauty knowledge to share with her followers on TikTok. Therefore, do check out her account if you are interested in skincare and beauty advice!
Beauty influencers #2. Amy Chang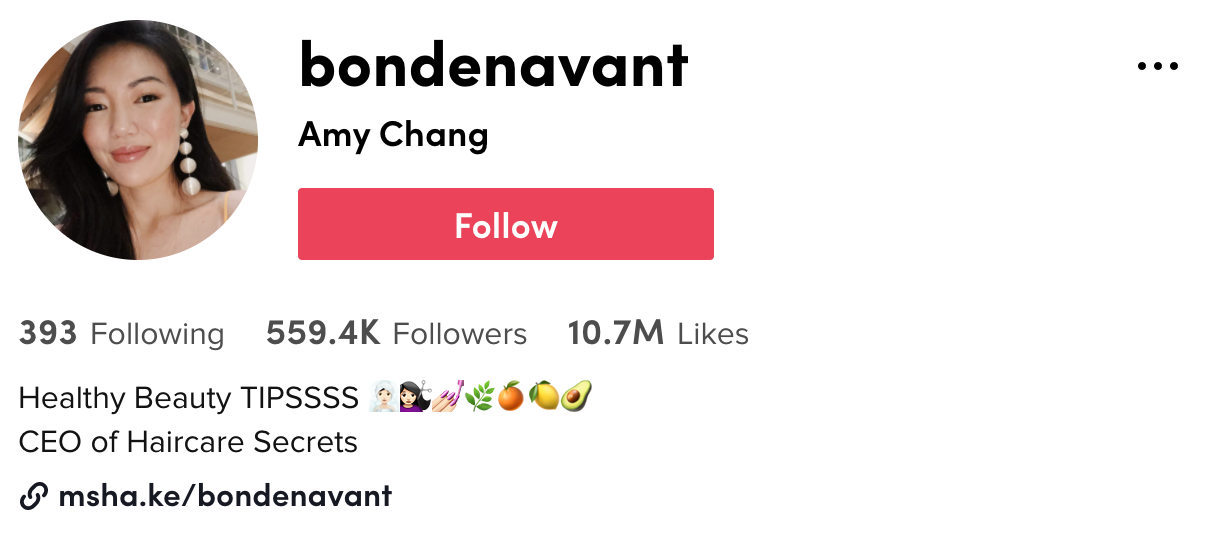 Secondly, we have Amy Chang (@bondenavant), who is a beauty influencer and also the CEO of haircare secrets.
Amy is most well known for the many beauty advice she dishes out on her social media platforms. From advice on how to deal with receding hairlines to skincare tips, Amy's TikTok account is a must-see for self-care enthusiasts.
Beauty influencers #3. Michelle Phan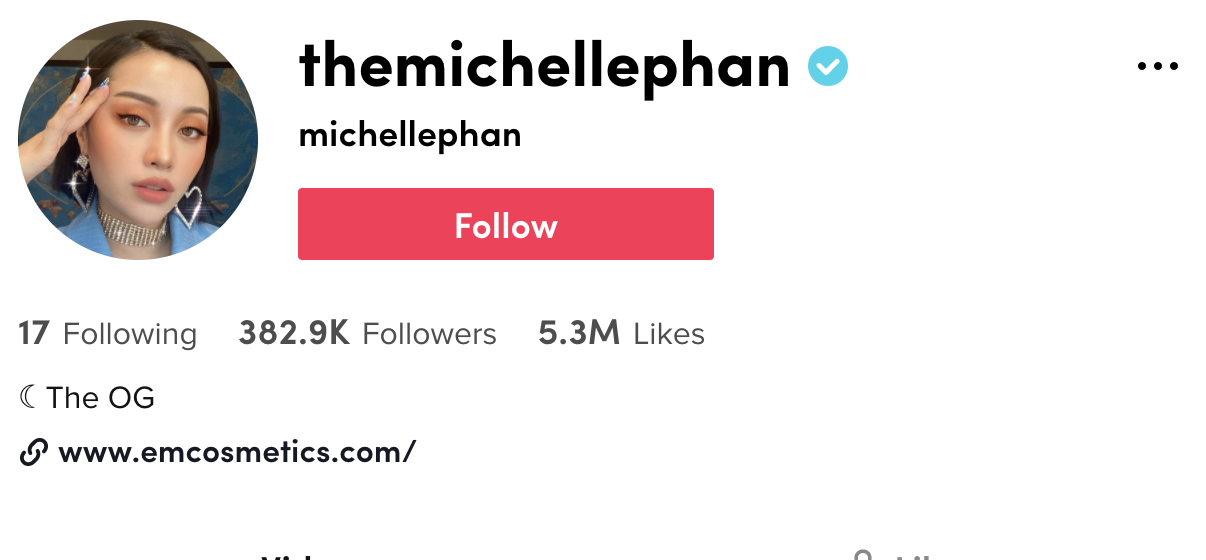 Lastly, we have Michelle Phan (@themichellephan), who is a beauty influencer that probably needs no introduction. You might know Michelle as the immensely popular beauty guru on YouTube. However, Michelle has been pretty active on TikTok.
From makeup tutorials to product reviews, Michelle has done it all. To add on, her TikTok account also showcases products from her own brand, EM cosmetics that are extremely stunning!
Conclusion
To conclude, there are many more trends, campaigns and beauty influencers on TikTok. However, today's article serves as a simple guide to how the beauty industry works on TikTok. We hope that these examples inspires your brand's TikTok marketing journey!
Sources
Maneaddicts.com, tik-tok-beauty-influencers/
Glossy.co, beauty/tiktok-takes-off-among-beauty-brands
Mobilemarketer, news/nyxs-browfitness-challenge-exceeds-705m-views-on-tiktok/580405/