Craving a good spicy bowl of Thai Curry or a tangy and refreshing plate of Pad Thai? Thankfully, with the easing of border controls, your cravings can now be satisfied.
While Bangkok is known to be the food paradise of Thailand, the sheer amount of options can leave one feeling clueless. Thankfully, there are Bangkok influencers who have curated the best food options to try out while touring the city.
If you heading over to Bangkok soon or simply wish to explore Thai cuisines, this list of Bangkok influencers is specially curated for you. From sweet to savoury cuisines, there will be something on their Instagram feed that captures your eyeballs and your tastebuds.
Thailand Food influencers: #1. Bigger Tummy
Firstly, we have Bigger Tummy (@Biggertummy), the food influencer with the quirky catchphrase of getting "our tummies bigger together". After all, will you be able to resist the scrumptious spread that has been documented on Bigger Tummy's Instagram feed?
Looking for a place in Bangkok to satisfy your cravings? Are you are looking for main dishes like crispy pork belly or sugary desserts like fluffy tiramisu? Bigger Tummy's account will have something for you.
The account mainly showcases food joints in Bangkok. However, it also features food content from Pattaya and Hua Hin, which is a 2 hour drive away from Bangkok. Thus, if you are looking to go from Bangkok to Hua Hin, do consider checking out what are some of the local favourites.
Thailand Food influencers: #2. Bkkfatty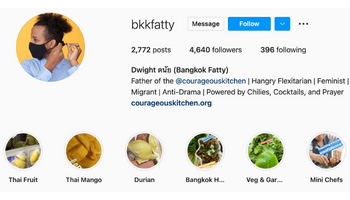 Secondly, we have Bkkfatty (@bkkfatty), who has dedicated his social media platforms to capture the best of Bangkok's food.
This account may be categorised as a micro influencer's account as it has over 4000 followers. However, the account is nevertheless unique in terms of the food content that it seeks to create.
Apart from pictures of the food itself, the account also showcases the origins of our ingredients. For instance, in the most recent video, Dwight, the owner of the account, showcases the Nipa Palm which produced brown sugar.
Furthermore, this account takes a simple and authentic approach. A common theme of the account is that the pictures are accompanied by short captions that briefly describe the food item that is captured in the image. Therefore, if you are someone who does not have the time to read long food reviews, do check out this account for some food inspiration!
Thailand Food influencers: #3. Eatography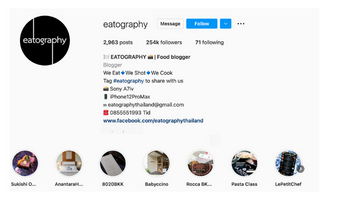 Thirdly, we have Eatography (@eatography), a food account which captures the food in extremely high-resolution images.
This food account is known for food pictures that look professional photographed. From studio lighting to close up portrait shots of the food, one wonders what type of camera is used to capture such great quality pictures.
This account captures the best of the dessert scene in Bangkok. Whether you are looking for intricate cakes or sugary custard puffs to satisfy your sweet tooth, you can bet on finding the dessert that best suits your tastebuds on Eatography.
Thailand Food influencers: #4. Happyeatwithnut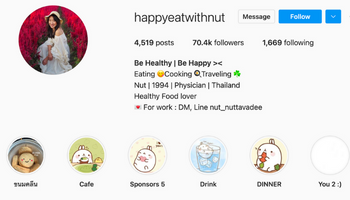 Fourthly, we have Happy Eat With Nut (@happyeatwithnut), who is a food influencer that prioritises a healthy diet.
However, being health-conscious does not always have to mean depriving oneself of all delicious tasting food. Instead, food accounts such as these show us how it is possible to eat what you like while staying healthy.
There is a range of healthy foods that are delicious at the same time. Happy Eat With Nut has meticulously documented many health foods on this food Instagram account – from matcha lattes to yoghurts and acai bowls.
Furthermore, for those of you that are lazy to read the captions, the pictures of this account have been thoughtfully illustrated such that a brief description of the food item captured is included in the picture. Therefore, if you are looking to satisfy your tastebuds, yet stay relatively healthy while travelling in Thailand, do consider checking out this particular Instagram account.
Thailand Food influencers: #5. Eatandshout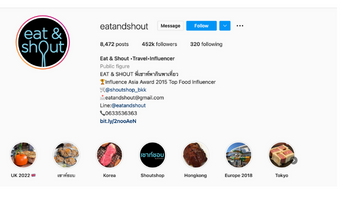 Lastly, we Have Eat and Shout (@eatandshout), an Instagram account dedicated to food and travelling.
Whether you are looking for international cuisines like fish and chips and ramen or traditional Thai cuisine, this food account has a wide-ranging option to cater to your personal preference.
Furthermore, with the relaxing of borders, you can expect to see more foreign cuisines on this account as travel restrictions are eased.
Conclusion
With the number of food influencers on the internet, we believe that exploring new food gems should not be an issue. Therefore, apart from checking these 5 Bangkok influencers out, do explore social media for more food influencers to expand your never-ending list of food places to check out in Thailand.
Sources
travelforfoodhub, 7-bangkok-foodie-instagrammers-follow/