There is so much to learn when it comes to skincare and beauty. From proper cleansing techniques to the many different types of products one can use on the different skin types – it would not be exaggerating to claim that skincare is a form of art.
If you are having problems with your skin or are interested to learn more about the latest skincare trends, there is always the option of TikTok. TikTok videos might be short and catchy. However, you will be surprised by the amount of useful information creators are able to pack into a single video. Today's article showcases 7 skincare influencers that have gained quite a following on TikTok.
Skincare TikTokers: #1. @Hyram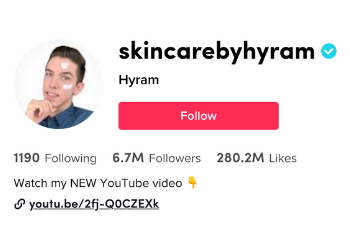 Firstly, we have Hyram Yarbro (@skincarebyhyram), who is a skincare guru the internet is no stranger to. From YouTube videos analysing celebrities skincare routines to informative breakdowns of the ingredient list in our favourite skincare products – Hyram has established quite a reputation for himself in the skincare industry.
Apart from his YouTube account, he has also gained quite a following on TikTok. He currently has 6.7 million followers and 280 million likes on his account. These colossal numbers are a testament to how useful his skincare advice can be.
Despite the informative skincare tips we get on both his YouTube and TikTok account, Hyram distinguishes his TikTok account with his comedic take on relatable videos. For instance, his latest video shows us his comedic reaction when skincare gets into his lips – a situation which many of us can probably relate to.
Apart from skincare advice, his TikTok account is also the platform where he talks about his skincare line, Selfless by Hyram. If you are interested in his new product launches, do check out his TikTok account.
Skincare TikTokers: #2. Jenny Bauer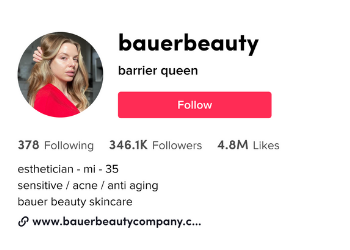 Secondly, we have Jenny Bauer (@bauerbeauty), who is a makeup and skincare content creator on TikTok.
As seen from her TikTok bio, a huge part of her skincare content is for people with sensitive, ageing and acne-prone skin. From sunscreen to primers and foundation, Jenny has shown her passion for finding the right products to protect one's skin.
In fact, she has an 'esthetician approved' series on TikTok, where she introduces good but affordable drugstore products through the short TikTok clips. Apart from regularly updating her social media platforms with great skincare content, Jenny is also a businesswoman. She launched her brand, Bauer Beauty in April of 2020. Do check out Jenny's TikTok account if you are interested in what a licensed esthetician has to say about some of the latest products in the market.
Skincare TikTokers: #3. Amy Chang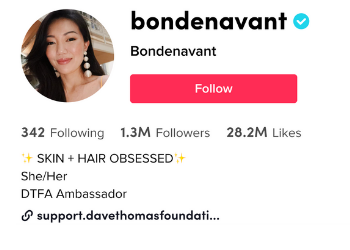 Thirdly, we have Amy Chang (@bondenavant), who specialises in beauty, skincare as well as haircare videos.
Amy produces a wide range of skincare related TikTok content. From recipes for glowing skin to tips for acne-prone skin – Amy has done it all. Apart from skincare, she also built quite a reputation for herself in the realm of haircare. In fact, L'Oréal Paris has recently partnered up with her for an advertisement for hair products.
Having tried out many personal care products, Amy is able to share her experience on many of these products. For instance, she has done videos on luxury skincare products that are not worth your money. Therefore, do check out her TikTok account if you want to avoid the unfortunate situation of overspending on products you might not like.
Skincare TikTokers: #4. Edward Zo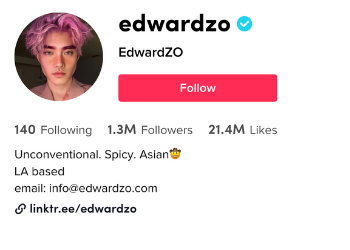 Fourthly, we have Edward Zo (@edwardzo), who is known for offering great skincare and grooming tips for men.
Edward is a strong advocate against toxic masculinity. He defies gender stereotypes that boys should not be wearing makeup or dressing in a certain manner.
Apart from his great sense of fashion, Edward's content has a huge focus on skincare for men. From back acne to proper foundation application techniques, Edward has created a series of skincare content catered to both men and women.
Skincare TikTokers: #5. Muneeb Shah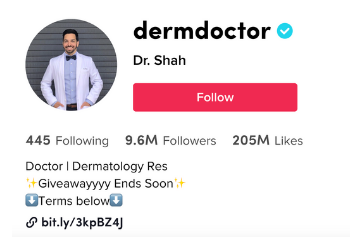 Next up, we have Muneeb Shah (@dermdoctor), who is more popularly known as Dr Shah.
With 9.6 million followers on TikTok and more than 200 million likes, Dr Shah has gained quite a significant following on the platform.
If you are looking for a reliable source of skincare advice, Dr Shah's is the place to go. Dr Shah, who is a dermatologist, is often seen sharing his knowledge on a wide range of skincare concerns.
From sensitive skin to acne and even tattoo allergies, Dr Shah can be seen sharing his expertise with the largest organ in the human body on TikTok. Apart from useful advice, he often does reaction videos. His series of "Dermdoctor reacts" videos showcasing his reactions to all sorts of cosmetic procedures have gained quite a following on TikTok.
Skincare TikTokers: #6. Helen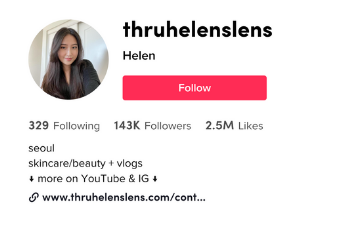 Moving on, we have Helen (@thruhelenslens), who is a k-beauty fanatic. As a k-beauty enthusiast, it will probably not come as a surprise that her TikTok account is focused on Korean skincare content. Helen is currently based in Seoul, Korea. Therefore, you can expect a whole lot of Korean beauty content. For example, she showcases some great Korean skincare products on her TikTok account. You can probably spot products like hyaluronic acid and toners making regular appearances on her account.
Apart from skincare content, Helen also creates TikTok videos about makeup and vlogs about her everyday life living in Seoul. Therefore, if you are interested in Korean culture and skincare, do check out her TikTok and YouTube accounts.
Skincare TikTokers: #7. Young Yuh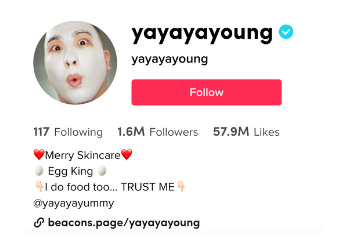 Lastly, we have Young Yuh (@yayayayoung), who is a Korean-American that keeps us up to date with the latest beauty and skincare advice.
He has built a reputation for himself in the k-beauty and skincare realm. In fact, he is known for his honest sheet masks review videos. From hydrating sheet masks to comedic videos like using sashimi as a face mask, Young Yuh certainly shows us how there is no limit to the creativity of content creation on TikTok.
Conclusion
These skincare influencers on our list show us how skincare advice can be packed into a TikTok video. TikTok is a great platform for beauty and skincare enthusiasts. If you are interested, do get on the platform to discover more skincare influencers!
Sources
Cosmopolitan, uk/beauty-hair/a34916861/best-tiktok-skincare-influencers/
Nylonpink.tv, 12-best-asian-beauty-tiktokers/