TikTok is known for its popularity amongst the Gen Z, a demographic group consisting of people who are born between 1996 and 2012.
Thus, there are many Singapore Gen Z influencers on TikTok. Today we will be introducing 5 of these Singapore Gen Z influencers. In terms of creativity and content creation, these 5 Singapore Gen Z influencers are worth your time checking out.
Singapore Gen Z influencers: #1. cayydences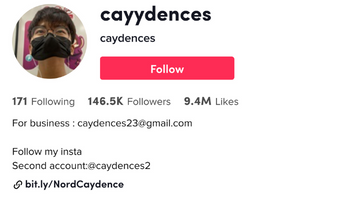 Firstly, we have @cayydences, who is a Gen Z TikTok influencer with a great sense of humour.
If you are often on TikTok, chances are that you have watched a few of his videos. After all, in his short stint on TikTok, he has produced many viral videos.
What is he known for? Well, his immaculate sense of humour has won the hearts of many on TikTok. From skits about how mothers tend to act to highly relatable and hilarious POV videos, caydences has managed to come up with all sorts of funny video ideas on TikTok.
If you take a quick scroll of his TikTok account, you will realise that many of his videos are simple yet hilarious. He does not make use of elaborate props or studio lighting. In fact, many of his videos are filmed at home. Yet, he never fails to produce top quality comedic videos.
Apart from comedic skits and videos, he is also quite the dancer and will post dance covers from time to time. Aside from the impeccable sense of humour, he has also provided great advice to his followers on TikTok. He is not one to shy away from sharing his personal struggles in school, and his experience has comforted many who feel the same way.
Singapore Gen Z influencers: #2. dewychoo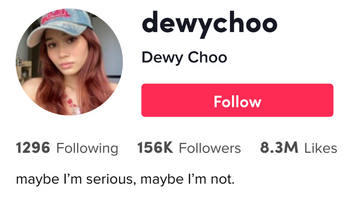 Secondly, we have @dewychoo, who is another young adult with a significant following on TikTok.
Dewy Choo actually started her TikTok account a few years ago, where she juggled her studies at Republic Polytechnic with her TikTok account.
Nevertheless, she has still managed to produce great content on her social media platforms. She may only be twenty, but she has over 150K followers and more than 8 million likes on TikTok.
Dewy Choo is known for her hilarious videos. For instance, in one of her latest videos, she showcased her experience riding the ATV. She contrasts her confident self at the start of the ride with images of her falling into a mud pool, creating a highly comedic video. Indeed, she is not one to shy away from the camera and this is what makes her unique.
Apart from hilarious skits and videos, she also creates fashion-related content. If you are interested in what a fashionable influencer would wear, do check out her TikTok account.
Singapore Gen Z influencers: #3. pale.nerves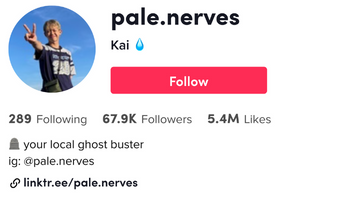 Thirdly, we have @pale.nerves, who is also known as Kai on TikTok.
Kai is known for his great storytimes. At times, his TikTok account feels like a personal diary as Kai often shares with his followers the interesting things that have happened to him.
For instance, just recently, he talked about a story about his driver trying to break into his Villa in Bali. The series of events leading up to the scary experience was succinctly summarised by Kai through a TikTok video.
Apart from storytimes, Kai also uploads a variety of videos. From comedic skits to trying out viral trends, Kai is certainly in touch with the trends on social media.
Singapore Gen Z influencers: #4. naomineo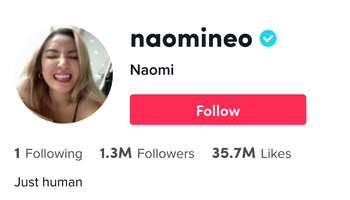 Fourthly, we have @naomineo, who is one of the most popular Gen Z influencers.
You may be shocked that Naomi Neo is a Gen Z influencer. After all, has been on social media for a long time. However, this is because she started producing content back in her early teens. Since then she has been keeping up with the trends and creating quality content for her followers on the different social media platforms.
On her TikTok, you can find all sorts of comedic videos. Apart from pranks, she also often posts videos about her two children, Kyzo and Rey. Despite expecting her third child, she shows no sign of stopping when it comes to producing content on social media.
Do check out her TikTok account to see her adorable children.
Singapore Gen Z influencers: #5. lielnicole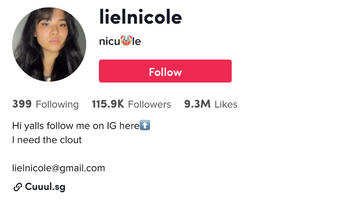 Lastly, we have @lielnicole, also known as Nicole on TikTok.
While there are many influencers producing comedic content on TikTok, each influencer is unique in terms of their sense of humour.
Nicole has her own unique way of producing content for TikTok. In fact, she has many ingenious ideas. For instance, she has dared her Boyfriend to call her mother by her name on a Tiktok video. Calling one's elders by their first name is uncommon in Singapore culture. Thus, her mother's reaction was extra funny in the video.
Nicole has shown her creative side on TikTok. Despite being on holiday in Australia, she does not stop creating great content for her followers. In her recent videos, she can be seen dancing to viral Singapore TikTok trends in Australia. In times like these, her commitment to content creation is extra apparent.
Conclusion
There are many Singapore Gen Z influencers. Thus, this list is by no way a comprehensive list. Instead, do check out TikTok to find out which Gen Z influencers have made a name for themselves on Tiktok.