Branding creates a memorable impression on consumers. This allows your customers to form rough expectations on what they can expect from your company. And with the growing popularity of social media, branding on social media is important. Let's talk about how we can brand and sell on social media. We would also look into Influencer Marketing. With the likes of social sellers and social media influencers.
Steps needed to brand on social media 
Fundamentals and Social Media Audit
Your social media account aesthetic makes the first impression to people discovering you online. Make it as neat as possible. Ensure that your brand's logos, bios, cover photos if any, are all consistent. That means make sure the dimensions of your profile pictures are proportional and not stretched out. 
Consistent social media postings is also essential. They let visitors know that your company is still active. But do also take note of the type of content you post. Be it articles or videos, make sure the topic of said topics aligns with your brand's industry. This makes your brand look professional.
Do also take note to audit all your social media accounts. For PR reasons, try to vet through old content. What you say now may be a controversial topic a few years down the road. Staying relevant and up-to-date is key, but as long as you don't mean any ill-intentions, you should be good.

      2. Marketing Personas
You should also rotate the tone of your voice on their respective platforms. This is because different platforms would have different demographics. For example, your audience on TikTok compromises the younger audience. Whereas your audience on Facebook mainly has a more mature audience. 
That being said, different types of audiences would have a different reception toward the same message. If you are to use the same tone across all platforms, your intended message may not resonate well with everyone. And that is not what you want.
And here is where your multiple personas come in. 
Find a suitable tone and voice for the respective demographics. 

Examine your platform's demographics. 

Match your persona with the audience!
      3. Social Media Influencers
Get your brand heard by enlisting social media influencers. Social media influencers have an established base of audience that you can easily reach out to. 
Reach out to the target social media influencer either by sending them an email or through their DMs. Express your brand's interest with a collaboration with them and iron out the details. One thing you need to ensure however, is the content angle that you are striving for. Finally, let your social media influencer do the rest for you. 
Finding the right influencer is important to engage your audience. There is no influencer that is best fit for all types of campaigns. A 'good' influencer is vague. What you need is not an influencer, you need the influencer. Here is where Kobe excels in. Have you heard about our new service? We streamlined the process of choosing influencers. Our service pairs your campaign with the right social media influencers from our database of over 5000 contacts. Head on over to tryinfluencers.getkobe.com. Your first pairing is free.
We shall now take a look at how we can also sell on Facebook and Instagram.
How to Sell on Facebook
Social Selling
Social selling is basically the use of social media (or Facebook in this case) to find and foster sales prospects. Businesses tend to use this tactic to find potential customers. Interaction with consumers also builds customer loyalty. But for this case, we are addressing Live Social Sellers.
Live Social Sellers can be seen as social media influencers. They host a live-stream where they would review products. This includes features, pricings and answering questions from the audience chat. For example, while the influencer showcases the product, any interested buyer will follow a preset rule of typing in a format. Once the buyer does so, the admin of the page would message the buyer as to confirm order details. The buyer would then proceed to make payment. You can check out one prominent example of a live social seller, Lerine Yeo. Or better known as S-Hook Jie.
E-commerce
4 years ago, Facebook launched Marketplace. This feature allows users to buy and sell products.  It is free to use and sellers are based around where you live.  Marketplace opens with photos of items that people near you have listed for sale. To find something specific, you can enter a keyword in search at the top and filter your results by location or category. And even price. 
Facebook Shops
Social Media giant, Facebook, spotted this opportunity and recently launched their new service. Facebook Shops, makes it easier for retailers to list their products on both Facebook and Instagram. This new service is free, and the features include the setting up of product listings on their page, Instagram profile and stories or in ads.
Chat features can also be used by businesses to sell their products through other platforms, WhatsApp, Messenger and Instagram Direct, in the future. 
How to Sell on Instagram
Shoppable Post
Instagram Shopping gives your business an immersive storefront for people to explore your products. With Shoppable Posts, you can share products through your organic posts and Stories. Users would also not have to be directed to another website. They can do all their shopping all on Instagram. 
When someone taps a product tag on your post or a product sticker in your story, they'll be taken to a product description page where they will see:
An image of the product

A description of the product

How much the product costs

A link that takes them directly to your website, where they can purchase the product
Influencer Marketing
Influencer marketing is word-of-mouth marketing. Social media influencers make use of their established following base, to endorse a product. It is a more organic form of marketing, as compared to traditional marketing. Read how the Influencer Marketing industry Fares against the COVID-19 pandemic here.
Annalect and Twitter surveyed and concluded that users are more likely to trust social media influencers over a corporate entity running an ad campaign. This proves that partnering your brand with influencers would add credibility to your campaign. This helps as the existing followers of the influencer already see your influencer as a trusted source.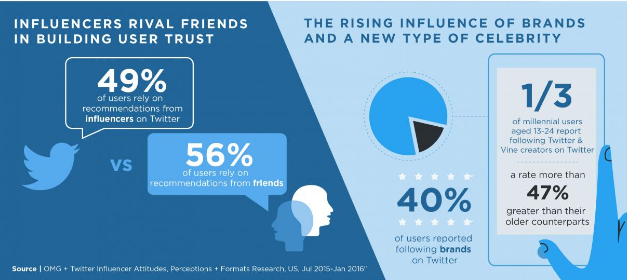 Social media influencers already have a massive follower base and respective reach of their own. This means that hiring influencers for your campaign will almost automatically improve your brand visibility. When they share your content or simply just engage with it, your reach becomes much more extensive. 
Conclusion
Overall we cannot stress the impact of social media. They also heavily influence your branding and online presence. We also strongly recommend the use of Influencer Marketing as part of your business strategy. If you'd like to know, we have highlighted Two Ways Influencer Marketing can save your business here.