With the rise in the number of social media platforms, there has been an increasing number of Singapore influencers in the past few years. From food to fashion and lifestyle, each of these influencers has his or her unique form of content.
This article features 5 Singapore influencers that embarked on their influencer career many years ago. While there are many Singapore influencers in the internet age, these are 5 influencers who have had many years of experience in the industry. From the mastery of content creation to the ability to engage their followers, these influencers have showcased their wealth of experience in the realm of social media.
OG influencers: #1. Bong Qiu Ting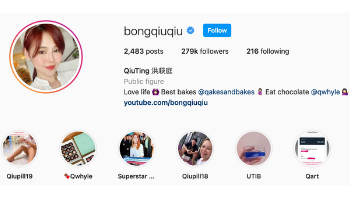 Firstly, we have Bong Qiu Ting (@bongqiuqiu), more commonly known by her moniker, Bong Qiu Qiu.
Qiu Ting is a beauty, fashion and lifestyle influencer. her fame on the internet started back in 2008, at the young age of 21. Back then, the main platform she was active on was her blog, which was a hit amongst many beauty enthusiasts.
She might have started her blog with the intention that it was "just a diary". However, more than a decade later, content creation has morphed into a full-blown career. With an active presence on Instagram, YouTube and Facebook, her years on the internet have taught her how to grow and engage her following online.
She has kept her content relevant yet personal throughout the years. From getting married to being a mother of 3, she has shared some very intimate and personal moments of her with her followers.
With her many years as a content creator, she is no stranger to the camera. She has done several hosting gigs. One of the gigs includes being the host of the famous Budget Barbie series on Clicknetwork's YouTube account. The series consists of many episodes where she is challenged to shop for a subscriber with a budget of $100. From her bargaining skills to her fashion tips, she has a reputation when it comes to creating fashion-related content.
OG influencers: #2. Brad Lau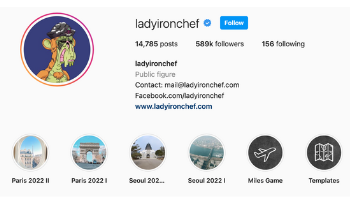 Secondly, we have Brad Lau (@ladyironchef), more commonly known by his pseudonym Lady Iron Chef.
Singapore is known to be a food paradise. Thanks to the many food influencers out there, we have discovered many hidden food gems through the internet.
Brad was one of the early food influencers on the internet. He started his blog, ladyironchef.com back in 2007. Over the years, he has expanded his platform's reach. Today, he has a presence on all the major social media platforms. From Facebook to Instagram and YouTube, the food review website has grown exponentially throughout the years.
Brad has reviewed a variety of cuisines. From Michelin restaurants to hawker food, Brad has done an amazing job covering a range of different cuisines. Apart from cuisines from different ethnicities, he also reviews the food that he has tried out while travelling. Therefore, if you are thinking of going overseas with the VTL schemes, do check out Brad's Instagram account to see what are the best places to dine in at.
OG influencers: #3. Christabelle Chua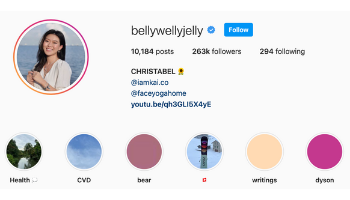 Thirdly, we have Christabelle Chua (@bellywellyjelly), who is a beauty, fashion and lifestyle influencer.
Christabelle first gained popularity when she participated in the 2013 edition of Miss Universe Singapore. Apart from making it into the finals, she also won several awards, one of them being the "Miss Photogenic" award.
Ever since then, she has been rather active on social media, both on Instagram and YouTube. In 2014, she joined independent publisher, TheSmartLocal (TSL). As part of her job scope, she appeared on many YouTube videos and was the host of most of them, including the PrettySmart series.
Additionally, she also has her own YouTube channel, where she posts all sorts of content on an occasional basis. From beauty related videos like CNY hairstyles to blind testing tests, she has consistently uploaded a range of interesting video content.
However, it is on Instagram where she is more active. With 263K followers on Instagram, she is one of the most followed beauty influencers in Singapore. She has a wealth of experience working with several brands including Dyson and Fresh Beauty. Christabelle has racked up a lot of experience in the realm of content creation, especially in the field of beauty-related content.
Apart from her social media accounts, she is also the founder of kāi, a lifestyle brand launched in 2017. From cute planners to unique keychains, the brand has received praises from many on the internet.
OG influencers: #4. Andrea Chong
Fourthly, we have Andrea Chong (@dreachong), who is a fashion and lifestyle blogger.
If you are an interested fashion connoisseur, her name would probably ring a bell. After all, she is known for her effortless and chic style. She somehow manages to use simple silhouettes to create sophisticated looks.
Like some of the other Singapore influencers on this list, she started her career on her blog back in 2013. Her many years in the fashion industry has allowed her to hone her content. Be it from the background to the angles, she has managed to keep a coherent theme for her social media accounts. If you were to scroll through her Instagram account, you will probably mistake some of her content for editorial shoots.
OG influencers: #5. Naomi Neo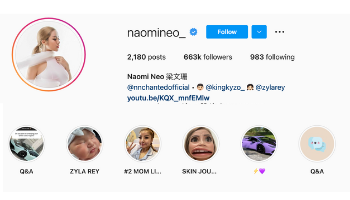 Lastly, we have Naomi Neo (@naomineo_), who is a beauty, fashion and lifestyle influencer.
At 26, she is one of the youngest influencers on this list. That being said, she has a wealth of experience when it comes to content creation. She started heavily blogging back when she was 15 back in 2011. In fact, in that same year, she secured her first brand collaboration.
Today, she is no stranger to being on the internet. With social media accounts on TikTok, Instagram and YouTube, she has amassed a significant following base thanks to her years of hard work.
Conclusion
You may think that the internet is a place full of fads and fast-changing trends. That being said, the many OG influencers out there prove that it is possible to stay relevant even with the pace at which trends come and go on the internet. Of course, apart from the 5 Singapore influencers we talked about today, there are many other OG influencers out there – a testament to how influencers and the content that they create is here to stay.