When it comes to food on social media, there is a whole lot to talk about. From food reviews to cooking tutorials, the internet houses a large amount of food-related content.
That being said, we will not be talking about the ubiquitous food influencers today. Instead, we will be diving into a more specific category, Mukbang influencers. The word Mukbang means an eating show in the Korean language.
Mukbang started out as a trend where Mukbang influencers would eat large amounts of food on the internet while having a conversation with their subscribers on live streams. However, the Mukbang culture has evolved into YouTube videos, where YouTubers upload videos of them digging into their meals.
Today, there are all sorts of Mukbang content on the internet. From Western to Japanese food, there is a whole range of Mukbang content catering to the different tastes and preferences of Mukbang viewers.
Mukbang YouTubers: #1. Zermatt Neo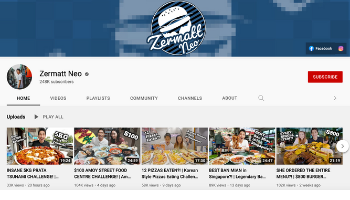 Firstly, we have Zermatt Neo (@Zermatt Neo), who is a Mukbang influencer from our little red dot. While the mukbang culture may have started in Korea, there are influencers from all over the world that are producing such content.
In Zermatt's case, he is known for being a competitive eater. In fact, he was the winner of the 2017 Food League Singapore Competitive Eating Championship – where he ate a whopping number of 92 pieces of wings in 8 minutes.
His insatiable appetite has brought him a lot of attention in the competitive eating scene. Since then, he started amassing a huge following on various social media platforms. He often posts competitive eating videos on YouTube, where he shows us his talent when it comes to finishing huge portions of food. From 10 pounds worth of noodles to 5 kg worth of Prata, Zermatt is no stranger to conquering huge portion sizes.
Apart from competitive eating, he also posts all sorts of food-related content on his channel. He has done themed food reviews – one of them being his Ban Mian video, where he reviews noodles from a famous hawker store.
Whether you are someone who likes to watch competitive eating videos, Zermatt's YouTube account is a must check out. Apart from being in awe by his amazing appetite, the food reviews that he does would leave anyone hungry.
Mukbang YouTubers: #2. Yuka Kinoshita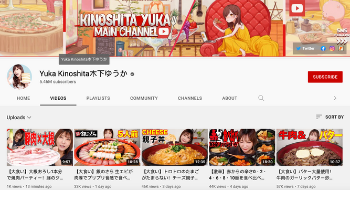 Secondly, we have Yuka Kinoshita (@Yuka Kinoshita木下ゆうか), who is a mukbang influencer from Japan. Some of you might know her as the oogui (which translates to big-eater in Japanese) influencer.
Do not be fooled by her petite physique. At first glance you may think that she has a small appetite. However, she has showcased her talent when it comes to consuming huge amounts of food.
Like some of the other influencers on this list, she is known to be a voracious eater. Over her many years on YouTube, she has completed food challenges.
Her mukbang videos showcase a good variety of food. From ramen noodles to burgers and donuts, if you have a food craving, you will likely be able to find a video related to that food on her channel.
Apart from food, she has also done interesting challenges. In one of her videos, she can be seen finishing 7kg worth of bubble tea – where the total caloric count amounted to 10000 Kcal.
Apart from takeaway food, she also regularly cooks her own food and showcases the cooking process in her mukbang videos. With her cheerful personality and amazing appetite, she has amassed a total of 5.46 subscribers on YouTube. Additionally, she has appeared in several Japanese variety shows.
Mukbang YouTubers: #3. Dorothy (Min Ga-In)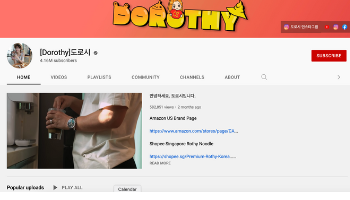 Thirdly, we have (@[Dorothy]도로시), who is Korean mukbang influencer.
If you take a quick look at her YouTube account, you will probably notice the amount of spicy food videos she has posted. Indeed, she is known for consuming red, hot, and spicy food on her mukbang shows. In fact, she has posted videos of herself eating ghost pepper power with ease.
If you are someone who enjoys spicy food, Dorothy's account will probably be perfect for you. With its English subtitles and spicy dishes, Dorothy's account is a must-see for spicy food lovers.
Mukbang YouTubers: #4. Gregory Leow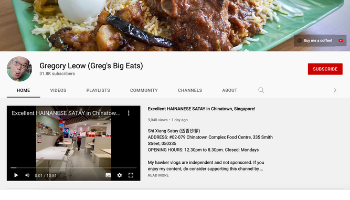 Fourthly, we have Gregory Leow (@Greg's Big Eats), who is another Singaporean mukbang influencer.
There are many food influencers from Singapore which leaves us spoilt for choice. From cafes to restaurants, many food gems have been discovered by these content creators.
However, unlike your typical food influencer, Gregory's content has a strong focus on Hawker and Heritage food.
Be it Satay to Roast Pork, Gregory has dedicated his social media accounts to reviewing hawker food in Singapore. The amazing videography along with his honest reviews has garnered him more than 30K subscribers on YouTube alone.
If you are going to a new hawker centre and have no idea what is good there, checking out Gregory's account would probably be one of the best things you can do.
Mukbang YouTubers: #5. Keemi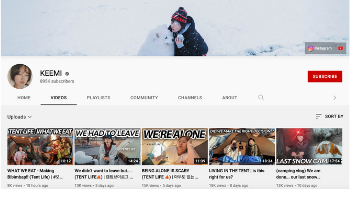 Lastly, we have Keemi (@KEEMI), who is a Korean mukbang influencer currently based in America.
For the mukbang viewers out there, Keemi will probably be a familiar name. She is one of the OG mukbang influencers that have built a reputation for themselves over the year.
Like many of the other YouTubers on this list, her YouTube career started due to her interest in food. She is a connoisseur of Korean cuisine and is also great at cooking it. In fact, many of her early videos feature her cooking in her flat in Chicago.
Apart from cooking and mukbang videos, she also has a wide variety of food-related content. From ASMR to "What I eat in a day" videos, she has incorporated her passion for food into content creation.
Conclusion
Thanks to the many Mukbang influencers on the internet, our eyes are being treated to a feast of food videos. Apart from these 5 mukbang influencers, do check out the other influencers who have their unique form of mukbang content.
Sources
Scmp, yp/discover/lifestyle/features/article/3067627/9-top-mukbang-youtubers-follow-2019-most