7 Malaysian TikTokers you should follow | Malaysian influencers
Malaysian influencers, Malaysian TikTokers
There are many social media platforms out there. From Facebook to Instagram and YouTube, social media platforms have become widely popular over the years. Among the large social media players, TikTok comes to mind as an up-and-coming social media platform.
Despite being relatively new, TikTok has been creating waves in the social media industry. From filters to catchy soundtracks and viral trends, TikTok has shaped the way media is consumed in the industry. A large reason behind the rise of the social media platform would be its content creators, also known as TikTokers. These TikTokers keep the platform interesting. Today, we will be introducing 7 Malaysian influencers that are worth checking out on TikTok.
Malaysian TikTokers: #1. Sean Tan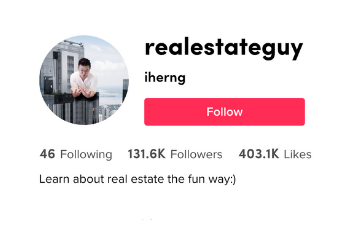 Firstly, we have Sean Tan (@realestateguy), who has built up quite a following with his reliable real estate advice.
Think that real estate sounds convoluted and boring? Well, Sean is one of the Malaysian influencers out there that would help you to learn more about real estate in a fun and interesting manner.
On TikTok, he has more than 100K followers, which is proof of the practicality of his advice. In fact, apart from TikTok, he also has a YouTube account where he dishes out property advice through longer-form video content.
From important property concepts such as freehold and leasehold units to discussing if a house is an asset or liability, Sean's TikTok account acts as a mini encyclopedia for property advice. Additionally, a lot of his advice relates to financial advice too. He covers a wide range of topics from property for investment-related purposes to applying for loans to service your property.
Malaysian TikTokers: #2. Lim Ing Kien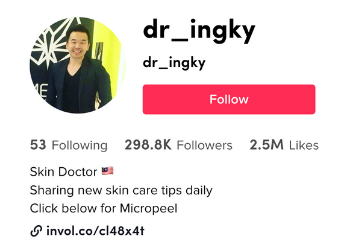 Secondly, we have Lim Ing Kien (@dr_ingky), who is a businessman that has managed to gain a huge following among skincare fanatics on TikTok.
Ing Kien has close to 300K followers on TikTok. Additionally, his skincare-related content is highly popular among his audience, as seen from the 2.5 million likes he has gotten thus far on the application. There are many TikTokers dishing out skincare advice. However, Ing Kien is not only a skincare influencer but also a cosmetic dermatologist and aesthetic physician. Therefore, his tips and advice are highly credible. In fact, he is rather successful in his career, having opened a skin clinic with several outlets in Malaysia.
From skin care products like sunscreen and serums to common skin conditions like acne scarring, Ing Kien readily shares his wealth of experience on TikTok. If you are interested in what a professional has to say about skincare and beauty, do check out his TikTok account.
Malaysian TikTokers: #3. Angel Low Ee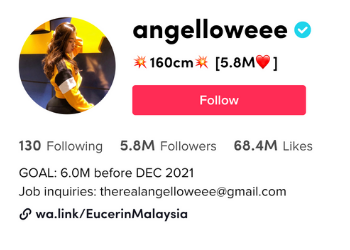 Thirdly, we have Angel Low Ee (@Angelloweee), who is extremely popular and well-loved on TikTok. She joined the platform in June 2018, and in the span of a few years, has garnered 5.8 million followers and close to 70 million likes.
Despite being only 21, Angel has mastered the art of online content creation. Her content includes a wide range of trendy, viral content. From dance videos to funny videos, her TikTok account is regularly updated with interesting, fun to watch videos.
Apart from TikTok, Angel also live streams her video game plays on Twitch. Indeed, she has shown her versatility in creating content for varying social media platforms.
Malaysian TikTokers: #4. Iqbal Ahyar
Thirdly, we have Iqbal Ahyar (@iqbalahyar), who is an influencer that specialises in scientific facts. If you are worried that his TikTok account is going to sound like a boring science textbook, fret not – Iqbal's account is filled with interesting content. This can be easily seen from the 719K followers he has amassed on the platform.
In fact, if you are an animal lover you should certainly check out his TikTok account where he often shares animal facts. His love for science, especially biology can certainly be seen through his social media. Iqbal teaches us all that TikTok houses a wide variety of content, and often the best content that one can create is something we have passion in.
Malaysian TikTokers: #5. Pavetraa Reddy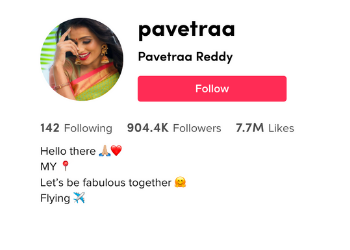 Next up, we have Pavetraa Reddy (@pavetraa), who has amassed close to a million followers on TikTok.
On her TikTok account, she can be seen in beautiful traditional costumes. In fact, she often does parodies of famous movie scenes in elegant saris. Apart from her parodies, she has a series of comical prank videos. This just proves her versatility in content creation on the platform.
Malaysian TikTokers: #6. Steven Ang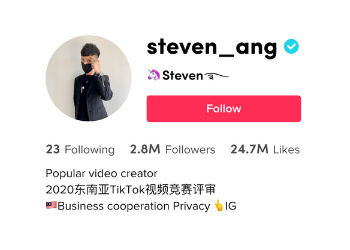 Moving on, we have Steven Ang (@steven_ang), who has close to 3 million followers on TikTok – a colossal amount for any influencer.
If you enjoy comedic videos on TikTok, Steven is the influencer you have to check out. After all, his content revolvess around hilarious skits, parodies and viral trends. From videos like cooking eggs with a hairdryer to freezing water balloons, Steven has proved that one can be creative as one wants to be on TikTok.
Malaysian TikTokers: #7.Puspa Gomen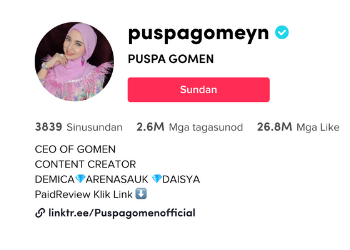 Lastly, we have Puspa Wafiy (@puspagomeyn), who is a beauty influencer that does a wide variety of videos on TikTok.
Currently, Puspa has 2.6 million followers on the platform and is on her way to becoming one of the most popular Malaysian influencers out there. She might be a beauty influencer but she is no stranger to creating humorous content on TikTok. In fact, one of her more popular videos includes a parody of a hit drama series.
Conclusion
There are many other Malaysian influencers apart from the 7 on our list. However, these 7 Malaysian influencers are certainly worth checking out on the platform as they have proved to be great at content creation.
Sources
Thesmartlocal, malaysia/malaysian-tiktokers/
Onesearchpro, top-famous-tiktok-video-creators/