According to research from AppAnnie, TikTok users on Android devices spend an average of 13.3 hours on the app per month. This statistic is indicative of how addictive that application can be. You go in with the intention to watch a short video but end up spending hours on the application scrolling through your "For You" page – does this not sound familiar?
For non-users of the app, this might be puzzling. You might wonder what is the big deal about TikTok. Well, it is the content produced by TikTokers that keeps the app interesting. TikTok is more than lipsyncing or viral dancing videos. Instead, it is the epicentre for all sorts of content. In fact, a huge bulk of information can be found on TikTok. To prove this point, we have selected 7 informative TikTokers to feature in today's article.
Informative TikTokers: #1. Olivia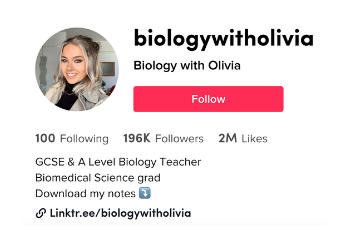 Firstly, we have Olivia (@biologywitholivia), who is a biology teacher that has dedicated her social media platforms to teaching biology.
Olivia specialises in A-Level biology. She even provides biology notes for students who are interested.
Her passion for teaching actually started off rather early. In fact, she started tutoring while she was in university completing her degree in Biomedical Science. On her TikTok account, you can see her sharing her wealth of experiences attained from teaching biology over the years. From exam tips to revision notes – it is no wonder why she has amassed close to 200K followers on her TikTok account.
Apart from TikTok, Olivia also uses Instagram as well as a YouTube account to inspire a love for biology. Whether you are a struggling biology student, or simply wish to learn more about biology, Olivia's TikTok account is great for general knowledge.
Informative TikTokers: #2. Shadé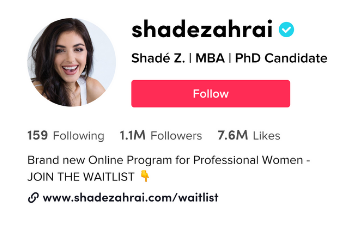 Secondly, we have Shadé (@shadezahrai‍), who is an informative influencer that regularly dishes out career advice through her TikTok account.
If you are nervous about an upcoming interview, Shadé's TikTok account is a must follow. After all, she is a professional Career Strategist that gives practical career tips.
Whether you are looking for a job or currently in a job, there will be something for you to learn through Shadé's TikTok account. From managing emotions at work to interview questions you may want to ask, Shadé's content is great advice for working adults.
Informative TikTokers: #3. Prex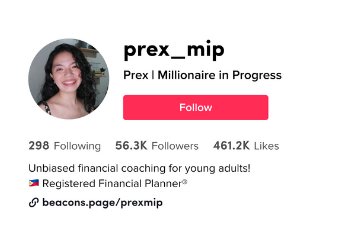 Thirdly, we have Prex (@prex_mip), who provides useful financial advice that everyone should know about.
Prex's vocation as a Financial Planner has equipped her with the knowledge involved to plan one's financials. In fact, her TikTok account is dedicated to giving young adults financial advice.
If you are interested in investing but not sure where to start, Prex's account is great as it breaks investing down into simple bite-sized information. She educates her followers about Forex trading and the types of stock to invest in.
If you have no interest in trading, Prex's TikTok account is also great for general financial literacy. From budgeting to saving an emergency fund, accounts such as Prex's one make financial independence much more attainable.
Informative TikTokers: #4. Tatiana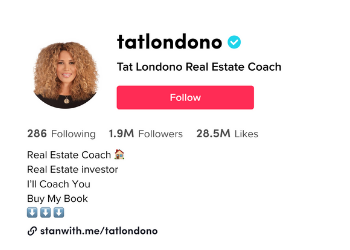 Fourthly, we have Tatiana (@tatlondono), who has dedicated her social media platforms to educate the public about real estate.
Her passion for real estate is certainly on her social media platforms. Apart from being a real estate broker, she is also a real estate coach investor. Additionally, she has also written and published a book on real estate.
Therefore, if you need real estate advice, she is the informative influencer you should go to. As you might have guessed, her social media account consists of all sorts of real estate advice. From investment properties to real estate agencies, Tatiana openly shares all the insider secrets to the real estate industry on her TikTok account.
Informative TikTokers: #5. Antonette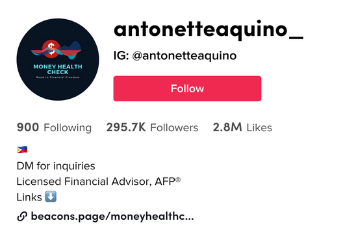 Next up, we have Antonette (@antonetteaquino_), who is an informative influencer that specialises in financial advice.
Antonette's account features a wide range of financial advice. On one hand, she produces beginner-friendly advice like money-saving tips to help educate the young about financial independence.
On the other hand, she also has more advanced financial advice such as building a passive income and investing.
Informative TikTokers: #6. Eddy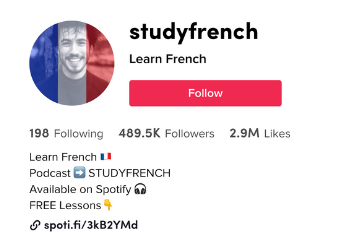 Moving on, we have Eddy (@studyfrench) who has used social media to educate others interested in learning French.
As a native French speaker, it is no wonder why Eddy's command of French is so good. Apart from speaking the language well, Eddy is also great at teaching French to his 400K followers on TikTok.
French might seem tricky to non-native speakers. However, Eddy's platform makes it enjoyable and easy to learn French. From videos that help with the pronunciation of difficult French words to videos that help expand your vocabulary – Eddy's shows us that learning French can be fun.
Informative TikTokers: #7. Julie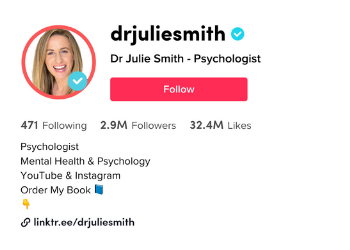 Lastly, we have Julie (@drjuliesmith‍), who is a psychologist that uses her TikTok account to educate her followers on mental health.
From dealing with stress and depression, Dr Julie sheds light on a variety of mental health issues. Additionally, she also has practical advice – for instance, she talks about how to support someone who is depressed.
Conclusion
In a nutshell, there is a wide variety of content on TikTok. Therefore, strip away any conceptions you have about the platform being one that is for pure entertainment. The content produced by these 7 informative influencers is a testament to how TikTok can be entertaining and enriching at the same time.
Sources
Tutorhouse.co.uk, blog/tiktok-the-educators-you-need-to-follow
Mb, 2021/05/26/4-filipino-tiktokers-to-follow-for-financial-literacy/
Vaned, blog/best-real-estate-tiktok-accounts/