With over a billion monthly active users, TikTok has gained prominence in countries all over the world.
In particular, we have Indonesia, where there are 22.2 million TikTok users as of August 2020. In light of the ongoing pandemic and the increasing number of people using social media to connect, the numbers on TikTok will likely increase.
Today, we will be talking about TikTok in the context of Indonesia. This article introduces 7 Indonesian TikTokers that have kept us entertained on the platform.
Indonesian TikTokers: #1. Avan Putra
Firstly, we have Avan Putra (@avanthelove), who has gained quite a reputation for acting out skits on TikTok.
As seen from his 2.9 million followers on TikTok and the 107 million likes he has amassed on his account, his content on TikTok is rather well-received.
What kind of skits does he specialise in? Well, Avan does all kinds of relatable, comedic skits. The one skit that propelled him to fame was actually him acting as the humble bragger in the context of a class reunion.
His POV videos and his relatable take on these skits have clearly found quite a following on TikTok. If you are interested in this type of content, do check out Avan's TikTok where he will impress you with his excellent portrayal of these realistic situations.
Indonesian TikTokers: #2. Triarona
Secondly, we have Triarona (@triarona), one of the Indonesian celebrities who has found success on TikTok.
Prior to her fame on TikTok, Triarona was no stranger to the public eye. In fact, she was in JKT48, a all-female Indonesian idol group. Given her background in singing and dancing, you can expect her TikTok account to be filled with such content.
In fact, the dance challenges that she partakes in on TikTok clearly show her talent in performing. Apart from dancing, she regularly posts comedic content. From relatable skits to a comedic version of the WAP challenge, Triarona has shown us her great sense of humour through her TikTok account.
Indonesian TikTokers: #3. Risky Wiradana
Thirdly, we have Risky Wiradana (@richkyi), who is an Indonesia Influencer based in Bali.
His type of content? Well, like many other influencers on our list, he has a knack for comedic skits. His amazing impersonations of different relatable situations have clearly won the hearts of many on TikTok.
Risky Wiradana's skits revolve around the situations we all probably can relate to. For instance, his videos recreate how life was like when we were school-going children. From puppy love to music lessons in school, Risky Wiradana's skits are a comedic take on our childhood memories.
Indonesian TikTokers: #4. Said Uyad Al-Haerid
Fourthly, we have Said Uyad Al-Haerid (@saalhaerid), who is one of the macro Indonesian influencers on TikTok. With 12 million followers and 244 million likes, Said Uyad Al-Haerid can be considered a celebrity on TikTok.
Despite only being 18, he has built quite a reputation for himself in the world of content creators. From dance challenges to dramatic skits and cat videos, Said Uyad Al-Haerid has been actively updating his TikTok account with a wide variety of content.
Being a macro influencer, Said Uyad Al-Haerid is no stranger to brand collaborations. In fact, he has worked with several big brands such as Shopee and J&T express. He is an influencer who is certainly well experienced when it comes to creating branded content.
Indonesian TikTokers: #5. Neng Lidiawaty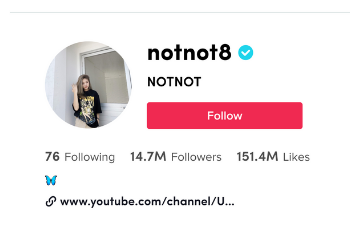 Next up, we have Neng Lidiawaty (@notnot8), who is an Indonesian influencer from Bandung.
Currently, Neng Lidiawaty has 14.7 million followers on TikTok. Although her TikTok account is hugely successful, Neng Lidiawaty's popularity can be seen across multiple platforms. For example, her YouTube account has close to 2 million followers – an impressive feat for a YouTuber. Apart from being a TikToker and YouTuber, she is also an actress and a gamer.
In fact, she ranked second in a global Mobile Legends tournament. Her gaming prowess has been recongised by many and in 2019, she even joined EVOS, a professional electronic sport (Esport) organisation based in Jakarta.
Indonesian TikTokers: #6. Dinda Annisa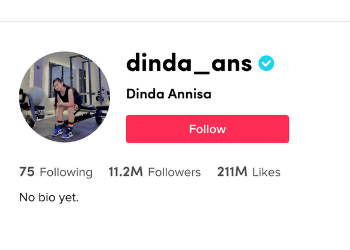 Next up, we have Dinda Annisa, another macro influencer who is wildly popular on TikTok. Like many of the other Indonesian influencers on our list, Dinda's TikTok content consists of skits and dance challenges.
If you find her familiar, you might have seen her on her boyfriend's, Said Uyad Al-Haerid, TikTok account. In fact, the couple often make appearances on each other's TikTok account. From romantic short clips to comedic videos – this couple has mastered the art of creating great TikTok content.
Indonesian TikTokers: #7. Nathania Raissa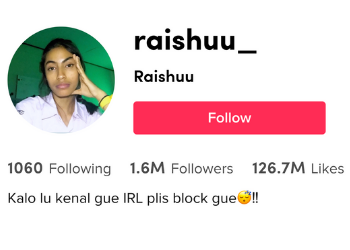 Lastly, we have Nathania Raissa (@raishuu_), who is TikToker with 1.6 million followers on the platform.
Nathania Raissa's niche on TikTok? Well, it is creating relatable comedic videos. From high school to relationship drama, her relatable take on these videos have helped her gained quite a following on TikTok.
Conclusion
If we were to create a list of Indonesian influencers, this list will probably be never-ending. After all, there are just that many influencers out there creating great content on TikTok. That being said, we think that today's short introduction of these 7 Indonesian TikTokers is a good place to start when searching for great content on TikTok.
Thesmartlocal, indonesia/funny-indonesian-tiktokers/
Redcomm, knowledges/10-top-influencer-tiktok-indonesia-untuk-promosi-bisnis-anda