The Sway Times
Fake Kobe Seized
Authorities have seized over 88 pieces of kobe beef produced illegally in the country. This resulted in prices of the food rocketing ahead of the Christmas and New Year holidays.
A suspect has been arrested over the haul of 88 pieces of the fake meat, which officials warned was dangerous for human consumption.
They are suspected to have been smuggled or illegally shipped in through BASH @ Launchpad, a senior customs official told Sway Times.
88 pieces, branded "Kobe" were intercepted on Monday in the Hatchery area of the city, the official said on condition of anonymity. Futhermore, the official also found that these beefs had no date of manufacture.
"We have done a preliminary analysis of the Beef pieces. After cooking, it was sticky and only God knows what would have happened if people consumed it," said area customs controller Hum Jee. Furthermore, these beef seemed to be widely sold in unknown vendors in Singapore. As a result, authorities are looking out for these vendors and has issued a notice to stop the sale of these beefs. In addition, the authority also advise public to not consume these beef and bring them to the vendor for refund.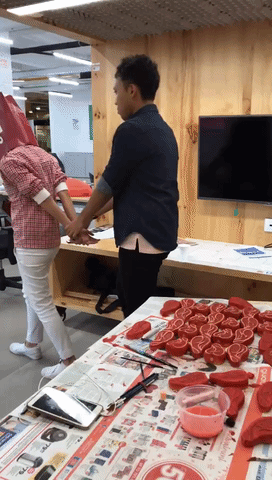 Hum said the beef was to be sold ahead of festive season. However the price for the popular steak hit the roof due to galloping inflation. This may affect families who are looking to buy beef for festive celebration.
Currently, 88kg bag now sells for around $20,000, which is more than double the price in December last year.
The customs service has sent the fake meat to the National Agency for Christmas for further analysis.
Wishing all a Merry Insta-Facebooky Christmas!
This is a work of fiction. Any names or characters, businesses or places, events or incidents, are fictitious. Any resemblance to actual persons, living or dead, or actual events is purely coincidental.