Did you know that the term cryptocurrency was first used in 1998? In fact, the origins of cryptocurrencies can be traced even further before 1998 – In the 1980s, there existed technology that allowed people to transfer money anonymously.
From then on, cryptocurrencies have experienced an increase in popularity at an exponential growth rate. From the rise of bitcoin to the introduction of numerous new coins, investors have shown a lot of interest in cryptocurrencies.
That being said, many deem cryptocurrencies as a volatile form of investment. The MAS's (Monetary Authority of Singapore) new crypto marketing guidelines reflect such sentiments. Just back in January of 2022, the MAS introduced new guidelines that restrict the marketing or advertising of cryptocurrency services.
In light of the volatility of investing in crypto? Should we still consider cryptocurrencies as a potential investment? Well, there is no straightforward answer. However, before making your decision, it is always good to research cryptocurrencies to understand their related risks. We have thus chosen 5 crypto influencers for you to check out!
Investment influencers: #1. Ben Armstrong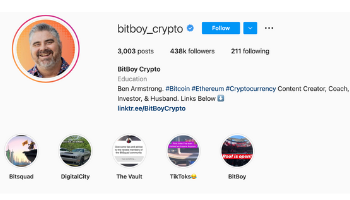 Firstly, we have Ben Armstrong (@Bitboy_Crypto), who is a crypto influencer with a significant presence on both Instagram, Twitter, YouTube and TikTok.
With that many social media accounts, one wonders where he finds the time to manage them all. However, Ben has been doing a great job when it comes to sharing crypto-related news. On top of all of that, he also uses his accounts to share comedic crypto memes for his followers to enjoy.
Ben's knowledge and expertise lie largely in Bitcoin and Ethereum (Ether) – two of the bigger players in the crypto market. Thus, a huge portion of his content is about these two coins. That being said, he has also diversified his content by talking about general crypto trading essentials as well as the recently popular Non-fungible token (NFT).
Investment influencers: #2. Christopher Jaszcynski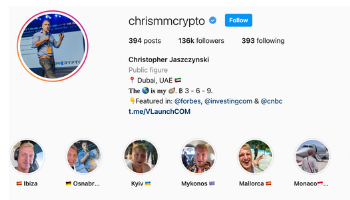 Secondly, we have Christopher Jaszcynski (@chrismmcrypto), who is a German Crypto analyst.
If you take a quick glance at his Instagram account, you may have the impression that he is a lifestyle influencer. After all, many of his pictures document his travels to exotic locations.
However, Christopher is actually known for his expertise in Cryptocurrencies. In fact, his Crypto focused YouTube channel was what propelled him to internet fame.
On his YouTube account, he gives Crypto tutorials and also conducts interviews with other experts in the field of cryptocurrencies. He is famously known for being one of the first to use on-chain analysis to predict Bitcoin Prices back in 2014.
If you are interested in Bitcoin specifically, Christopher's YouTube account is worth checking out as it has a range of content related to Bitcoin.
Investment influencers: #3. Felix Hartmann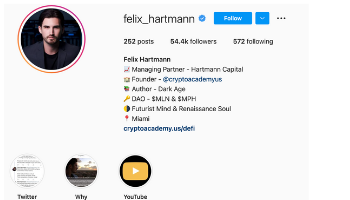 Thirdly, we have Felix Hartmann (@Felix_hartmann), who is a German-American who has dedicated all his social media platforms to cryptocurrencies.
What is his portfolio when it comes to trading and investments? Well, he is a futurist as well as a trader. On top of all of that, he is also a tech entrepreneur and is currently the Managing Partner of Hartmann Capital.
On his Instagram account, he often uses the live stream function to talk about investments and cryptocurrencies. However, there is no worry if you miss his live streams, as he does post clips of his live streams on his Instagram Feed.
Investment influencers: #4. Lea Thompson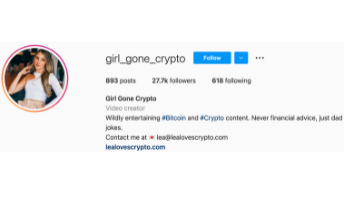 Fourthly, we have Lea Thompson (@Girl_Gone_Crypto), who is an investment influencer that specialises in crypto content.
What is her speciality? Well, apart from sharing crypto news and advice, Lea prides herself on producing entertaining content. From her sassy captions to her great sense of humour, it is no wonder why Lea has close to 30K followers on Instagram. In one of her videos, Lea even created a skit showcasing the drop in prices of bitcoin.
If you are looking for crypto-related content, but still want to be entertained, Lea's account is the place to go.
Investment influencers: #5. Joel Comm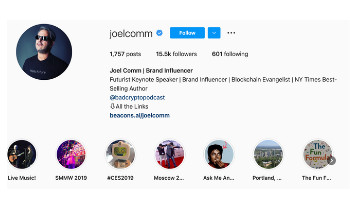 Lastly, we have Joel Comm (@joelcomm), who calls himself the functional futurist.
If you are looking to learn crypto while on the move, Joel's podcast, Bad Crypto, is a great way to start. The podcast, which has 400,000 downloads per month, is one of the most popular podcasts in the market.
Apart from producing podcasts, he is also the author of many bestselling books – one of them include his New York Times Bestseller, The AdSense Code.
Conclusion
In a nutshell, these are 5 investment influencers who have dedicated their social media platforms to share about crypto. Of course, there are many other investment influencers out there. Therefore, a tip would be to seek information from different sources. After all, a good crypto investor is one who not only knows how to invest but one that fact checks information received!
Sources
socialtradia, blog/top-instagram-cryptocurrency-influencers/