Gen Z and their behavioural pattern on social media
Commonly known, Generation Z (Gen Z) are people who are born between 1997 and 2015. This marketing guide to Gen Z will support you if you are planning to reach out to them. Gen Z has been a focus market for many because these are the people who are starting to enter the workforce, and also the people who are already well-versed in the digital world. Especially during this pandemic, where most businesses are moving online, targeting Gen Z who are already so tech-savvy, can help you get ahead of the game. 
As a local influencer marketing agency, we have also started looking more into Gen Z's. With a sample size of close to a hundred, we studied and gathered data on their behavioural patterns on social media. Here are some of the Gen Z marketing statistics you need to know, before marketing to them.
The leading social media platform among Gen Z
In this digital era, social media is the primary source of entertainment for Gen Z's. From the data collected, it is evident that Instagram is the most popular social media, closely followed by Youtube and TikTok.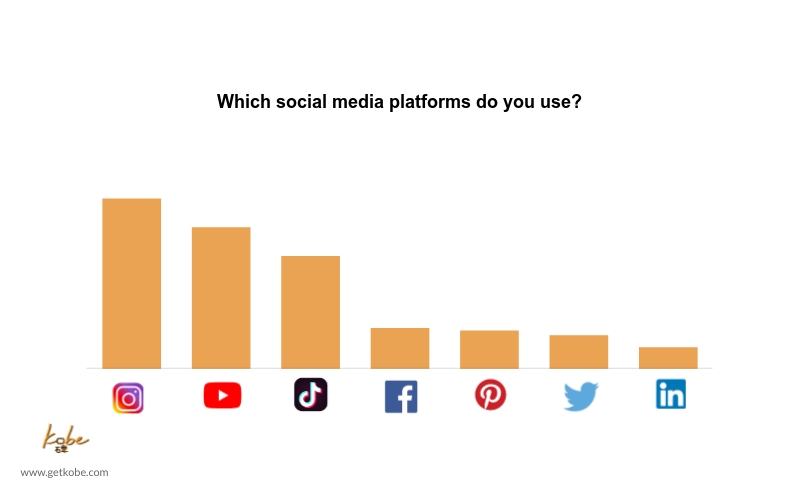 To effectively market to Gen Z's, let's first look at why they are on these various social media platforms. Instagram is known to be a platform to share photos and videos through features like posts, stories and IGTV. It has over a billion users and connects people from all over the world. A majority of Gen Z's can agree that they use Instagram for updates about their friends and families, discover new trends and products, and to shop.
The three leading giants in our study – Instagram, Youtube, and TikTok are well known for their entertainment value. Brands, celebrities, and small businesses make use of these platforms to share their content worldwide. So, if Gen Z is your target market, Instagram would be the perfect platform to go with.
Certain features within these platforms, particularly Instagram, can affect your business' marketing strategies. Take a look below for some of the statistics regarding Gen Z's preferences
The difference between Instagram stories and feeds is that – IG stories allows one to post and share about things they would not usually post on their feed. However, there is no distinct preference between the two as shown in the chart below.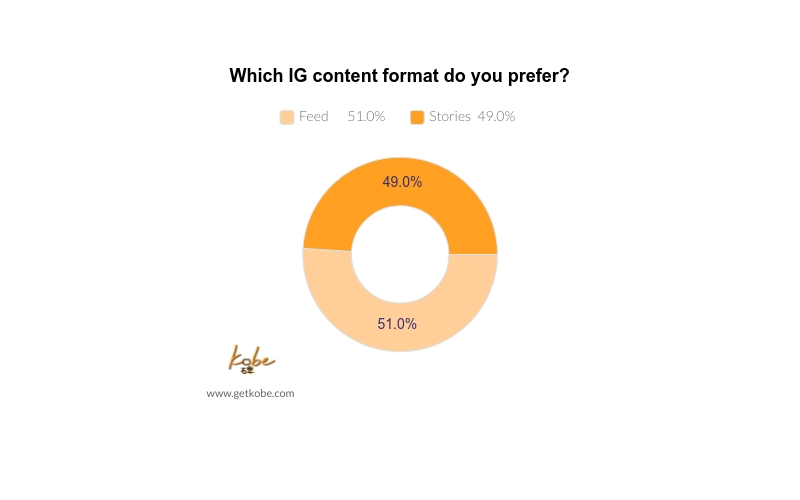 Whether it is through stories or posts, content that is engaging is crucial when marketing to Gen Z.
Video Content or Live Stream?
Live streaming is one of the special features on Instagram. People usually go on live for Q&A sessions, product demonstrations, or to talk about various topics. However, this does not seem like an attractive feature to Gen Z's. 98.5% of the respondents indicated that they prefer (pre-recorded) video content more than livestreams.
The respondents indicated that live streams are "too long"; "cannot fast forward"; "tend to be awkward" and "for the older generation". If you're marketing through livestream to Gen Z, do note these reasons to better reach out to them. 
Gen Z vs Influencer Marketing
With the rise of social media influencers nowadays, we were curious as to how Gen Z responds to influencer marketing. The chart below shows the statistics of the frequency Gen Z buys a product after an influencer has recommended it.
As shown in the statistics, majority rarely buys a product after watching an influencer's review. This is nothing out of the ordinary, because influencer marketing is a long process that can turn awareness into conversion. The purpose of influencer marketing is to first raise awareness to impact their decision to buy or influence their perception of brands. Over time, as consumers are more aware of the presence of the product, they might end up purchasing them.  So, trust in the process! 
Now, let's take a look at what kind of content Gen Z prefers to see from influencers.
In our list of categories that influencers commonly make reviews on, we have: health and wellness, food, fashion, beauty, and electronics and gadgets. It is evident that food is the most preferred category of content for Gen Z's. There could be a few reasons for this. 
Firstly, Gen Z are people between the ages of 6 and 24, and the younger portion of Gen Z are still students. Not having a stable income, food is definitely the most viable option to them. Next, with the advanced technology we have today, almost everyone has at least purchased one electronic device. Along with peer pressure, Gen Z, even the younger ones, would be interested to get the latest gadget. 
3 strategies to reach out to Gen Z
Now that we understand the dynamics of Gen Z's on social media, here are three tips from a Gen Z marketing webinar, for you to reach out to Gen Z!
#1. Be direct in your marketing strategies
The key difference between millennials and Gen Z is that Gen Z expects content to be on demand, since they are so used to having content as compared to millennials. Having grown up being exposed to advertisements, Gen Z's are knowledgeable and are able to identify when they see a branded content. Cassi from Hepmil Creator's network emphasises in the webinar that it is important to be direct and upfront when marketing to Gen Z, as they would appreciate the honesty of knowing when it's a paid content. 
Some practices that are used nowadays is putting a disclaimer before the start of their videos or content indicating that it is sponsored. This helps them to accept the fact that the video is sponsored, should they continue to watch. Gen Z understands that for money to come in, it has to be coming in from somewhere. So be honest with them, they'll appreciate it. Moreover, you can make the sponsored content entertaining and engageable and give them the choice on whether they want to engage with it.
#2. Have a good storytelling
Wei Choon from @thewokesalaryman shared that "Vulnerability is the essence of good storytelling, in this age, if we want to be relatable." More often than not, people will take the time to listen to you if you can tell a good story. A personal story can be impactful to Gen Z, if they can relate to it. The "it's okay not to be okay" mindset is becoming a norm now. Content that can resonate with them can potentially draw them to you, as they might feel like you understand them. 
Additionally, your content needs to be comprehensible to make a good storytelling. Since Gen Z has a very short attention span, keep in mind that you should keep your content short and quick to capture their attention.
Having Gen Z to help you with marketing to their own generation of people will definitely benefit since they would know better. However, do ensure that they feel involved in the process. Allow them to be themselves, to explore, experience and learn along the way. Try not to fit them in a box they don't belong to. Trust their abilities and work and learn with them!
Another pro-tip is that Gen Z's are always changing between platforms, so adapt your content to different platforms.
Marketing to Gen Z will be very different from marketing to the other generations. There can be many challenges faced along the way since Gen Z has a short attention span, and they are usually shuffling between apps. The ultimate goal in marketing to Gen Z is to prolong their interest in a certain topic, product or service. Hence, this study serves to help us understand Gen Z more, and how to reach out to them. Read more about Gen Z marketing here!
However, do bear in mind, at the end of the day, who is the one with the ultimate purchasing power. If it is the millennials, aka the parents of Gen Z, then you'll have to gear your marketing strategies towards the millennials. Check this article out to find out more about millennial marketing!