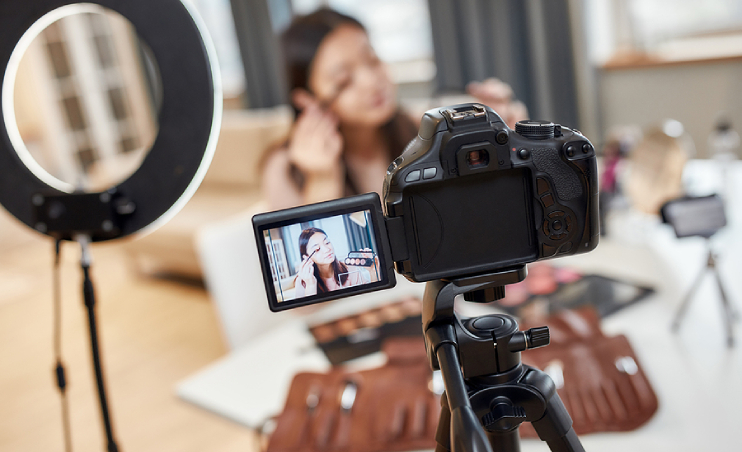 The various silly antics of a small minority of TikTokers may make it seem as though these influencers would do anything for fame and clout, but this could not be further from the truth. Many TikTokers are, in fact, individuals who want to impart valuable and practical information to their audience. Through the use of short clips with audio and text to convey helpful information and tips, the most popular TikTok videos are those that create and promote art.
One of the most popular forms of content on TikTok is makeup videos. Makeup may be a common tool many individuals use to look good, but it also serves as an avenue for artists to express their creativity and beliefs. Like artists who have different mediums to work with, the makeup artists on platforms like TikTok use their faces as a canvas to express themselves. Their making up process is incredibly fascinating, and many are happy to consume such content through TikTok!
Previously, we shared with you a list of TikTokers to follow for impeccable skincare routines. If you are a fan of such beauty content, then this time around, let us share a list of up-and-coming local makeup artists who can inspire your next makeup transformation.
1. Didi (@badgaldidiiii)

As a TikTok personality, Didi primarily focuses on the "bad gal" trends and styles that have proven to be a hit among Gen Zs. She quickly gained popularity in Singapore due partly to her personality, as she emits a strong, fierce, and feisty attitude. But there is a lot more nuance to her than that, as she has also showcased her sensitive side by posting uplifting and can-do messages for her 80k followers.
Follow them for: Frequent makeup and costume transformations into famous characters and personalities. You can even see Didi showcase her dancing talents on occasional dance covers.
Our favourite TikTok content: Didi recently posted a TikTok transformation video to the tune of Doja Cat's "Woman", showcasing various makeup styles. From a red-head disco queen to a blue-haired ocean siren, she rocked the video with an attitude unmatched by any other influencer in the city.
2. Sherine (@ytsherine1010)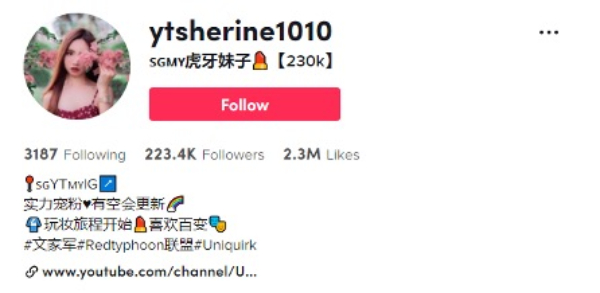 Sherine is a social influencer in Singapore who has racked up a massive 2.3 million likes across all of her videos. Renowned for her girl-next-door vibe, Sherine posts plenty of relatable TikTok content aimed towards Gen Z. From a 3D spider look to cloud-inspired kawaii makeup, she has definitely proven herself as a talented artist to keep an eye on.
Follow them for: Makeup transformations that leans towards a cute, sweet, and goofy aesthetic. Sherine also posts tips on how to take the best photos to showcase on social media platforms to attract a following.
Our favourite TikTok content: Watch Sherine transform herself into a cutesy anime character with an elaborate makeup routine. This video is bound to be a big hit with the many anime fans in Singapore.
3. Melvin Tseng (@melvin.tseng)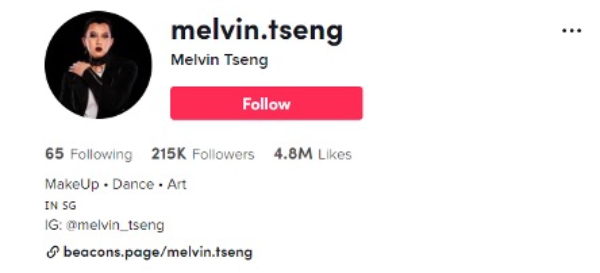 As one of the most promising makeup artists in Singapore today, Melvin covers a wide spectrum of makeup tutorial videos, be they everyday makeup routines to all-out transformations, leaving you looking resplendent as his tutorials also include accessories, as well as costumes.
Melvin's TikTok videos are certainly jaw-dropping, and it is easy to see why he has amassed such a huge following, as he really makes use of the colour palettes at his disposal and his boundless creativity. One of his transformation videos even took him 6 hours to create!
Follow them for: Cinematic-worthy makeup looks, a spicy and positive attitude, and his stand on issues like gender inequality.
Our favourite TikTok content: A TikTok video showcasing his own spin on the classic emojis we know and love.
Conclusion:
These local makeup artists are slowly making a name for themselves on one of the fastest growing social media platforms worldwide. Their successes have shown that TikTok is one of the best platforms for makeup enthusiasts. Why not take a cue from these aspiring makeup artists and hop on this ground-breaking platform to discover more beauty influencers.