Southeast Asia is known for many things. From its beach paradises to its hot and sometimes humid weather. However, today, we will be focusing on the amazing food options that the region has to offer. Specifically, we will be looking at food influencers from Thailand, Singapore, Malaysia and the Philippines to discover some of the local favourites in their respective countries.
Of course, this list is not a comprehensive list of Southeast Asia's food influencers. There are many other Southeast Asia influencers from different countries dedicating content to different types of food. However, these 5 Southeast Asia influencers act as a good reference point to start sourcing from food gems in the region.
Southeast Asia Food Instagrammers: #1. Paigingun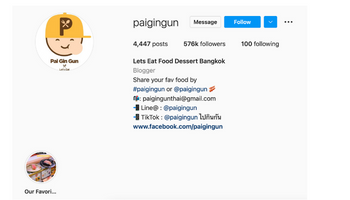 Firstly, we have Paigingun (@paigingun), who is a food influencer from Thailand.
As you may be able to tell from the account's bio, this influencer is based in Bangkok and is a huge fan of desserts. Whether you are craving Mango Sticky Rice or Thai Milk Tea, Paigingun's account has something for you.
Apart from tantalising desserts, the account also explores a good range of food in Bangkok. A quick scroll of the Instagram account would show you pictures of all types of food and cuisines. From pasta to Japanese hotpot, paigingun has encapsulated Bangkok as a food paradise.
Southeast Asia Food Instagrammers: #2. Leslie Tay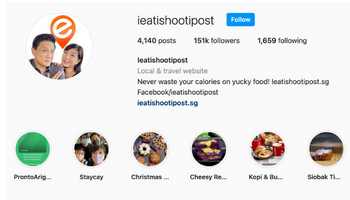 Secondly, we have Leslie Tay (@ieatishootipost), who is a food influencer based in Singapore.
As creatively encapsulated by his IG Bio, Leslie has dedicated his spare time to finding the best tasting food gems in Singapore.
Leslie is known for being one of the pioneers of blogging about hawker food. Leslie has been invited to deliver talks on Singapore's Hawker Cuisine on the international platform. Additionally, he has appeared on and hosted several food-related TV series. Amongst them include "8 Days Eat", a TV programme which showcased some of the best local dishes and their hawker origins. Indeed, given Leslie's involvement in the local food scene over the many years, it is not an exaggeration to call him one of the early pioneers of food influencers.
Despite his busy schedule, Leslie's Instagram page is regularly updated with some of the best cuisines found in Singapore. From Chicken rice to Hokkien Mee, it seems like Leslie has reviewed every local dish that one can possibly think of.
Southeast Asia Food Instagrammers: #3. Winnie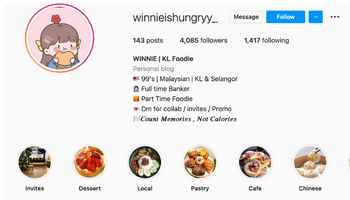 Thirdly, we have Winnie (‍@winnieishungryy_), who is a Malaysian food influencer based in Kuala Lumpur.
As you may be able to tell from her quirky Instagram Bio, Winnie's account showcases a series of food options that will leave you salivating for more calories.
Apart from dedicating her time to sourcing great food, she is also a big believer in supporting local businesses. From local bakes to authentic local cafes selling Malaysian favourites like Nasi Lemak and Chee Cheong Fan, Winnie has taken the effort to discover the food gems of local businesses.
If you are visiting Malaysia with the intention to try out some local food, do check out Winnie's account as she has recommendations for all types of food, ranging from a hearty meal to sugary desserts.
Southeast Asia Food Instagrammers: #4. Sam Cheak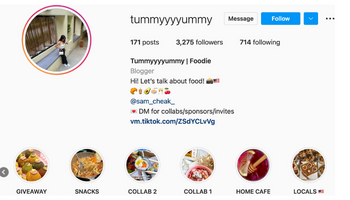 Fourthly, we have ‍Sam Cheak (@‍tummyyyyummy), who is a food influencer based in Malaysia.
From sugary desserts to savoury snacks, this food Instagrammer has tasted a wide variety of food items on her Instagram account. Apart from taking aesthetic pictures of the food, the detailed reviews of her meal are what make the account stand out. On her Instagram posts, Sam not only includes her thoughts about the taste of the food, she also includes information about the specific prices of the things that she has tried out.
As she is based in Kuala Lumpur, Malaysia, you can expect a lot of the food that she reviews to be found in Kuala Lumpur. However, this does not mean that she only writes about Malaysian food. Her Instagram houses a wide variety of cuisines, ranging from Japanese to Sri Lankan Cuisine. She certainly showcases how Kuala Lumpur's amazing diversity when it comes to food options.
Southeast Asia Food Instagrammers: #5. The Hungry Traveler PH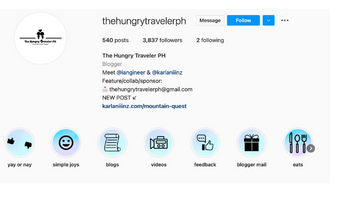 Lastly, we have Karla and Ian (@thehungrytravelerph), a couple who are based in the Philippines and have dedicated their time to find all sorts of food gems in Manilla. Whether you are looking for delicious sweet bakes or hearty breakfasts, this account has something that will catch your attention.
Apart from trying out and reviewing delicious food, the couple also enjoys going on adventures. Their recent Instagram posts documented their ATV adventures, where they explored Antipolo on their ATVs. If you would like to know more about their adventures, do check out their blog. They have meticulously written up details of each adventure on their blog.
Conclusion
Instagram, with its visually-oriented content, may be known for being one of the best platforms to source good food. However, the sheer amount of content on Instagram may make it hard to navigate. Thus, we hope that this list has helped you shortlist some of the best food Southeast Asia influencers from certain countries in Southeast Asia!