What is TikTok?
Known as "Douyin" in China, TikTok rose to prominence in the United States. It now boasts its presence in 150 markets with 75 languages available. As of 2020, it now sits comfortably with 800+ million monthly users. Just 200 million less than its rival, Instagram. Many Instagram influencers are also using TikTok. Some even see it as an alternative or a replacement for Instagram. Many social media influencers can also be seen on TikTok or even posting content from TikTok on Instagram. In theory, TikTok should be the next big target influencer marketing should move on to.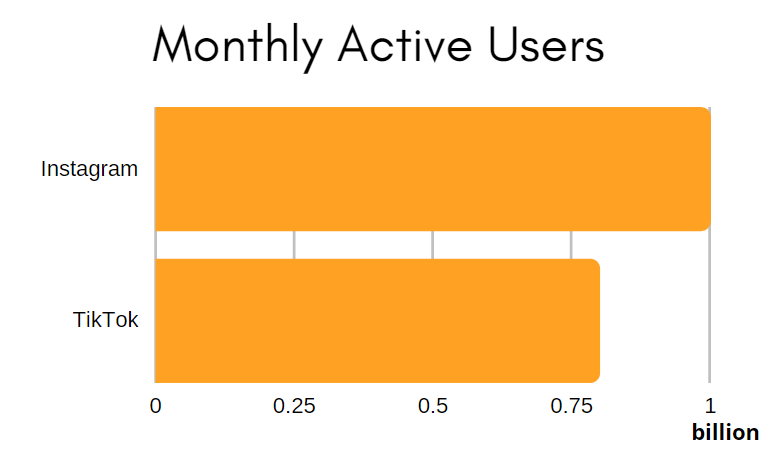 Age Demographics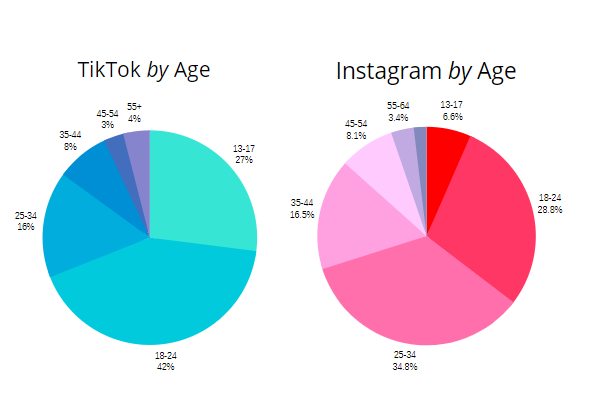 It can be seen that the majority of Instagram users are between the ages of 13 to 24 years old. 35.4% of the total number of users. TikTok, however, wins when it comes to the percentage of younger audiences. A significant portion of the users is between the ages of 13 to 24 years old. 69% to be exact.
Despite all these, global ad revenue for Instagram stands tall at 20 billion USD, whereas TikTok only accounts for 177 million USD. So if TikTok was seen as a tough competitor of Instagram, why are they falling so far behind?
Why Marketers Are Not Too Keen On Spending Money on TikTok
Unfamiliar Grounds
When venturing into new territory, one ought to be cautious. This is also applicable in this case. However TikTok has been around since 2017, so what is the real reason marketers are still staying off TikTok?
TikTok's massive audience base is the same thing that keeps marketers away from it. Their main demographic; the Gen Z. Many marketers are not confident mainly due to the fact that they are not very sure how they can market to the Gen Z demographic.
"TikTok can pose additional challenges for marketers as they may not understand the platform, or be of the right demographic."  
Jay Milliken, senior partner of marketing agency Prophet.
Jay Milliken added, "TikTok's success stories are mostly centred around engagement but not business impact." This is supported by Eugene Lee, McDonald's Marketing Director in the Asia Region. Mr Lee also mentioned that marketers also prefer to stick to tested and tried platforms. Just like Facebook and Instagram. This holds true while the COVID-19 pandemic is ongoing. Marketers need to be more careful in this turbulent period. 
"With any form of social media advertising, you need to adjust your creatives to match and blend into the platform's environment. You can't simply take your existing TV Commercial and just edit it into a vertical format for TikTok because it will be rejected by the audience,"
Eugene Lee, McDonald's Marketing Director for Asia
While many social media influencers are comfortable with TikTok, the same cannot be said for marketers. 
Learn how to build meaningful relationships with your Gen Z influencers here.
Controversies
TikTok has had its fair share of controversies in its short 3-year history. They've been accused of allegedly collecting "identifiable user data and sending it to China". TikTok also had to pay a fine of USD 5.7 Million by the US Federal Trade Commission (FTC). This was in line with their collection of personal information from children without parental consent. 
Moderation of content is also a huge problem on TikTok as evidence of violence, hate speech, bullying and sexually-explicit content can be found on the platform. However, they aren't the only platform fined by the FTC as Google was fined a staggering USD 170 Million for also collecting personal information from children without their parent's consent on their video-content platform, YouTube.  The issue with their brand safety is something that marketers do not want to risk getting involved in. 
Despite all these issues, some marketers are still brave enough to expand their Influencer Marketing reach into TikTok. 
India's Ban on TikTok
On the 30th of June, the Indian Government followed through and banned a total of 59 applications that originated from China. One of these apps, TikTok. What impact does this have on Influencer Marketing in India?
Prior to the ban, TikTok claims that 200 million of its users are from India. This also includes 120 million monthly active users. It boasts a monumental total download of 1.65 billion downloads as of 2019. According to SensorTower, 323 million of the total figure were from India. Or 44% of the overall figure.
More data coming from SensorTower, it is also mentioned that 219 million First-Time downloads were recorded in the 4th Quarter of 2019. Out of these 219 million First-Time downloads

COVID-19
As of 2019, TikTok was charging a minimum of US$25,000 for its in-feed video campaign, US$50,000 for a one-day buy of brand takeover, US$150,000 for a 6-day package for the hashtag challenge, and a range of US$80,000 to US$120,000 for its branded lens. (Jeffrey Lim, 8traordinary)
These advertising rates are higher as compared to the rates available on Facebook and Instagram. With the COVID-19 pandemic ongoing, a tanking economy would require marketers to be more resourceful and not make such risky decisions. 
Lack of Success Measurements 
Boosting your brand awareness does not guarantee a translation into sales. Or an increase in web traffic. TikTok loses out in that area. There is a lack of conversion tracking and retargeting features on TikTok. It was also mentioned by Mr Johnson Lim, Senior Digital Consultant of Hashmeta,  that there aren't any detailed targeting options for certain markets, like Singapore.
"With Facebook and Instagram, it is easy to measure direct business results from these platforms as both have rolled out social selling functions. We had to work closely with the TikTok team to find ways on what will be an effective campaign for us and how we can measure the success of the campaign,"
Mr Christopher Daguimol, ZALORA Group's Director of Brand Communications
It can be seen that the majority of Instagram users are between the ages of 13 to 24 years old. 35.4% of the total number of users. TikTok, however, wins when it comes to the percentage of younger audiences. A significant portion of the users is between the ages of 13 to 24 years old. 69% to be exact.
Perks of Instagram
Instagram has been a tried and tested platform for influencer marketing. It is without a doubt that all social media platforms have some form of Influencer Marketing ongoing. However, when it comes to the gold standard, Instagram easily takes the place. Nearly 4 out of 5 brands predominantly tapped Instagram. Influencer Marketing is dominant on Instagram. Marketers have also been given plenty of tools to refine their advertising reach. This allows brands to target specific audiences based on gender, age, locations and other demographics. Advertisements can also include click-throughs to shopping links which ease the process of making a sale. Instagram influencers sharing links to product shopping pages lead into conversions. Engagement rates and audience reach can also be tracked.
Instagram also has its own e-commerce platform. With Shoppable Posts, conversions to sale have also been optimised. This makes Influencer Marketing on Instagram much more lucrative and easier. 
Learn more about Instagram's Shoppable Post here. A 58-page playbook to help you get started on Instagram marketing!
Perks of TikTok
Marketers have 3 different kinds of approach to marketing on TikTok. Paid advertising, social media influencers and original content sharing. There are a number of paid campaign options including brand takeovers, which show users an advertisement as soon as they open the app; in-feed video advertisements; and hashtag challenges. 
As for now, TikTok only focuses on reach and engagement as their performance metrics. Brands can still create Influencer Marketing campaigns on TikTok. Many Instagram influencers have found a certain degree of success on the platform. Social media influencers can be tasked by brands to share specific branded content or even create one of their own. But bear in mind, since there is only a limited number of performance metrics, marketers should only focus on generating awareness when using TikTok. 
Influencer Marketing Verdict
By all means, Instagram is the superior platform when compared to TikTok. Influencer marketing campaigns have been a norm on the platform, not to mention the tools available for marketers to determine the success of their said campaigns. India's recent ban is also a huge contributing factor. 
While it may seem like the odds are constantly against TikTok, it is unique in its own ways. Earlier we highlighted that its demographic is leaning heavily on the younger generation. Because of this, brands should still use TikTok as one of their channels as to 'future-proof' their branding. The young generation of TikTokers will inevitably grow older, and the TikTok platform seems to have already anchored their position as a social media giant. This means that you don't have to change too much of your marketing strategy in the future. It is thus a low-cost platform to promote your products to the next generation. 
Both Instagram and TikTok still have a long way to go in this social media race. Although it seems like Instagram is winning comfortably for now.