2020 has been a year of great validation for Kobe and the influencer marketing industry. We're grateful and excited to share that we've won both the Gold and Local Hero awards for the Influencer Agency of the Year category in Marketing Magazine's Agency of the Year Awards 2020.
Since 2008, the Agency of the Year Awards have been a mainstay in the marketing industry's awards scene. It annually draws in submissions from major local and international agencies such as TBWA Singapore and Edelman.
As expected from the thriving influencer marketing industry, competition was indeed fierce. The finalists included influencer marketing agencies such as Titan Digital Media and Havas Media Group's social media marketing division Socialyse. We were nervous, of course, but we remained hopeful.
On the evening of the virtual awards ceremony, we cheered loudly for the winning agencies of the other categories. But nothing quite came close to that joy and relief we felt when we were announced as the winners of the category's top prizes – both the Gold and Local Hero Awards. It was truly an unforgettable evening where we celebrated yet another milestone together.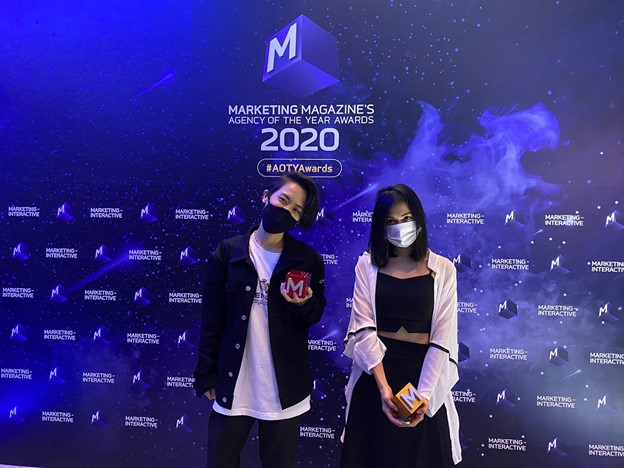 Our founders, Cha and Evangeline, with the Influencer Agency of the Year Gold and Local Hero Awards.
"I feel very humbled that Kobe was recognised in the awards this year - all the other finalists were just as deserving of the awards as us! On our end, we've just been focused on doing good work and bringing value to our clients and influencers. The awards are a strong indicator that we're on the right track.

I think the introduction of this category is a testament to how our industry has really evolved. Influencer marketing has typically been subsumed under PR or social media campaign categories. This new category speaks to how the industry is now recognising the significance of dedicated social media marketing agencies.

Even within the influencer marketing field, the traditional mentality of focusing on talent agencies is predominant. In contrast to this, our approach to influencer marketing is very much income and outcome-driven instead of talent-centric. In my view, Kobe's win today validates that the market is moving in this same direction too.

– Evangeline Leong, CEO and Founder of Kobe Global Technologies
Following our win, we plan to continue focusing on what helped us to win big this year. That is, providing quality strategic influencer marketing and social media marketing consultancy to businesses.
With over 300 clients and 5,000 influencers, we've certainly made a name for ourselves as a trusted influencer marketing agency.
However, we must continue to remain humble and stay grounded. We will continue to improve ourselves, come what may, and continue to make valuable contributions in the influencer marketing industry.
All in all, we hope that 2021 will be an even better year for all of us – both our agency and the influencer marketing industry as a whole.
About Marketing Magazine's Agency of the Year Awards:
The Agency of the Year Awards are organised by Marketing Interactive, a leading provider of marketing news. Marketing Interactive boasts one of the highest readerships within Asia. Since 2008, the awards have annually showcased leading local and international agencies. An independent panel of client-side marketers reviews agencies' overall performances. This jury then determines the winners for each specialisation category.