With the onset of the pandemic, travel restrictions impeded global travel for the past 2 years. However, with increase vaccination rates, there will certainly be opportunities for global travel in the next few years.
Therefore, we have curated 7 travel TikTokers for anyone who is interested in travelling. Whether you intend to travel in the next few months or simply miss the feeling of travelling, these 7 travel influencers will satisfy your travel cravings!
Travel TikTokers: #1. Giselle and Stephen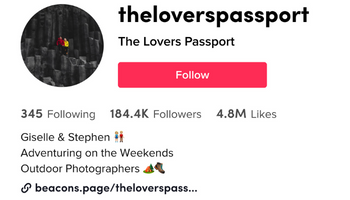 Firstly, we have Giselle and Stephen (@The Lovers Passport), who are a travel duo that has conquered the world and TikTok.
With 184K followers and close to 5 million likes, the pair have been regularly updating their social media platforms with their travel adventures.
If you quickly scroll through their history of TikTok videos, you will realise that most of their videos are filmed outdoors. From trekking expeditions to deep underwater dives, it seems like they have captured many wonderful memories while travelling.
Despite travel global travel restrictions, the couple had managed to make the best of their time to explore new places both within their country and globally.
Apart from travelling, both the owners of the account also juggle full-time jobs. Stephan is a Taekwondo instructor while Giselle has a role in social media marketing. In a way, it is not surprising that they have managed to amass a significant following base with their expertise in videography.
Apart from TikTok, they also share an Instagram account where they document their wanderlust worthy travel pictures. Therefore, if you found their TikTok account interesting, do consider following them on Instagram.
Travel TikTokers: #2. Mikki Tenazas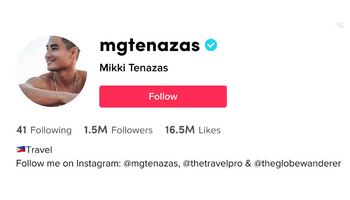 Secondly, we have Mikki Tenazas (@mgtenazas), who is one of the most popular travel influencers on TikTok.
Although he is based in the Philippines, a huge amount of his time is spent exploring exotic locations in the world.
From the almost transparent waters of the Maldives to cute cabins in the wilderness of Sweden, he has documented these ethereal experiences for his followers on TikTok.
How did he get so good at content creation? Well, he is actually the founder of the travel Instagram account, The Globe Wanderer. With 2.9 million followers on the Instagram account, it is truly a testament to the amount of effort he has put into creating travel content.
Travel TikTokers: #3. Alex
Thirdly, we have Alex (@Alexpreview), who is an influencer who hails from Germany.
If you take a look at a few of his wonderful travel clips, your jaw might just drop. After all, many of the places that he has visited seem so luxurious. From personal infinity pools to breakfast by the beach, he has enjoyed many of these experiences on his travels.
With 1.2 million followers and close to 20 million likes, he has a rather large audience subscribing to his TikTok videos. It does not come as a surprise. After all, his travel experiences are so unique and luxurious. In one of his TikTok videos, he showcases Venice's most exclusive suites.
If you have money to spare, his TikTok account would certainly provide valuable information to inspire your next holiday. Even if you are unable to afford the same lifestyle, it is certainly worth it to check out his videos to see how luxury travelling is like.
Travel TikTokers: #4. Eric Damier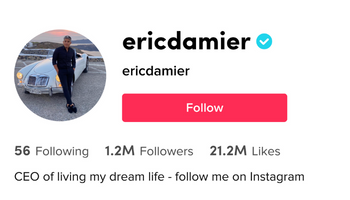 Fourthly, we have Eric Damier (@ericdamier), who is based in Los Angeles, USA. That being said, he spends a lot of time outside of Los Angeles.
Like many of the travel influencers on this list, he has visited all sorts of exotic places in the world. For instance, his recent trip to Dubai saw him visiting the deepest pool in the world.
Other interesting experiences that he has generously shared with his followers include living in a hotel 40 feet under the sea. From scuba diving with monkeys to Bungee jumps, his travels are not for the faint-hearted.
However, thanks to his TikTok account, we can all live vicariously by watching the amazing travel videos that he uploads.
Travel TikTokers: #5. Katya Cortés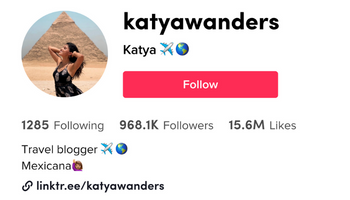 Next up, we have Katya Cortés (@katyawanders), who is a travel and lifestyle influencer from Mexico.
Katya might only be in her early twenties. However, she has built quite a following on TikTok by documenting her amazing trips.
Many travel influencers travel in pairs or groups. However, for Katya, she enjoys going on Solo trips. From Paris to Barcelona, she visited quite a few countries in 2021.
Despite being a solo traveller, she still manages to take such wonderful videos of the location she is in. Indeed, she certainly shows us that it is possible to travel alone and yet have fun.
Travel TikTokers: #6. Nicole Sunderland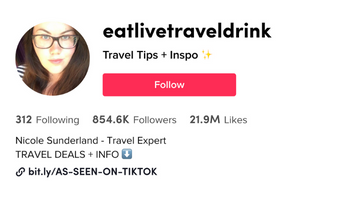 Moving on, we have another female travel influencer, Nicole Sunderland (@eatlivetraveldrink). Like Katya, Nicole also has her fair share of solo travel trips.
How did she become a travel influencer? Well, her educational background was actually in law, criminology and business. Indeed, with such a diverse educational background, she could have done just about anything.
However, due to her passion for travelling, she decided to become a travel influencer. Today, she has 854K followers and more than 20 million likes on her TikTok account. On top of her TikTok account, she is also active on other social platforms and her blog. If you are interested in her adventures and want to find some hidden travel tips for solo travellers, do check out her social media platforms.
Travel TikTokers: #7. Nathan Sawaya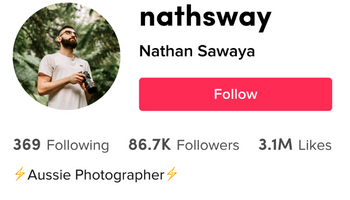 Lastly, we have Nathan Sawaya (@nathsway), who is a photographer based in Australia. Unfortunately, with travel restrictions, global travel has been difficult for Australians. However, Nathan has made the most of his time by documenting the wonders of nature in Australia.
From geological landmarks to architectural wonders, Nathan has managed to showcase how beautiful Australia is, on his TikTok account.
If you are heading to Australia for a holiday, Nathan's account is certainly one that you must check out.
Conclusion
As we await with bated breath the opening of borders, these 7 travel influencers are a great way to relieve us of our wanderlust!
Sources
thewhalemag, tiktok-travel-influencers-of-the-lovers-passport/
holidayswithkids, tiktok-travel-influencers/