You might think that influencer marketing is as easy as approaching influencers to get them to speak about your brand. While this is not wrong, influencer marketing is much more than that. There is a lot of work that goes into the process of influencer marketing. Firstly, you have to select the best fit influencer. Then you move on to the planning of content, and the list goes on.
The first step to influencer marketing would start with the influencers. They are the medium between your brand and your target audience. Therefore, you should always carefully select the influencers you wish to work with, If you looking for influencers to work with or to follow on social media, you can check out these 8 top indian influencers on our list!
Indian influencers: #1. Aarti Olivia Dubey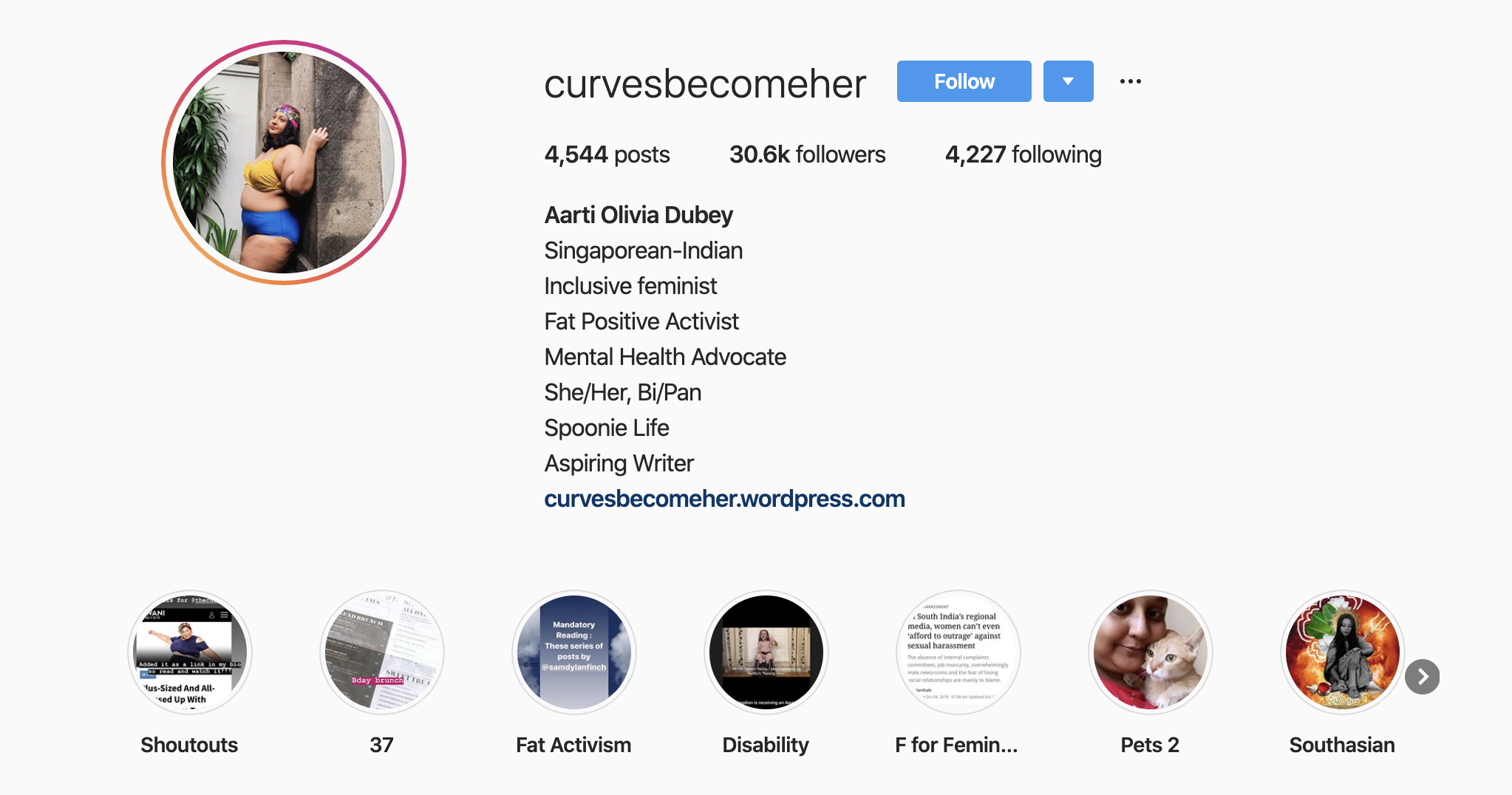 Firstly, on our list of top indian influencers we have Aarti Olivia Dubey (@curvesbecomeher). This influencer is recognised for many things, one of them being her motivational message about body positivity.
She has also posed for Cleo magazine for a body positive bikini shot. Upon posting the pictures of the shot on Instagram, the pictures were deleted without an explanation by the social media platform.
Following the incident, Dubey used her platform to call Instagram out for removing her pictures. She is thus known as the 'Indian-Singaporean fashion blogger who took on Instagram and won'. Kudos to her for spreading important messages to the Instagram community!
If you are interested in reading about her journey, you can also check out her blog (curvesbecomeher), where she talks about the latest fashion trends, her interests and documents her life in words and pictures.
Indian influencers: #2.Pretti Nair

This indian influencer needs no introduction. Known for her sense of humour and passion for content creation, Pretti Nair (@prettipls) certainly deserves to be amongst the top indian influencers in Singapore.
You might have read about her response to the e-pay incident, where she made a song to encourage discussion about that incident. However, did you know that she has many other talents too? Her YouTube channel features videos of different genres. If you are interested in the content she creates, heed over to her channel to watch her makeup and music videos.
Indian influencers: #3. Eswari Gunasagar

Thirdly, we have Eswari Gunasagar (@esh_wari). You can consider this influencer to be a macro influencer as she has 106K followers on Instagram.
She is known for her roles in local television series, Tanglin and Vetri, where she has showcased her versatility as an actress.
Apart from being a successful actress, she has also co-founded the organisation Haus Of Green just this year. We certainly wonder how she balances her regular updates on social media with her acting career and on top of all of that her business organisation!
Indian influencers: #4. Indra Chandran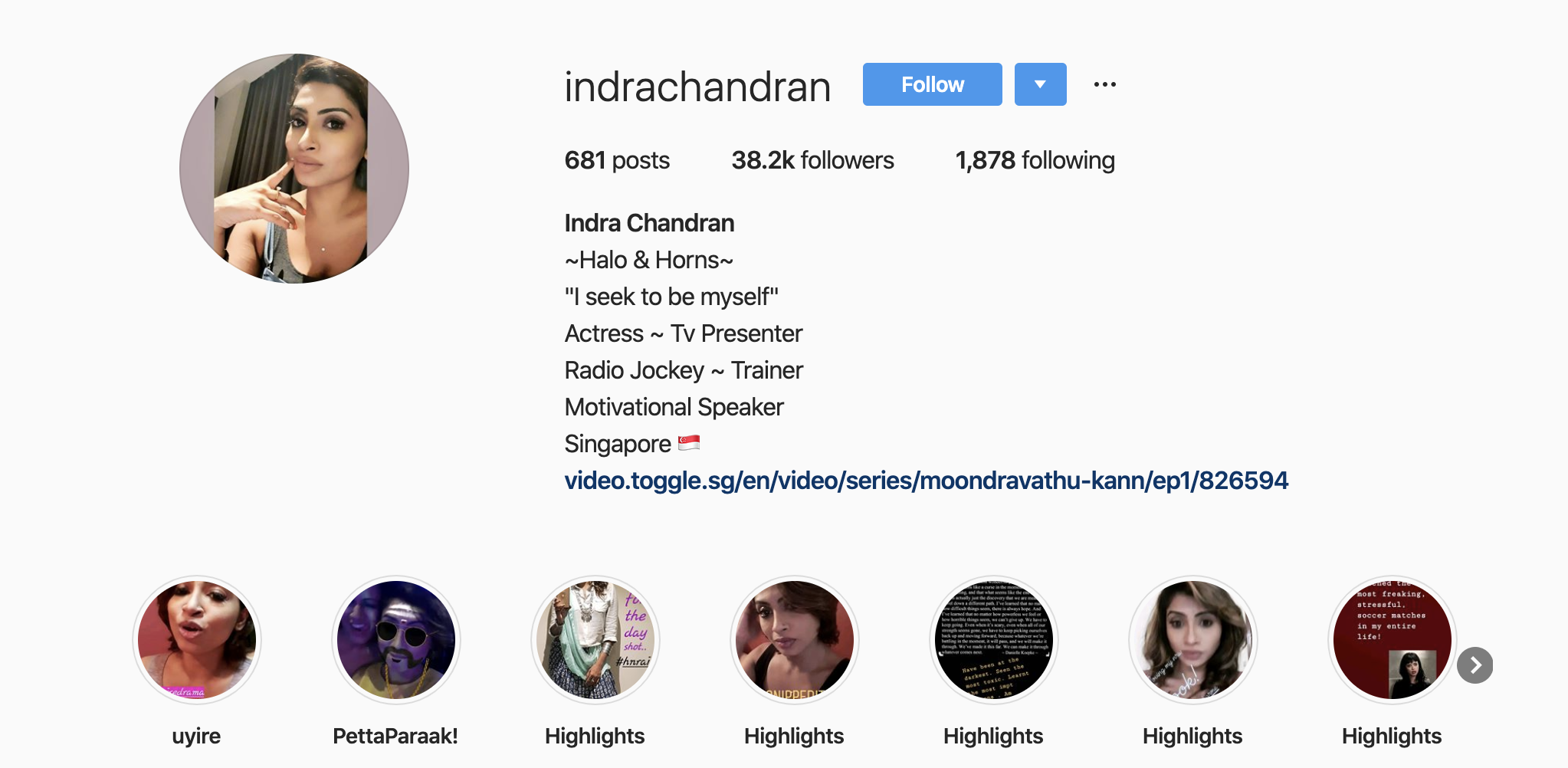 Next up on our list is another actress, Indra Chandran (@indrachandran). Just like Eswari, Indra has proved to be a woman of many talents. Her Instagram bio lists the many talents she has.
From being a radio jockey to a motivational speaker, her strong portfolio certainly accounts for the success she is seeing now. Do check out her Instagram to follow her through her everyday life!
Indian influencers: #5. Magalakshmi Sudarsanan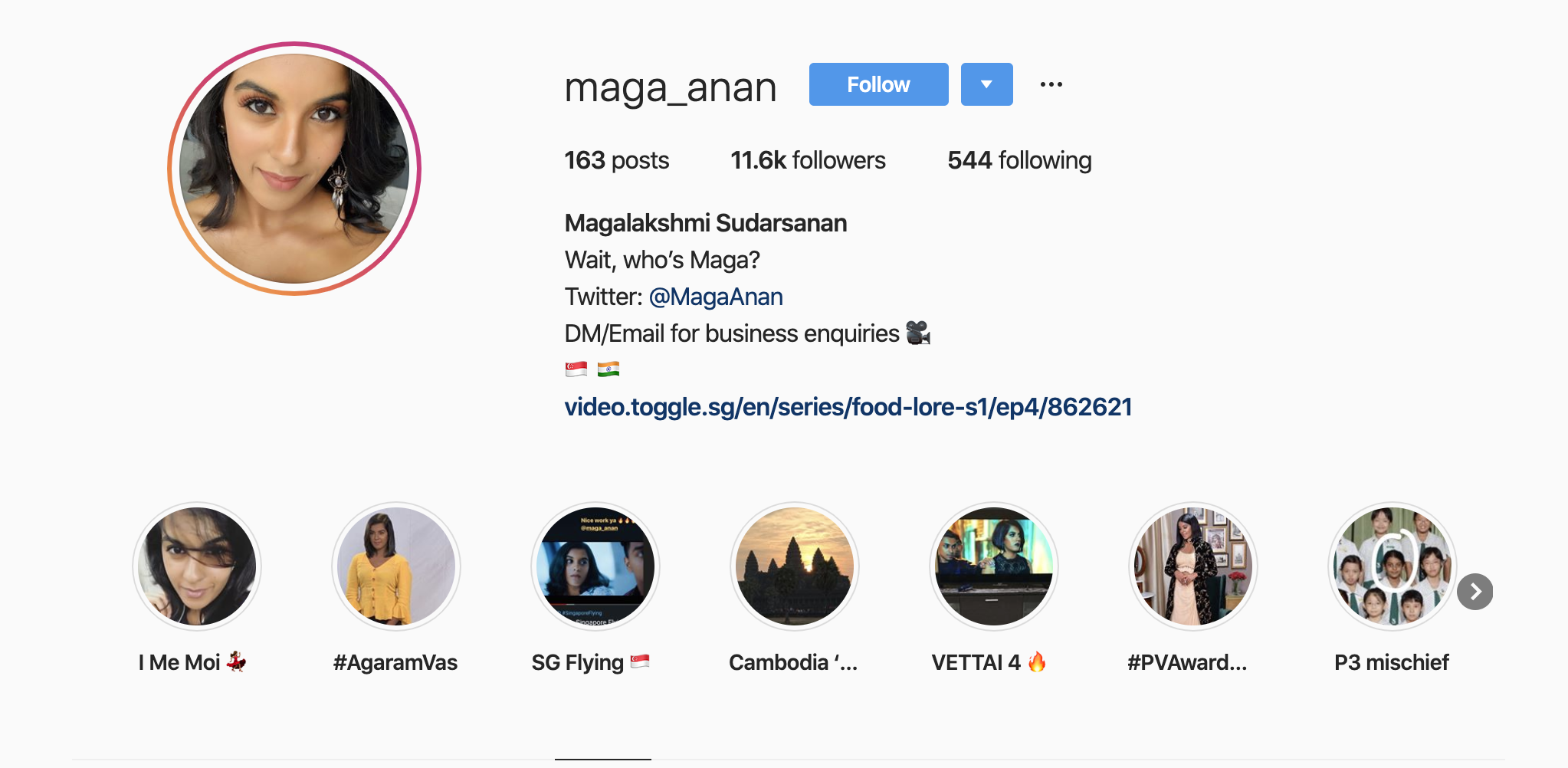 Magalakshmi Sudarsanan (@maga_anan) is known for winning the talent show, Thedal 2016 at the young age of 19. She has since built quite a name for herself, amassing 11.6K followers on Instagram.
If you are interested in knowing about her latest works, do check our her Instagram where she regularly updates with short clips!
Indian influencers: #6. Aakarshana Saravanan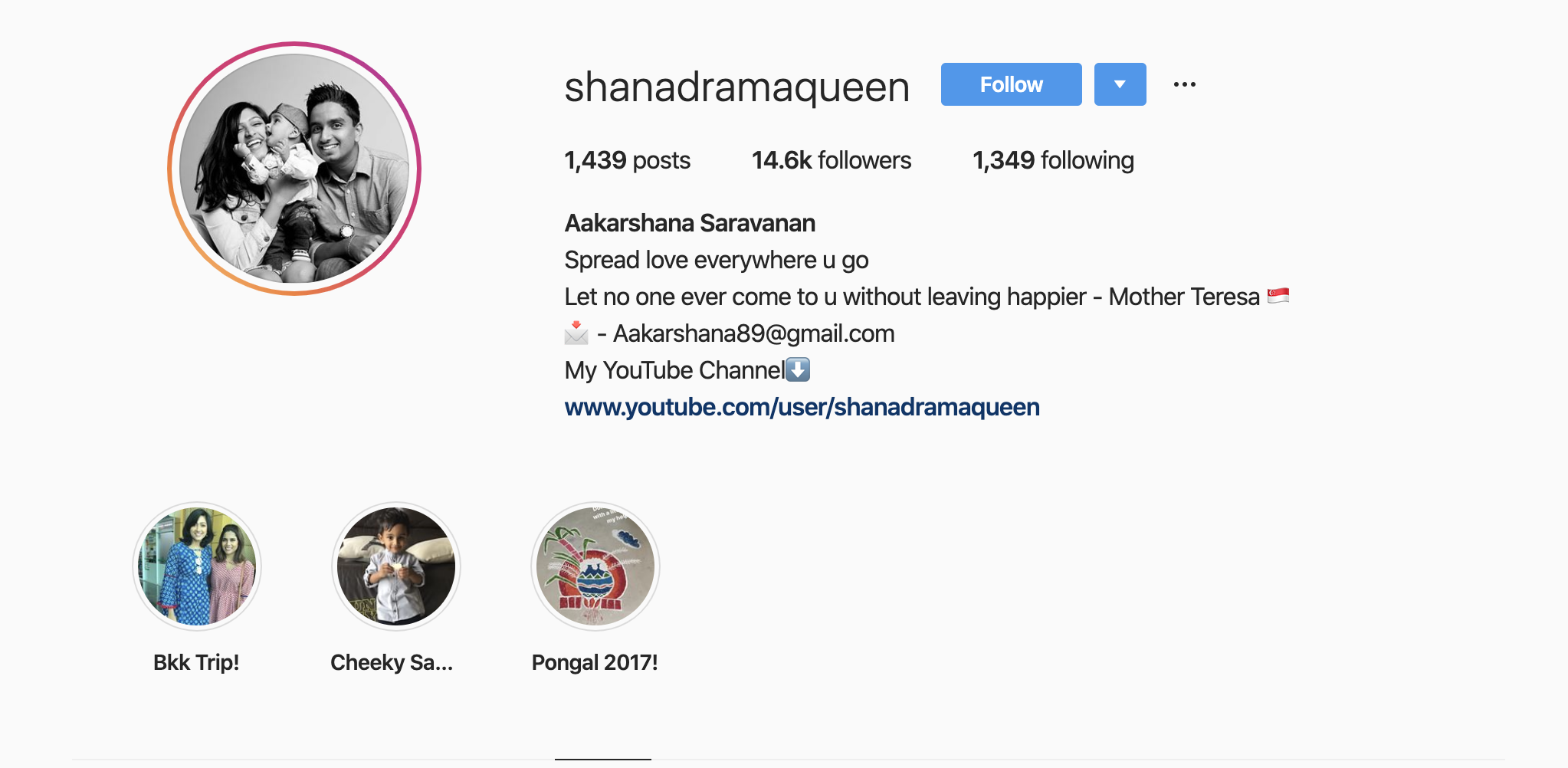 Aakarshana Saravanan (@shanadramaqueen) is a popular fashion influencer among the local community. A quick scroll of her Instagram would provide you with all the beauty inspiration needed. Her social media account features beautiful images of saris. This is for those of you who are interested in how she achieves her flawless looks! She often shares important beauty tips on her Instagram TV. Therefore, do check her Instagram account out!
A few of her more popular videos would include her 'Basic everyday skincare' and her 'Natural glam makeup' where she shows on camera her personal tips and tricks.
Indian influencers: #7. Raghadeepan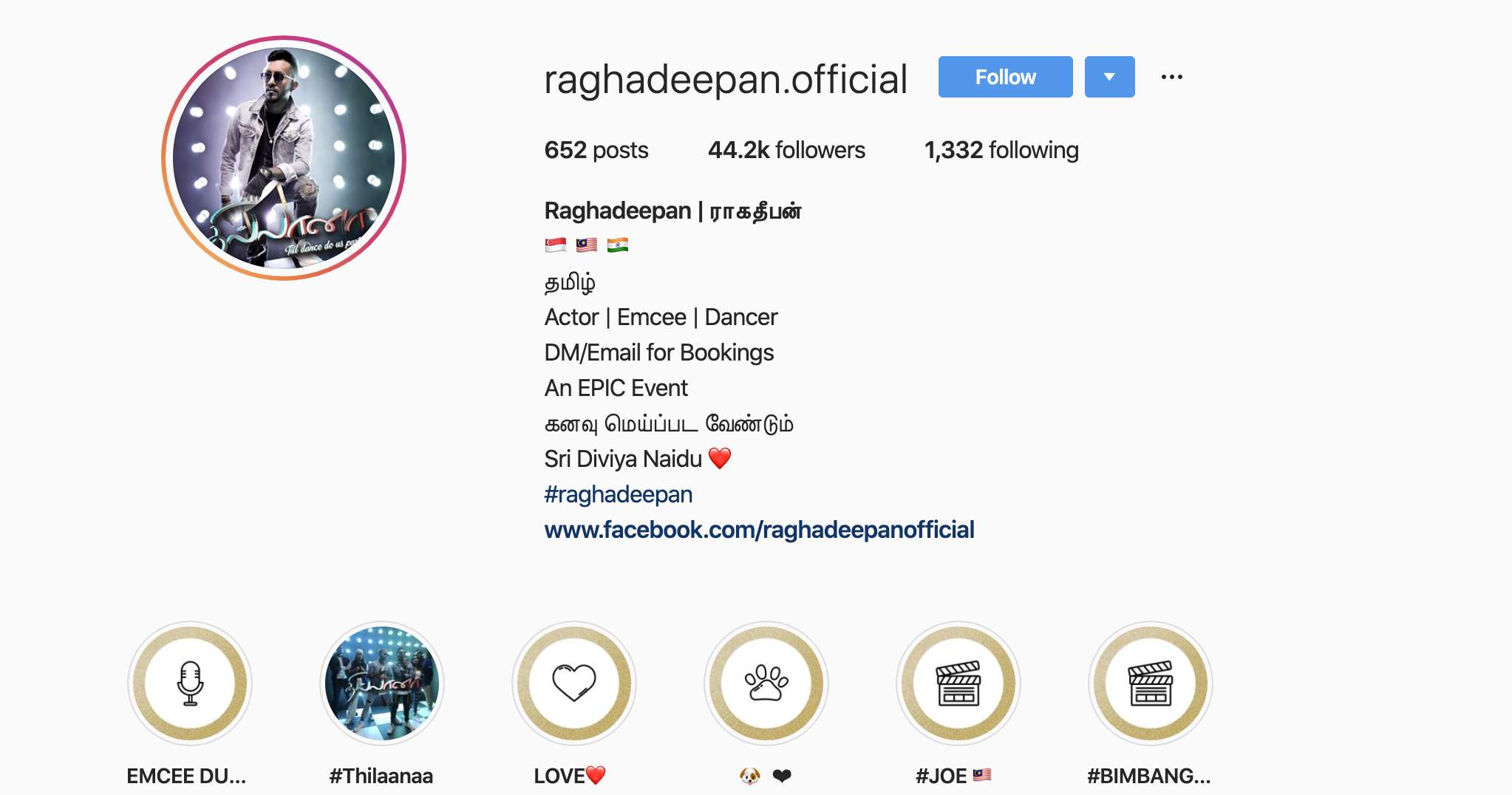 Like many others on our top indian influencers list, Raghadeepan (@raghadeepan.official) is an actor that has a list of works under his belt.
His Instagram bio also indicates his past experiences as a dancer and in emcee-ing. His Instagram often features his delightful family along with his updates about his latest works. Raghadeepan's inspiring work in the entertainment industry has won him a total of 44K (and counting) followers on instagram.
Indian influencers: #8. Malene Thani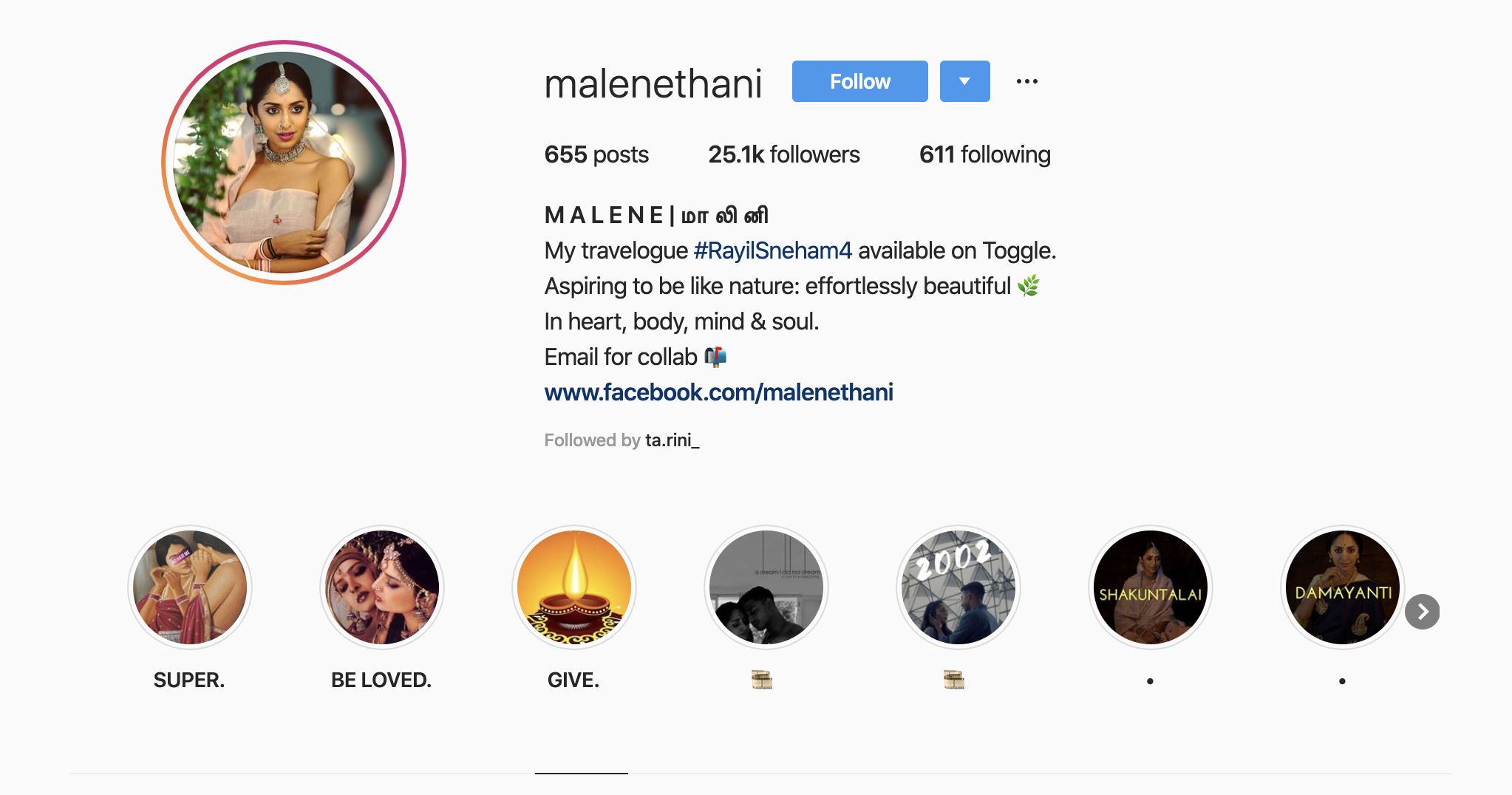 Lastly, we have Malene Thani (@malenethani) who is an influencer as well as a TV personality. Her social media accounts feature her appearances on programmes. It also features breathtaking pictures of her in elegant looking outfits.
To add on, you will be delighted to hear that Malene has a travelogue on toggle about her adventures all over the globe. (especially for travel lovers!)
Conclusion
There you have it, our list of some of the top indian influencers! Although this list might not include every indian influencer, we think that these 8 top indian influencers are great! Thus, meaning that they are certainly worth a follow!
If you are interested in learning more about influencer marketing, do click here. There are also related articles that showcases some of the top influencers in each respective category.
Sources
sbs.com.au, topics, voices culture article 2016/06/09 meet indian singaporean fashion blogger who took instagram and won
Todayonline.com, entertainment television new vasantham star born
*The respective pictures in this article do not belong to Kobe Global Technologies