In the spirit of Mother's Day, we will be sharing about 5 amazing mom influencers on TikTok.
TikTok is known to be the platform for the younger generation. From trendy challenges to viral videos, it may appear to be a rather Gen Z oriented platform. However, there are many mom influencers on TikTok as well. These Mom influencers have mastered the art of short-form content creation.
Whether you are looking for parenting tips or a lighthearted comedic video, there is certainly a mom influencer on this list which caters to your viewing preferences.
Mom TikTokers: #1. Naomi Neo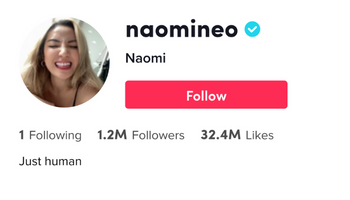 Firstly, we have Naomi Neo (@naomineo), who is one of the trendiest mom influencers in Singapore.
You may find it impressive that Naomi has amassed 1.2 million followers on TikTok. However, she has many other achievements under her belt. For instance, her career actually started back when she was a teenager, where she achieved attention for her blog posts.
Over the years, Naomi has established a presence for herself on multiple social platforms. From Instagram to YouTube, she developed a knack for different types of content creation. Apart from social media, she is also an entrepreneur, producing products that range from hair accessories to supplements.
On her TikTok account, she often posts videos featuring her two adorable toddlers. For instance, Naomi recorded the reaction of her firstborn, Kyzo, in the viral poop prank challenge, where parents of TikTok pranked their children with fake poop. If you are interested to see how her son reacted, do check out her TikTok account.
Mom TikTokers: #2. Chriselle Lim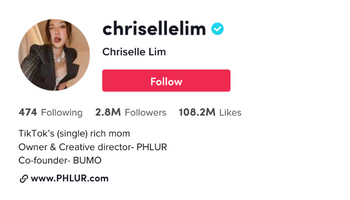 Secondly, we have Chriselle Lim (@chrisellelim), who is another successful Mom TikToker with a knack for content creation.
As seen from her TikTok bio, she is known for being the "rich mom". Such a nickname is no wonder as she does have a talent when it comes to styling designer pieces. From streetwear brands to vintage designer items, Chriselle can be seen incorporating all types of amazing pieces into her day to day outfits.
As you may be able to tell, Chriselle's TikTok account has a huge focus on fashion. However, apart from fashion, she is also a mother of two. Despite juggling motherhood and her career, Chriselle nevertheless manages to produce top-notch content for her different social media platforms.
Her TikTok videos often contain styling tips and inspiration. Whether you are looking for the appropriate outfit for a party or a simple yet chic outfit to pick your kids up from school, Chriselle seems to have an outfit for all kinds of occasions.
Mom TikTokers: #3. Danni Harvey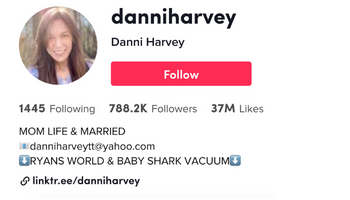 Thirdly, we have Danni Harvey (@danniharvey), who is a mom influencer.
While social media may be deemed to be fake and artificial by some, Danni certainly shows that social media can be as real as possible. Apart from funny challenges and cute moments that she spends with her family, she also posts about the difficulties of motherhood.
In one of her videos, she can be seen, sitting in a car, ranting about a particularly terrible incident where she faced some parenting difficulties. Indeed, we all can agree that parenthood is not easy, and many of us can certainly relate to how she feels at that point in time.
The fact that Danni has courageously posted such raw footage explains her popularity on TikTok. While keeping content creation fun, she has also managed to keep it authentic. Thus, if you are looking for such unedited, authentic videos, do check out Danni's TikTok account.
Mom TikTokers: #4. Gwenna Laithland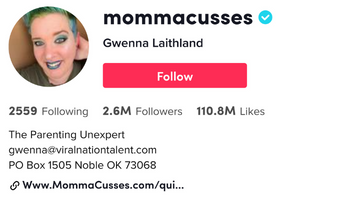 Fourthly, we have Gwenna Laithland (@mommacusses), who has 2.5 million followers on TikTok.
On her TikTok account, she creates a range of parenting-related content. From hilarious videos where she enacts how her teenagers act to gentle parenting videos, she consistently creates great content that most parents would likely relate to.
Apart from being active on her TikTok account, Gwenna is also the owner of the blog Momma Cusses. Her blog houses a wide array of content ranging from personal experiences to recipes and parenting tips.
Apart from being a great content creator, she is also known for her iconic neon green hair. Along with the green theme she has done makeup looks with the same concept. For instance, one of her more popular videos includes her makeup video, where she showcased her green makeup look with the song "Circus" by Britney Spears.
Mom TikTokers: #5. Bonnie Lee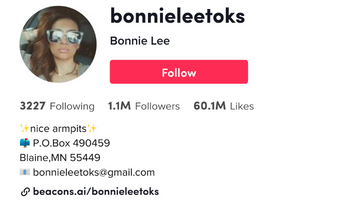 Lastly, we have Bonnie Lee (@bonnieleetoks), who is the epitome of a fun and trendy mom.
She has all sorts of comedic videos on her TikTok account. For instance, she has used clips from the recent Johnny Depp v Amber Heard trial to create comedic stitches on TikTok.
Other types of comedic videos include her skits. In one of her videos, she showcases a comedic skit about how a Latina woman acts when they see a woman's name on their husband's phone.
If you are looking for some hilarious TikTok content, do check out Bonnie's TikTok account.
Conclusion
In a nutshell, motherhood is a unique experience for everyone. However, if you are looking for some parenting tips, or just want to look at content that you may find relatable, do check out these 5 mom influencers who have generously shared their parenthood experiences online.
Sources
Theeverymom, moms-to-follow-on-tiktok