Malaysia is known for being a food paradise. There is a wide variety of food options available ranging from Nasi Goreng to Penang Laksa. Apart from the international acclaim that the traditional dishes have received, Malaysia also has a good variety of other cuisines.
If you are thinking of visiting our neighbouring country for a short holiday with the opening of the Singapore-Malaysia borders, this list is made for you. Today's article introduces 5 Malaysia influencers who have dedicated their time to documenting the diversity of food options available in Malaysia. Whether you are looking for restaurant or hawker food, you will be able to find the content that you need from these 5 Malaysia influencers.
Malaysian Food influencers: #1. Samantha Lee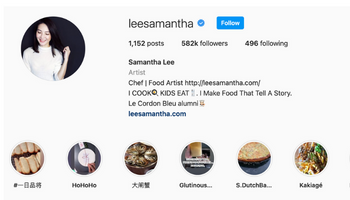 Firstly, we have Samantha Lee (@leesamantha), who is a Malaysian influencer that has dedicated her life to the art of refining palates.
Being a food influencer generally means posting content related to food, be it in the form of photos, videos or blog posts. However, Samantha goes one step further as she was trained at Le Cordon Bleu, the world-renowned culinary school. Thus, apart from reviewing food made by others, she often documents her own creations on her Instagram account.
From pictures of aesthetically pleasing chocolate tarts to tutorial videos of baking Mongolian Butter Cookies, Samantha's Instagram is akin to her food diary, where she regularly posts pictures of her bakes.
Apart from her own cooking videos, she also has other food-related content. If you are interested in what a food connoisseur enjoys eating, do check out her Instagram account where your eyes will be treated to a feast.
Malaysian Food influencers: #2. Johor Foodie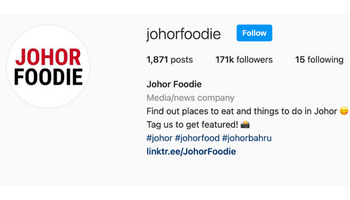 Secondly, we have Johor Foodie (@johorfoodie), an account dedicated to places to eat and things to do in Johor.
With the opening of the Causeway and Tuas borders, many Singaporean are looking to enter Johor for a getaway. The most important aspect of any holiday is arguably the new and unique food that one gets to explore in a different country. This account is perfect if you planning your Johor weekend trip.
Are you looking for traditional Malaysian snacks? Or unique cafes? Or street food? Regardless of your personal taste and preferences, this account has something to recommend.
Of course, apart from Malaysian food, there is a wide range of cuisine to try out in Johor. From Korean barbecue to Thai Boat noodles, there are many types of international cuisine available in Johor.
Aside from food, an enjoyable trip is one filled with interesting activities. If you are looking for new places to explore in Johor, do check out Johor Foodie's Instagram account or their website for more information.
Malaysian Food influencers: #3. Vkeong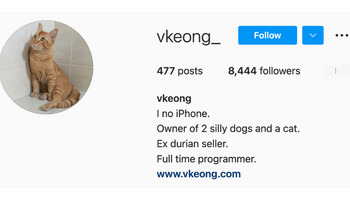 Thirdly, we have (@vkeong_), who is a Malaysian food influencer based in Kuala Lumpur.
While this Instagram account may not be one of those accounts with millions of subscribers, this account keeps it simple and authentic. As humorously put across by the "I no iPhone" IG Bio, the account's pictures may not be taken professionally. However, the picture nevertheless encapsulates the most authentic dining experiences for its followers.
What type of food can you commonly find on Vkeong's account? Well, that question cannot be answered as there is a wide variety of food on the account. From Mcdonald Malaysia's new menu to Yong Tau Fu, there is a good range of options for one to pick from.
Thus, if you are thinking of visiting Kuala Lumpur, Vkeong's Instagram account is a must-see. The hidden food gems of the city can certainly be found on his account
Malaysian Food influencers: #4. Penang Foodie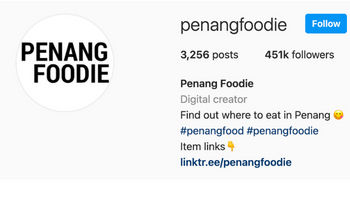 Fourthly, we have Penang Foodie (@​​penangfoodie), an account dedicated to showcasing the best food options available in Penang.
One of the reasons accounting for Penang's popularity amongst tourists is its strong hawker food culture. However, apart from the renowned Penang Laksa, there are many other food options to try out in Penang.
This Instagram account, as you have probably guessed from its name, has content of all types of interesting food gems found in Penang. From farm cafes to Tri-flavoured wanton mee, Penang Foodie has managed to document many unique dining experiences on the Instagram account.
Therefore, if you are heading to Penang, do check out Penang Foodie to discover the wide variety of international cuisine that can be found in Penang.
Malaysian Food influencers: #5. Kar Yeong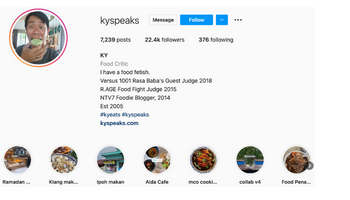 Lastly, we have Kar Yeong (@kyspeaks), who is a Malaysian influencer based in Kuala Lumpur.
While food influencers generally post a wide variety of food, there are some influencers who choose to focus their content on a specific category of food. In the case of Kar Yeong, he has dedicated his Instagram account to discover the local flavours of Malaysia.
From Nasi Lemak to Maggie Goreng, he never fails to deliver a range of mouth-watering dishes.
Of course, although he is based in Kuala Lumpur, he often reviews food from other parts of Malaysia. For instance, in his recent postings, he has talked about food from Ipoh and Penang respectively. Thus, if you are travelling to Malaysia and looking for some authentic local food, do check out Kar Yeong's Instagram account.
Conclusion
With the plethora of food options available in Malaysia, consumers are often spoilt for choice. However, thanks to these 5 Malaysian influencers sourcing the best food options becomes fuss-free. Do check out these accounts for some honest food reviews.
Sources
Discoverkl, 2016/08/25/malaysian-food-instagram/
Feature image from https://www.woodenearth.com/collections/wooden-cutlery