In a study conducted by the iPrice Group just last year, TikTok emerged as the No. 1 downloaded entertainment app in the Philippines. Indeed, the platform of 1 billion monthly active users has gained quite a staunch following in the Philippines.
A huge part of the platform's success is due to the Filipino influencers on the platform. These influencers, also known as Filipino TikTokers, create content that enhances the user experience of TikTok users. Today's article talks about 7 Filipino influencers that have been highly successful in TikTok content creation. From beauty, lifestyle to comedy and personal finance videos, this list features a wide range of Filipino influencers.
Filipino TikTokers: #1. Rain Matienzo
Firstly, we have Rain Matienzo (@rainmatienzo), who is only 21 but has managed to attain quite a big following on various social media platforms. With over 100K followers and close to 5 million likes, Rain, like many of her Gen Z counterparts, has successfully navigated the world of TikTok.
Rain has gained popularity with humorous videos on Tiktok. Some of her more popular videos include POV videos and conyo impressions. Conyo refers to a language which is a combination of English and Tagalog. With her comedic take on Conyo impressions, Rain has won the attention of many on TikTok.
Filipino TikTokers: #2. Jamiko Allan Sabbun Manguba (JMKO Music)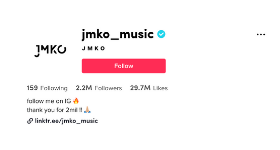 Secondly, we have Jamiko Manguba (@jmko_music), more popularly known as JMKO Music. In the words of Johnny Depp, "Music touches us emotionally, where words alone can't." Indeed, the music-related content JMKO creates has won the hearts of many on TikTok – as seen from his 2.2 million followers and 29.7 million likes on the platform.
Apart from his original songs, JMKO also does covers of songs as well as popular TikTok challenges. For instance, he recently posted a video of him singing the chorus of the ABBA hit song, Dancing Queen, in a single breath.
Filipino TikTokers: #3. Yani Moya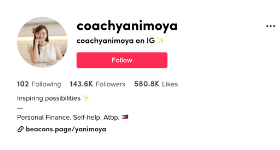 Thirdly, we have (@coachyanimoya), who is a financial influencer on TikTok.
Many of you might think that TikTok is a great platform for comical videos and viral challenges. However, in the midst of unwinding on the platform, TikTok is also a platform for informative content. Influencers like Yani Moya are examples of how this is true.
Yani Moya and her financial content have been very popular among the TikTok community. With over 100K followers and half a million likes, Yani Moya has established herself as a financial guru on the platform. Financial literacy is made manageable with influencers like her.
Yani Moya's content covers a wide range of topics. For example, she often talks about budgeting, managing personal finances as well as the very necessary emergency fund. These topics are especially important for young adults who have just started earning their own keep.
Therefore if you are hoping to educate yourself while scrolling through TikTok, do follow her account for the latest financial tips and advice.
Filipino TikTokers: #4. Bella Poarch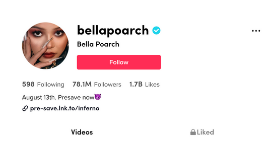 Fourthly, we have Bella Poarch (@bellapoarch), who is a Filipino-American social media influencer and musician.
Bella currently has 78.1 million followers on TikTok and close to 2 billion likes. If you are a TikTok user, you might have seen her viral video, where she can be seen lip-syncing to Millie B's M to the B song. The 2020 video, quickly became the most liked video on the platform. Currently, it has more than 50 million likes – a formidable feat for a Tiktoker.
Additionally, Bella is also known for her hit debut single, Build a B*tch. Therefore, if you are a fan of her music, do check out her TikTok account.
Filipino TikTokers: #5. Felix Petate (Sassa Gurl)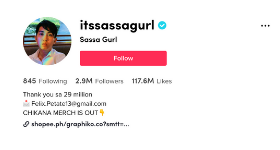 Moving on, we have Felix Petate (@itssassagurl), more popularly known as sassa gurl on the internet.
If you are in the mood for comedic content, Sassa Gurl is the Tiktoker that will be perfect for you. From humorous skits to social commentary videos, Sassa Gurl is has mastered the art of content creation on TikTok.
If you are a fan, do also support Sassa Gurl's merchandise, the link to which can be found on Sassa Gurl's TikTok bio.
Filipino TikTokers: #6. Alonzo Raphael Elequin (Ali King)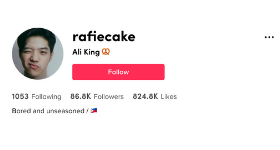 Next up, we have Alonzo Raphael Elequin (@rafiecake), more popularly known as Ali King.
If you find him familiar, it is no surprise. After all, he is no stranger to the public eye – being an actor, songwriter and model. He was the lead actor in the web series Boys Lockdown which was produced by Ticket2Me.
Despite his busy schedule, he still finds time to create content on TikTok. He is known for his Korean-inspired TikTok videos. Additionally, he is also a cat lover – which explain the cat-related content on his TikTok account.
Filipino TikTokers: #7. Joyce Glorioso (Joyang TV)
Lastly, we have Joyce Glorioso (@joyang.tv), also known as Joyang TV on the internet. Joyce became an internet celebrity after netizens discovered her videos where bananas can be seen hanging from the ceiling. Her viral videos gave her the reputation of being the "banana queen" on TikTok.
Apart from food-related content, Joyce also creates content that revolves around TikTok trends and dances. In fact, her unique take on TikTok dances has made her a fan favourite.
Conclusion
This list introduces 7 Filipino influencers that we think you might be interested in. Of course, this is by no means an exhaustive list. Therefore, do check out the app itself to find out more about the many other Filipino influencers who are active content creators on TikTok.
Sources
Shopback, pinoy-tiktok-accounts-to-follow