According to a Meltwater study, social media influencers take the lead over celebrities for beauty-related campaigns. This is not to say that celebrities are obsolete, but that influencer marketing is extremely important. Therefore, we have picked out 8 different influencers for you!
Top SEA influencers #1. Nhan Le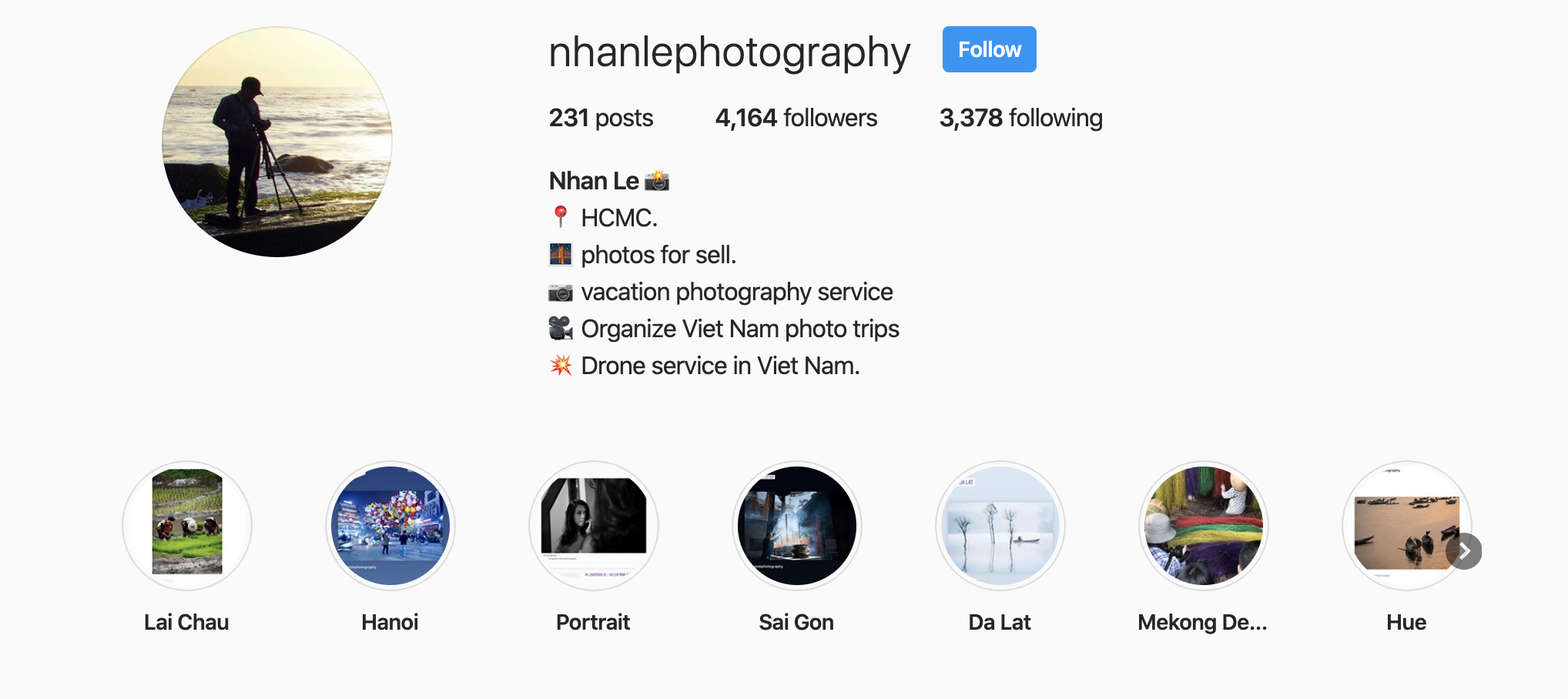 Firstly, we have Nhan Le (@nhanlephotography), who is a photographer specialising in shots at Vietnam. If you looking at Vietnam as your next travel destination, Nhan's account is a must-see as it encaptures the best of Vietnam. You might be wondering how Nhan gets his amazing shots of scenic views. Well, many of his pictures are aided by drone technology, which explains why aerial photography is no issue to him.
From scenic views to raw shots of the everyday life of the Vietnamese, Nhan's account features a good range of content for the curious!
Top SEA influencers #2. Nguyễn Hoàng Linh

Secondly, we have another Vietnamese photographer, Nguyễn Hoàng Linh (@hlinhngg). Unlike Nhan Le, this photographer specialises in scenic photography.
Nguyễn Hoàng Linh's Instagram account features all sorts of landscapes, from serene sunrises to meandering rivers, this photographer is definitely skilled at capturing the best that nature has to offer. Therefore, if you are a fan of scenic photography, do check out Nguyễn Hoàng Linh's Instagram account.
Top SEA influencers #3. Leslie Tay

Thirdly, we have a Singaporean influencer Leslie Tay (@ieatishootipost). Dr Leslie is no stranger to many Singaporeans, as his food reviews have been highly popular among food enthusiasts. With over 131K followers on Instagram alone, Dr Leslie is certainly considered a macro influencer when it comes to food recommendations.
Apart from Instagram, he is also rather active on several other social media platforms, some of them include YouTube and his website of the same name. His influence goes beyond social media platforms as he also appears in mainstream media like television programmes. Dr Leslie is regarded as one of the best when it comes to reviewing Singapore food and has appeared in numerous publications and television programs.
From local favourites like Bak Ku Teh to international cuisines like pizza, Dr Leslie's Instagram account features a wide range of food photography. Therefore, do check it out if you are looking for food recommendations or if you just simply want to treat your eyes to a feast!
Top SEA influencers #4. Nanda Arsyinta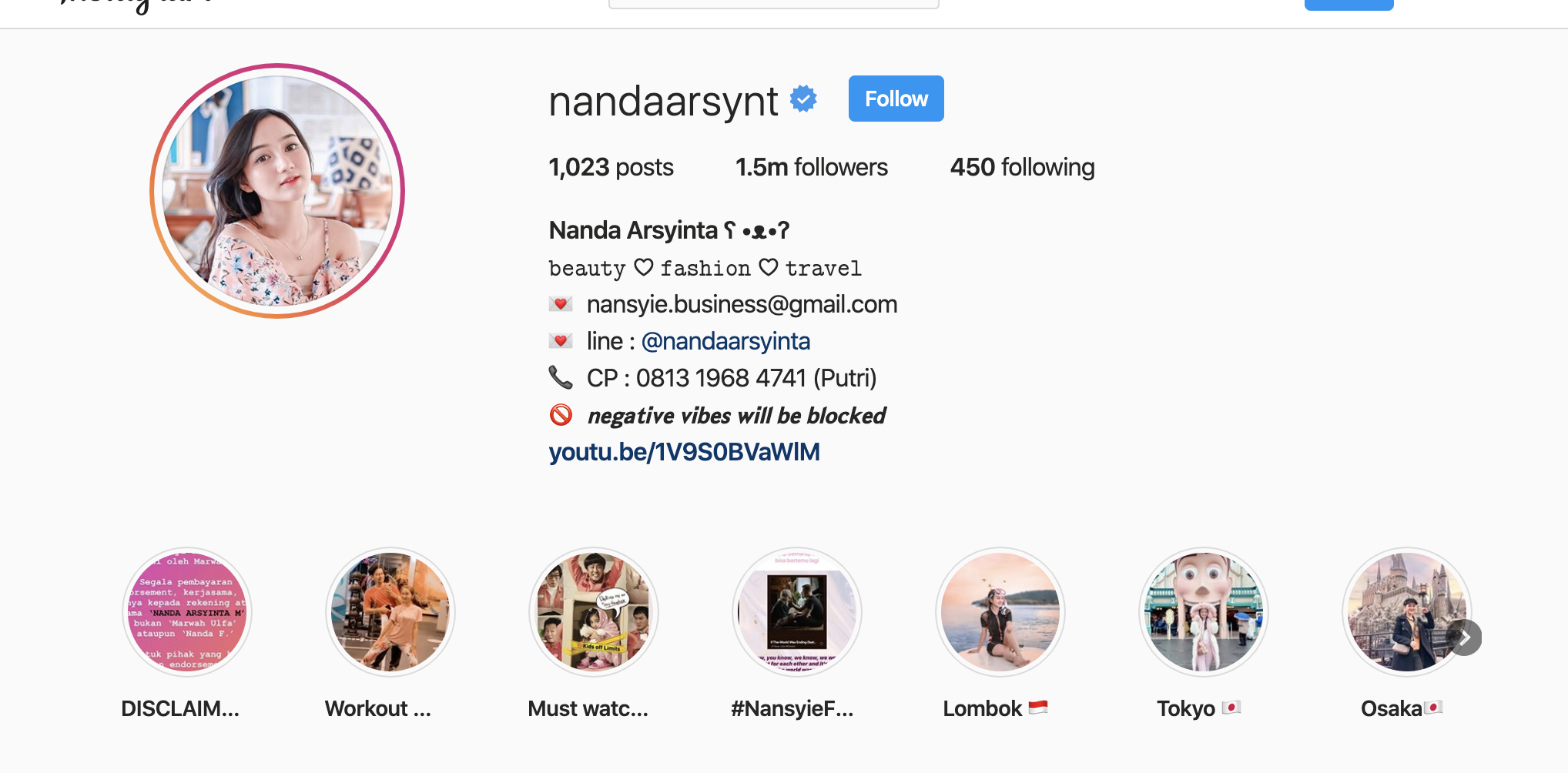 Fourthly, we have Nanda Arsyinta (@nandaarsynt), who is a fashion, beauty and travel influencer from Indonesia.
You can probably tell that she is well respected in the beauty industry, simply based on her 1.5 million followers on Instagram alone. Her content is widely popular with social media users. From Makeup routines to outfit of the day content, her Instagram has it all.
Her latest video on Instagram features her displaying how to get that "Korean glass skin" look that has been raved about in the beauty community. If you are looking for longer-form content, do check out her YouTube channel where she has a whole range of makeup tutorials and beauty tips!
Top SEA influencers #5. Abel Cantika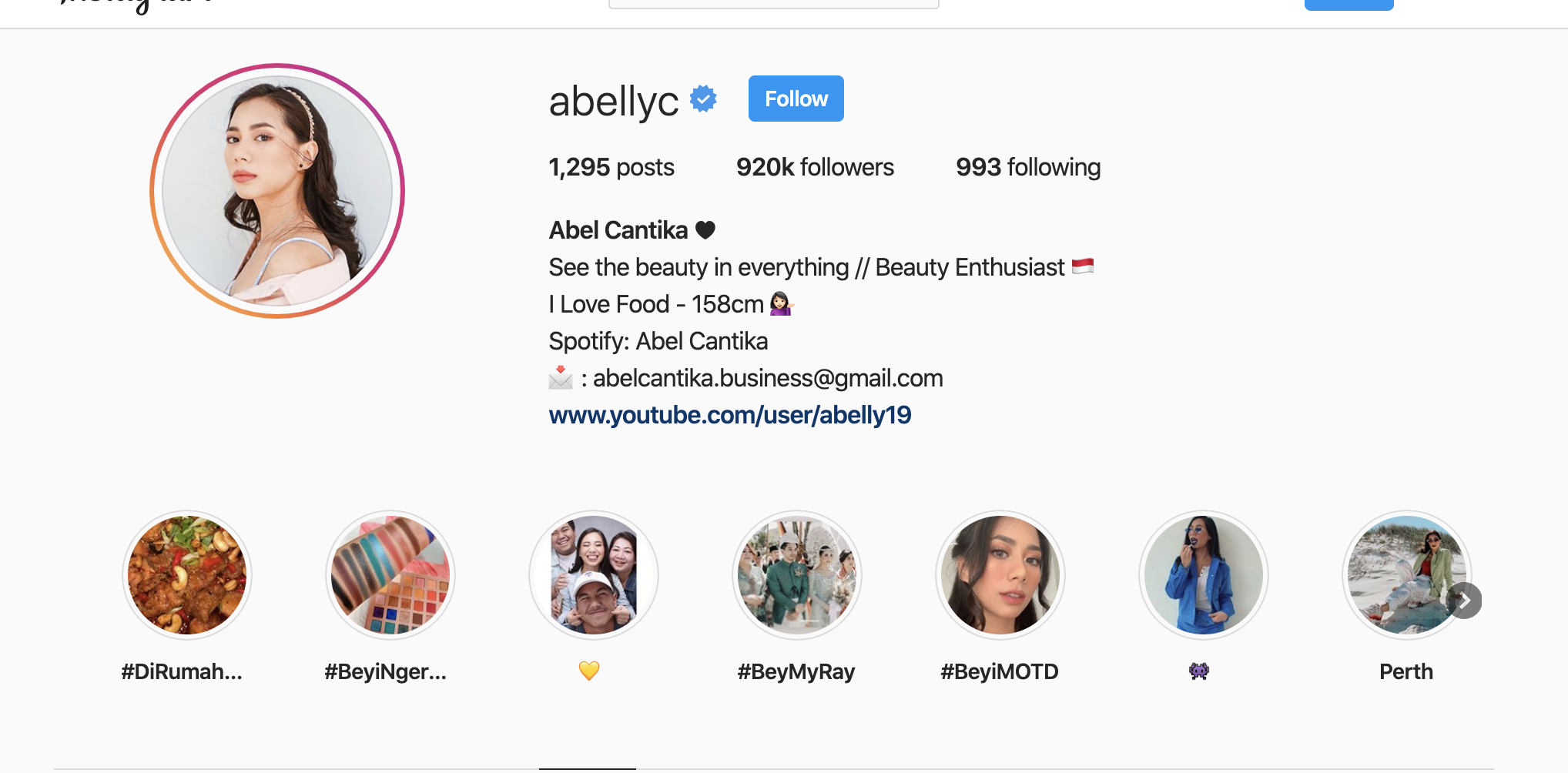 Moving on, we have Abel Cantika (@abellyc), who is a makeup and skincare influencer. Just like Nanda, Abel is also from Indonesia. She also has accumulated quite a number of followers, with over 900K on her Instagram account.
From makeup looks to beauty tutorials, Abel's Instagram account features the kind of content you would expect from a beauty influencer. However, she is also a self-proclaimed foodie, as seen from her Instagram bio. Therefore, apart from your regular beauty content, Abel also takes time to treat her followers to marvellous images of #foodporn.
Do check out her Instagram account as well as her YouTube channel for more content from this extraordinary beauty guru!
Top SEA influencers #6. Malaysia Shikin Gomez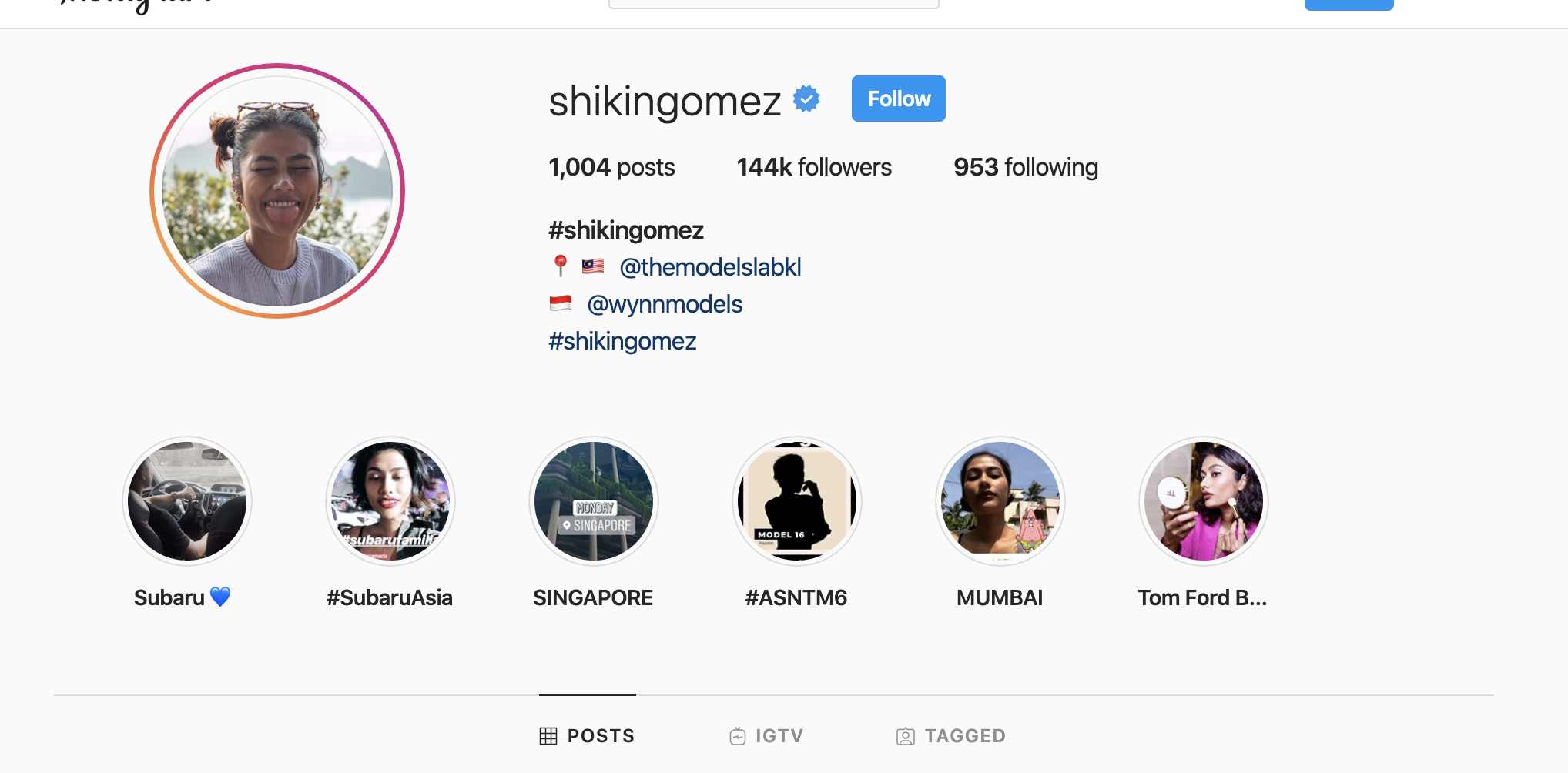 Sixth on our list requires no introduction. If you are a fan of modelling reality TV show, Asia's Next Top Model, Shikin Gomez would be no stranger to you.
Shikin took part in the 5th cycle of the modelling competition and was immediately loved by many around the globe. As the representative model of Malaysia, she went on to ace many challenges and emerged as the first runner up in the programme.
Shikin's popularity grew beyond the show. Today, she has 144K followers on her Instagram account and is often seen taking up jobs all around the globe. From modelling shots to everyday pictures, Shikin can be seen pulling off many looks on her social media accounts.
Top SEA influencers #7. Alicia Amin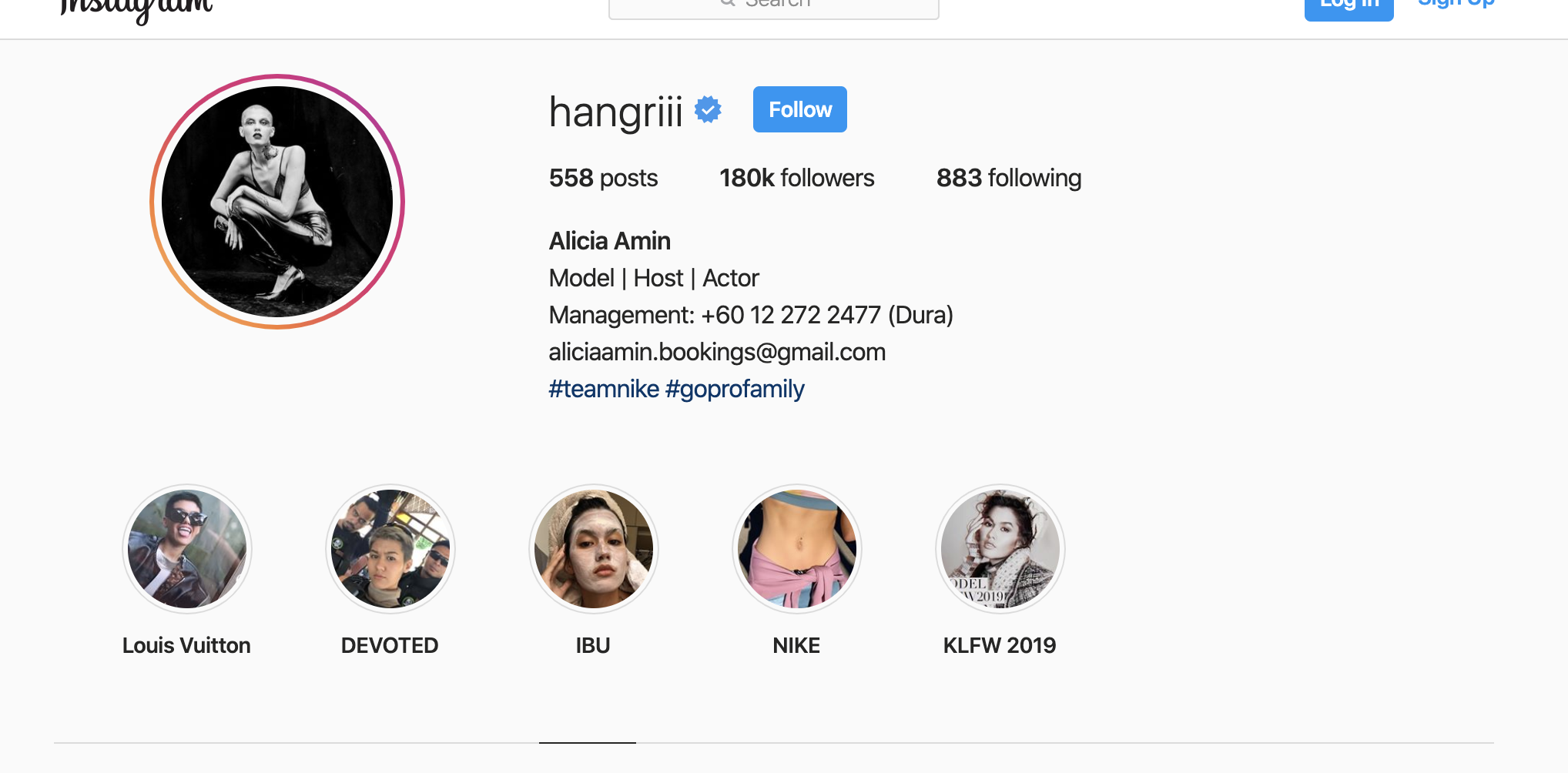 Next up, we have Alicia Amin (@hangriii). Just like Shikin, Alicia also gained widespread popularity thanks to Asia's Next Top Model. Alicia also represented Malaysia in the reality Tv programme.
You might know Alicia for her model-like body proportions and her ability to make any picture look great. However, Alicia is also very well known for using her influence to advocate great causes.
In fact, she terms herself to be an ''Advocate of Equal Opportunity', on her Facebook page as that is what she believes in.
Top SEA influencers #8. Davikah Hoorne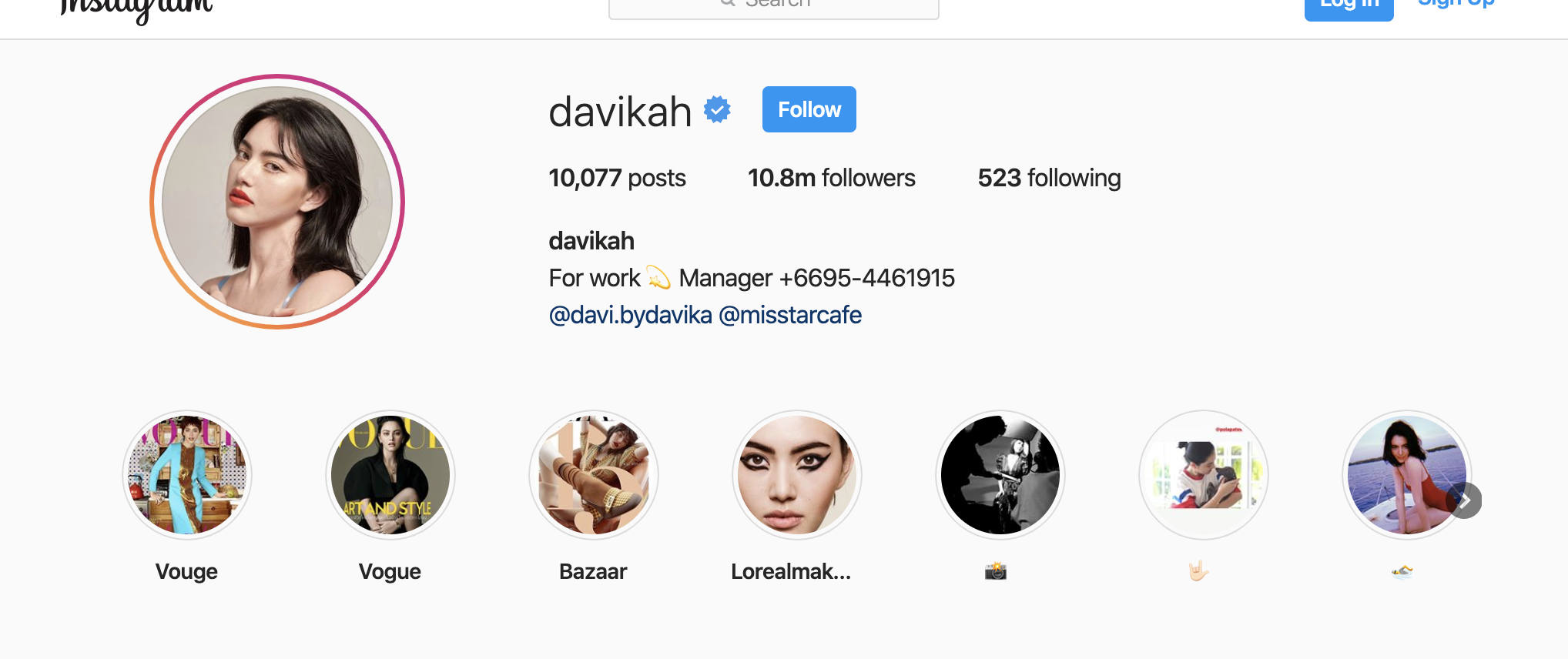 Lastly, we have Davikah Hoorne (@davikah), who is a Thai model, designer as well as an actress.
She has a whopping 10 million followers on Instagram alone. This makes her one of the most followed influencers in Thailand.
Her many talents have attracted the attention of many brands. She has thus collaborated with beauty brands like L'Oreal. To add on, she has also appeared in the covers of many magazines, Vogue being one of them.
To add on, she has also made an appearance on Dolce & Gabbana's runway show, further showing the world her gift for modelling.
Conclusion
There you have it, 8 influencers from SouthEast Asia. With that, we conclude this week's article. Happy browsing!
If you are interested in learning more about influencer marketing, do click here. There are also related articles which showcase some of the top influencers in each respective category.
*The respective pictures in this article do not belong to Kobe Global Technologies*
Sources
Vietnam.travel, things-to-do/vietnam-best-instagrammers
Myus, indonesias-top-fashion-lifestyle-bloggers-2018/
Rojakdaily, lifestyle/article/4079/top-malaysian-influencers-you-must-have-spotted-somewhere-in-2017ht
Harpersbazaar.com, celebrities/top-thai-influencers-instagram-to-follow-asap/?slide=4