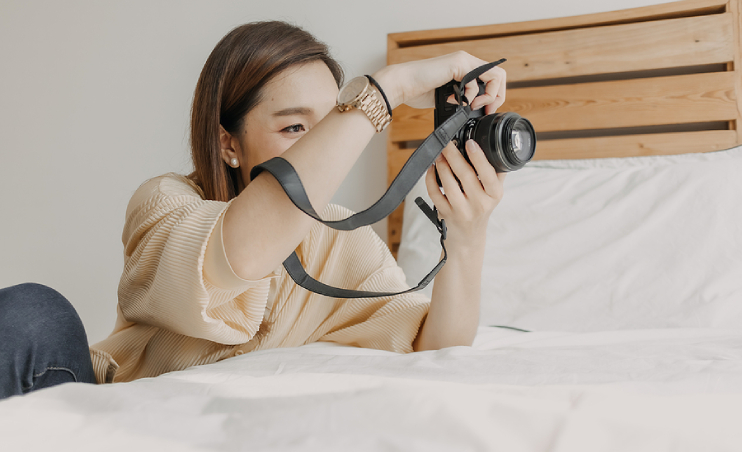 Do you have an interest in photography? If so, Instagram is the best platform to check out talented photographers that express their thoughts in beautifully composed and captured photos.
These five photography influencers demonstrate a diverse variety of skills. With a glance at each feed, you can feel their individuality shining through their work. Let us see the actual prism through which they see the world with their work of art.
Photography Influencers: #1. Simone Bramante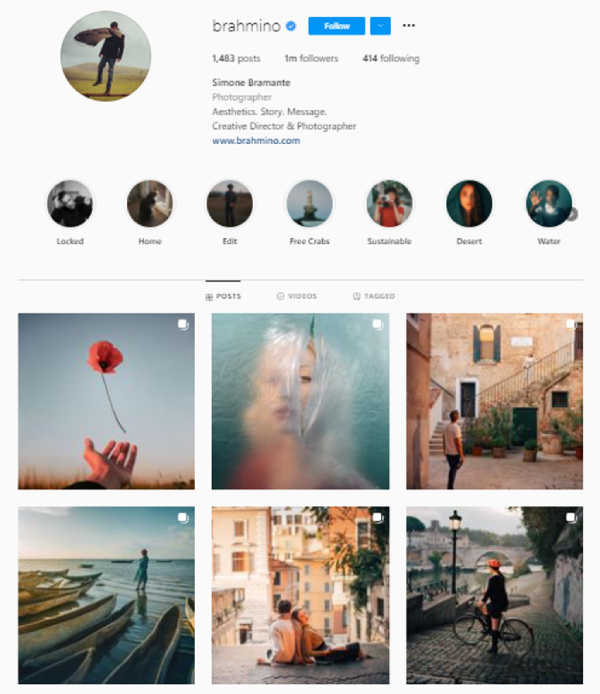 Firstly, we have Simon Bramante (@brahmino), a photographer and creative director based in Italy.
Simon is known as a visual storyteller using nature as his constant inspiration. His creativity is shown in each magical photo on his Instagram feed. Beautifully capturing each moment as if it were a fairytale story, telling one chapter to the next in a schematic pattern of colours and themes.
Each photo is a masterpiece itself, but his entire feed shows his eye for the art – from charming Italian architecture and countryside scapes to stunning portraits and scenes. Therefore, if you would like to be allured by his work, check out his Instagram profile.
Photography Influencers: #2. Linda Lomelino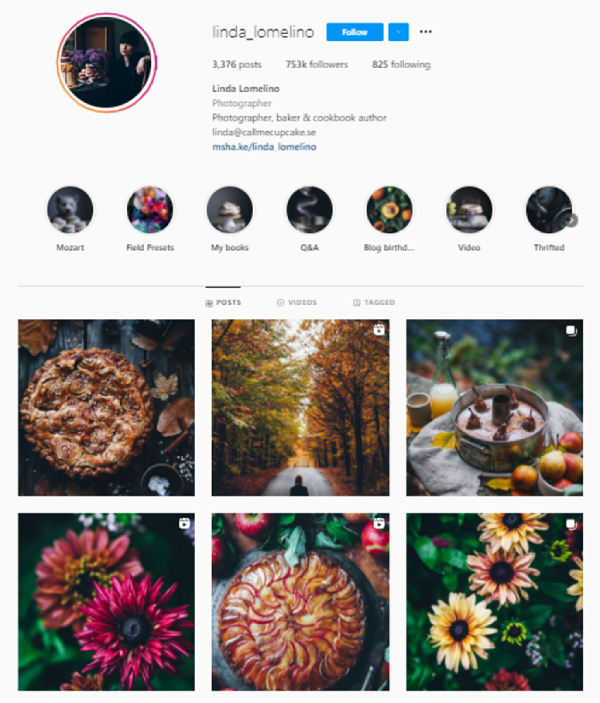 Linda Lomelino (@linda_lomelino), is a baker and an incredibly talented food photographer. Linda is just as a remarkable baker as she is a photographer. She makes mouthwatering sweets, desserts, and refreshing drinks that captivate not only the tongue but also the eyes.
Linda generously shares her recipes on her Instagram, from pies and cakes to ice-creams and cordials; her Instagram feed is beautifully patterned in colours that make the deliciousness of each photo stand out. If you are a sweet tooth who appreciates artistic food photography, feel free to check Linda out on Instagram.
Photography Influencers: #3. Paola Franqui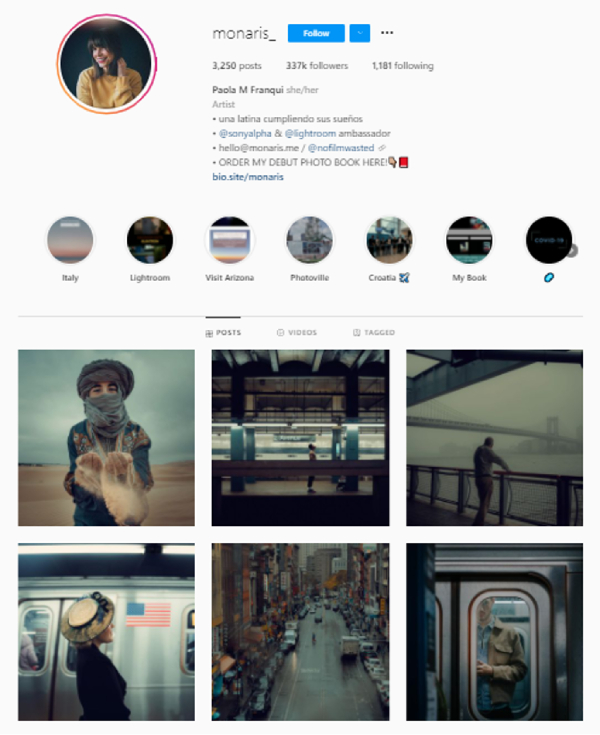 Thirdly, we have Paola Franqui (@monaris_), a New York City-based street photographer. She is known for capturing emotions and moments that would generally go unnoticed.
Each photo is a remarkable work of art with a valuable meaning, and her stunning feed showcases her eye for genuine sentiments. Therefore, if you are interested to learn more about her style, check out her Instagram for inspiration.
Photography Influencers: #4. Johan Lolos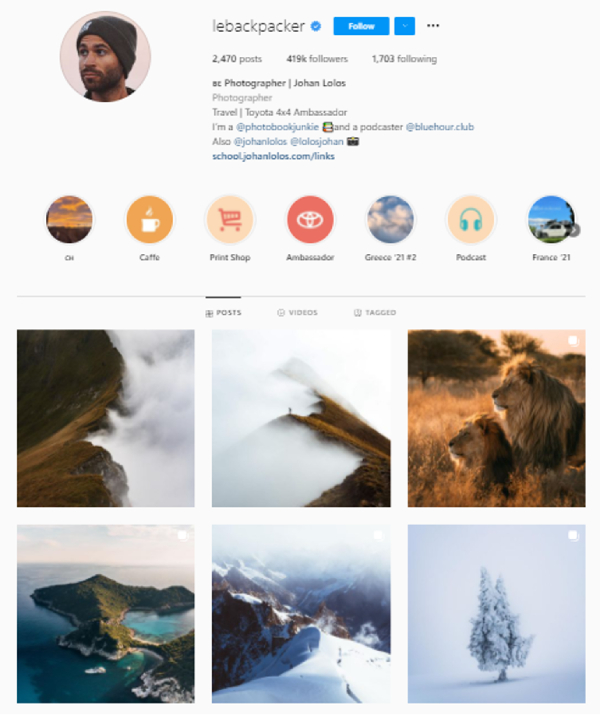 Johan Lolos (@lebackpacker) is a nature photographer from Belgium. He focuses on breathtaking minimalist wildlife and outdoor photography, from the deserts in Morocco to the icy mountains of Iceland; Johan is there to take jaw-dropping photos. He captures our world – nature and inhabitants – so beautifully, making us appreciate it even more through his work.
It seems that Johan has been in almost every corner of the world, tagging us along on his adventures and journeys through each astonishing photo. His feed is nothing but a work of cohesiveness and well thought out colour schemes.
Therefore, if you are fond of the great outdoors, go check out his Instagram and be amazed by how gracefully he sees the world through his lens.
Photography Influencers: #5. Nirav Patel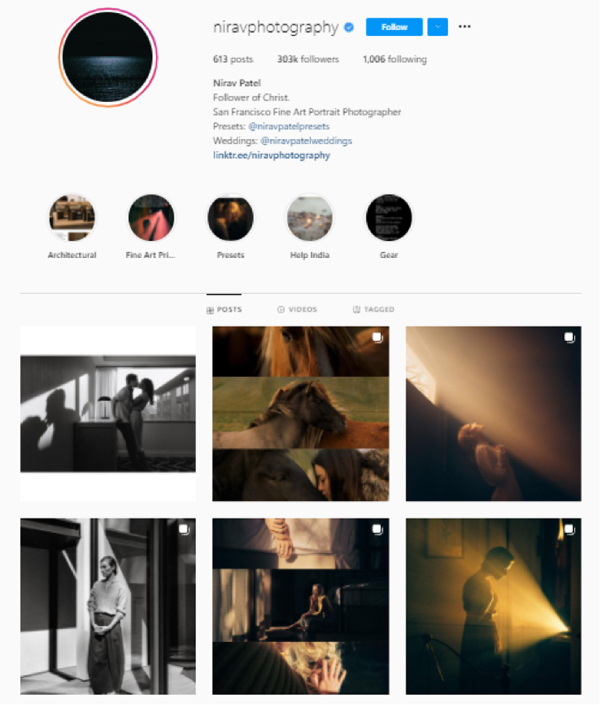 Lastly, we have Nirav Patel (@niravphotography), a California-based portrait and editorial photographer.
Nirav likes to play with different light sources and textures, making his photos dreamy and enchanting. A master storyteller, his photographs capture the human body so elegantly with an artistic touch making it seem effortless. He also composes beautiful and unique wedding photos on his other Instagram, @niravpatelweddings.
Feel free to check Nirav out and be charmed by his works of art.
Conclusion
By following talented photographers on Instagram, such as the five mentioned above, you will get inspired by their content. You may broaden your photographic perspective, generate fresh ideas, and desire to explore new approaches as an artist or as a brand.
If you need any help finding the right key opinion leaders (KOL) in marketing your brand, do not hesitate to engage in the services of an influencer marketing agency like Kobe Global Technologies. We will be more than happy to assist you with your influencer search for marketing your brand.